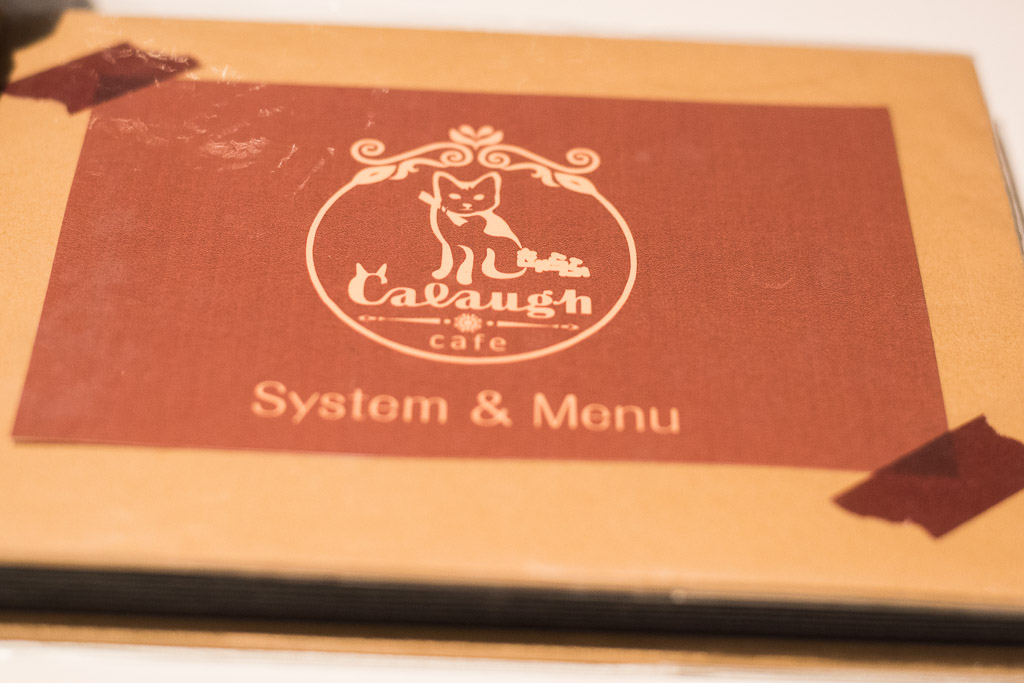 I went to a cat cafe Calaugh. It is located about a minute walk from Asakusa Station!
The cat cafe is a little different from the ordinary cat cafe. All the cats are used to be stray cats or cats whose owners are not found in a big earthquake.
Kids can go to this cat cafe in lunch time. (11 am to 6 pm)!
Cats don't like small children. So almost cat cafes don't allowed small children. But you can go with kids to Calaugh.
[japan Cat cafe] Asakusa calaugh reviews!

Cat cafe calaugh location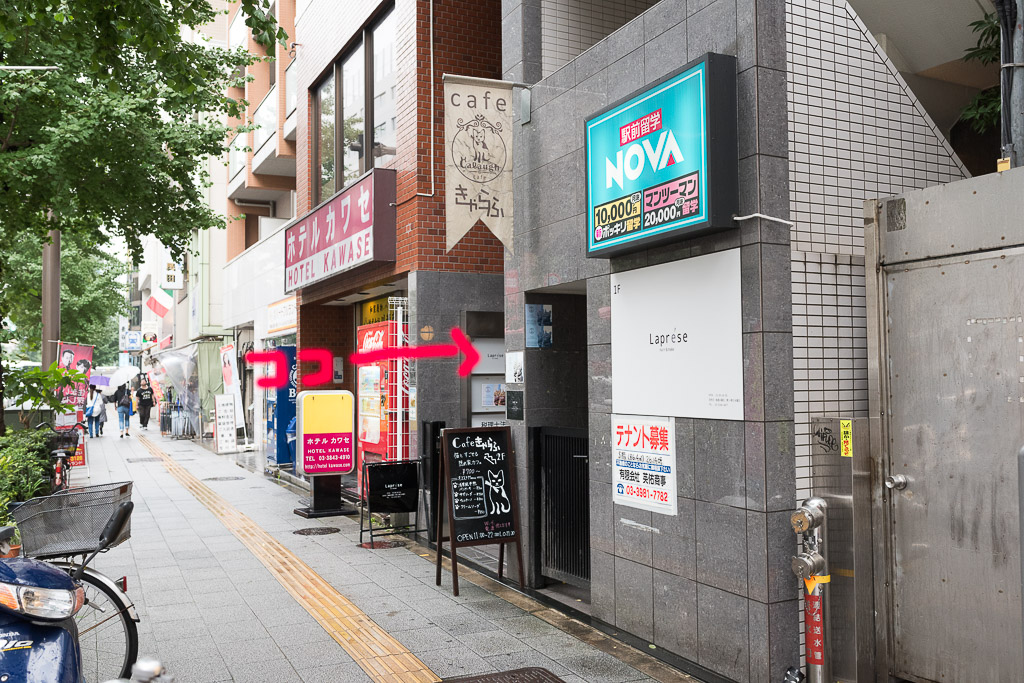 Calaugh is very close to Asakusa Station. There is close to Thirty One Ice.
I recommend to go out from Exit 2 of Asakusa Station.
The sign is like this. It should be easy to find.
Let's go to the second floor with excitement.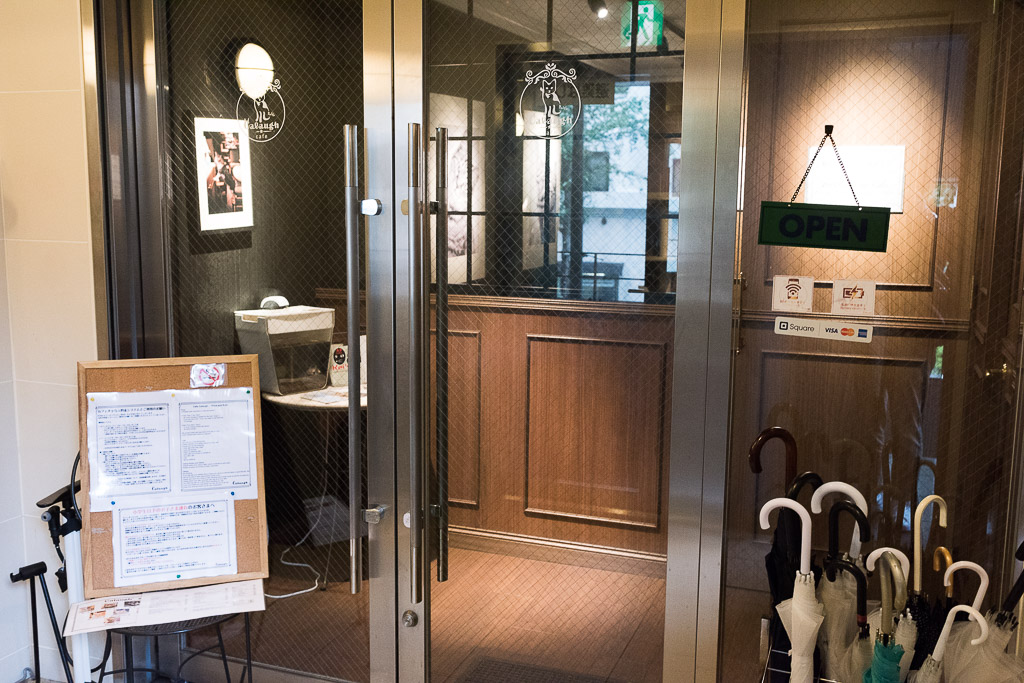 The entrance of Calaugh looks like this.
It's pretty chic.
It looks basic cafe.
The fee format is different for lunchtime and bar time, and there is no entrance fee for lunchtime!
But you have to order one drink at least.
If you stay longer than 1 hour, it costs 250 yen every 15 minutes.
If you want to stay long time there is 3 hours pack (with drink). It is 2000 yen, so it is better to use that.
In the evening bar time, there is no extra charge for one drink and 500 yen table charge.
Entered a Cat cafe calaugh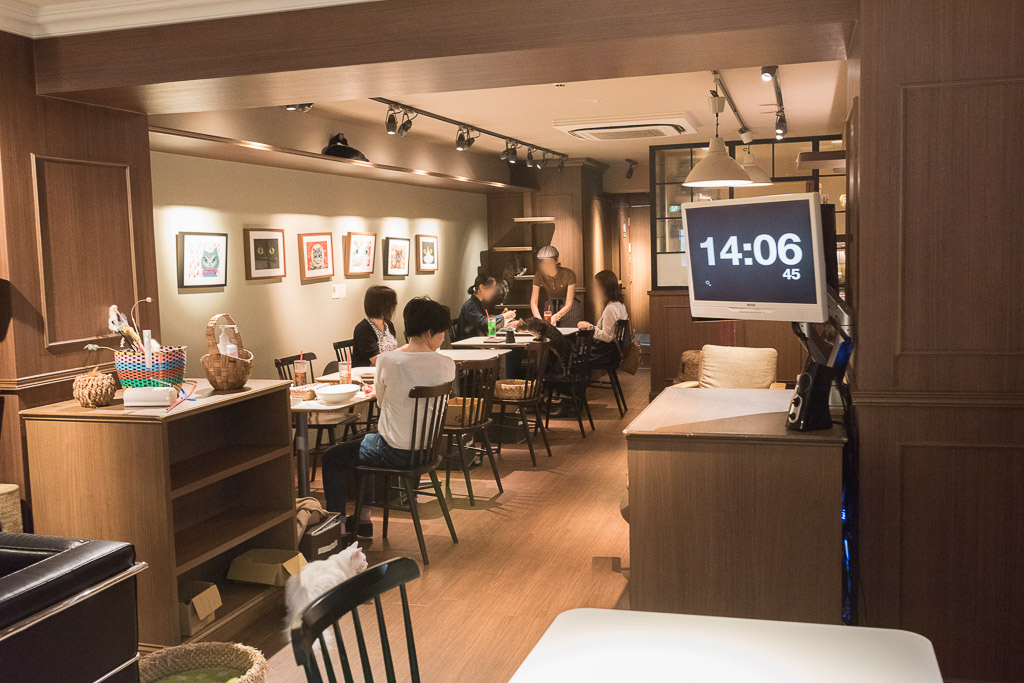 When you are in the cafe, it looks like this.
It looks just a cafe.
You can play with cats while sitting on a chair or a sofa, rather than sitting on the floor like other cat cafes.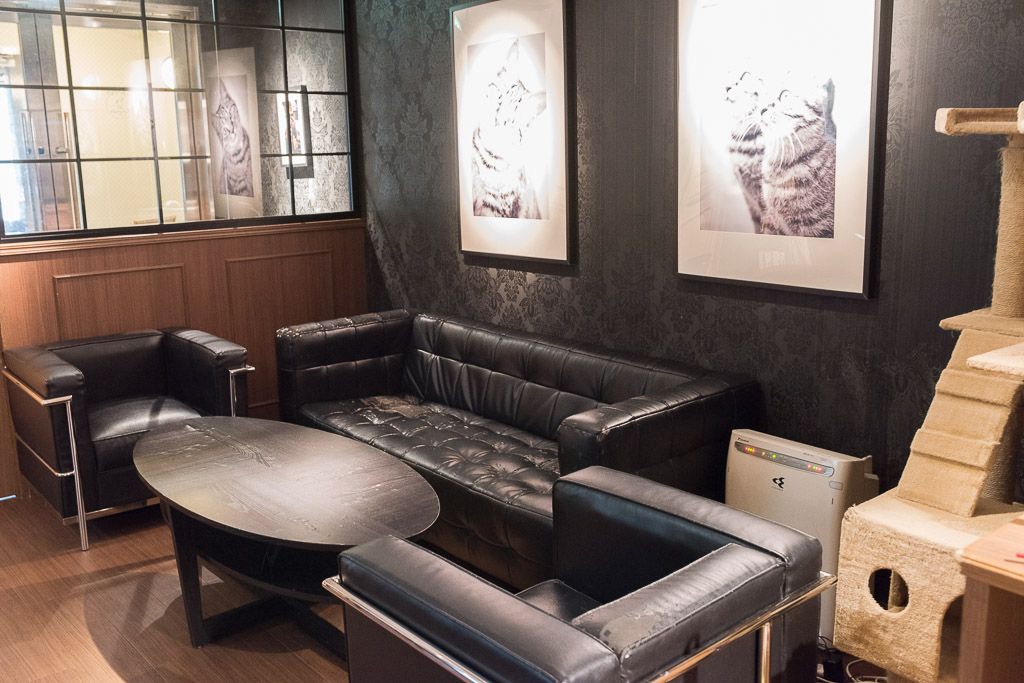 There are sofas like this for groups ...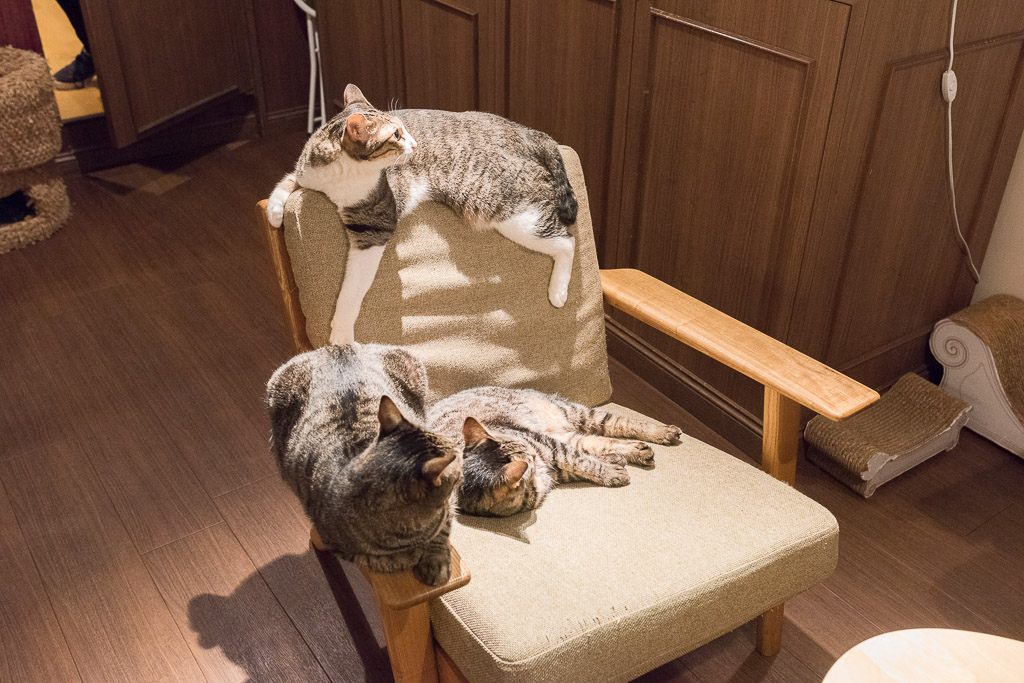 There is also a sofa seat that is occupied by a cat lol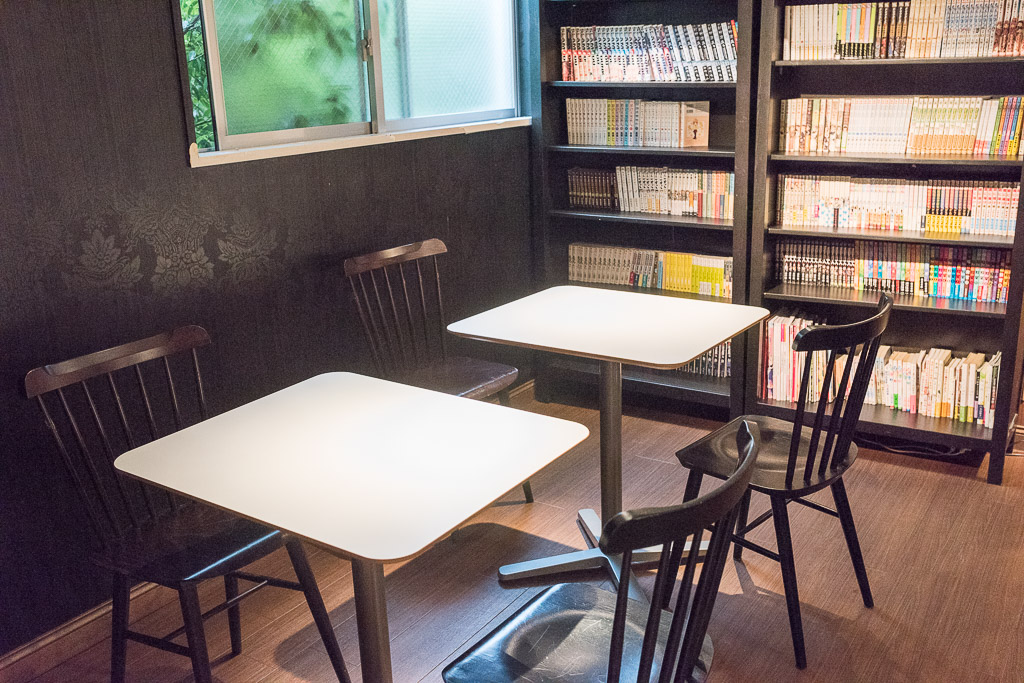 Fully equipped with manga!
This is a great place for one person to enjoy.
On the contrary, it may be enjoyed by one person.
Because ...!
※Manga means comics in Japanese.
A cat will be sitting in front of you!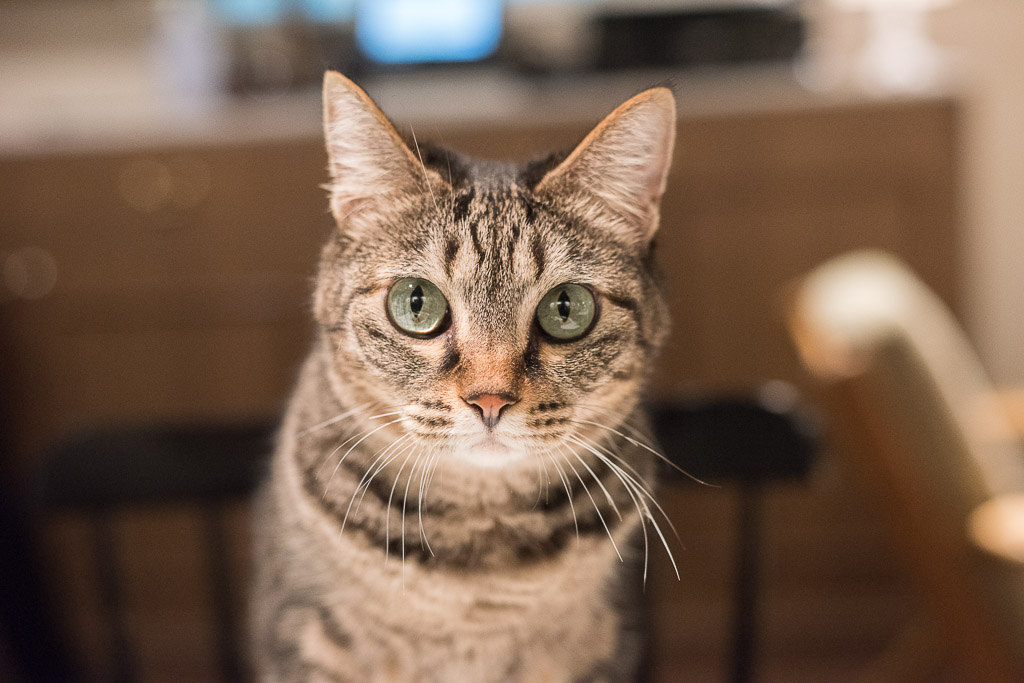 The great thing about Calaugh is that the cat will sit in front of you.
It 's like feeling like you 're facing a cat and staying in a cafe.
Even one person is not lonely!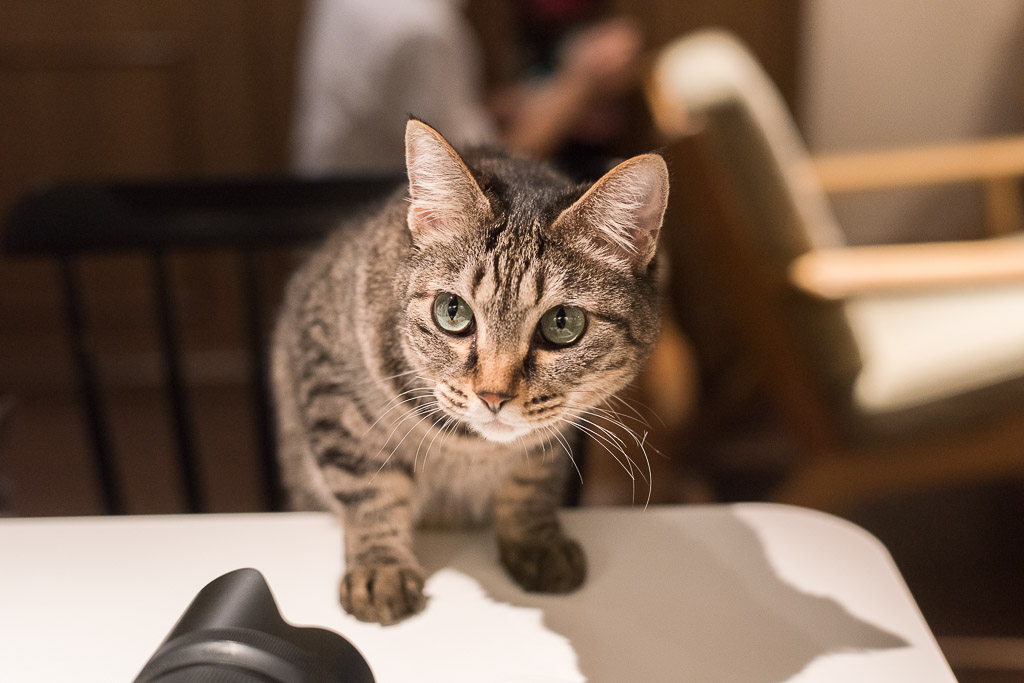 A good cat that does not ride on the table.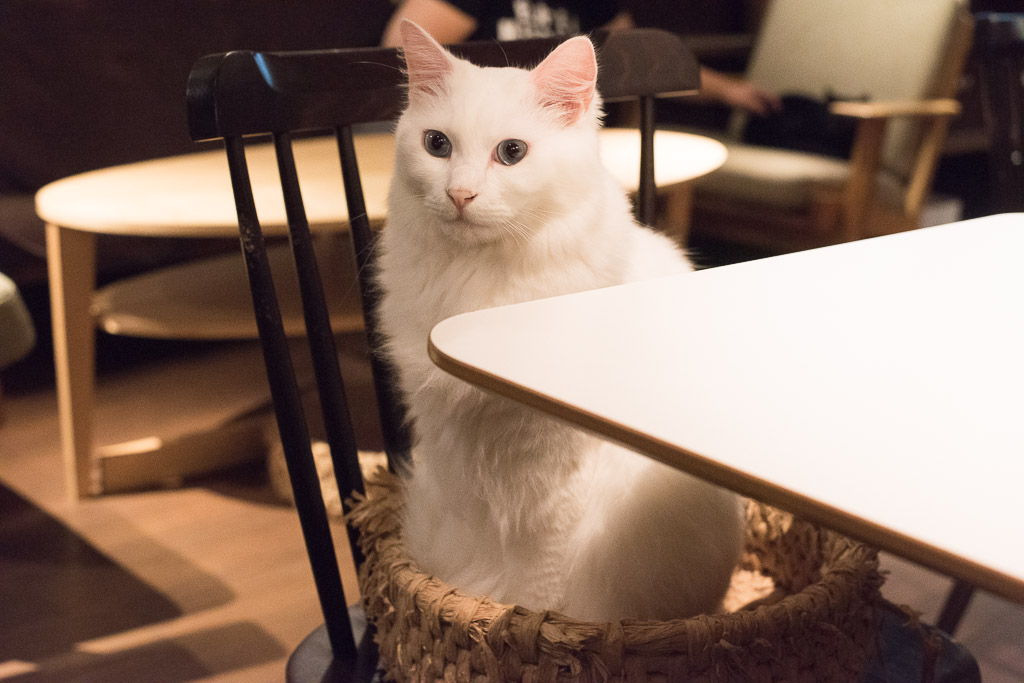 It's not just me that cats sit in the seats, and there are cats sitting next seat.
The snack is also popular here
Snacks can be purchased for 250 yen.
As soon as the next customer bought it,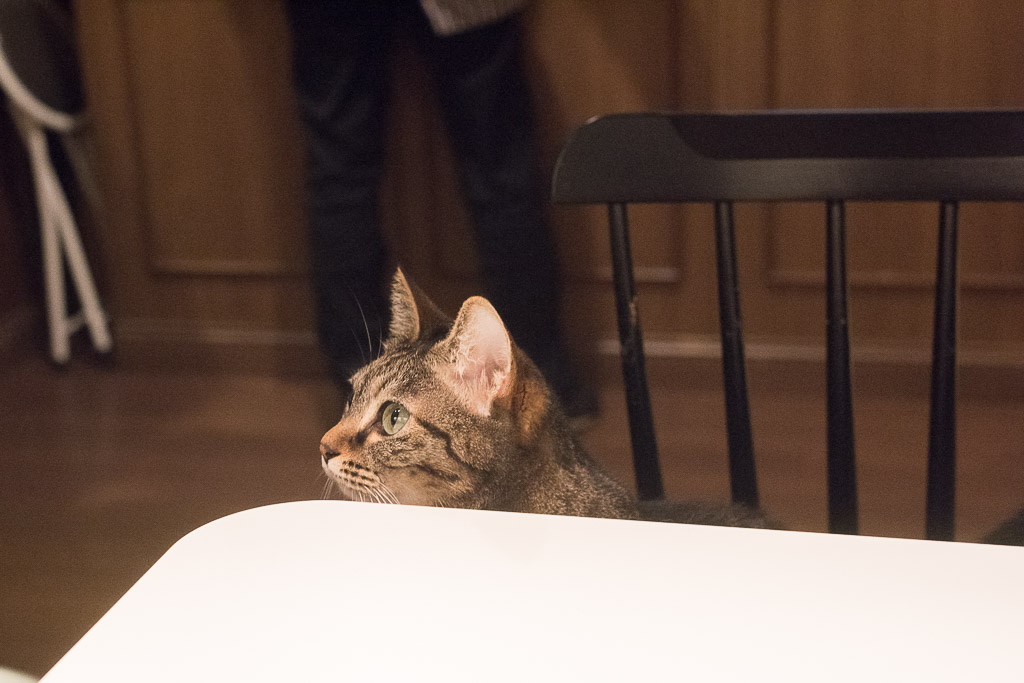 He was looking at cat food!
I wanted to be popular! So I bought it.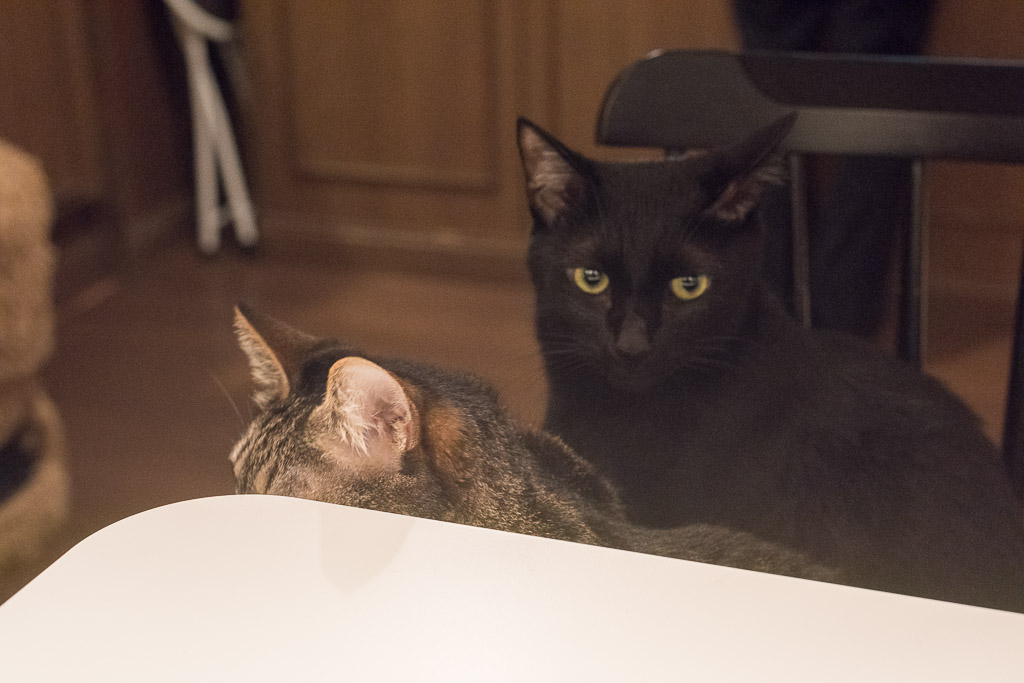 Then cats came soon.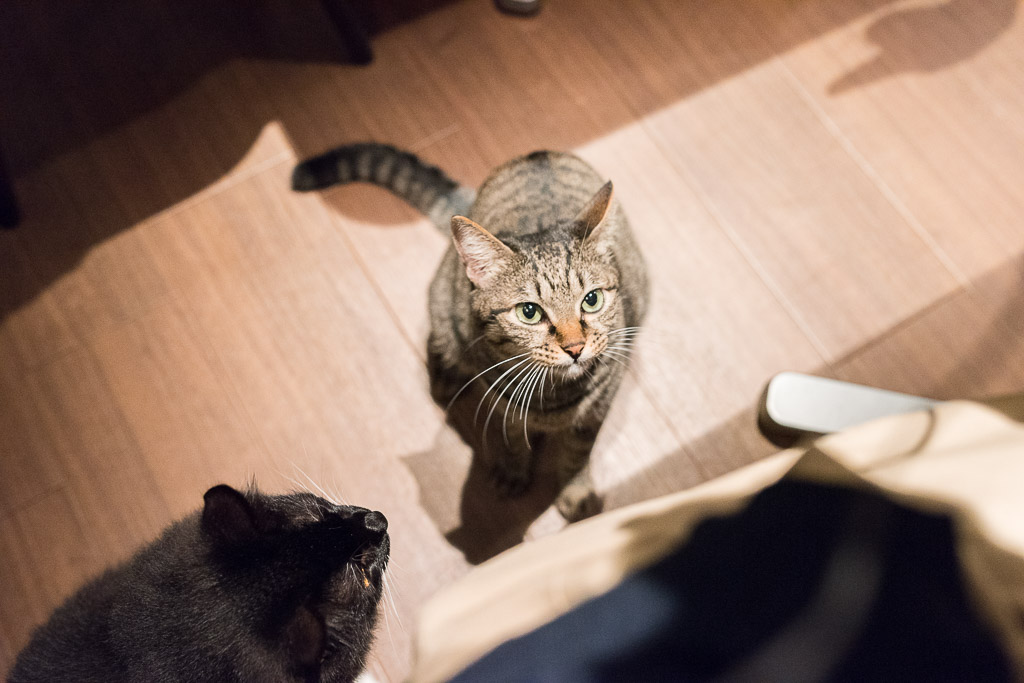 Cats also came at my feet.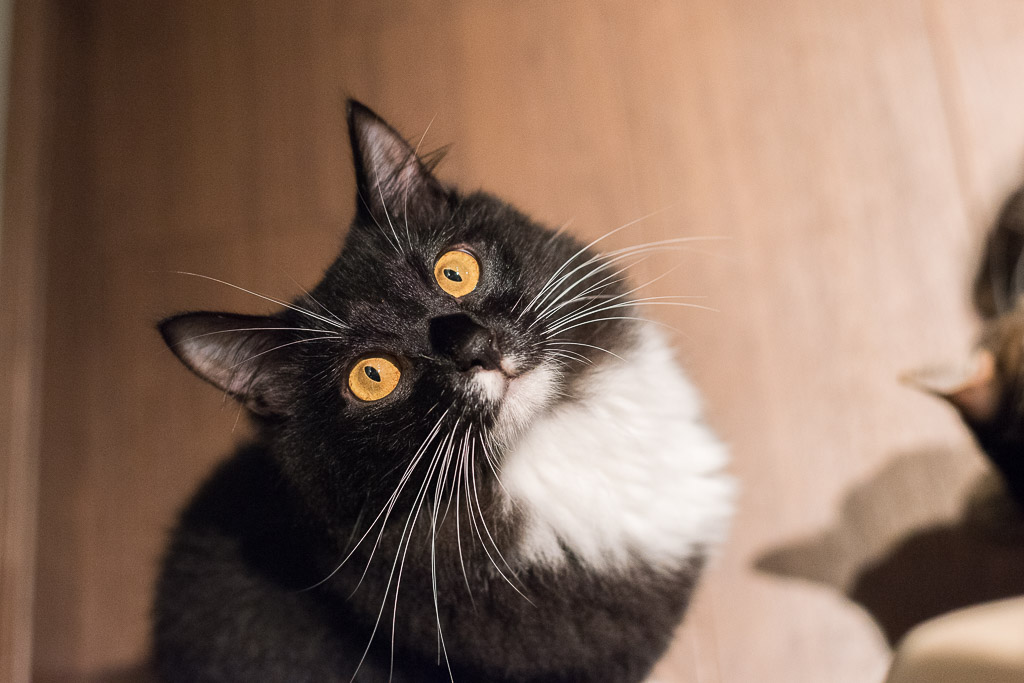 A cat that seemed to want a cat food snack.
But He was shy.He was not as aggressive as the other cats.
He just stared at me.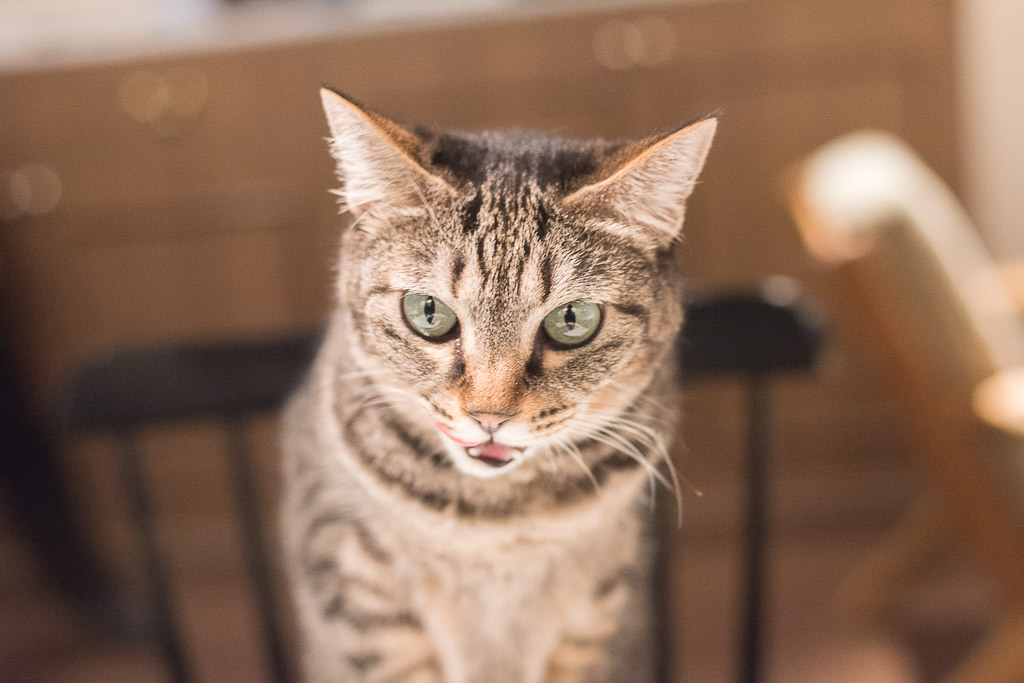 The cat sitting in the seat opposite me was just waiting and licking his tongue.
But he don't get on the table properly.
Good boy!
What a cute.
And surprisingly, there's a cat on my lap!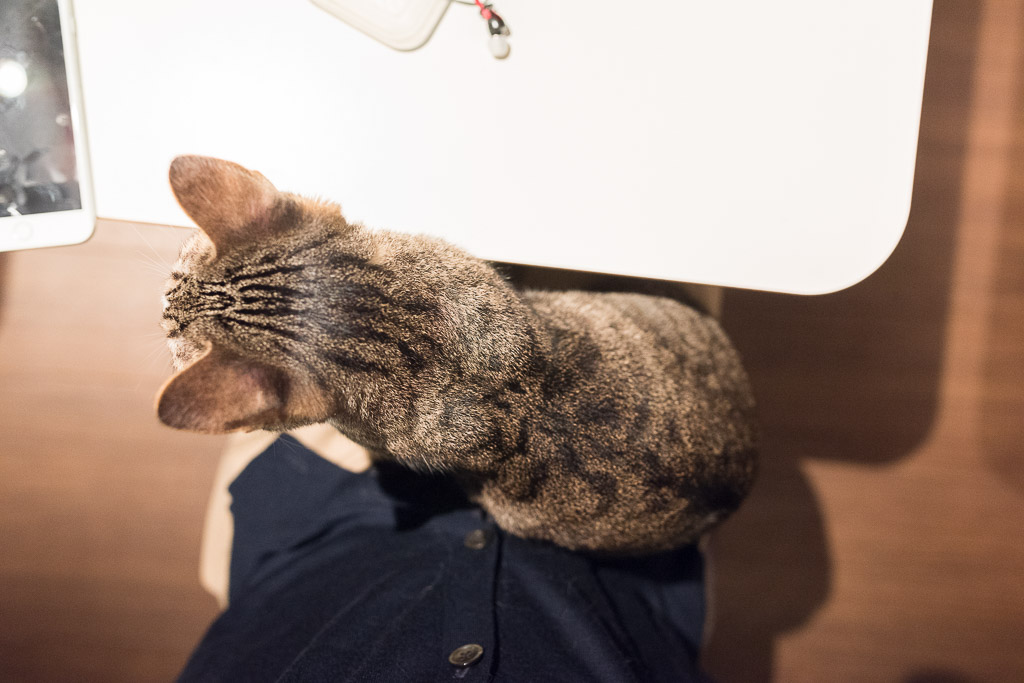 She stayed on my knees even after the snacks were gone.
Too cute.
You can enjoy this feeling with a snack, so let's buy it.
Good friend with the clerk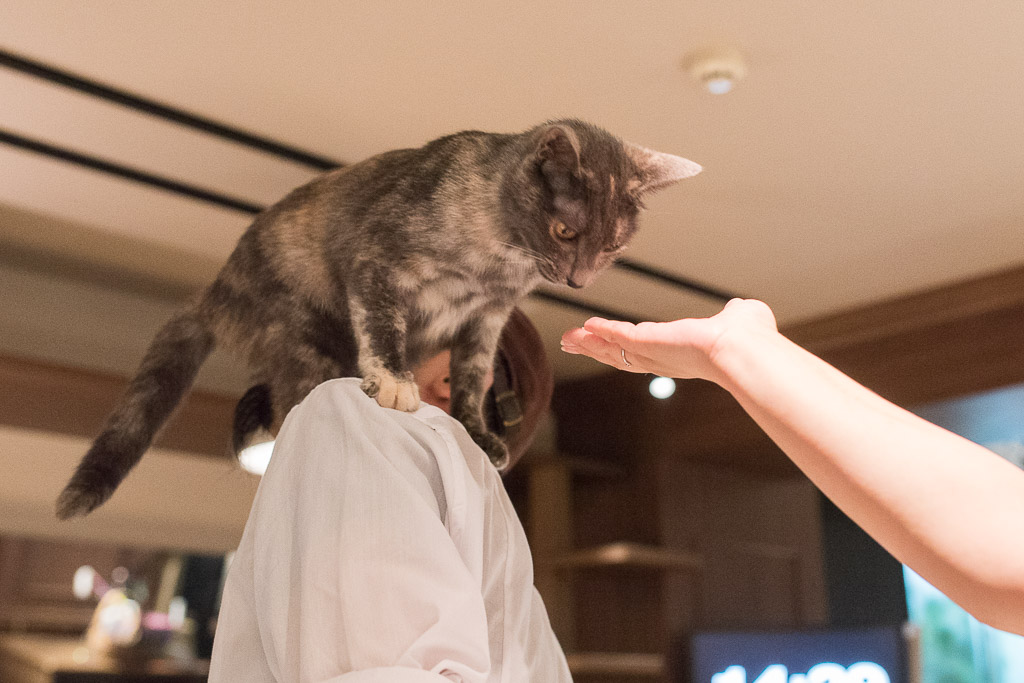 A cat who got a cat snack from a customer while riding the store clerk.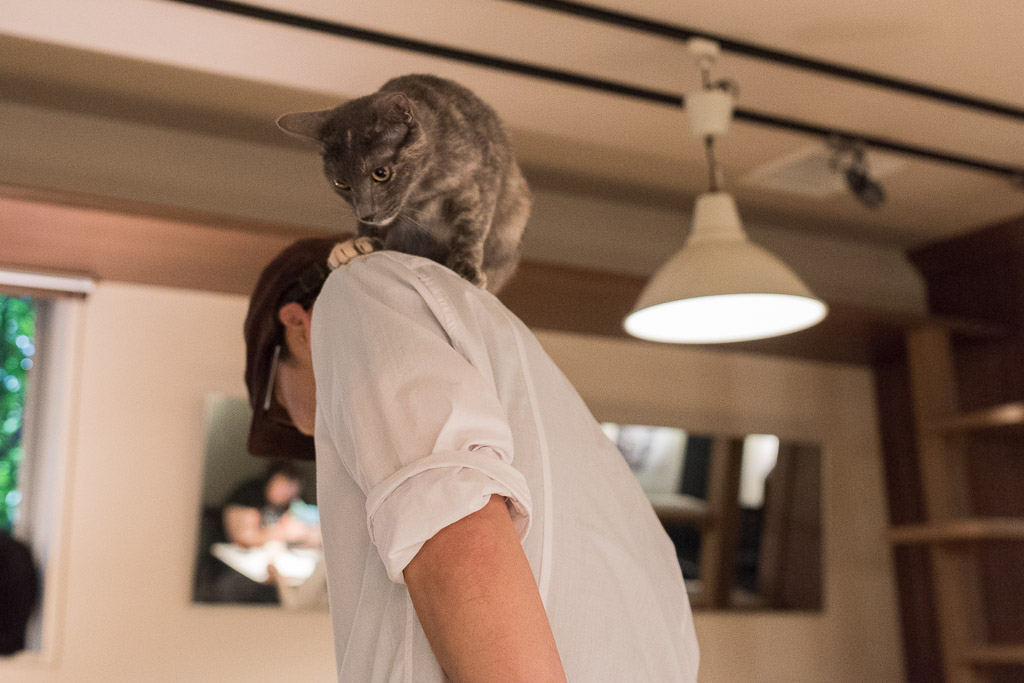 It is a skill with a relationship of trust.
Cats like chairs and sofas
Calaugh's cats seemed to like sitting on a chair or sitting on a sofa.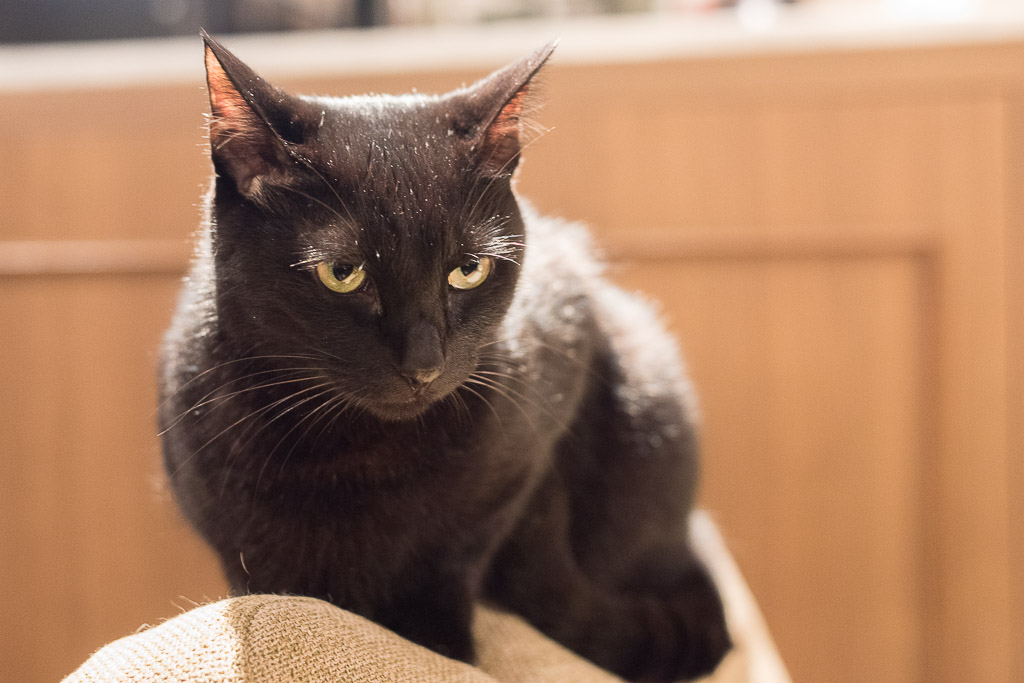 He was climbing on the couch.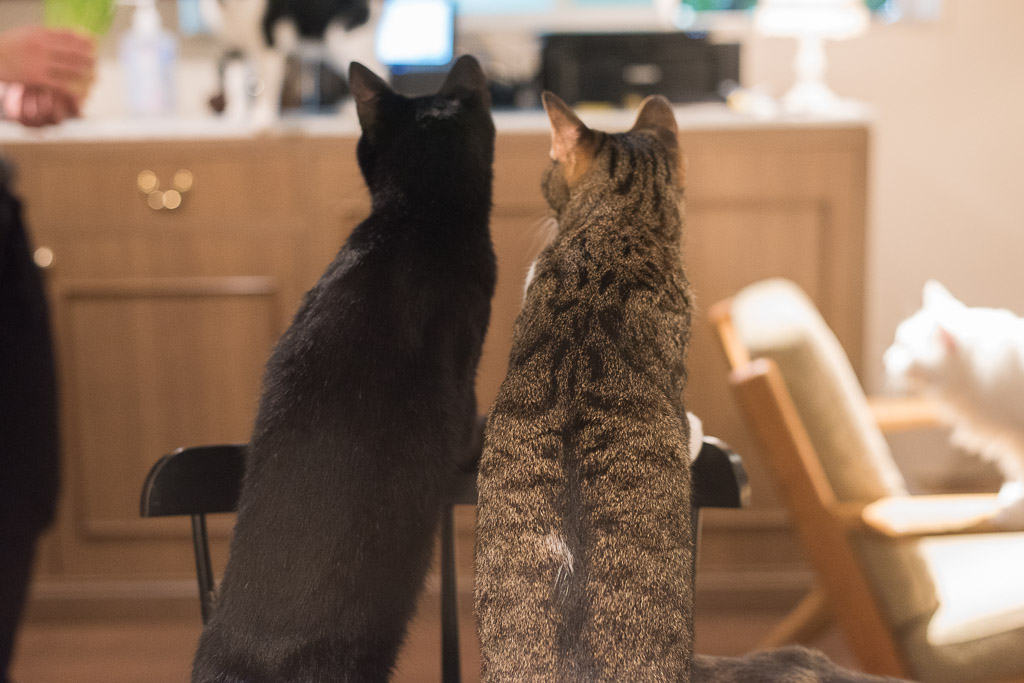 They watched the other cats from the chairs.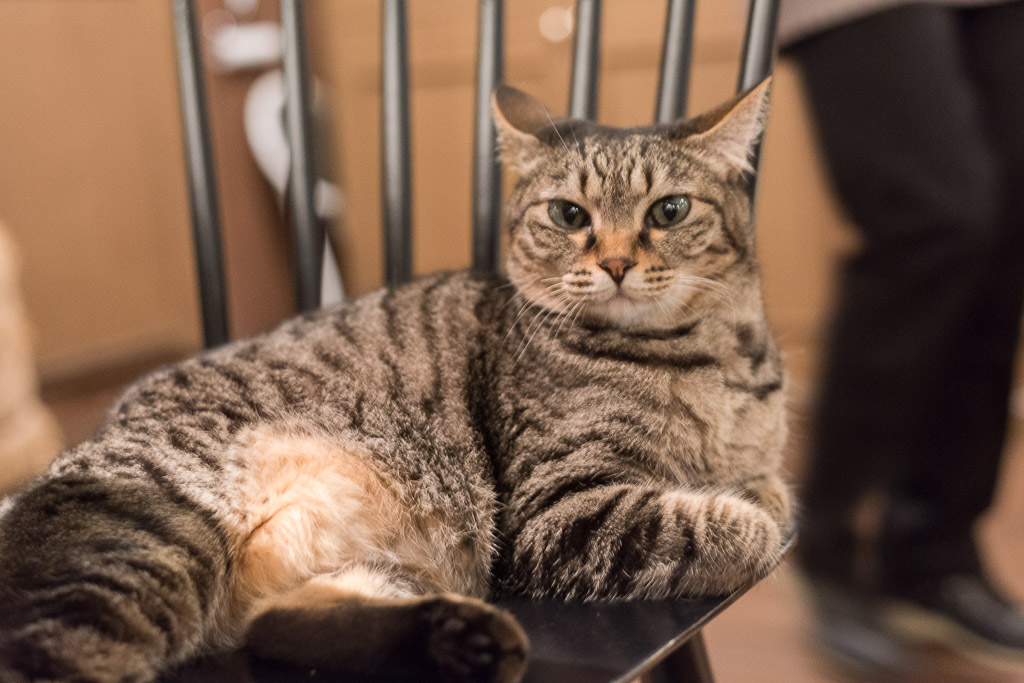 This cat posed cool on the chair.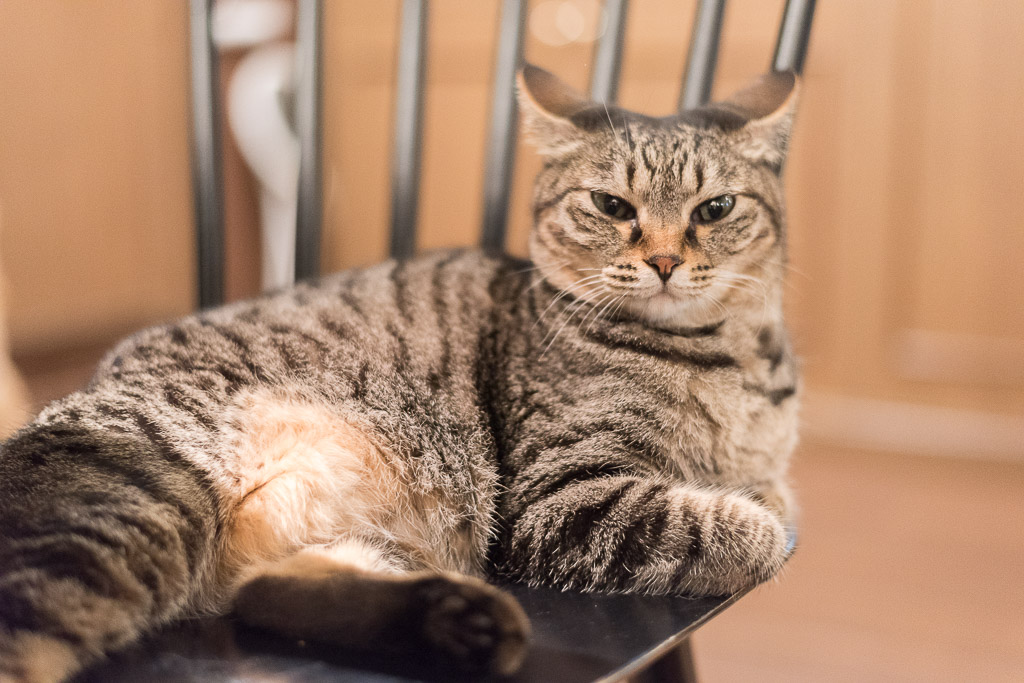 Oh he looked sleepy ...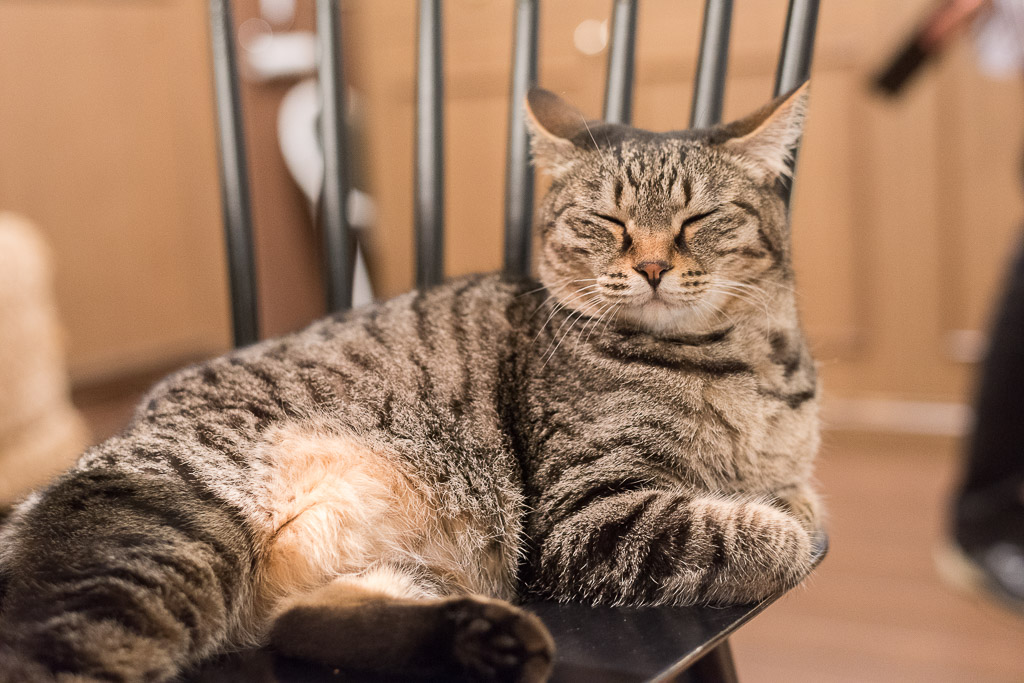 He slept.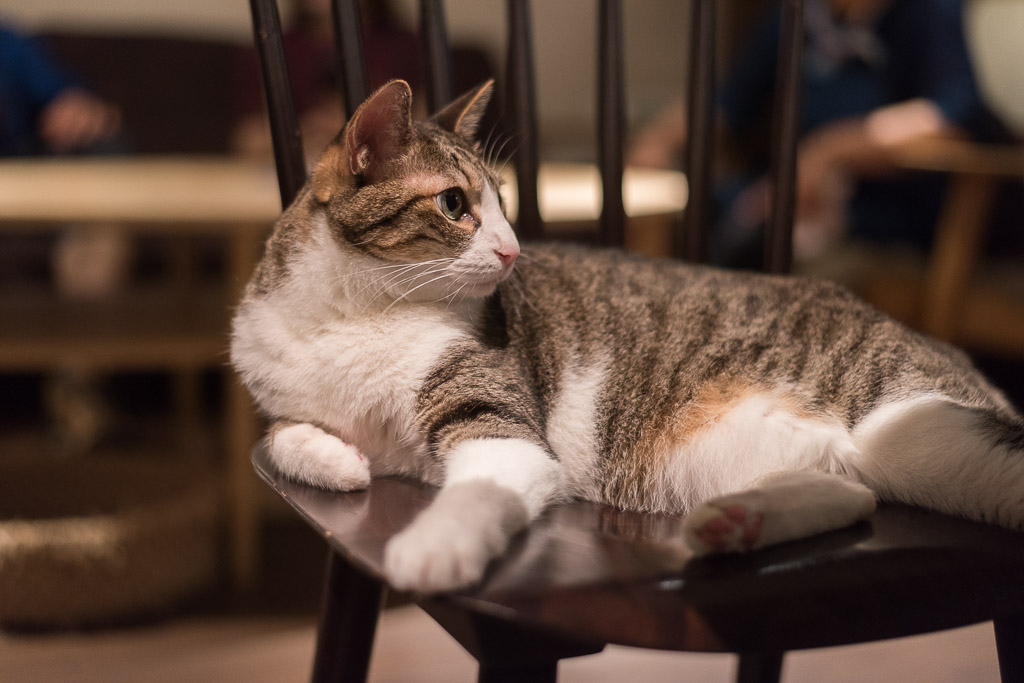 The cat was relaxing on another chair.
Even though there is a cat tower but everyone is relaxing on the chair.
Do you imitate people?
By the way, when I stood up to take a picture of a cat and came back for a while, chair was occupied by the cat sometimes.lol
Everyone is so cute.
Price and option
Cafe time (from 11:00 to 18:00)
No admission fee.
One drink required (from 700 yen)
If you exceed 1 hour, you will be charged a late charge of ¥ 250 every 15 minutes.
With a 3-hour pack, a drink is included for 2000 yen (save 750 yen from the regular price)
Child OK
Bar time (from 18:00 to 22:00)
One drink required and table charge 500 yen.
No late charges.
It cannot be used by elementary school students or younger.
* Credit cards can be used for accounts over 3000 yen.
Reservations can be made by phone.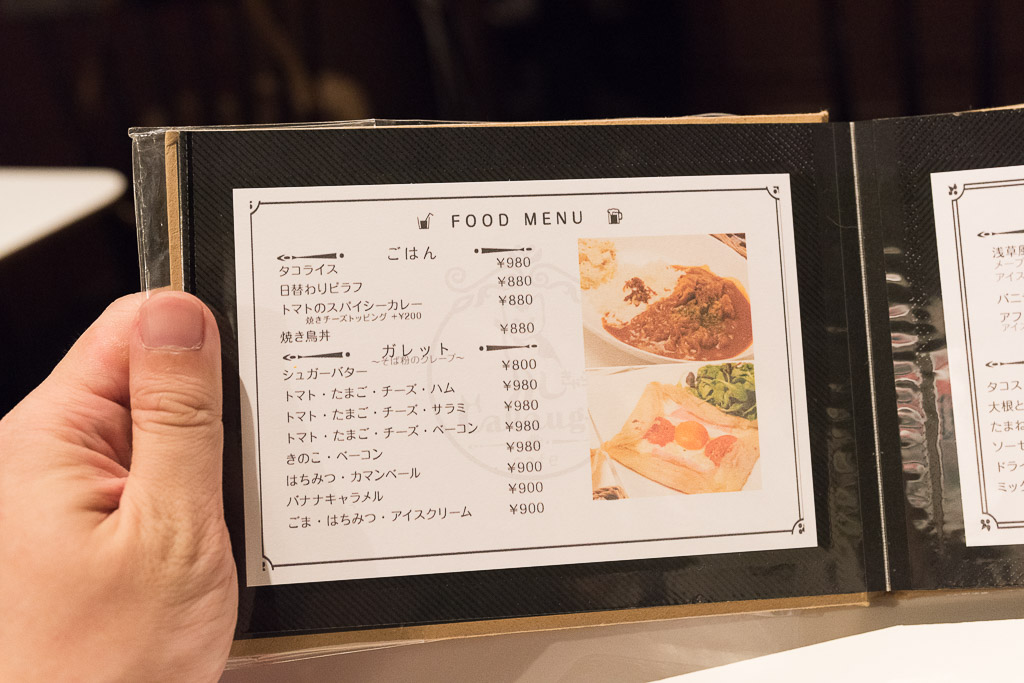 By the way, the food menu is so good also.
Drinks are also available with alcohol.
Point of cat cafe calaugh
The cats are cute sitting on the chair.
On weekdays, there were many female groups in their 20s or 30s.
It feels like a cat in a normal cafe.
If you come alone, you can enjoy a lot.
Children are OK at cafe time.
Shop information
2-19-13 Kaminarimon, Taito-ku, Tokyo Asakusa Station Building 2F
1 minute walk from Exit 2 of Asakusa Station.
1 minute walk from Exit A5 of Asakusa Station.
Business hours: 11:00 to 22:00
Regular holiday: Irregular holidays
Store URL:きゃらふ
Store phone number:03-6231-6050
My cat cafe ranking
It is my own ranking that went to various cat cafes and became a cat cafe meister (self-name).
Please refer to this when you want to date with friends, when you want to date, when you want to spend time alone, when you want to play with your family and cat.
Nearby cat cafe