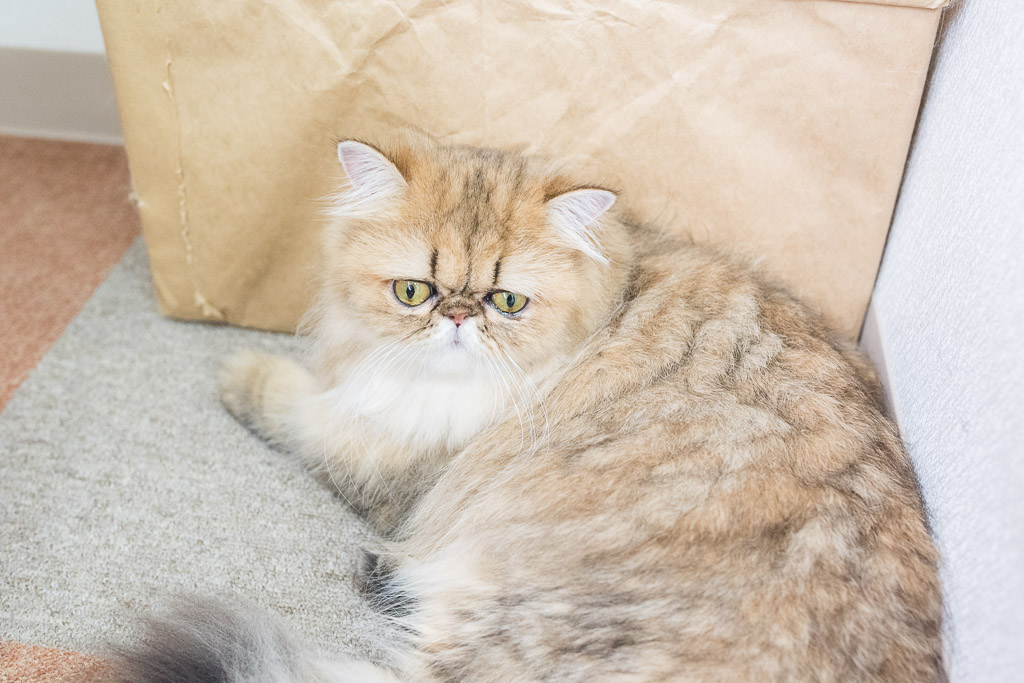 I went to the cat cafe Nyankoto  in Takadanobaba!
Nyankoto is located about one or two minutes walk from Takadanobaba Station. It was a very relaxing cat cafe.
Cats are long-haired and have a lot of Busakawa.
※Busakawa means "Ugly but cute"
There are many regular customers, and there are people who come once a week and who can come every day.
Surely you might want to come here every day ...
[Tokyo japan Cat cafe] Takadanobaba nyankoto reviews!

Cat cafe nyankoto location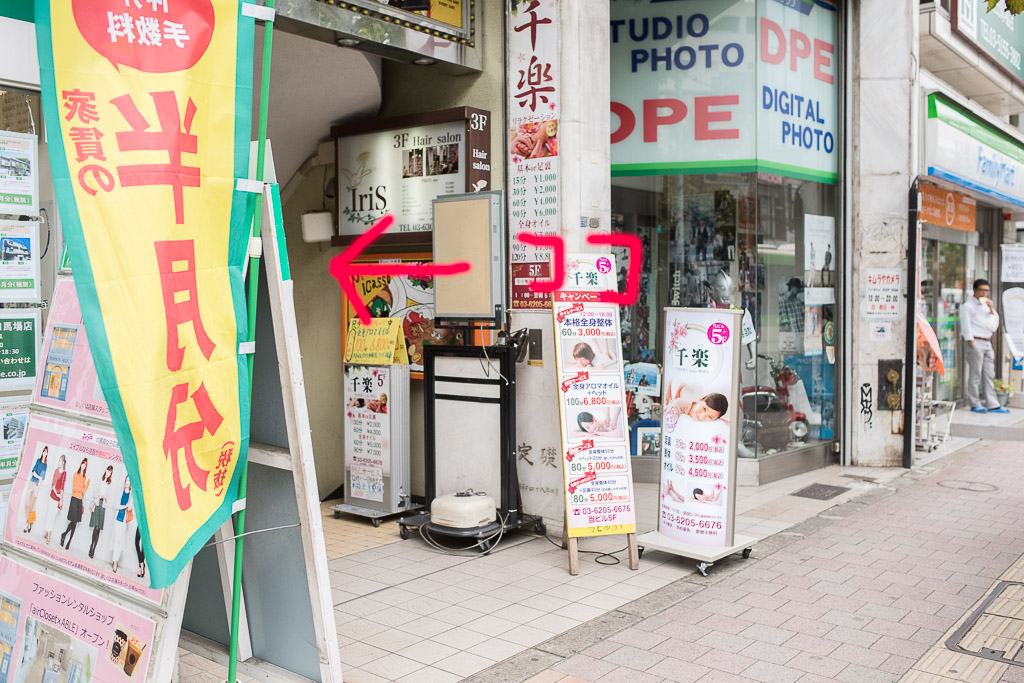 When you walk out of the station, you will see Family Mart.
Nyankoto is the building just beside that.
It may be a little confusing, but there is a sign on the other side of the road, so look for it as a landmark.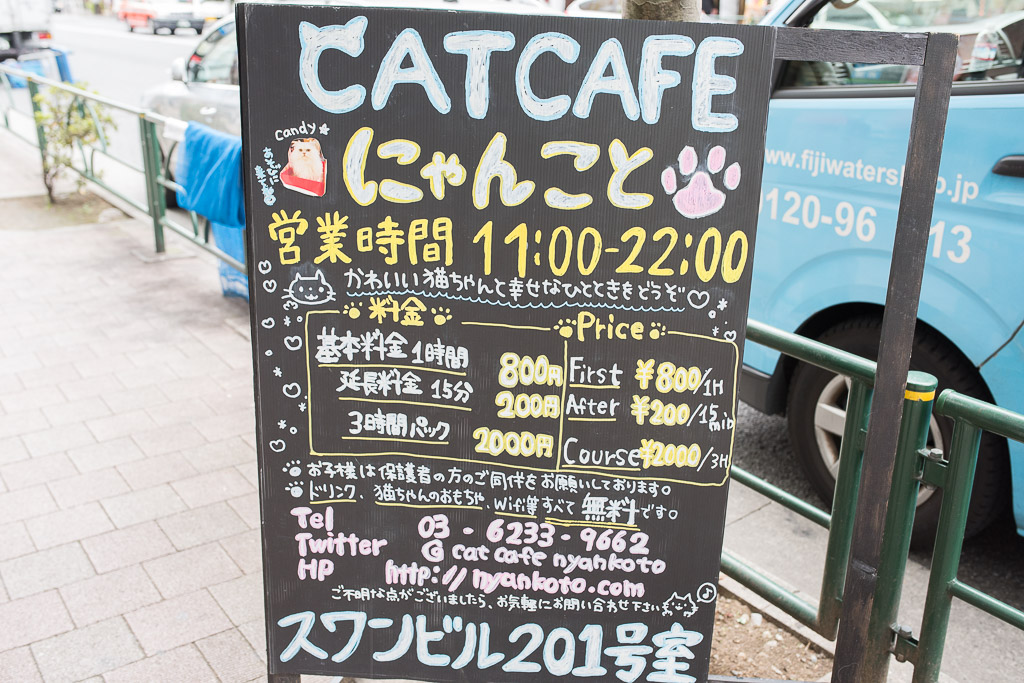 It is a sign like this.
The basic fee is 800 yen per hour.
And with a free drink!
Hugh! Yeah!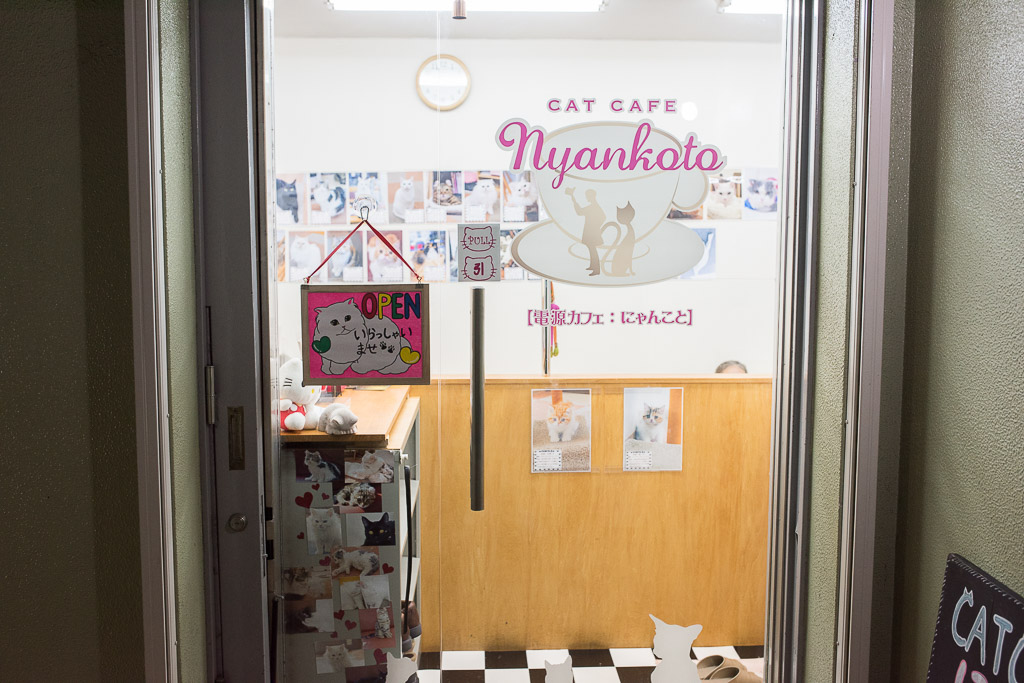 When you go up the stairs like a multi-tenant building and go upstairs, you will see the entrance.
The concept is a power cafe, so it's like a cafe that can be used for work too.
Of course, you can use Wi-Fi for free!
Entered a Cat cafe nyankoto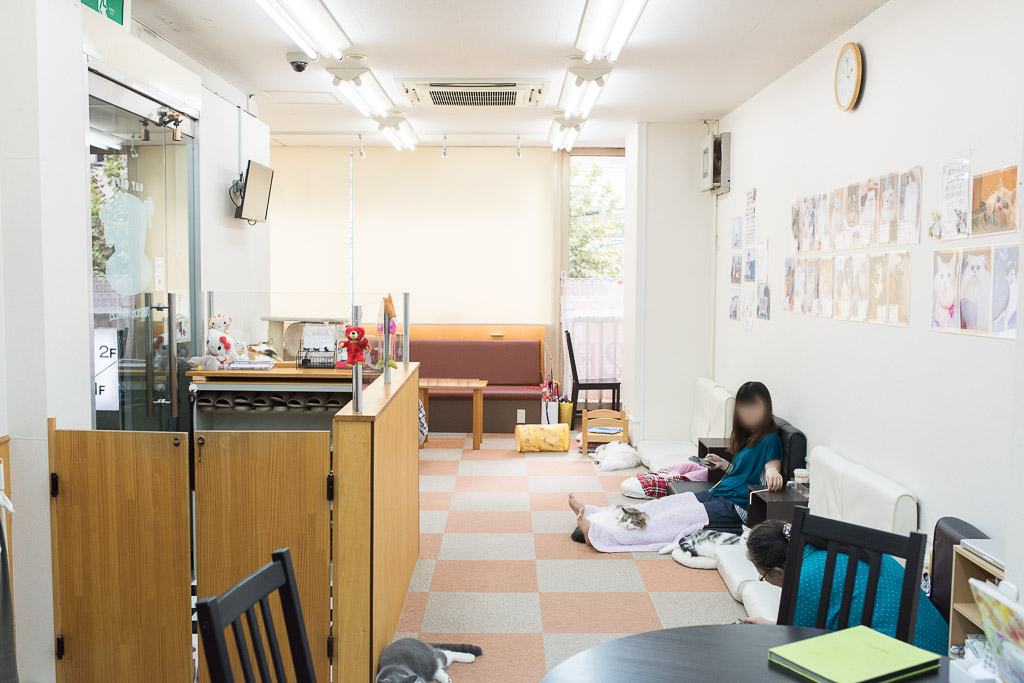 The store looks like this.
It's not so big.
Please pay attention to a female customer sitting on the right.
A cat is sleeping at her feet!
When there are few customers, the store clerk bring the cat on the foot. I experienced that also.
Cats relax so much on knees. So you will be happy.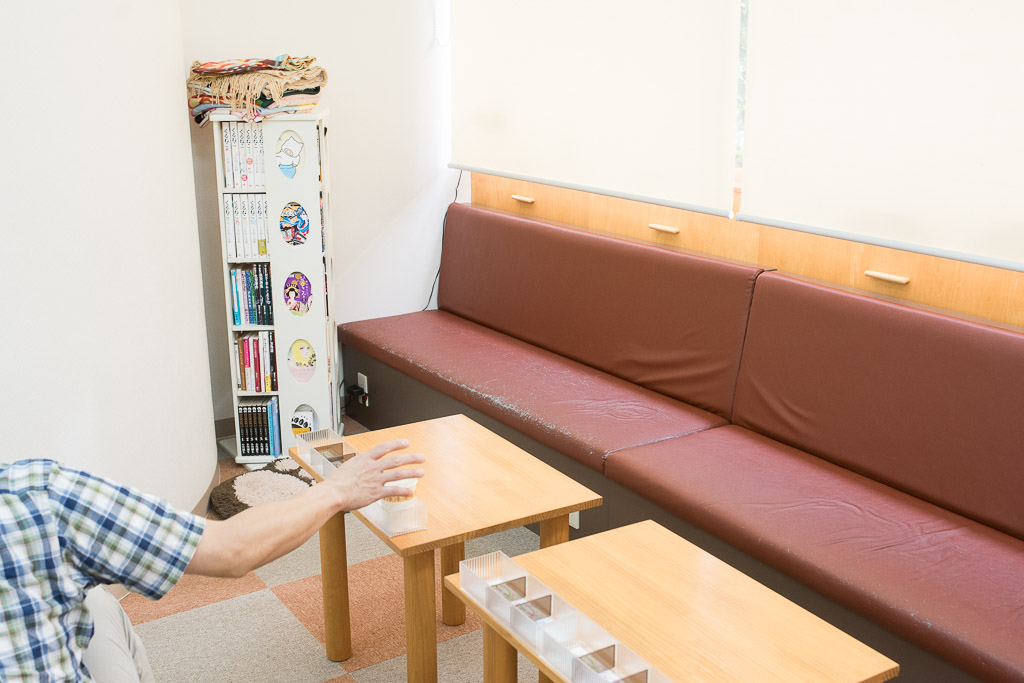 There are some sofas.
Sitting on the floor, the backrest is steep, so it's not very comfortable but the cats come to play really often.
If you sit on the sofa seat, it is better than the floor, but the cats will not come much.
It's difficult problem...
By the way, there are manga.(※Manga means comics) But since there are not so many. If you wanna read comics a lot, I recommend you to go other cat cafe.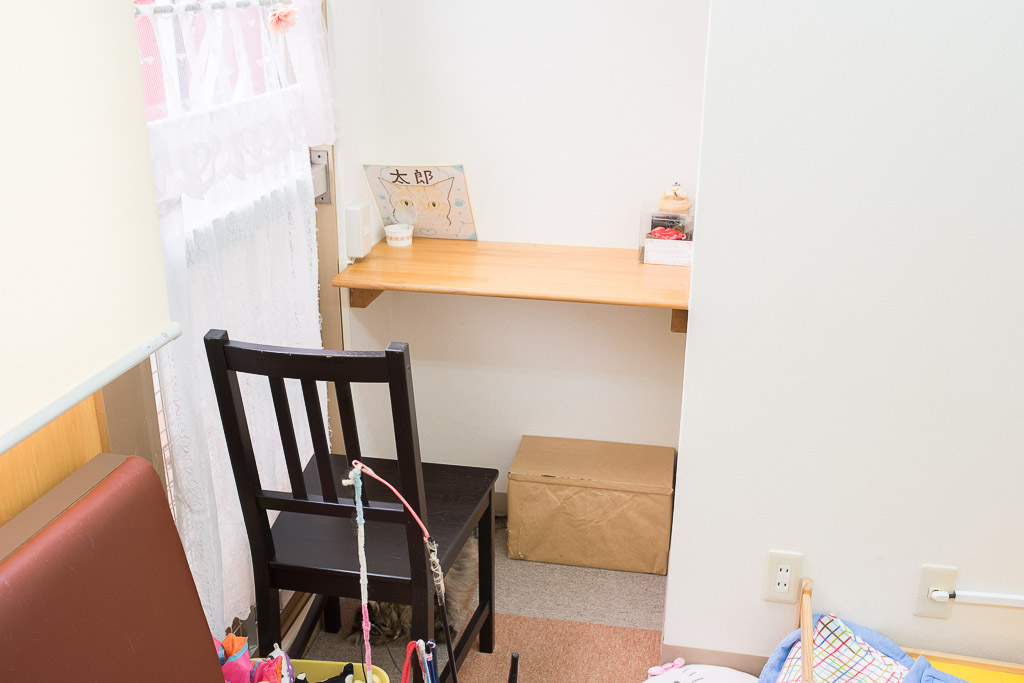 There is also a seat for just one person.
A power supply is also available, so if you want to work or read, this place is recommended.
A cat is sleeping at my feet.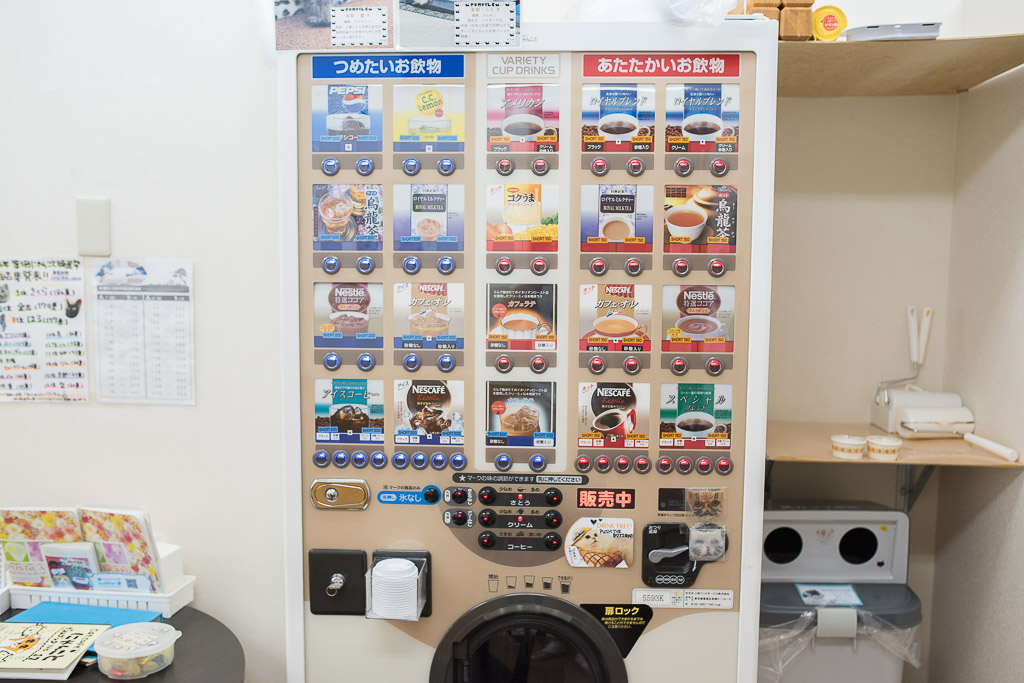 You can get Free drinks on vending machine type.
A variety of products are available, from Pepsi Cola to corn soup, cafe au lait, cocoa and coffee.
Nyankoto cats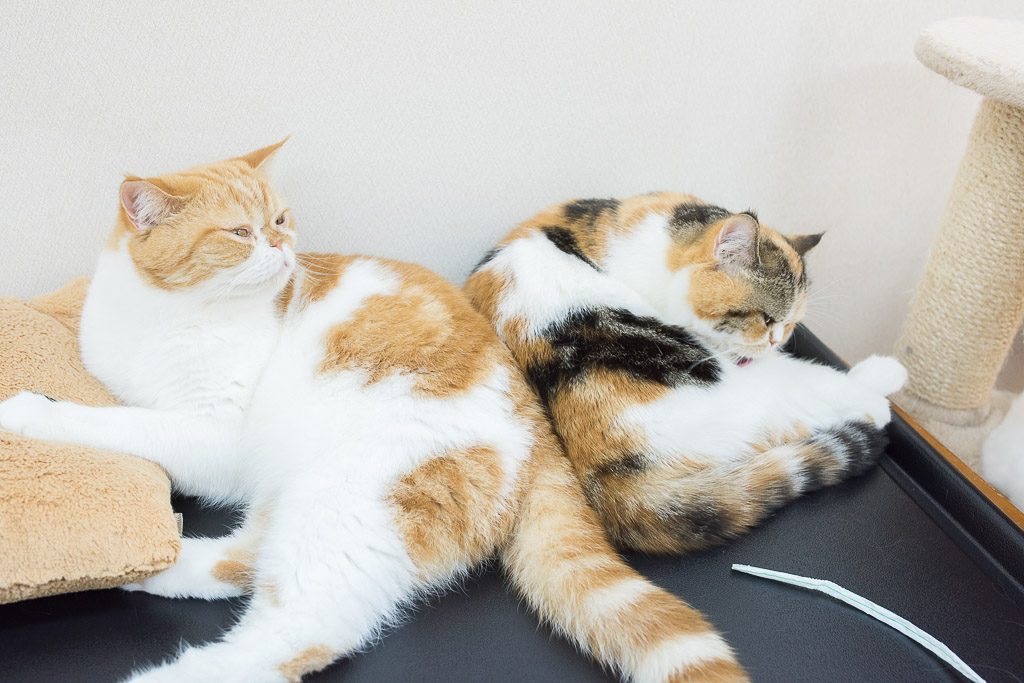 The cats seemed to get along well with each other. They were together everywhere.
What a cute.
She is fluffy.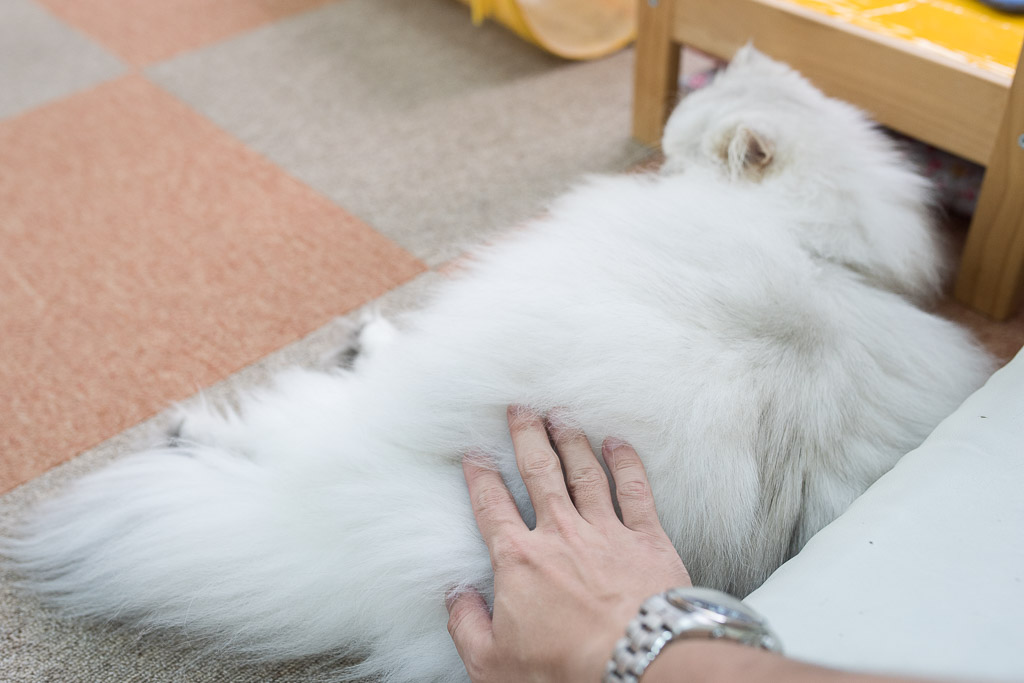 And the cats will come to soon when you are sitting on the floor.
I'm not sure that it was coincidence or not. But it's rare that cats are interested in me.
How cute ...
I approached and tried to touch a long-haired chinchilla silver candy.
The fluffy feel of a long-haired species and the cat-like supple body feel behind it are irresistible.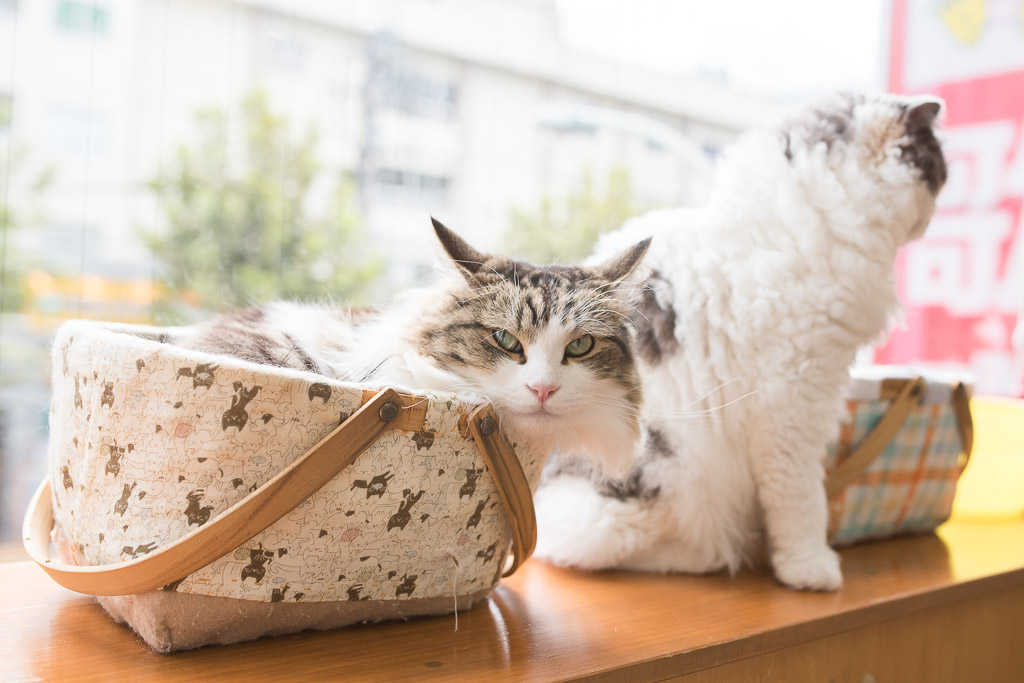 Nol likes that basket. He is Kinkalow which is mixed Americancurl and Munchkin.
The cat behind Nol is Fuku. He has very fluffy hair. He is Lambkin which is mixed MUnchikin and Selkirk Rex.
It was fluffy honestly.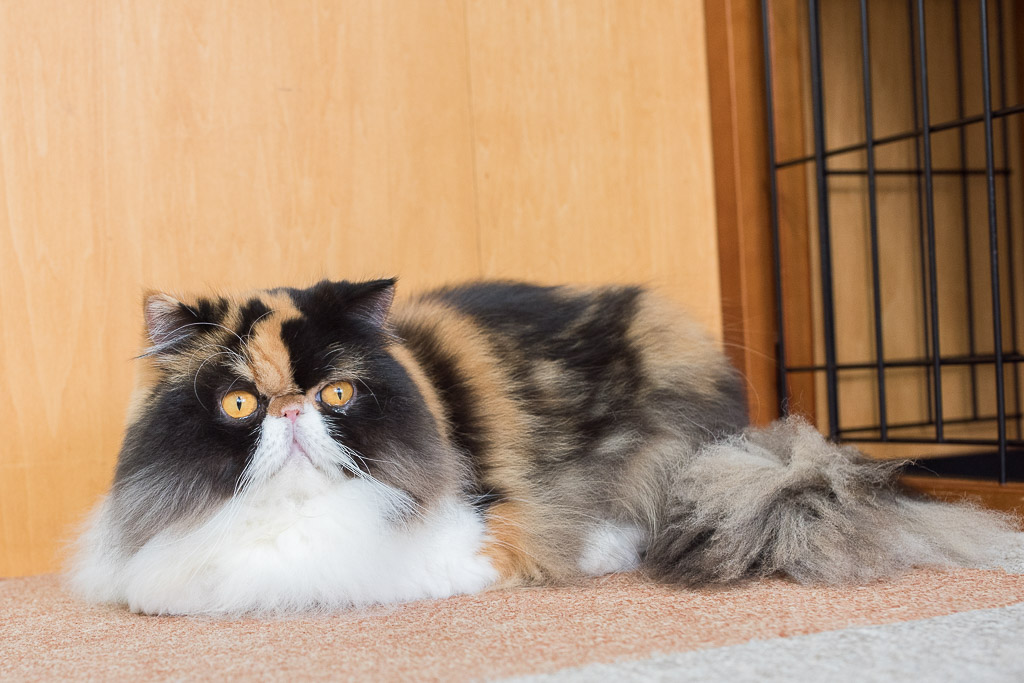 She is Lin of persia. How Busakawa.
Dignified appearance ...!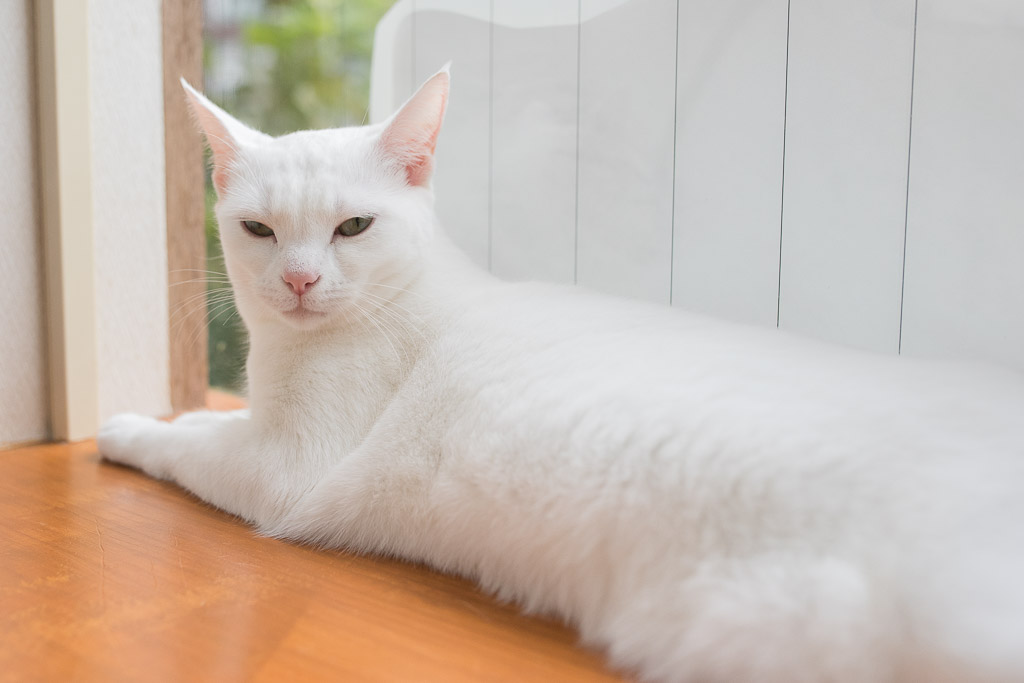 Munchkin's Natsu wass a little sleepy ...
He was getting more sleepy when I had touched his ass.
If you touch human girl's ass, you will be touched by the police. Please be careful.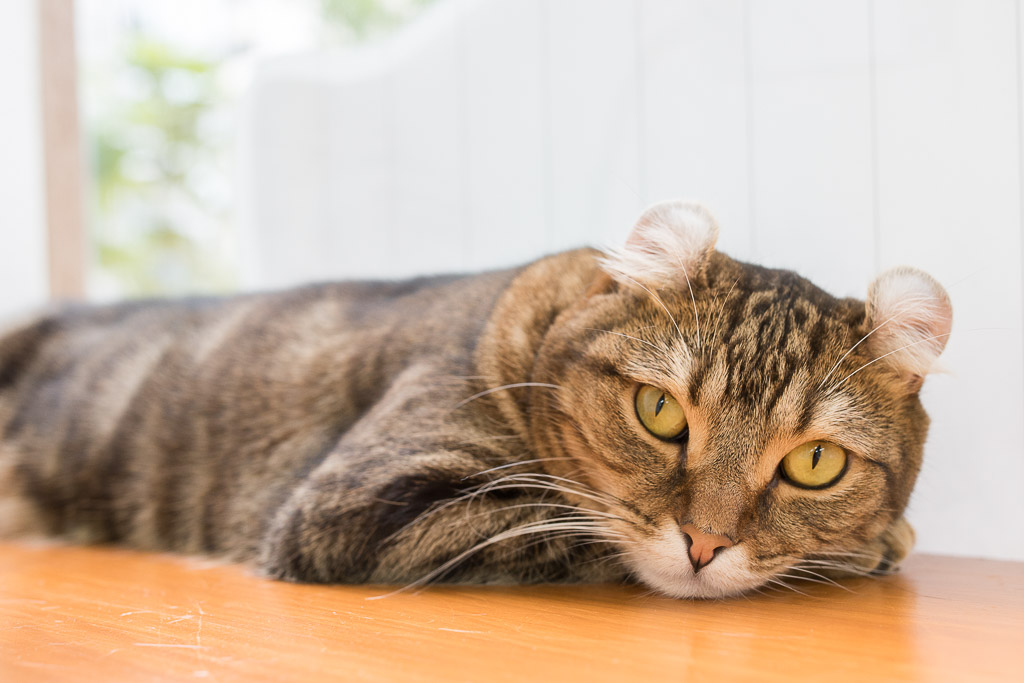 He is american Carl Taiyo-kun.
His hair grows from the ear.
Cats are cute even if their hair grows from their ears ...
It is completely different from the hair growing from the elder men's ear.
I think some people like hair growing out of elder men's ears, but I prefer to American curl ear hair.
How cute.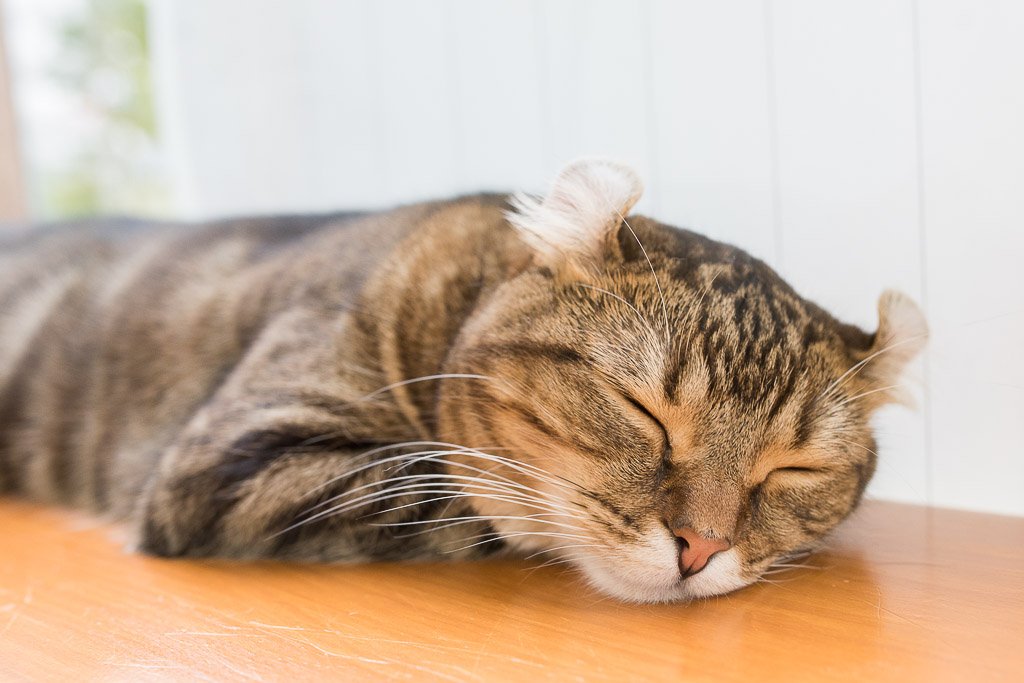 He slept when I saw him.
His sleeping face was also cute ...
The snack time is the best
In Nyanko, you can feed a snack. It costs 100 yen. Super cheap!
Please note that the time is fixed.
It was 14:30 when I went.
At that time, the majority of customers ordered for snacks, so it's a little hard to stay alone, but let's be patient.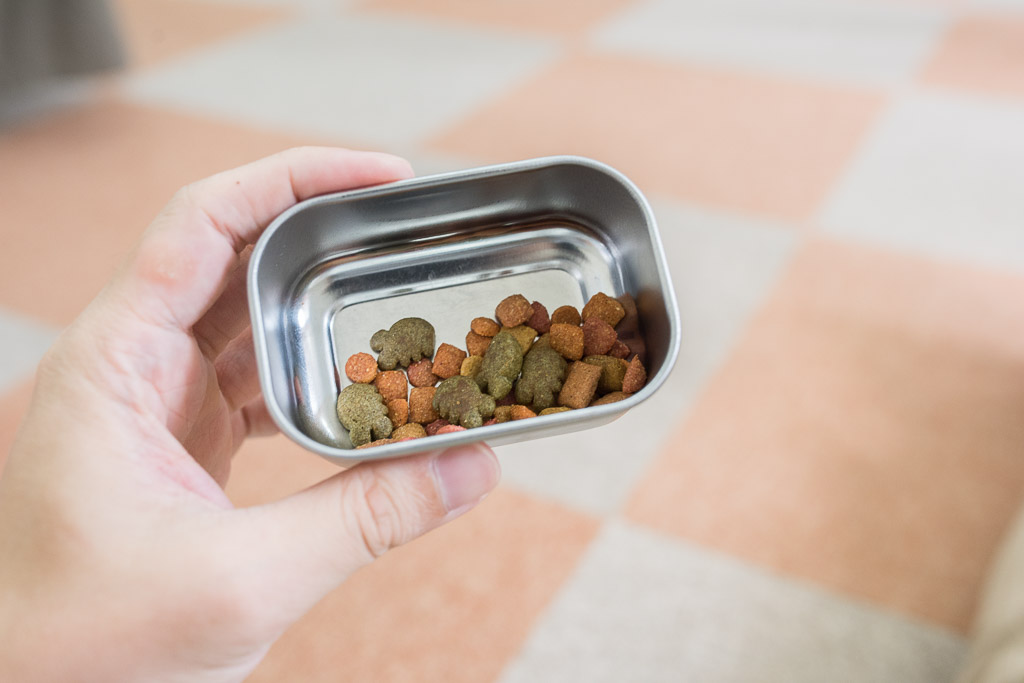 The snacks were crunchy like this.
Cats were busy to go back and forth between customers.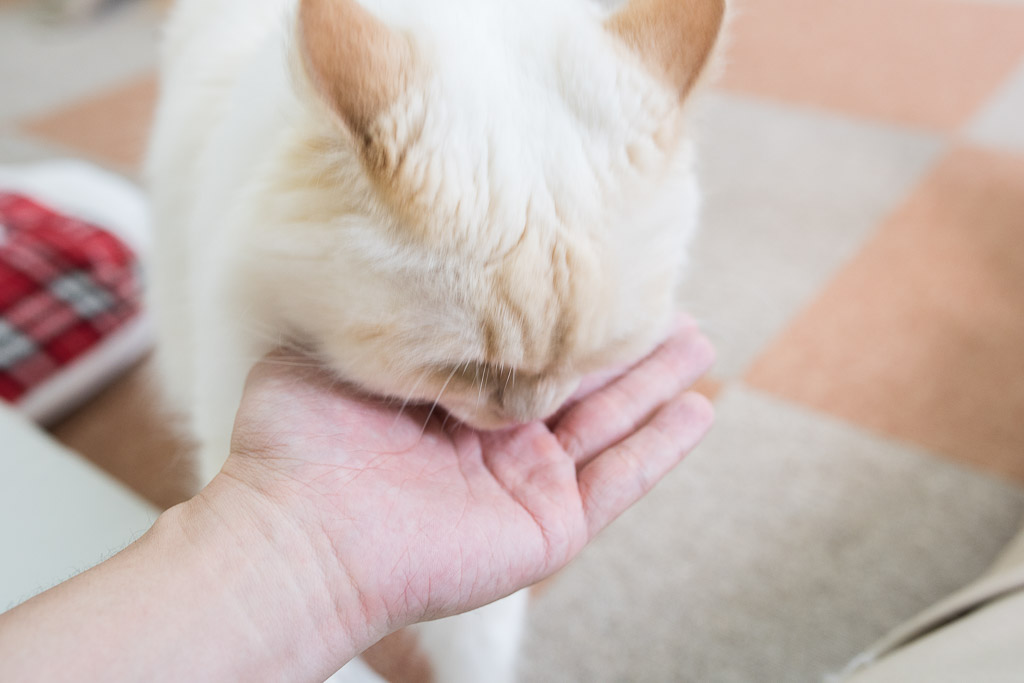 Always about 3 cats will come.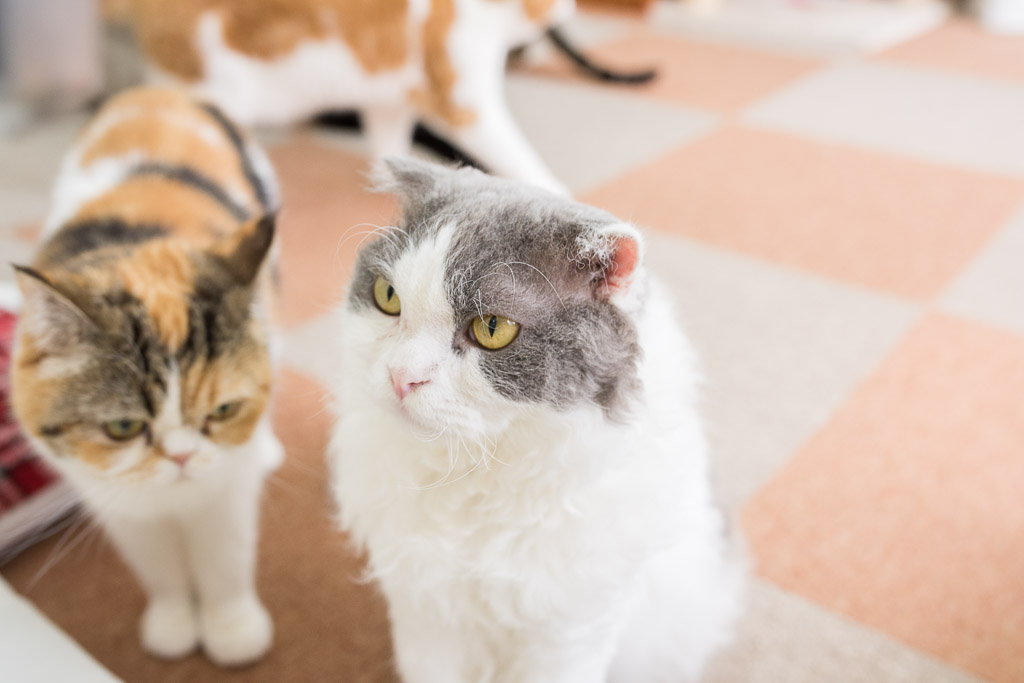 I pretended to give them snacks to take pictures. It was my strategy.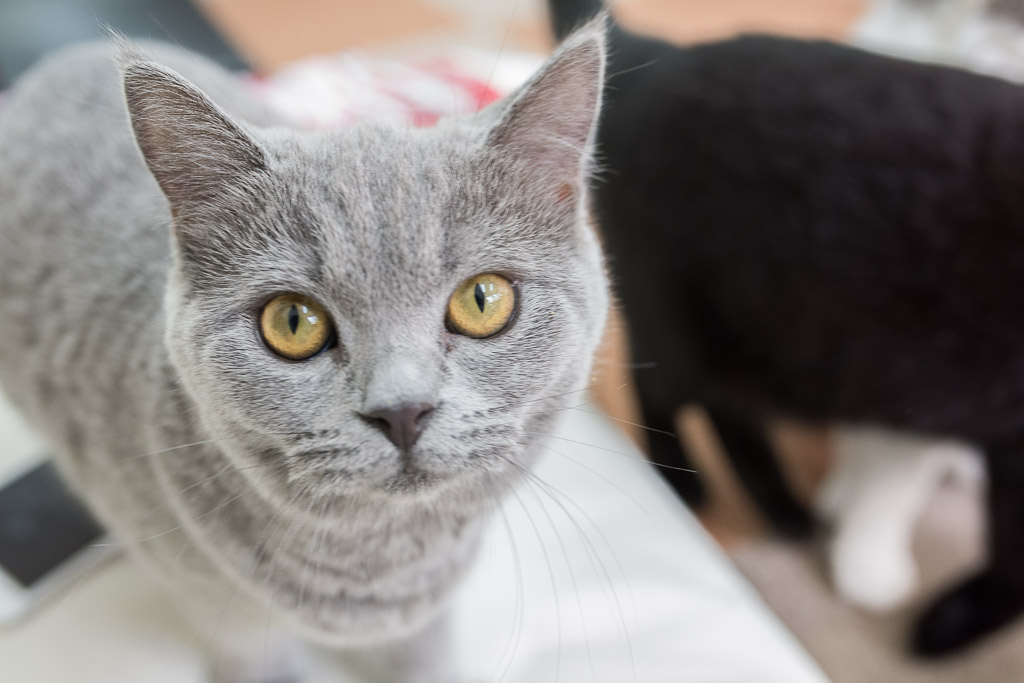 Sakura-chan of british short hair also came to have a snack.
If you have a snack, everyone will come.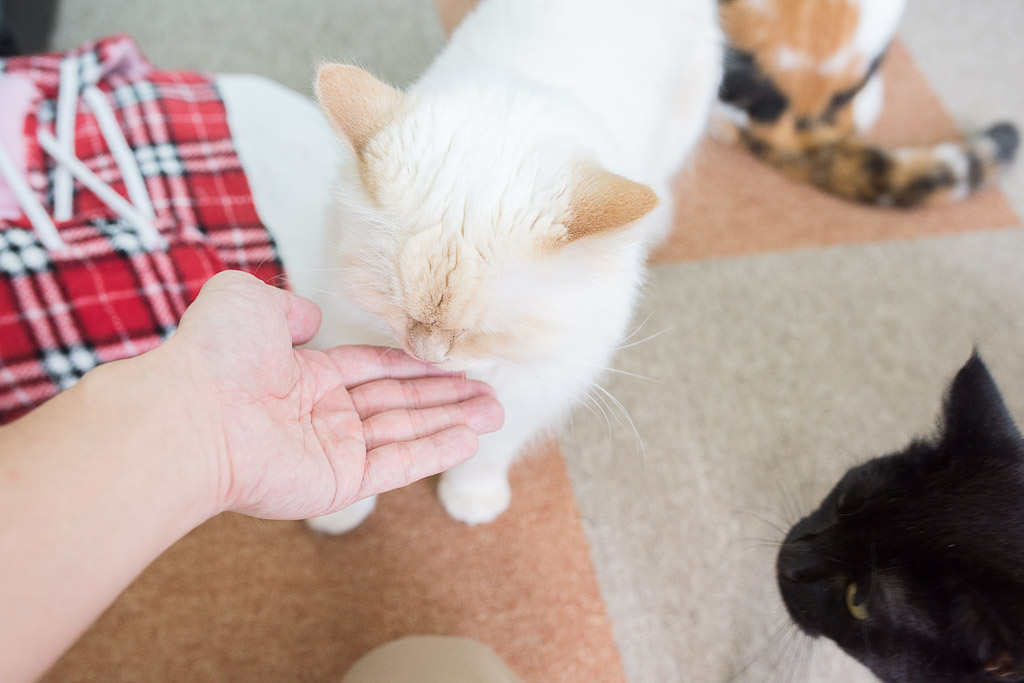 The cats of Nyanko seem to have a habit of licking our fingers after they finish eating.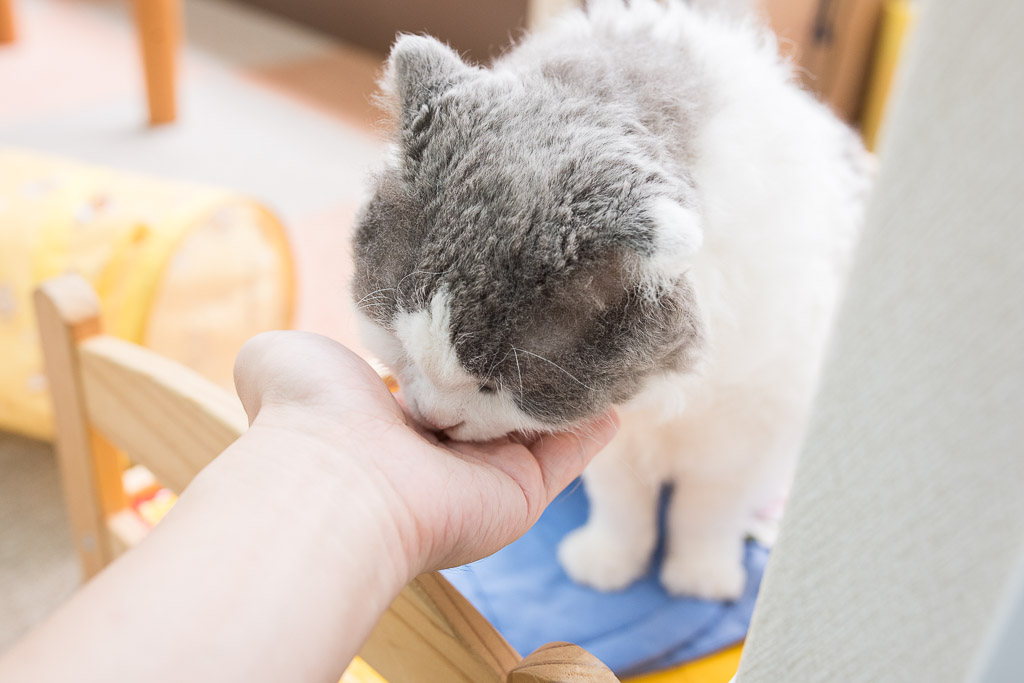 Fuku-kun, after eating crunchy ...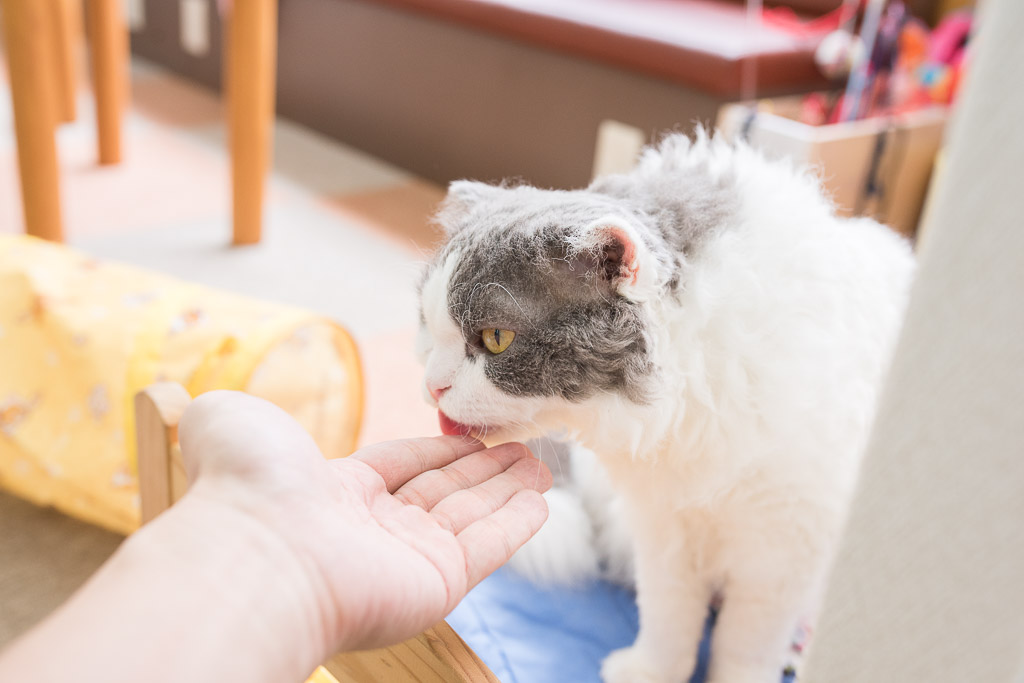 He still licked my fingers.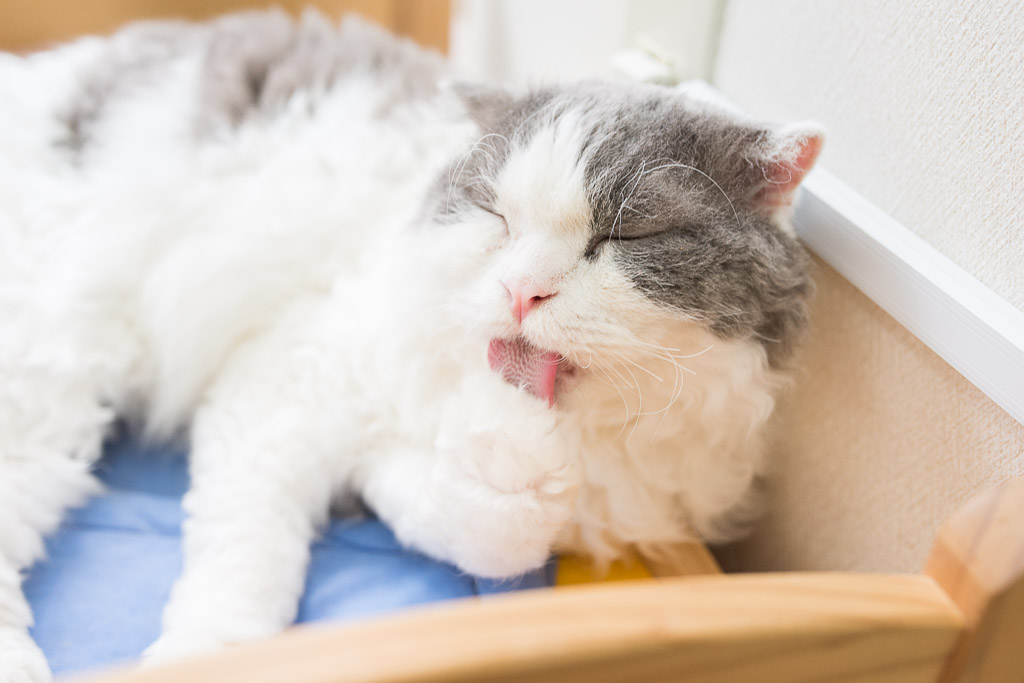 After finish eating, he started clean himself .
Cats are freedom ...
Nyanko is the ultimate contact with cats!
After the snack time was over I was just chilling. One clerk brought cat!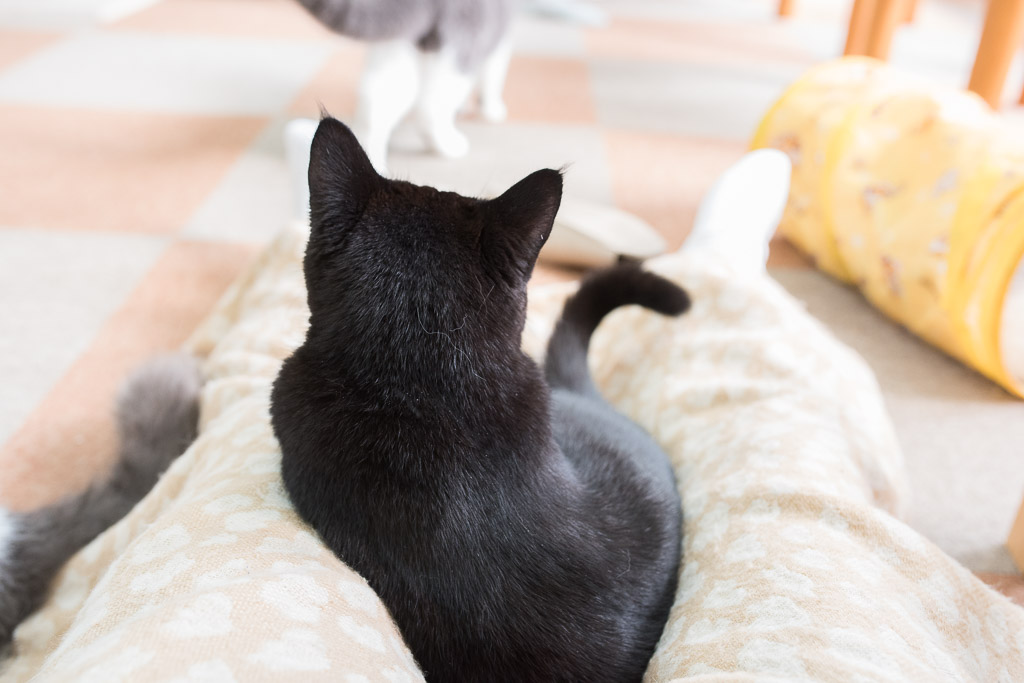 Kinta-kun relaxed in the middle of my feet.
I was healed so much!
I could only shoot from the back ... lol
Price / option
800 yen for the first hour (200 yen for every 15 minutes of extension)
3 hours pack is 2000 yen
Snack is 100 yen
With free drink.
Children can also be accompanied by a guardian.
* No charge for children.
Reservations can be made over the phone.
The charter is 8,000 yen per hour (10,000 yen per hour on weekends and holidays)
Point of cat cafe nyankoto
Cats are friendly.
The customer service is good.
There are no bad smell.
Cats are almost long hair type.
A lot of Busakawa.
The price is quite reasonable.
Depending on the degree of congestion, the store clerk puts the cat on the foot.
Since all the customers give cats snacks at the snack time, you won't be alone.
On weekdays there were not couple customers when I went there.
Store information
2-14-6 Swan Building, Takadanobaba, Shinjuku-ku, Tokyo 201
Business hours: 11:00 to 22:00
Regular holiday: Basically no holidays.
Reservation by phone is possible.
Store URL:にゃんこと
Store phone number:03-6233-9662
My cat cafe ranking
It is my own ranking that went to various cat cafes and became a cat cafe meister (self-name).
Please refer to this when you want to date with friends, when you want to date, when you want to spend time alone, when you want to play with your family and cat.
Nearby cat cafe