I went to Nekobukuro in Ikebukuro. This cat cafe is good for family. It's super reasonable. An adult ticket cost 700 yen for 1 day. Nekobukuro is a cat cafe but they don't have drink and food menu. You will just enjoy atmosphere. You can't play with cats so much but you will enjoy the atmosphere.
[Tokyo japan Cat cafe] Ikebukuro Nekobukuro reviews!

Shop location
Nekobukuro is at 8 floor of TOKYU HANDS. You take an elevator.
There are pets shop and cat cafe at 8 floor. This is an entrance. You pay here and then you can enter. It cost 700 yen for adults, 500 yen for elementary students, 300 yen for over 2 years old children and 1,100 yen for couple. You can not re entry.
Let's get into Nekobukuro.
Don't chase the cat.
Don't speak loud.
If cats are not friendly, please let them go.
Don't grab cat's tail.
Don't grab cat's neck.
Don't push cat's stomach.
Don't feed them.
And of course don't forget to disinfect alcohol before entering!
It 's like this when you 're inside, and it 's an interior that makes kids happy.
The first thing you can see is the cat conductor who got on this train. I first thought this was a mouse … lol The back passenger car part is a cat cage. The cats in it cannot be touched.
This is a rare cat cafe with shoes, so everyone sits on a chair instead of sitting on the ground. There is a sense of distance between cats, so I can't touch them very much. Cats are friendly but not super.
A cat sat on the chair as well.
There was also such a TV, and a video introducing Nekobukuro-limited Anpanmans to cats was playing. This is a little child please! By the way, the characters are Anpanman, Baikinman, Dokin-chan, and somehow horrorman.
There is also a space where the wall is decorated with a diorama that looks like a small child like this.
There were 10 cats. Cats number is depends on the date.
You can play darts for 100 yen. If you get 30 points, you will get a present, so be sure with your child!
There is also a can batch gacha gacha.
Cats of Nekobukuro
He is aiming to put a little bit on the other cat from the top of the chair.
She looks sleepy.
Look at the cat face. It's funny, isn't it?
This cat has a dignified look.
The cat mustn't be interested in human.
Snack time
There are sack time twice a day and you can get a little snack of cats. On weekdays from around 13:00 and around 16:00. On Saturdays, Sundays and public holidays from around 13:00 and from around 17:30.
The store clerk brings me a snack and everybody gets a little.
Like that.
Mogu Mogu...
Mogu Mogu...
After eating, I started playing on the spot.
This cat was nearby to get more snacks, but as soon as I tried to touch this cat, he escaped …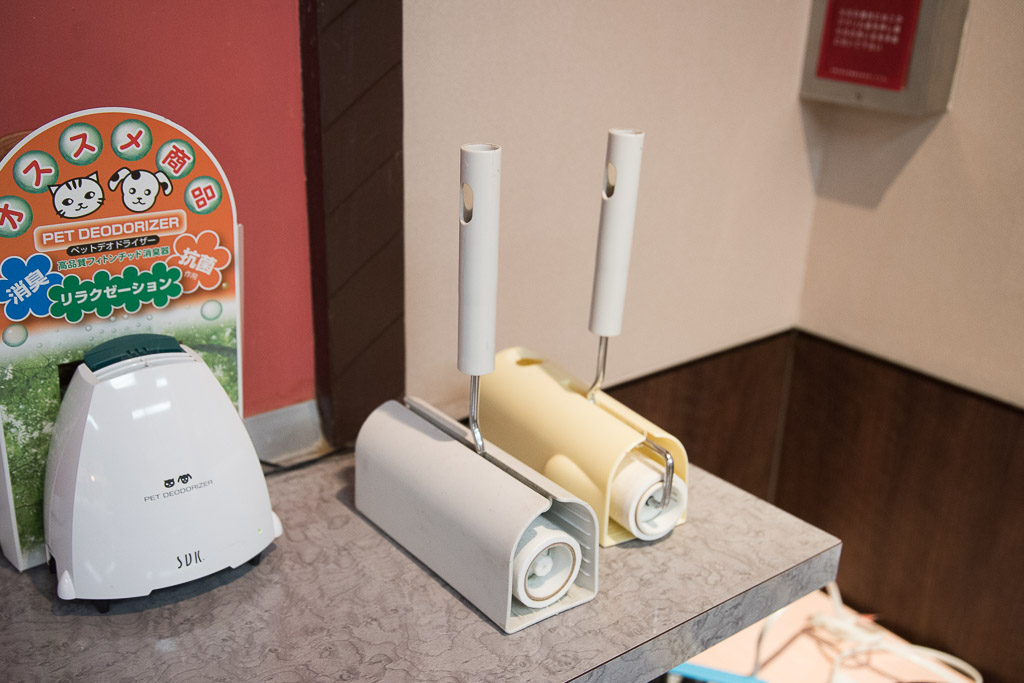 You can clean your cloth.
Price and Option
| | |
| --- | --- |
| Age | Price |
| Adults (over 13) | 700 yen |
| Elementary school. | 500 yen |
| Children (over 2) | 300 yen |
| Couple | 1,100 yen |
| I day pass (you can re enter) | 1,100 yen |
Time is unlimited but you can not re enter. Children under 3rd grade must be accompanied by an adult.
Nekobukuro's point
It's reasonable.
There are no smell.
It's hard to touch the cats because they don't take off their shoes.
For families.
Shop information
1-28-10 Higashi Ike bukuro Toshima Tokyo TOKYU HANDS 8F
Business hours: From 10:00 to 20:00 (last entry time is 19:30) Regular holiday: Irregular (based on the regular holiday of Tokyu Hands Ikebukuro) URL:
Nekobukuro
TEL:03-3980-6111
My cat cafe ranking
It's my personal ranking that went to various cat cafes and became a cat cafe meister (self-named). Please refer to it when you want to play with friends, date, or want to be alone, or play with a cat in your family.
→See the cat cafe ranking.
Nearby cat cafes
・
Cat cafes in Ikebukuro
・
MoCHA
・
Nekono iru kyuukeijo299
・
Nekorobi
・
Neco republic
・
MoCHA
・
Cat town
・
Kuu riku ya