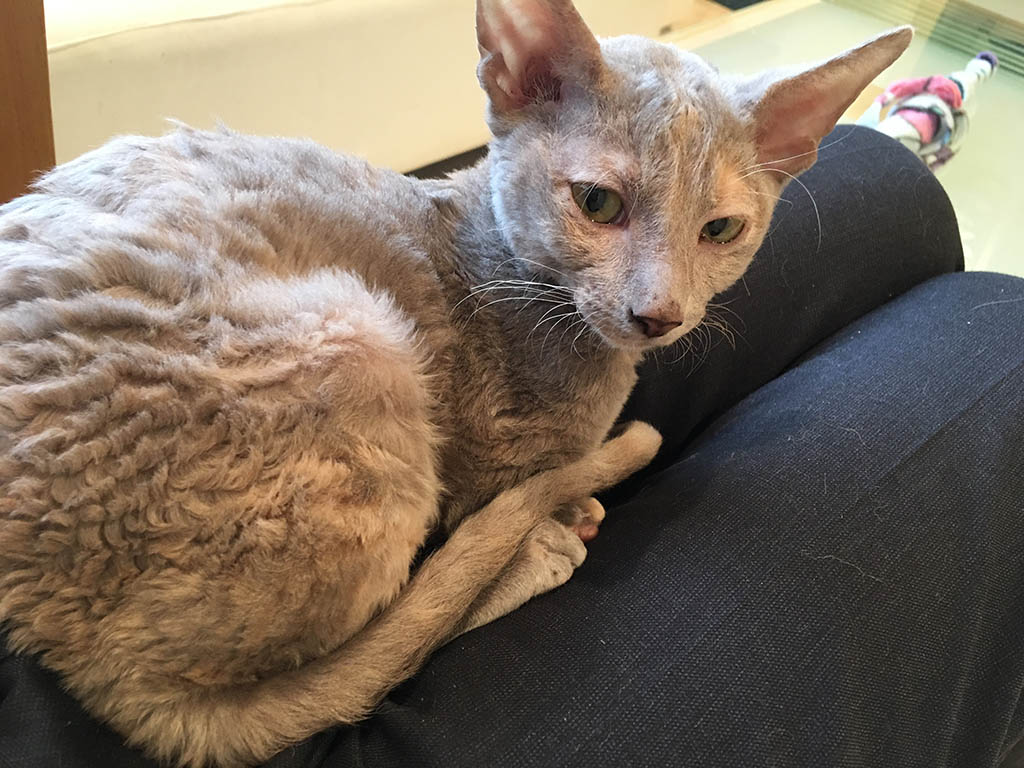 I went to Curl Up cafe in Nishikoyama.
Actually I don't go to Nishikoyama usually because I don't use Tokyu-meguro line.
But there are some wonderful cat cafes.
There are many cats they have some prize of competition.
Honestly I expected that maybe the cats were not friendly. But he cats were so friendly!
It was first time the cats were coming on my knee every time!
[japan Cat cafe] Nishikoyama Curl Up cafe reviews!

Curl Up cafe's location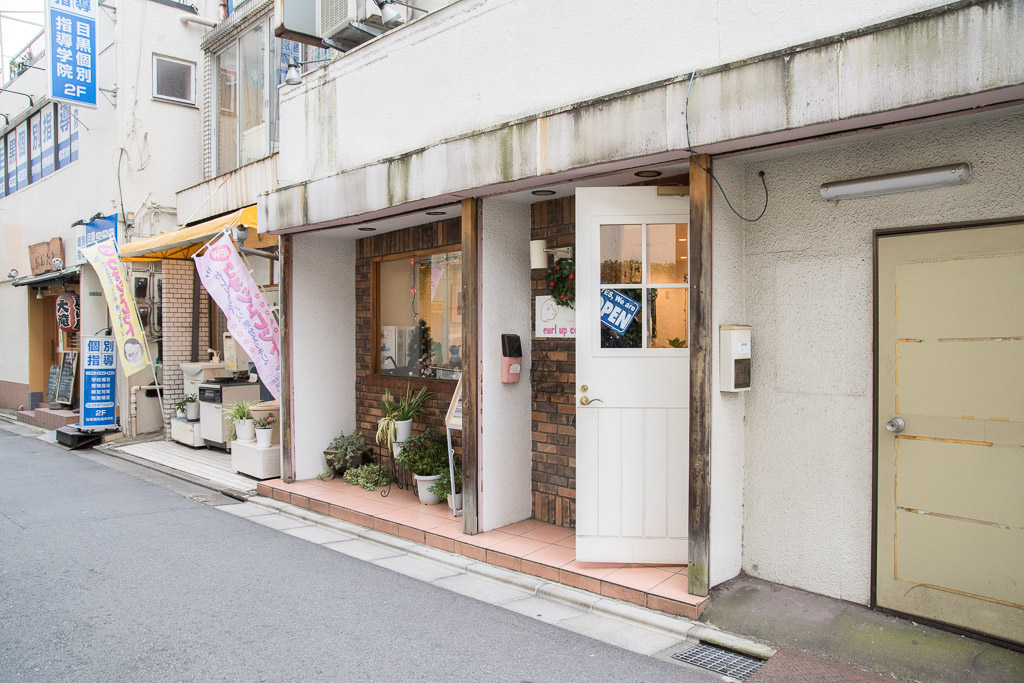 Curl Up cafe is located in 1 minute on foot from Nishikoyama station(Tokyu-meguro line).
It's very close to the station. You won't be lost.
Actually I've never been to Nishikoyama before.
It takes 4 or 5 minutes from Meguro.
Let's enter Curl Up cafe!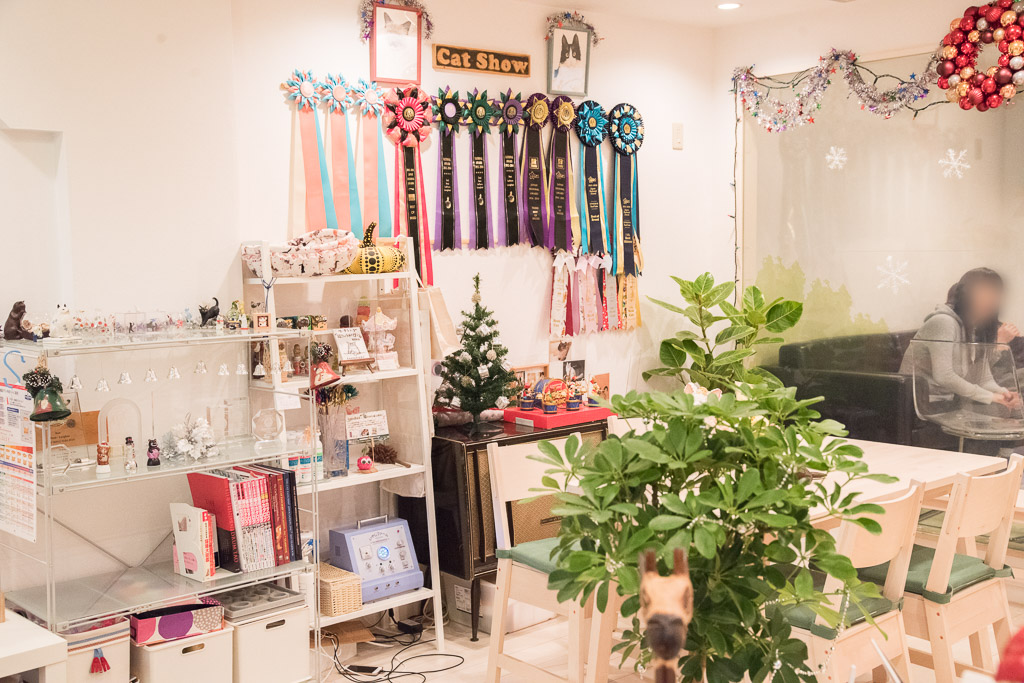 There is entrance as soon as I enter. Some clerk tell you precautions.
It costs 1,500 yen for 90 minutes with one free drink(not include tax) or it costs 2,500 yen for up to 3 hours with one free drink(not include tax).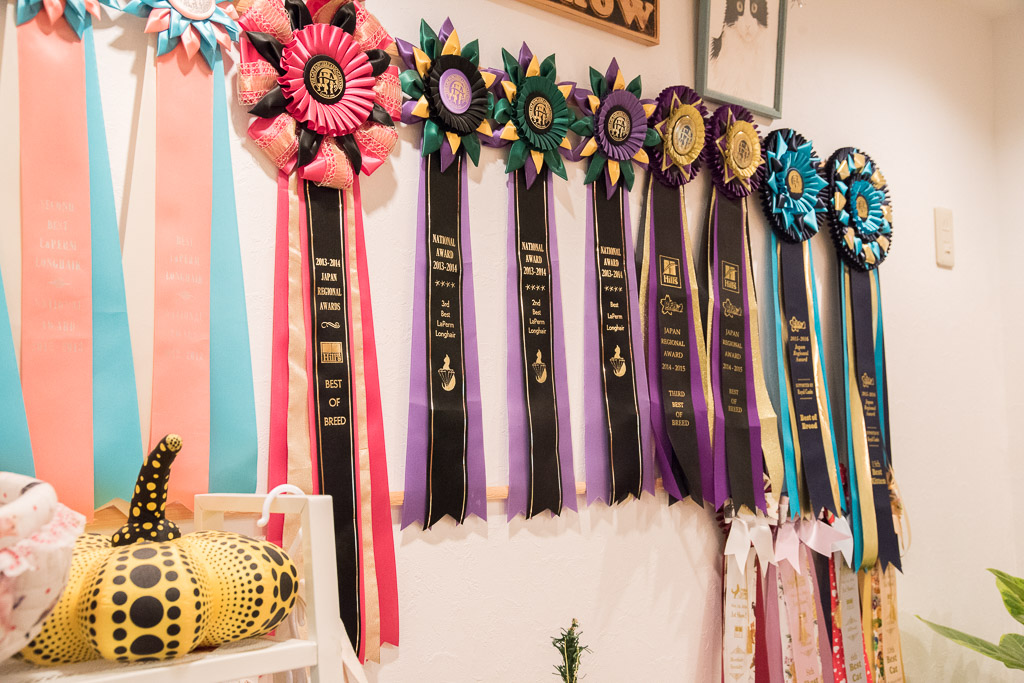 There are some prizes.
These are prize from CFA(THE CAT FANCIERS' ASSOCIATION, INC.)
It's awesome, isn't it?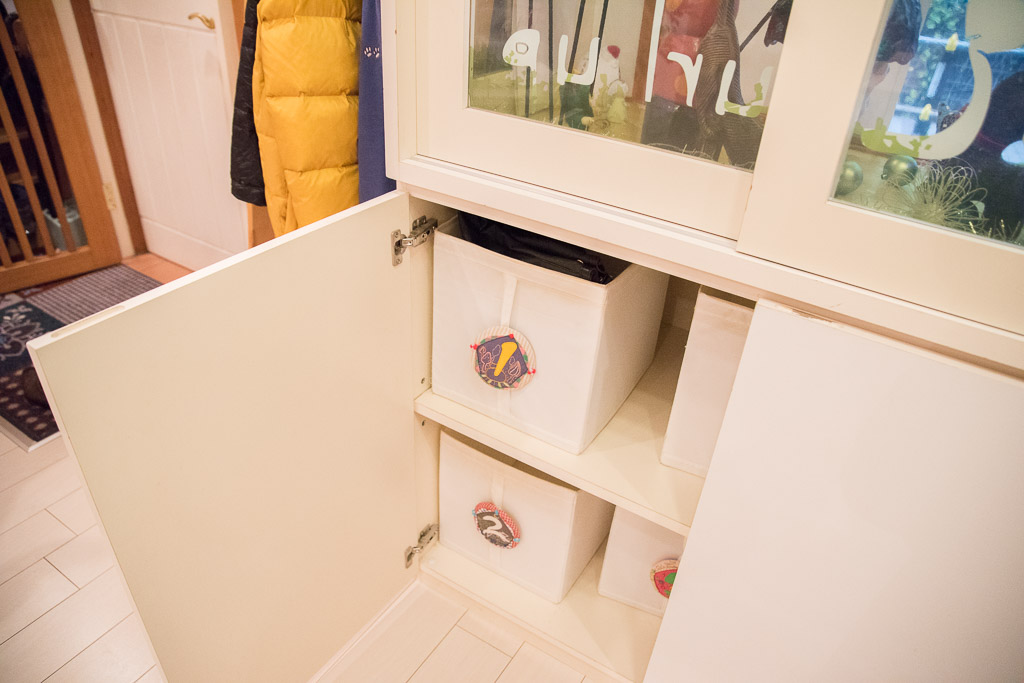 You can put your bag into this box.
It is useful.
Every cats are good eater and exited so I recommend you that you should put your bag in the box.
The inside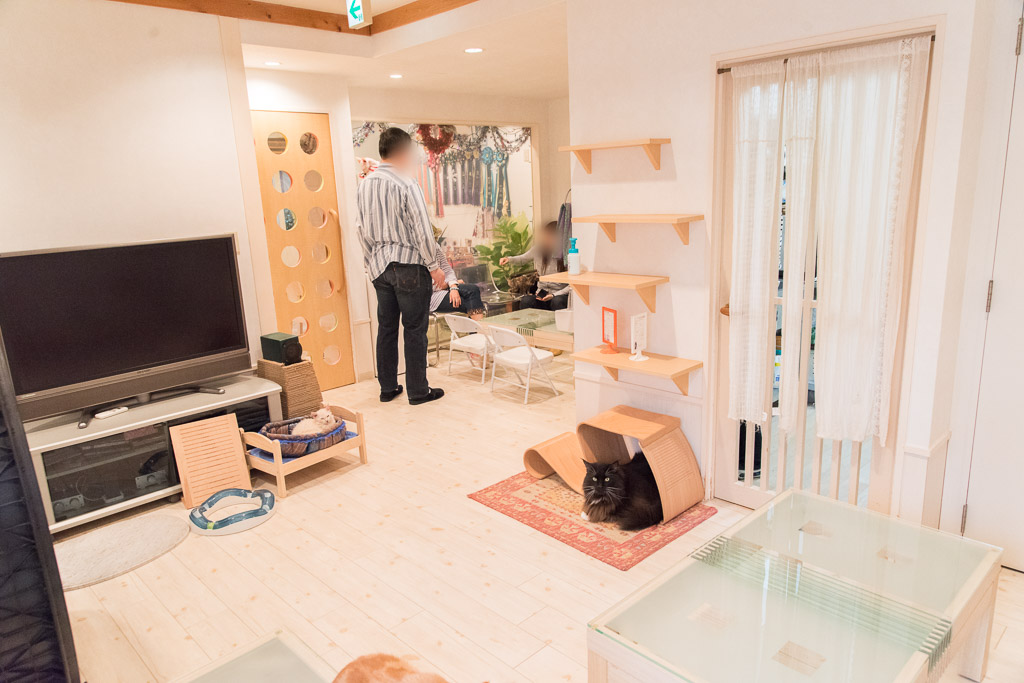 This picture is inside of Curl Up cafe.
It is not so wide but not so narrow.
It is completely clean and never bad smell. I could feel comfortable.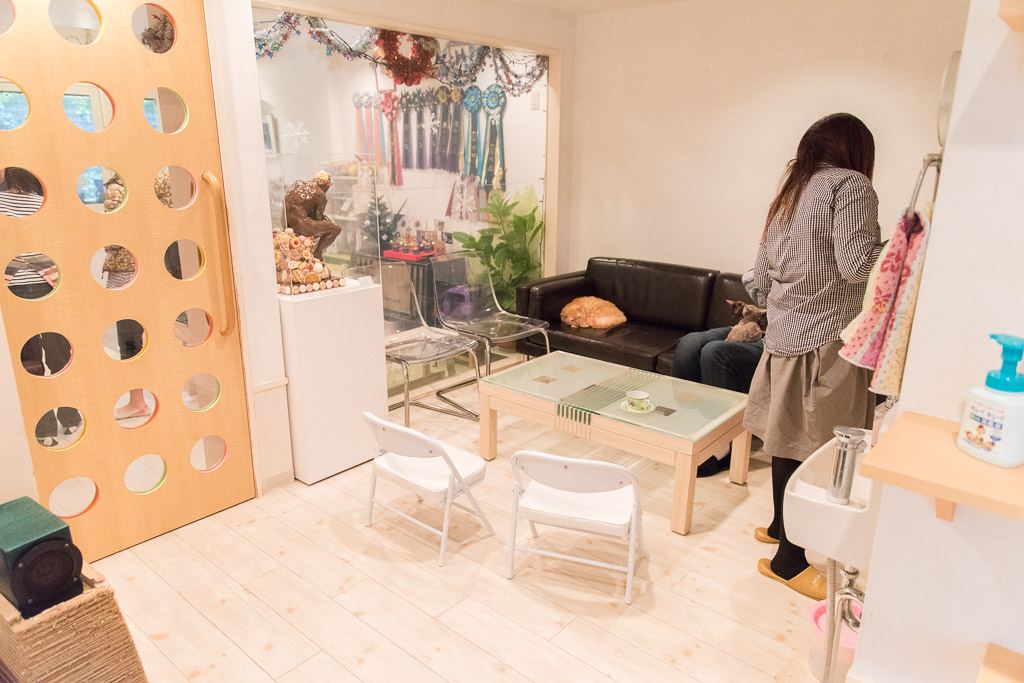 Regular customers (maybe the owners of the cats at the curl up cafe) talked about cats in this space.
There are many regular customers but it's no problem if you are alone like me.
You don't have to talk with someone. It's gonna be okay if you are shy.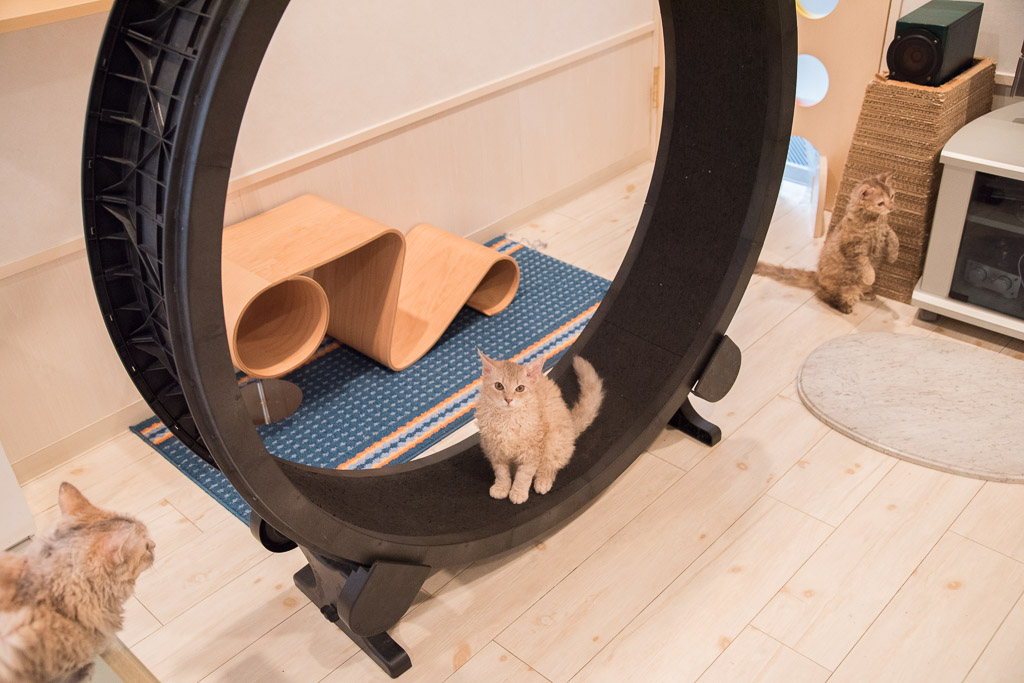 Look at this. It's a weird toy.
I thought what it was.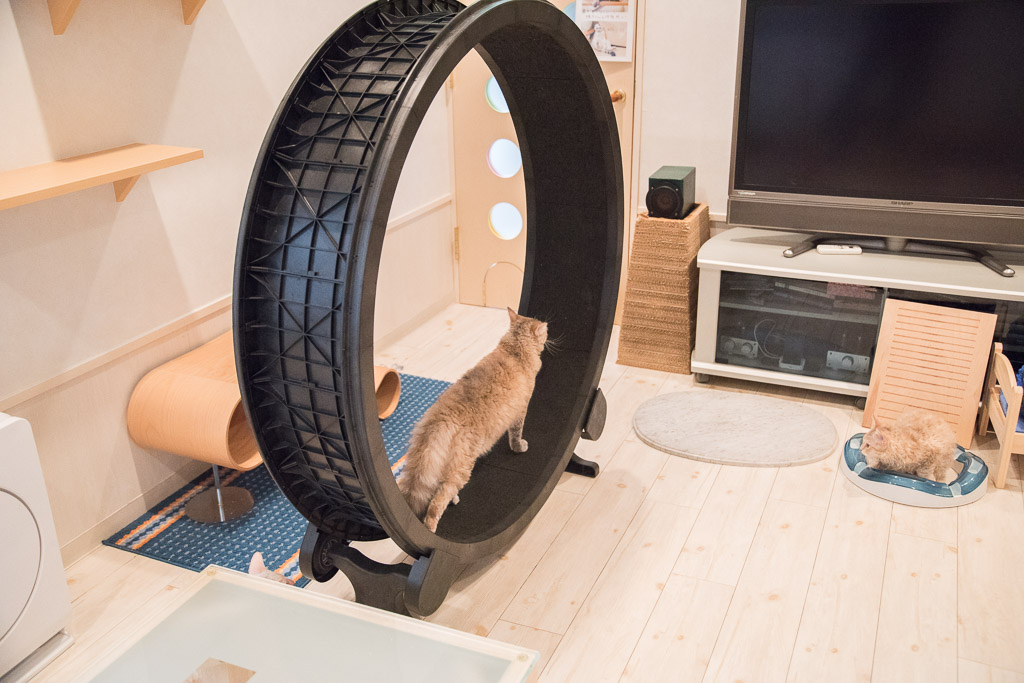 It was a toy that turned around like a hamster wheel.
This seems to be good for resolving lack of exercise …!
Actually some cats used this toy.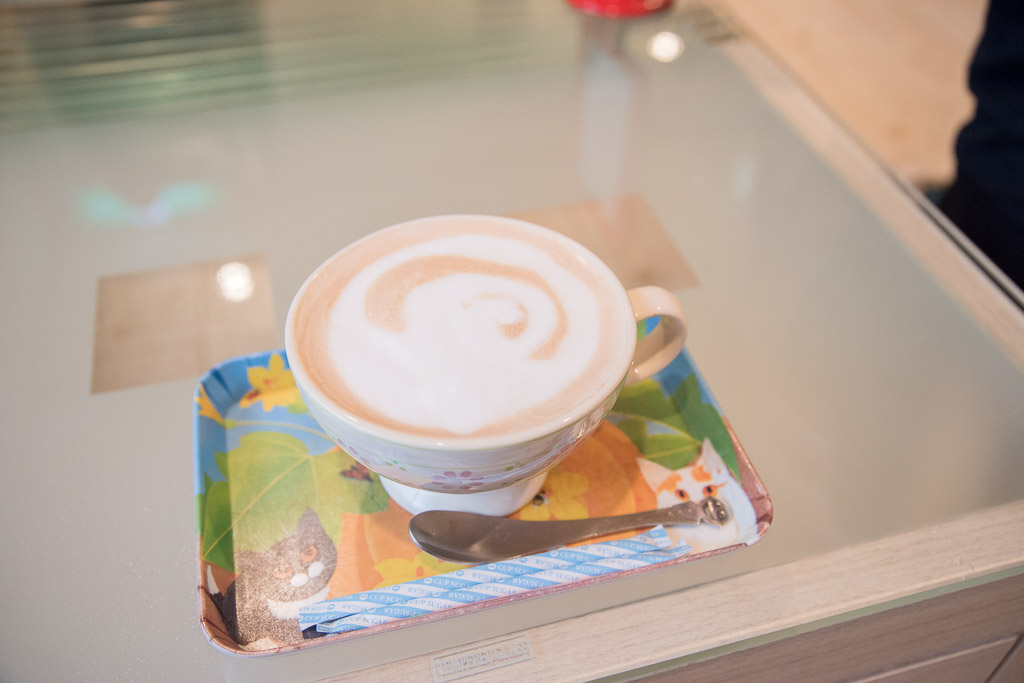 You can order one drink for free. I ordered a café au lait.
They have some kinds of hot drink. For example, herb tea and cappuccino etc.
And they have some kind of cold drink also. Like ice coffee, milk and strawberry, orange juice, Coca-Cola and gingerale.
You can drink anytime coffee, tea, Japanese green tea for free.
Isn't it nice?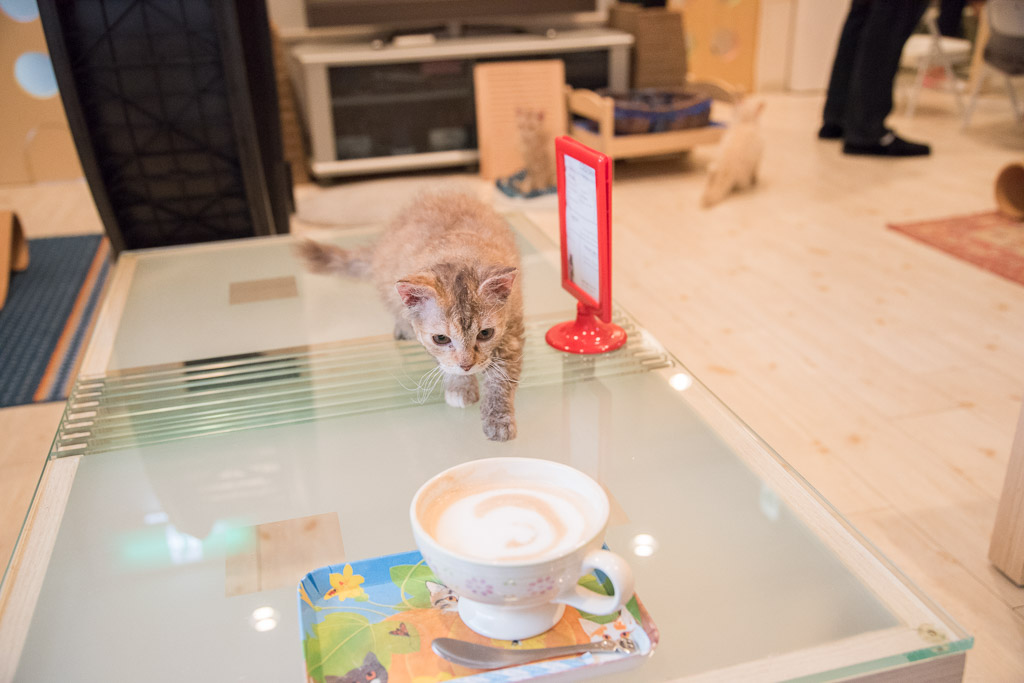 Watch out for drinks containing milk, as cats try to drink secretly like this lol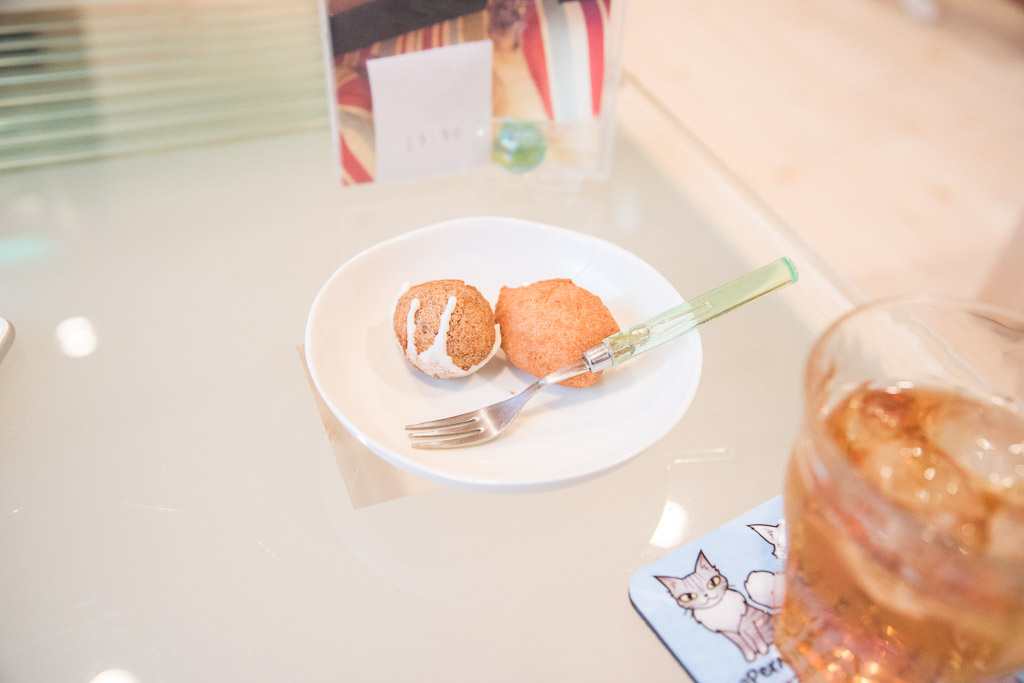 After this, I got donuts that regular customer brought.
It's a cozy looking cafe.
I think it's unique.
Curl Up cafe's cats
There are some toys beside the entrance. Cats will look at you guys if you have some toys.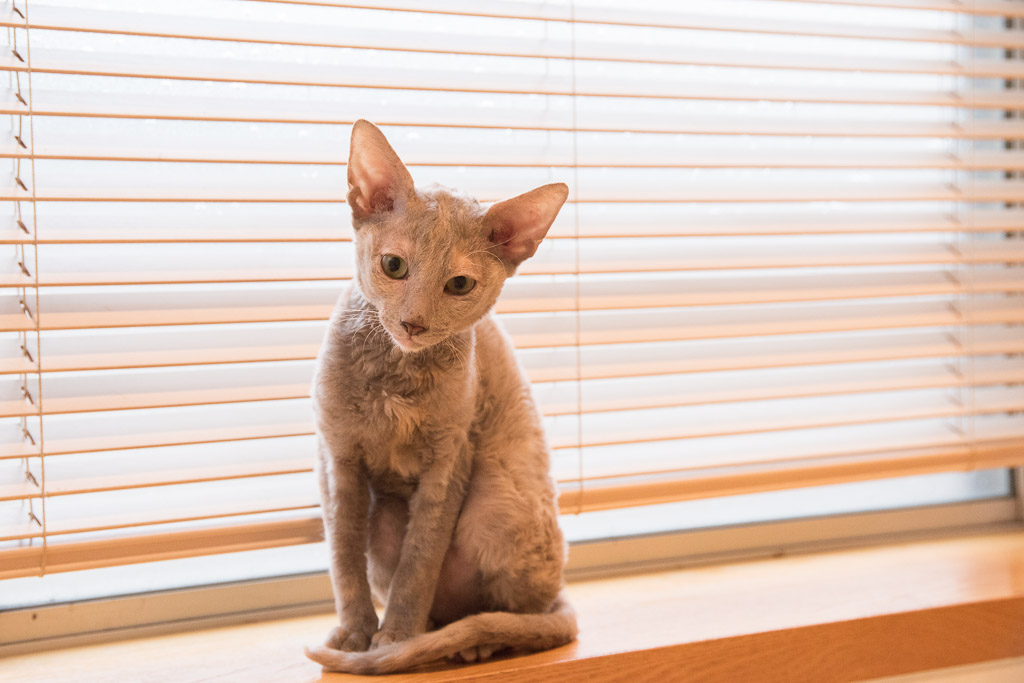 He was interested in toys.
I felt the cat was close to the customer from beginning. That's not very common.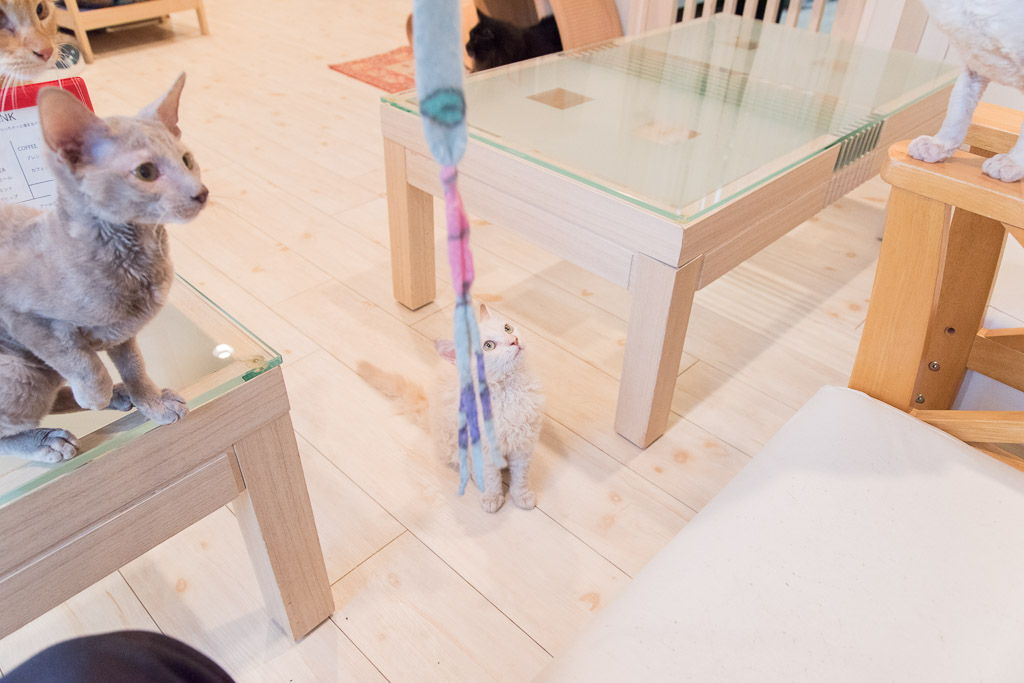 Cats gathered as soon as I waved a toy while sitting sofa.。
It was like this in 1 minute after sitting!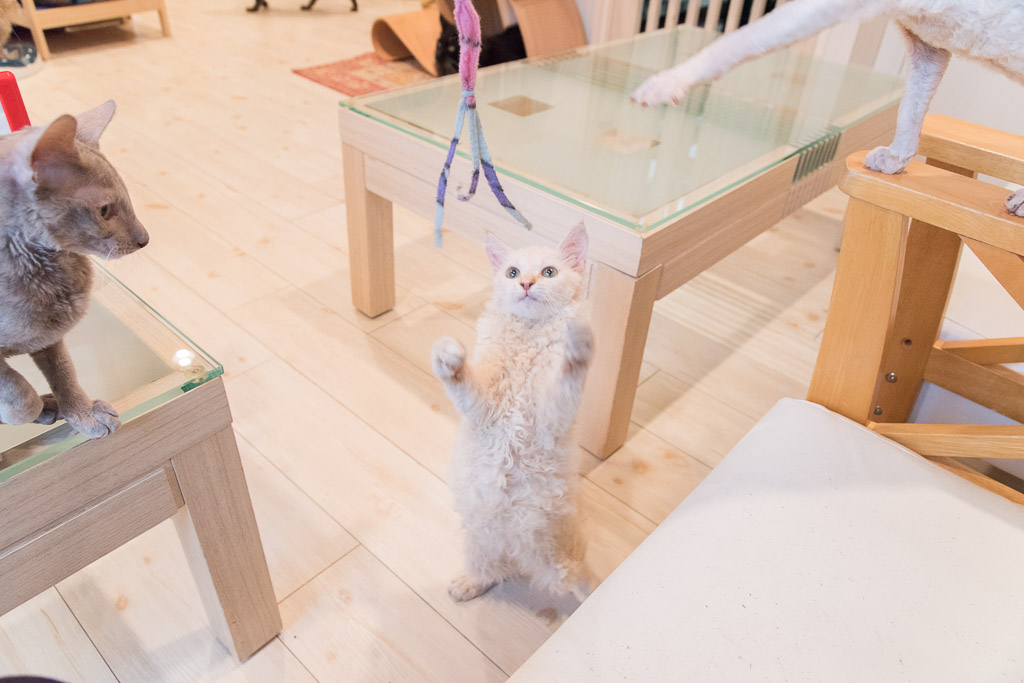 And they play very happily!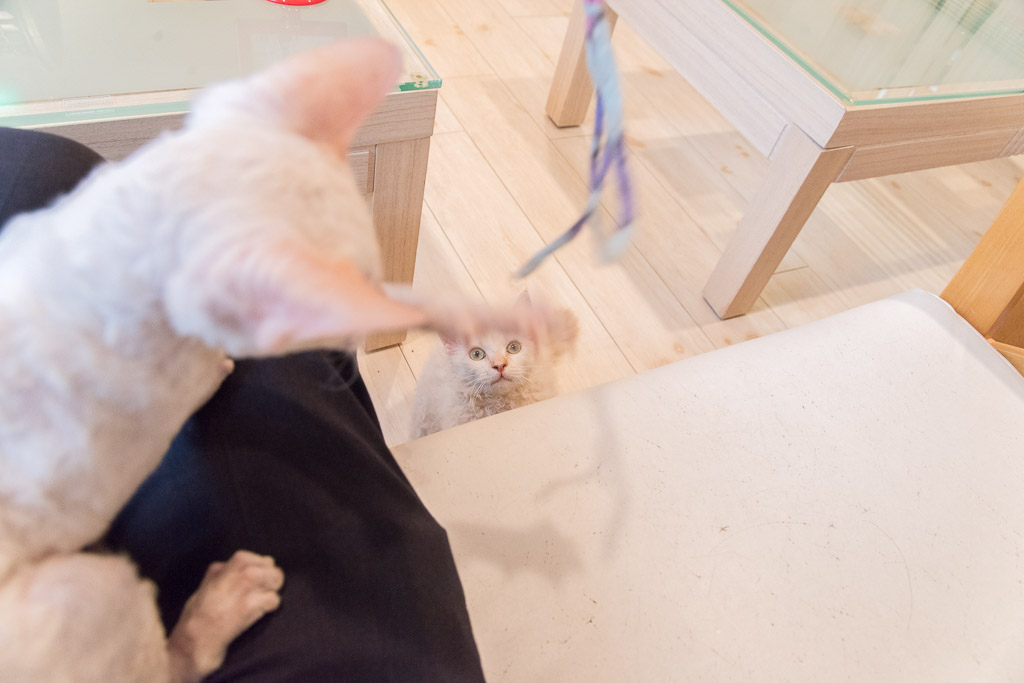 Some casts were sitting on my knee.
This time, there were many kitten like 4 month old. So they wanna play with a toy a lot.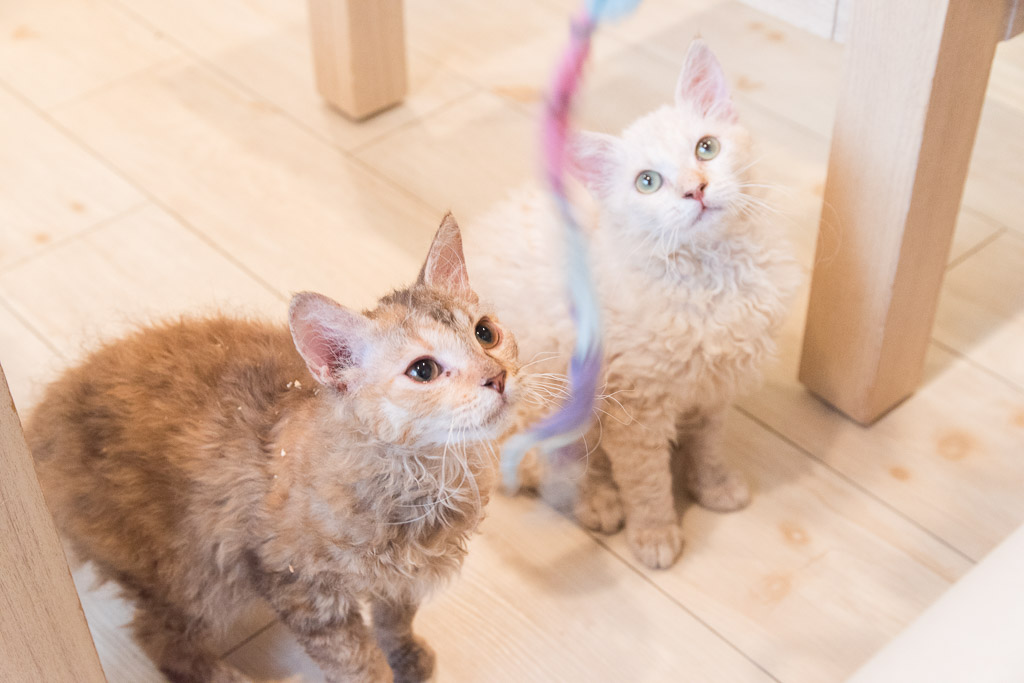 Them eyes were shiny when I had a toy.
What a cute!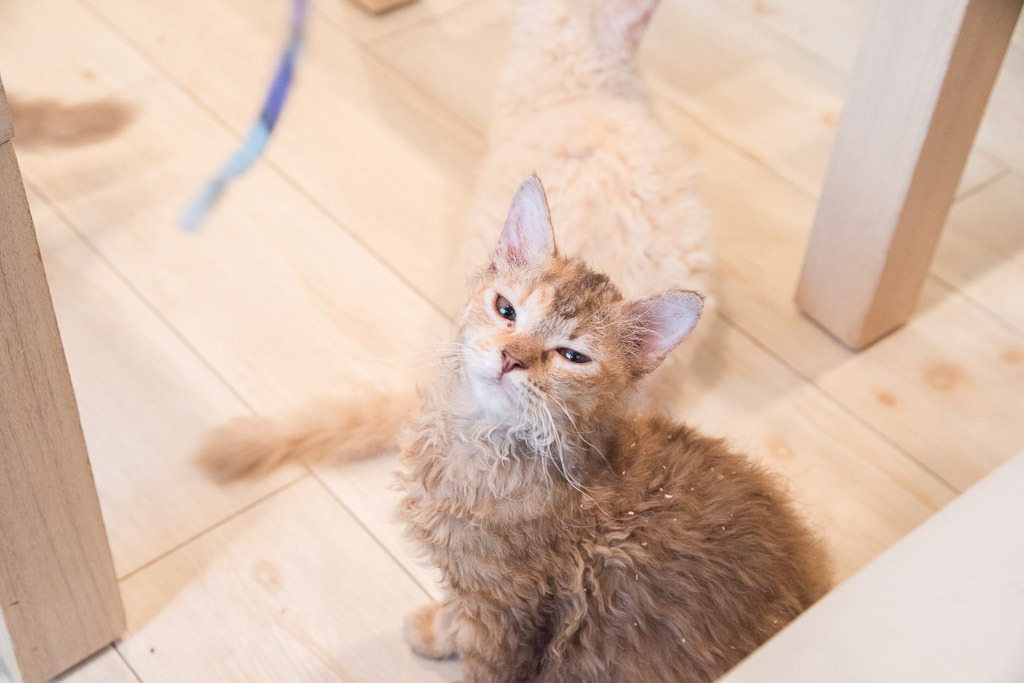 I took this picture when he couldn't catch a toy.
He is so cute.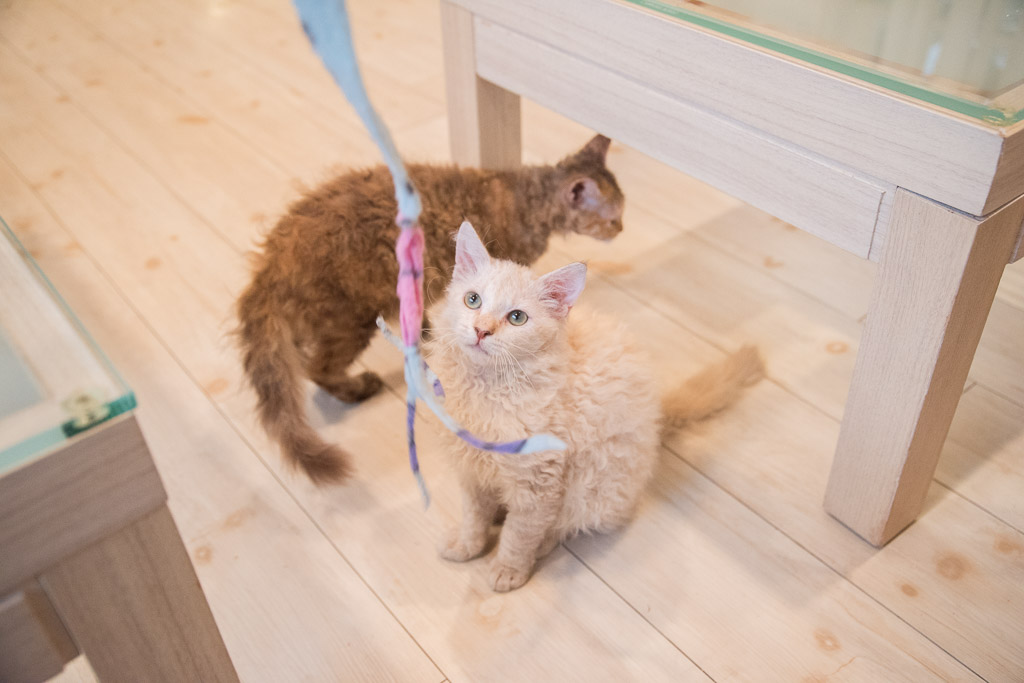 I thought they would get bored soon but never got bored.
They look fun.
There were other cats who wanted to play.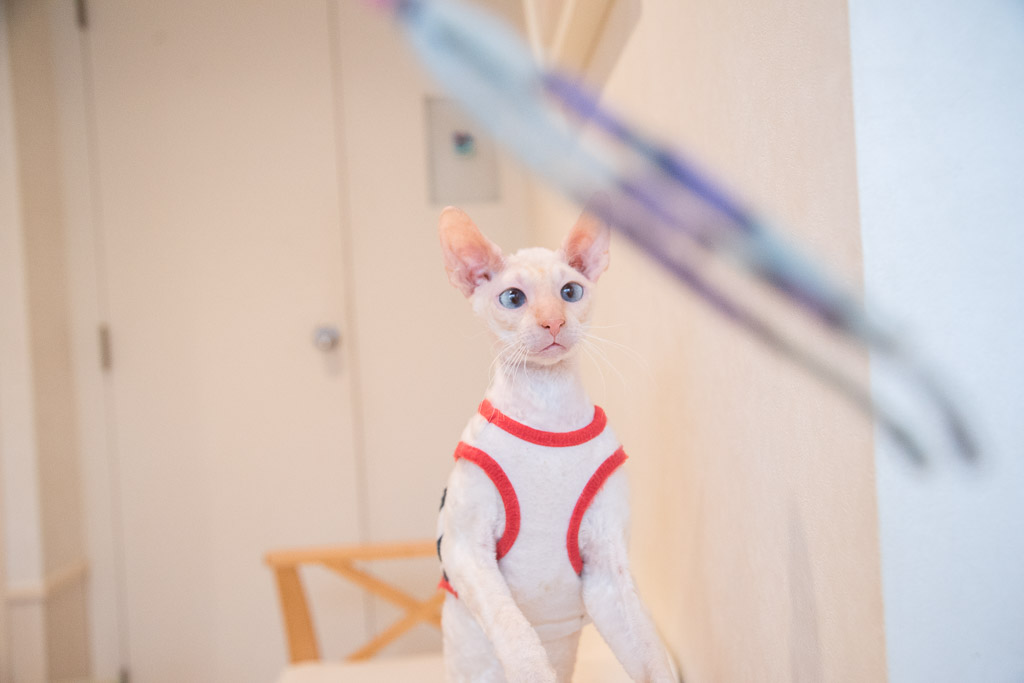 The cat who has beautiful eyes like to play with toys.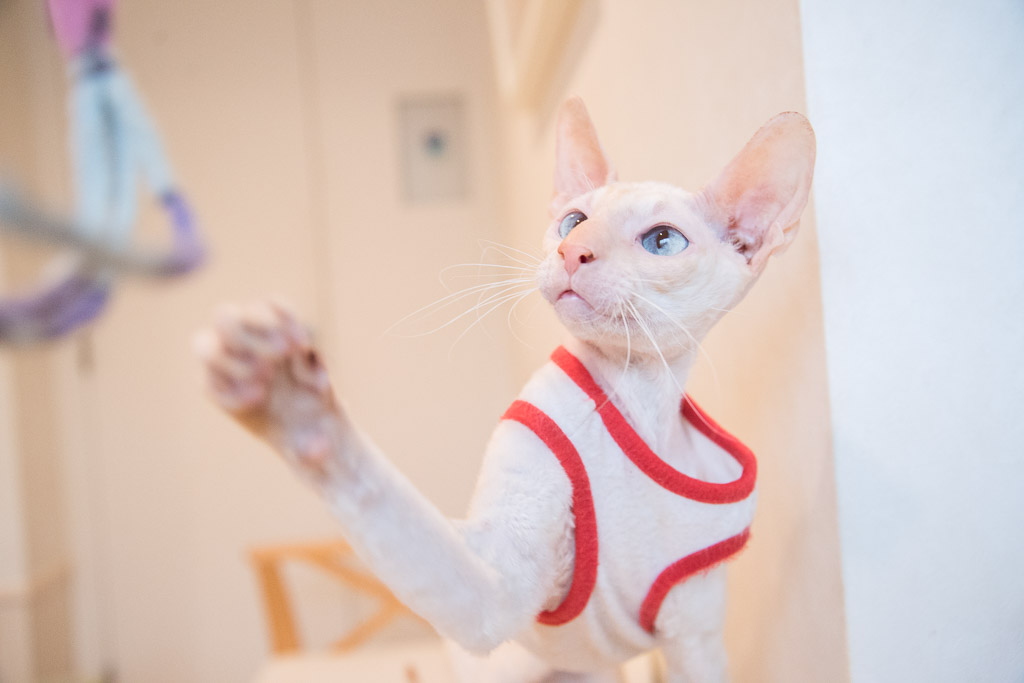 Have you ever tried using toys at a cat cafe, but haven't been seen by cats at all?
Don't worry about it at Curl Up cafe!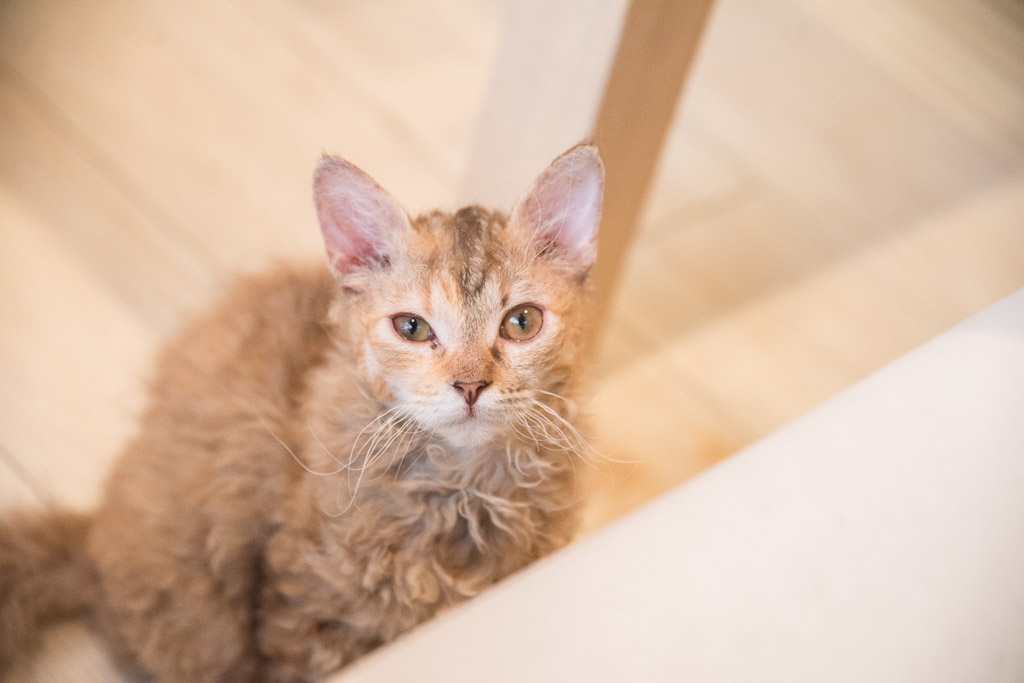 Rather they have urged me not to use toys.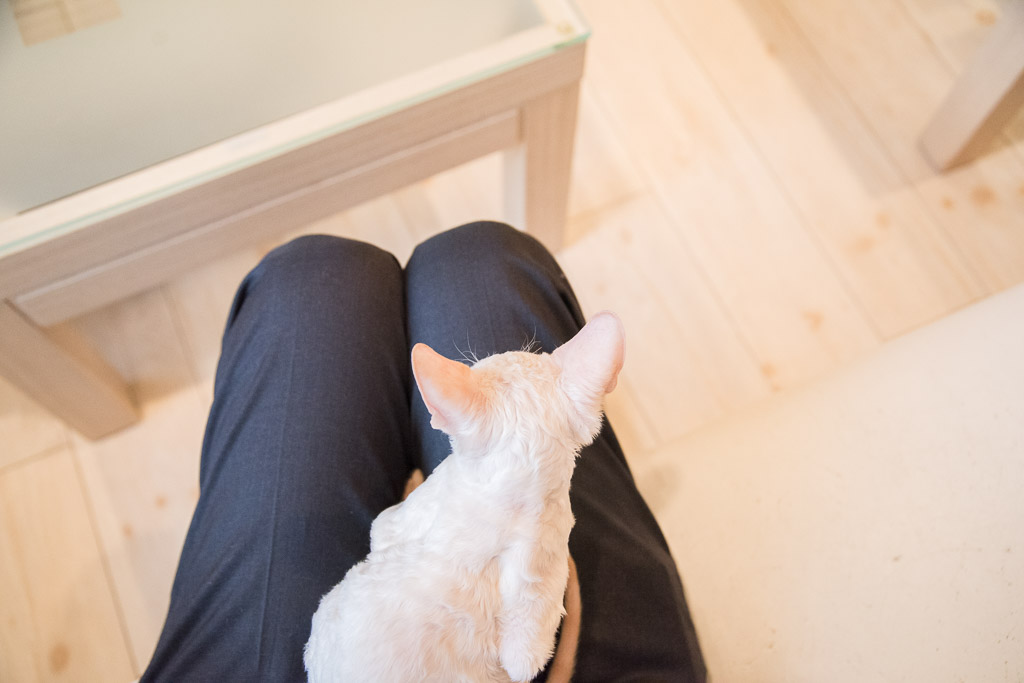 And they relaxed on my knee also.
How cute.
Cute!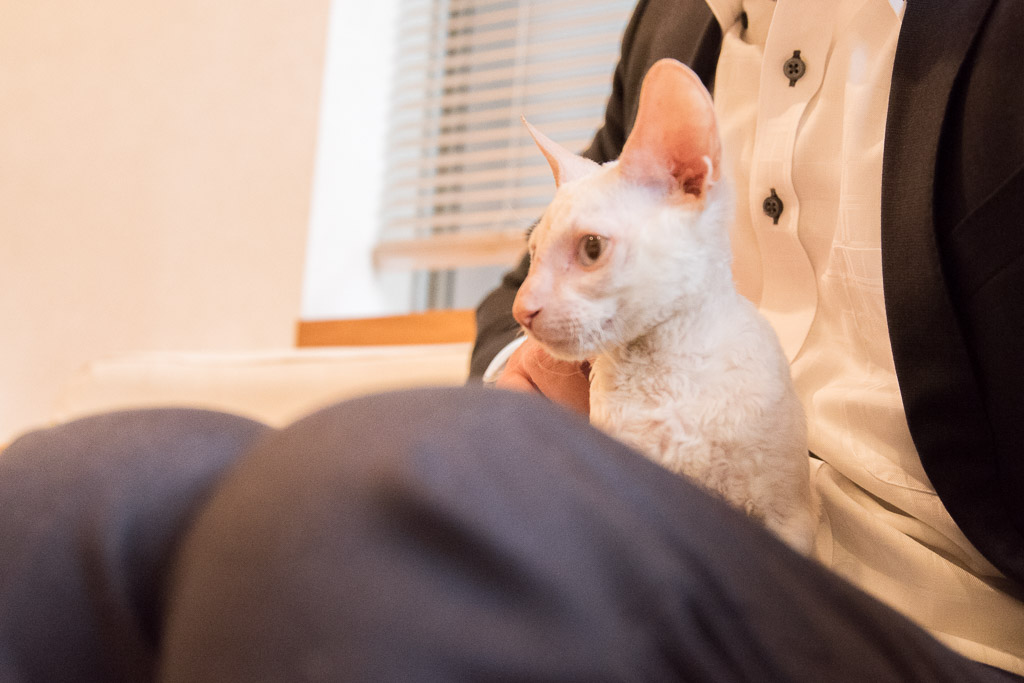 You can touch them a lot when they are on your knee.
And they looks so comfortable.
Actually I went to more than 20 cat cafes so maybe I am good at petting cats.lol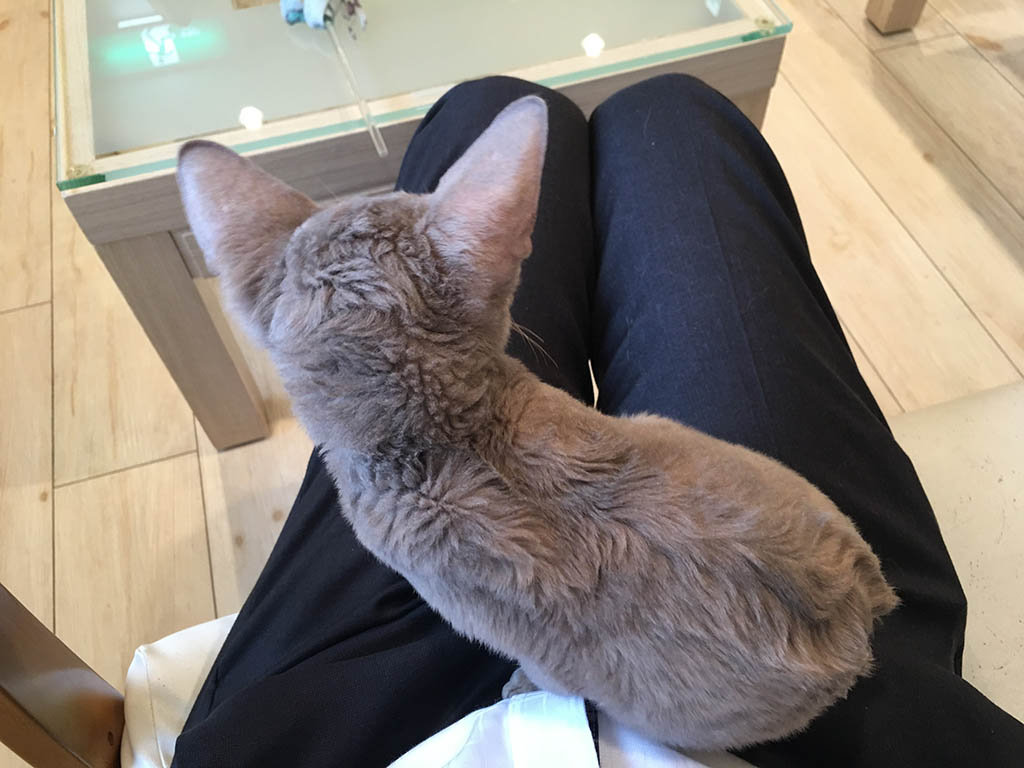 He was gone but the another cat were coming.
I could enjoy all time.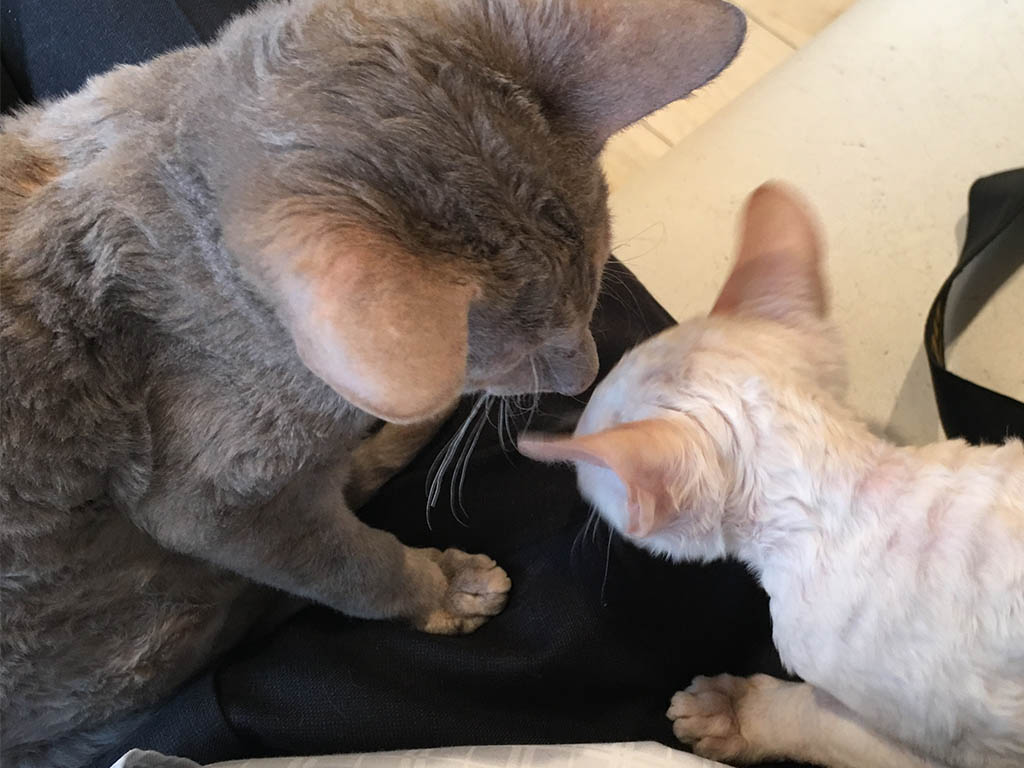 They gathered on my knee. And they started grooming them boddy each other.
It was crazy cute.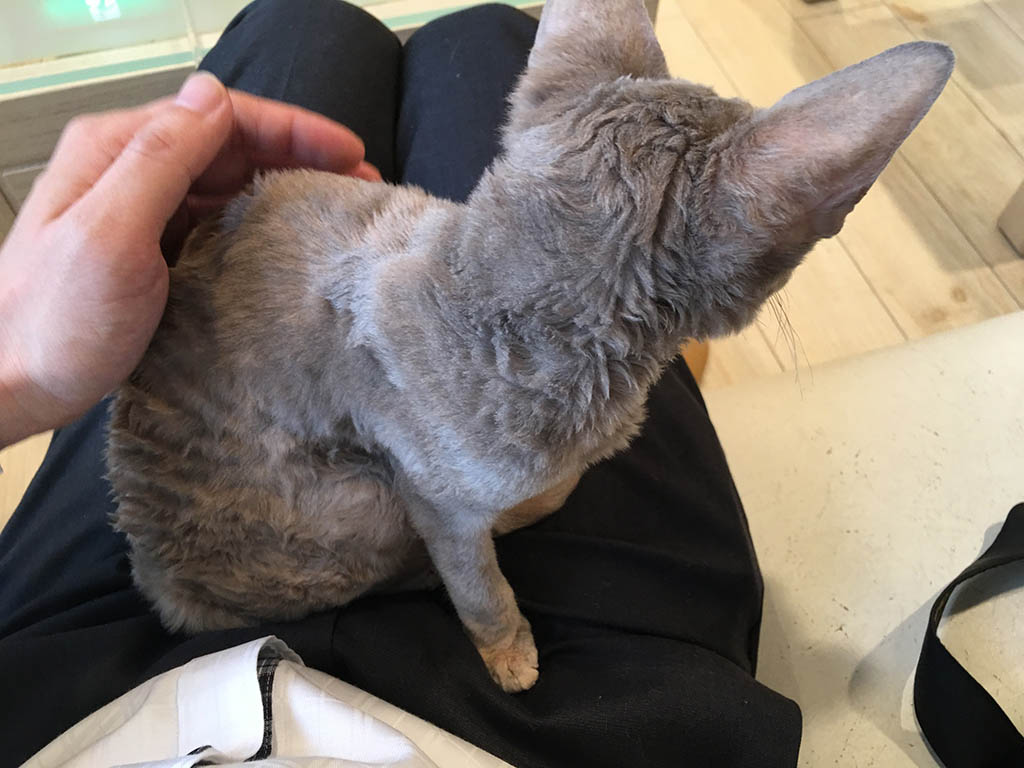 I could pet him also.
When I massaged his chin, he narrowed his eyes and felt comfortable.
But you can't afford to shoot with the camera if you're doing a massage.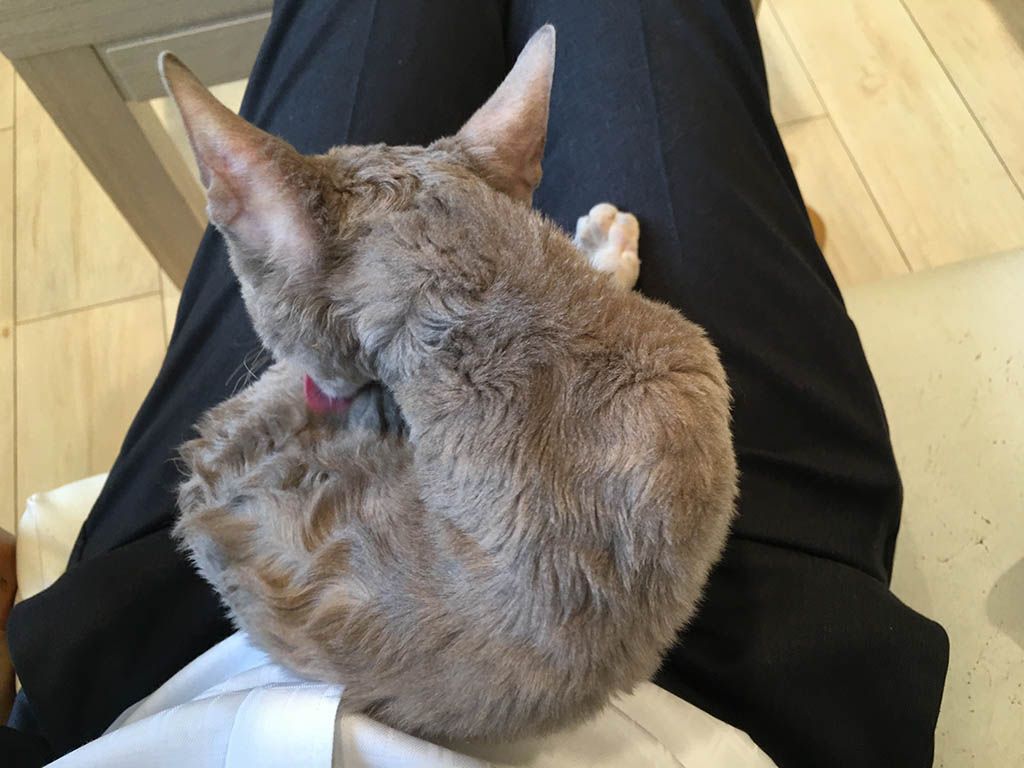 He started grooming on his knees.
By the way, You cannot see in this photo, but he seems to have liked to put his forefoot in the gap between my legs.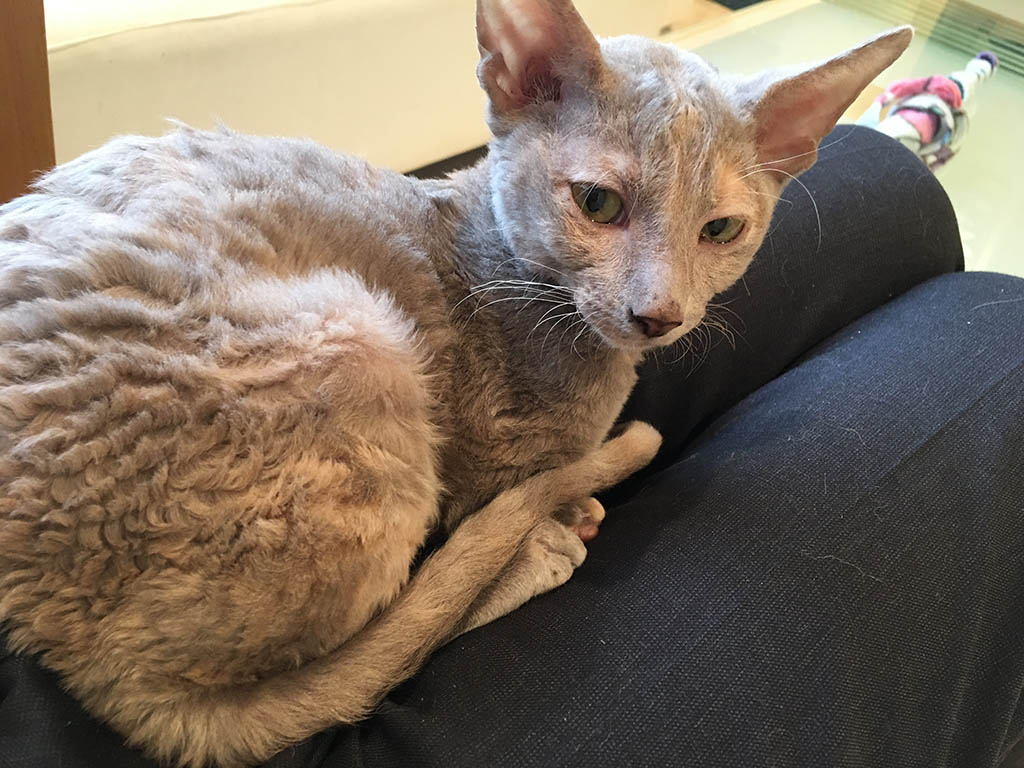 He looked at my camera!
He is cute and has soft hair. Awesome!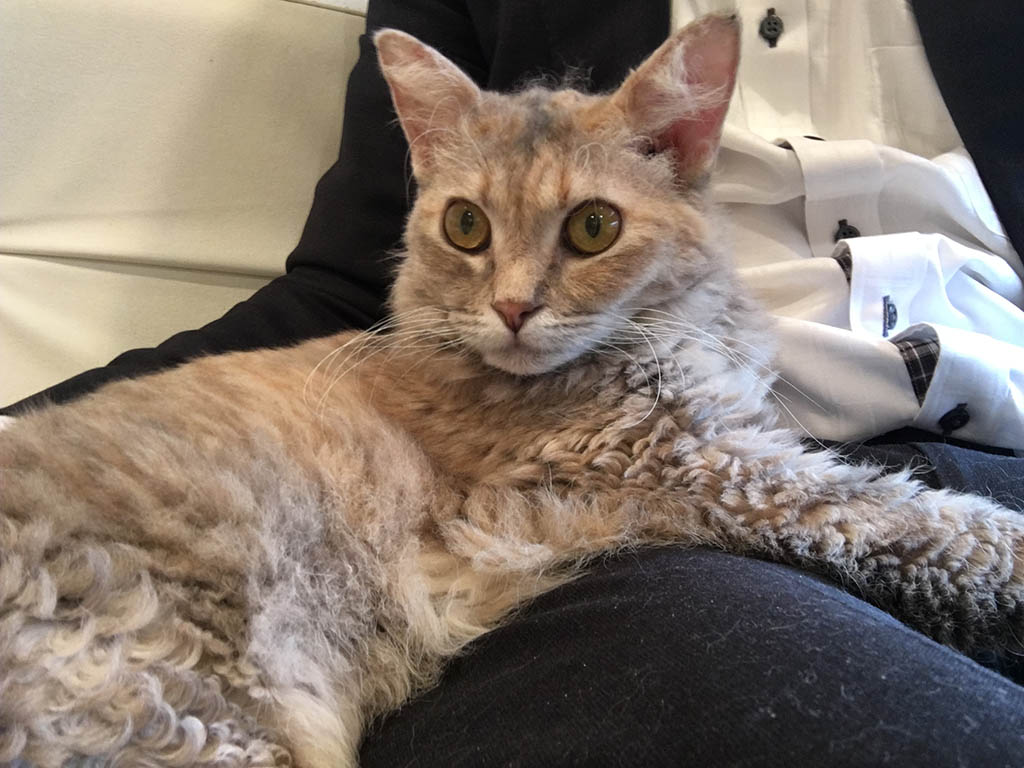 He was gone to play with other cats. But the other cat came to me.
Then I could play with 3 cats!
It was so nice.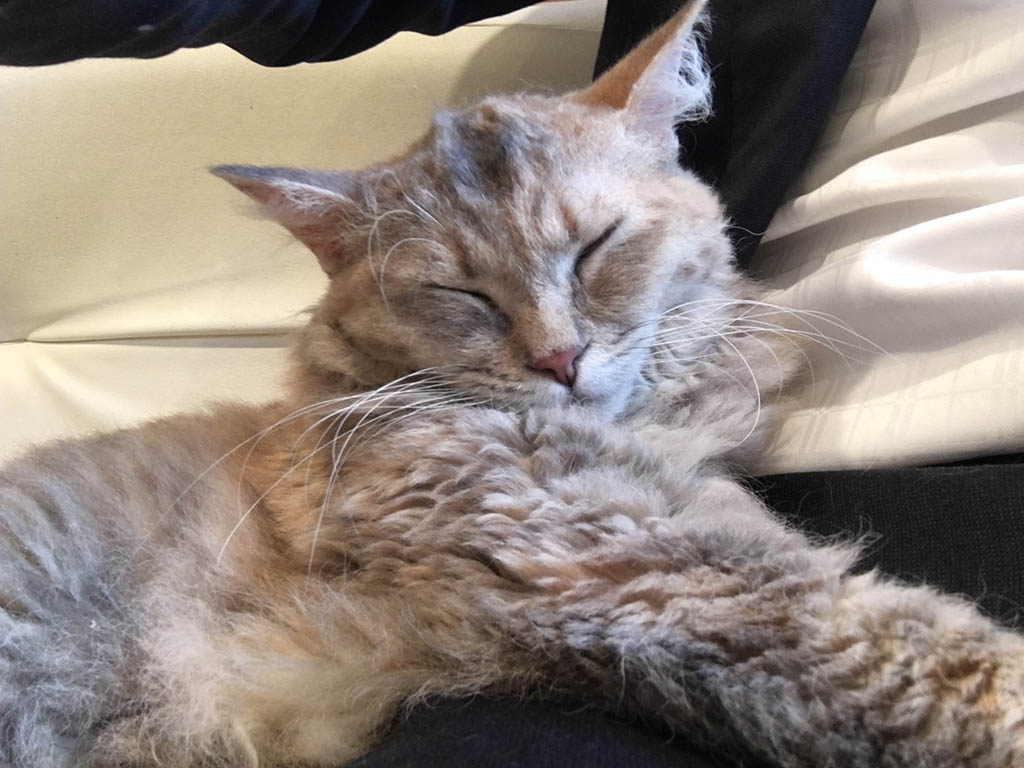 He slept when I stroked him.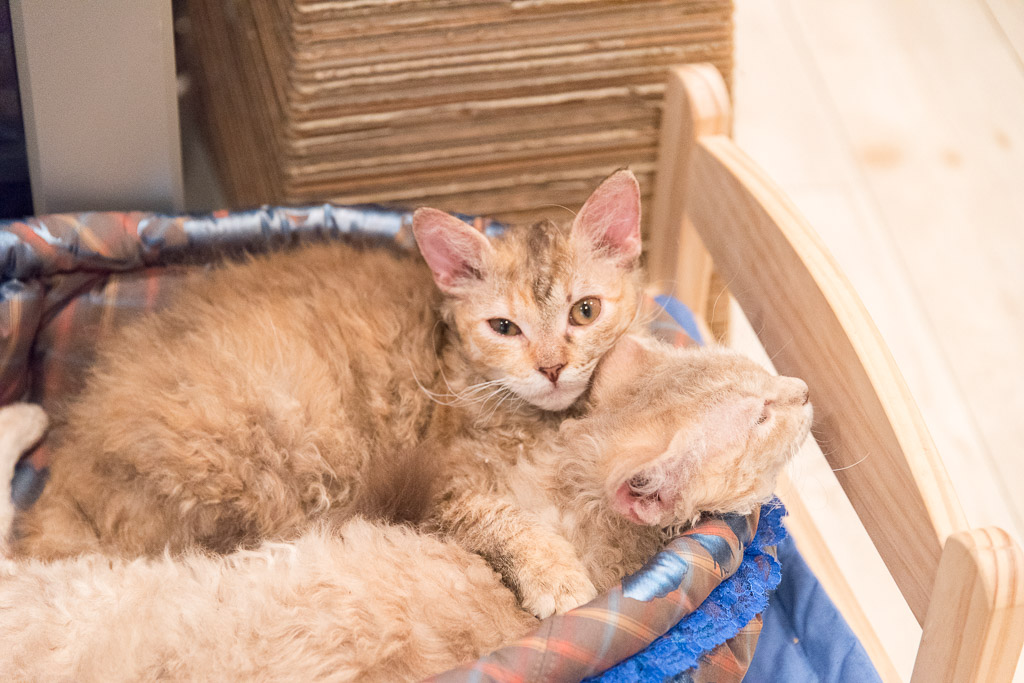 They were sleeping together.
Everything was so cute. I can't say cute enough.
Price and Option
up to 90 minutes(with one drink)・・・1,500 yen (1,620 yen include tax))
from 90 minutes to 3 hours with one drink・・・2,Y500 yen(2,700 yen include tax)
Booking is possible from (at least 2 people)
In principle, children under elementary school age cannot enter the store.
Curl Up cafe's point
All cats are purebred.
Cats are very friendly.
Cats are not stinky.
There aren't manga.
Cats are sooo friendly(As I write twice)
The ship information
1-7-4 Haramachi Meguroku Tokyo Japan
This shop is located in 1 minute from Nishikoyama station(Tokyu meguro line)
Business hours: 12:00 to 20:00 on weekdays (may be a little later)
Saturdays, Sundays and holidays from 11:00 to 19:00
Regular holiday: Monday
URL:curl up cafe
TEL:03-5755-5393
My cat cafe ranking
It is my own ranking that I went to various cat cafes and became a cat cafe meister (self-named).
Please refer to when you want to play with friends, date or want to be alone, or to play with a cat in your family.
Nearby cat cafe