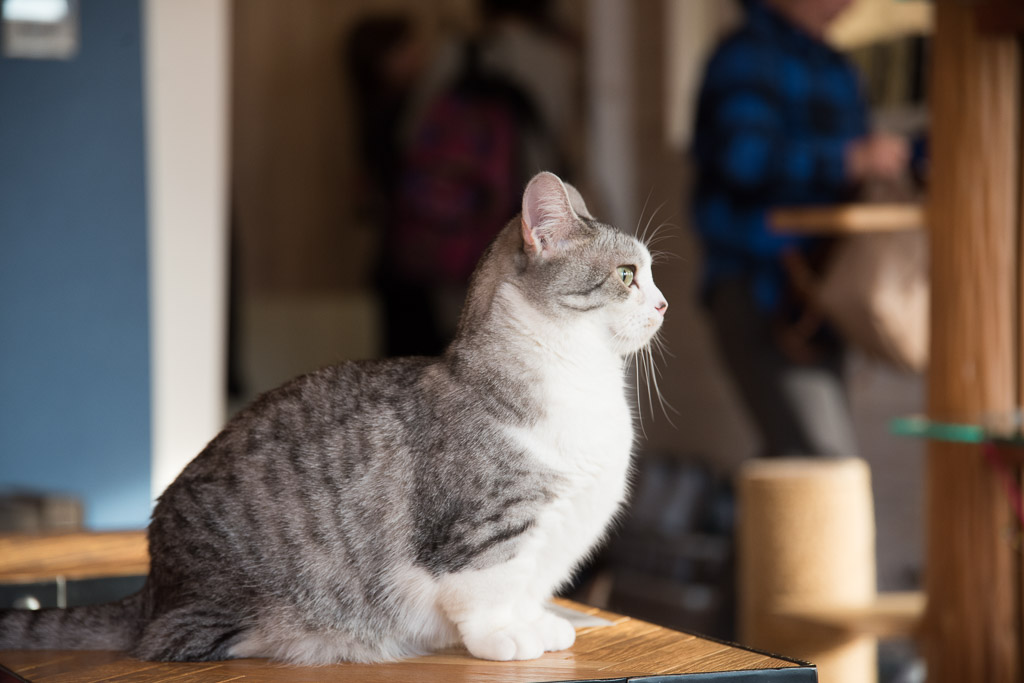 I went to the cat cafe Monta in Asakusa.
There are so many cat cafes in Asakusa. Asakusa is hot spot for cat cafe.
Monta had calm atmosphere. I remembered that shop manager played with cants.
So I'm gonna write a review!
[japan Cat cafe] Asakusa MONTA reviews!

MONTA location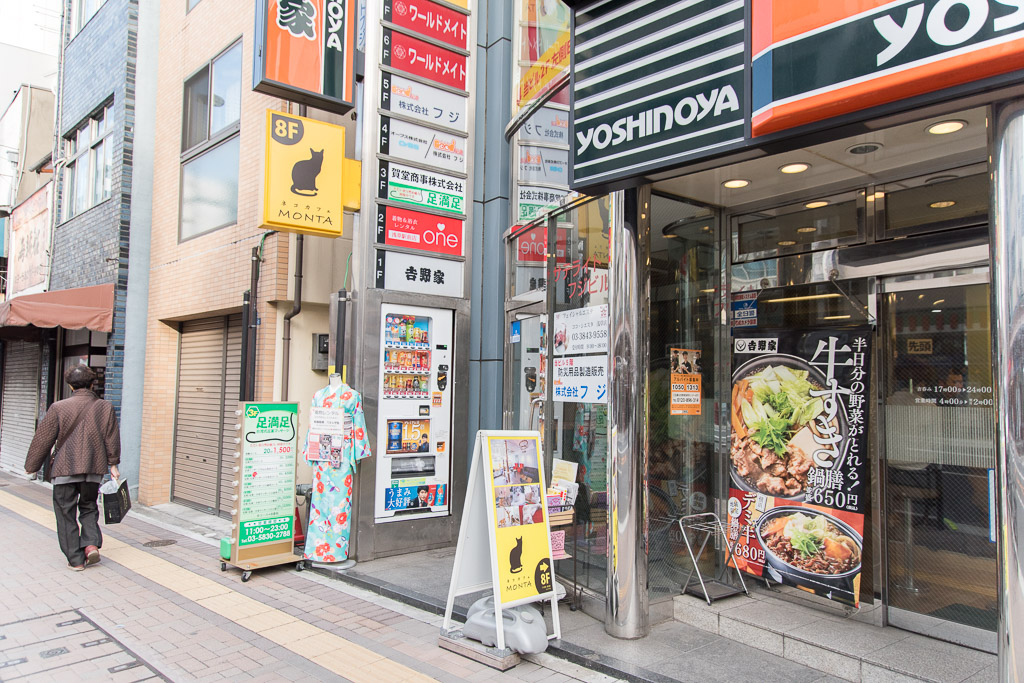 It is located in 1 minute on foot.
You will find easy because there is Yoshinoya at 1st floor.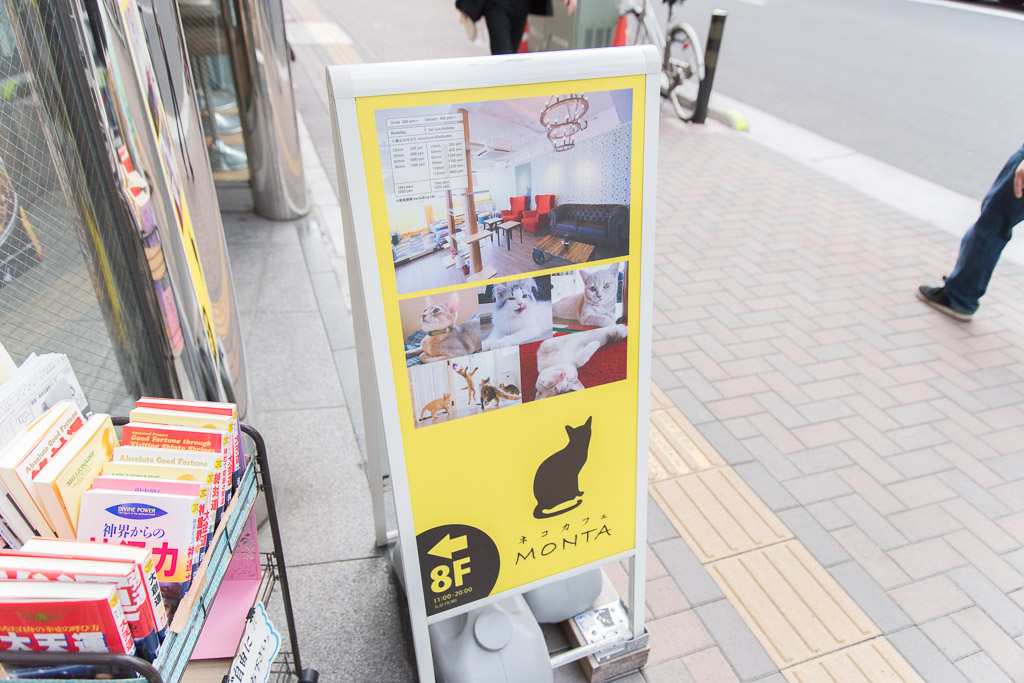 Sign board looks bright yellow. So I could find easy from far away.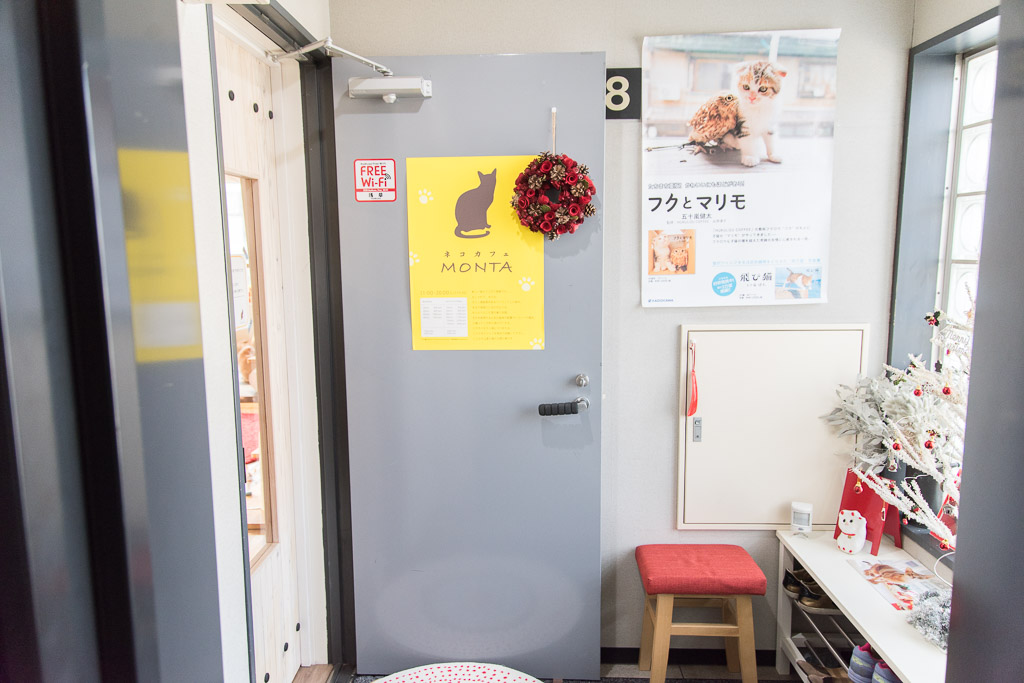 Monta is at 8 floor. So you take elevator.
First please take off your shoes and change to slippers.
You don't have to wash your hands but you wipe with hand towel and use an alcohol-based hand sanitizer.
Please follow the clerk.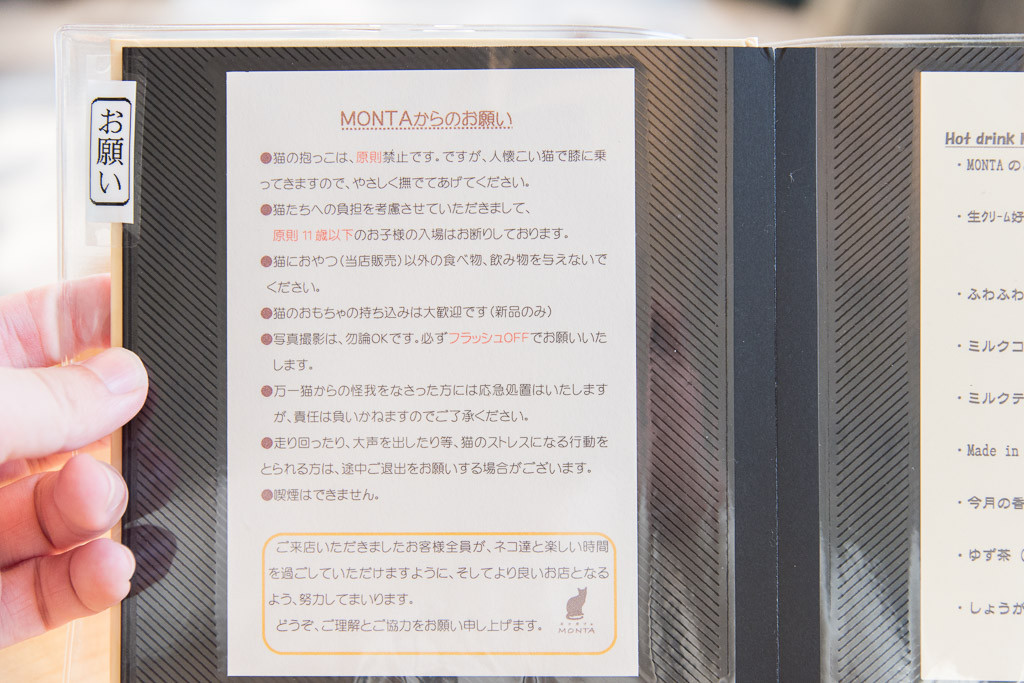 Please read Notice first. ※Maybe you should ask someone if you cannot read Japanese.
You can bring some toys. But it must be new ones. You will be popular with cats!
Price is 200 yen per 10 minutes. But it's 1,000 yen for 1 hour.
It's 1,500 yen for 90 minutes, and you can stay 1 day for 2,000 yen.
※Those prices are only on weekdays. It will be changed on weekend. I will write below.
There are a bunch of drink and food menu. Pasta, pizza, beer...etc.
It is a orthodox cafe!
Let's enter MONTA!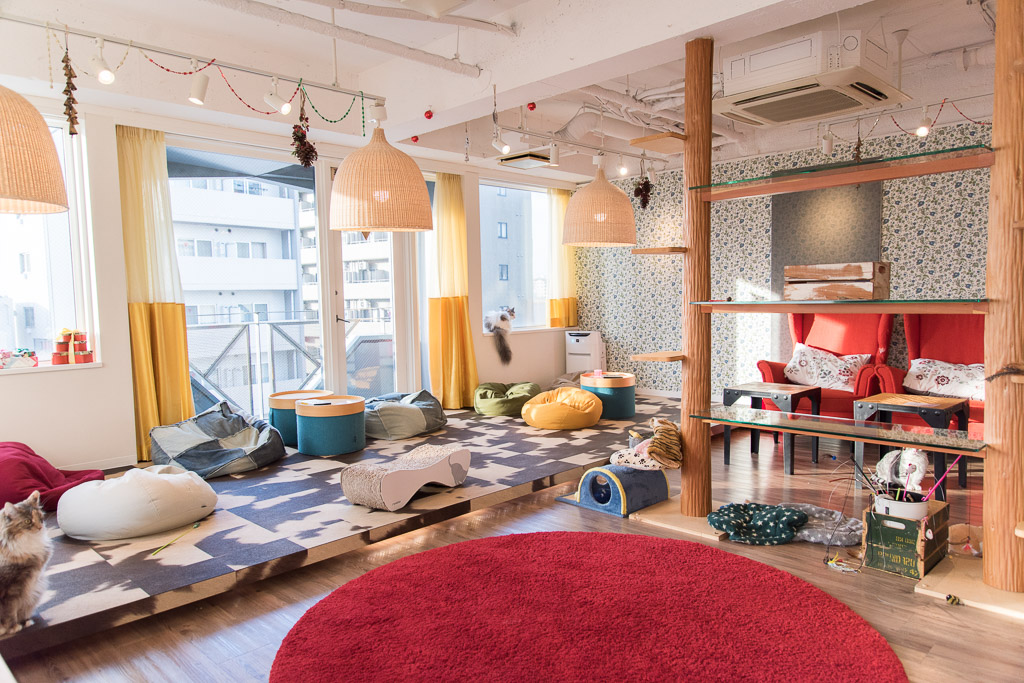 This picture is inside of MONTA.
It's fashionable.
And cats are not stinky. I recommended for dating also.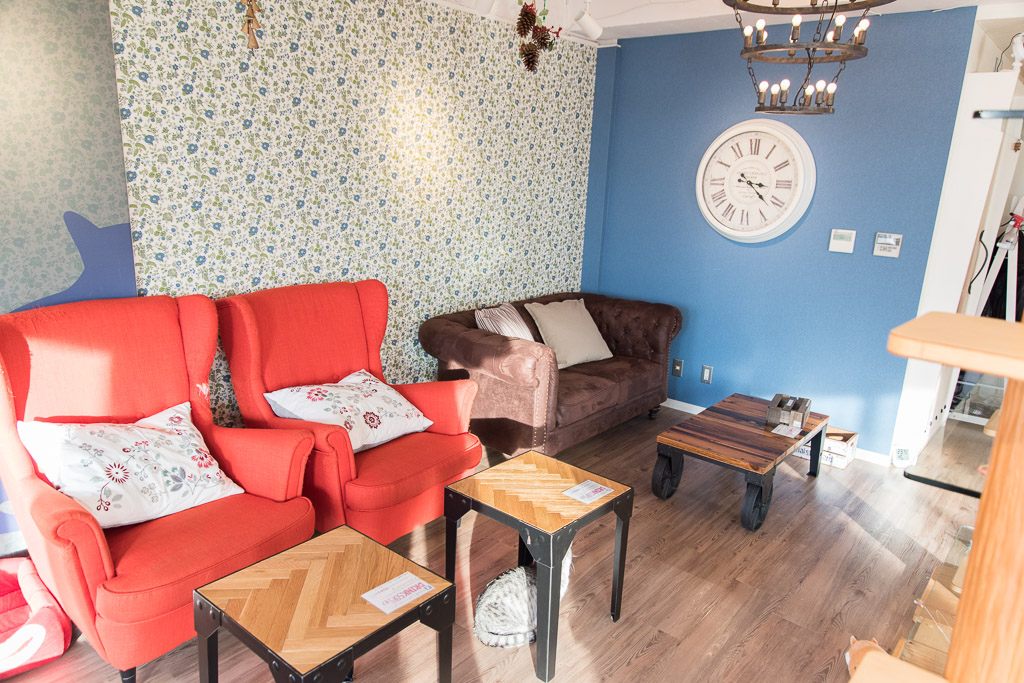 There are some sofas also.
You have to stay same spot. That's why it will be important to chose where you sit.
If you go there with girl or boy friend, you have to chose brown sofa!
You can get close naturally.
I think that you can hold his or her hands naturally.
It's my strategy haha.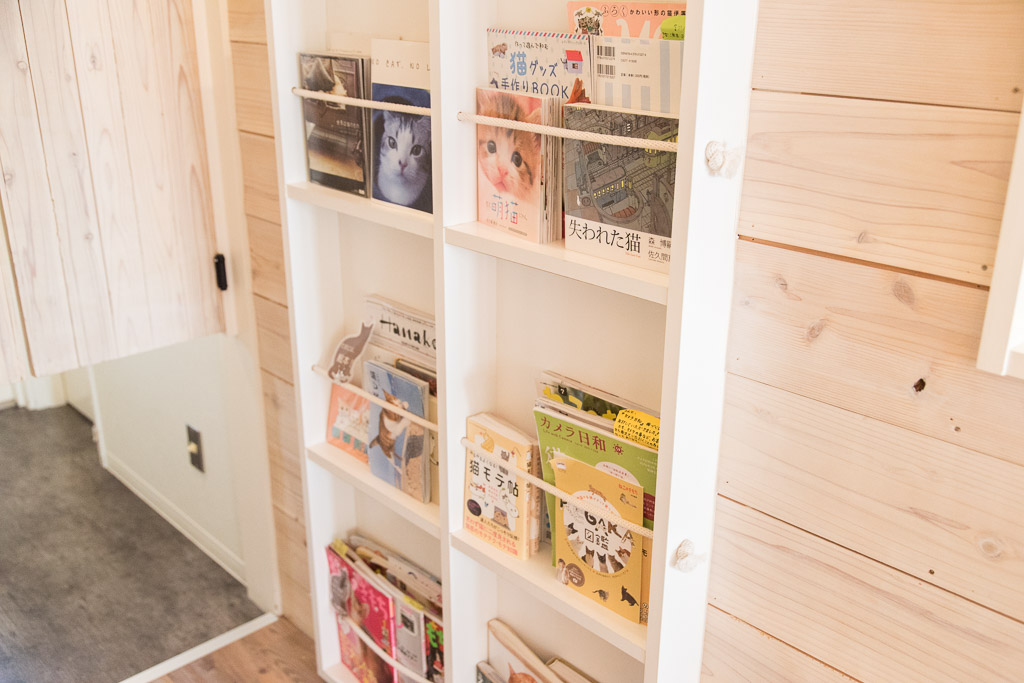 There are not so many books.
I recommend to see books with your girl or boy friends.
Actually I went there by myself.
The manager play with cats often. So it's easy to take pictures.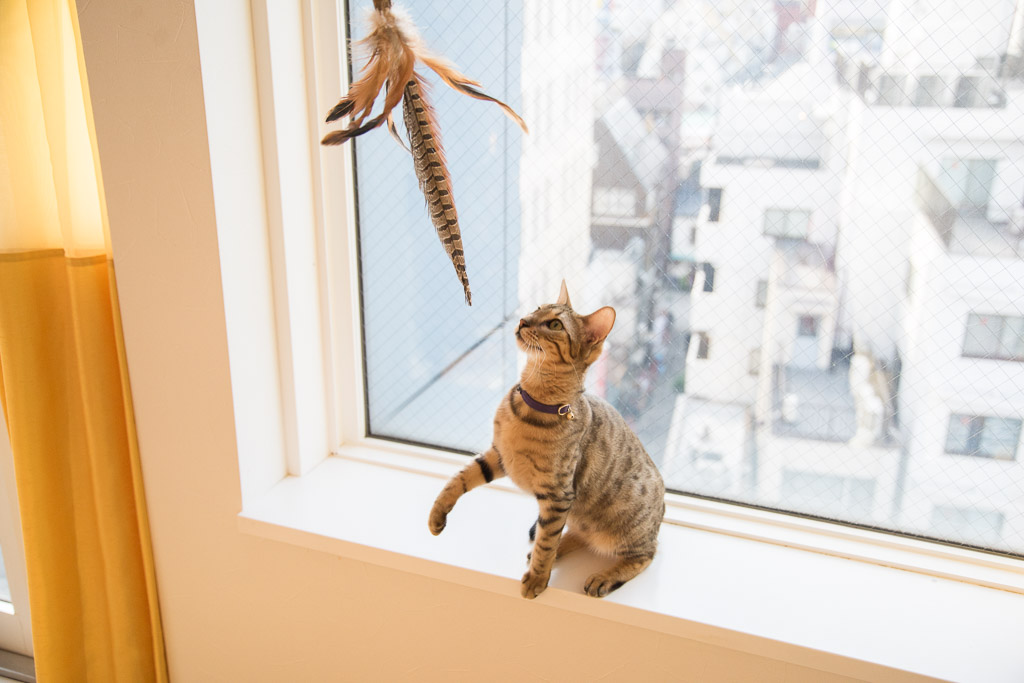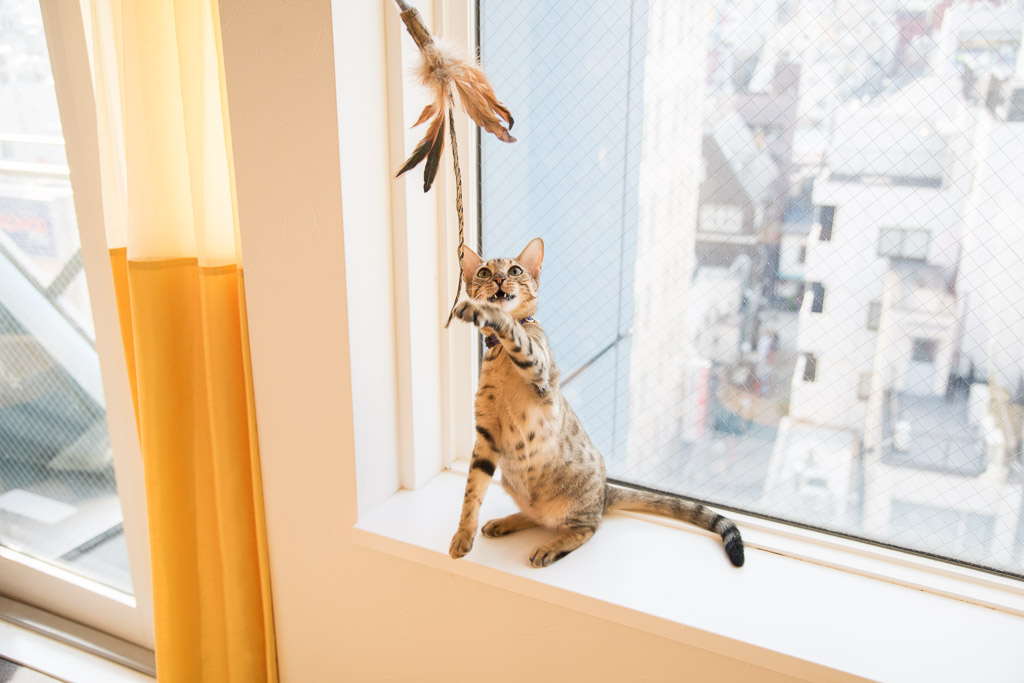 The clerk (I think he is a manager.) often play with cats. You can take pictures many times!
But sometimes you will feel lonely because all cats are gathering at the clerk.
I was disappointed because cats didn't relax on my knee.
The cats snacks are most important item!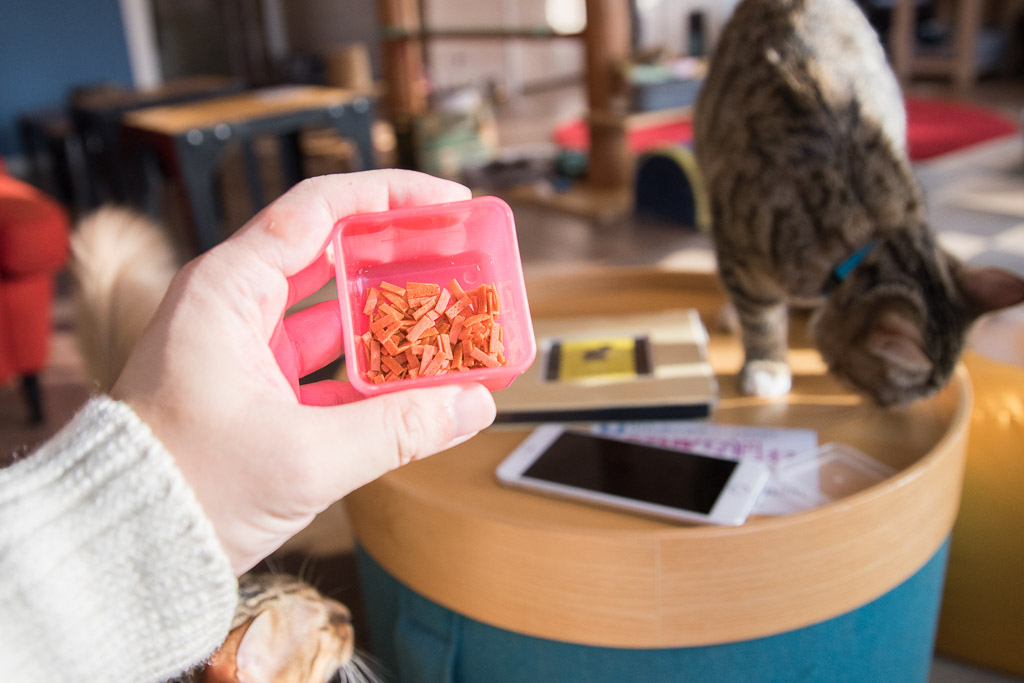 You can buy snack for cats for 300 yen.
There are 2 kind of snacks. You can choose snack which is a lot of but some cats cannot eat it or the other snack which is not so much amount but all cats can eat it.
I chose a snack which all cats can eat.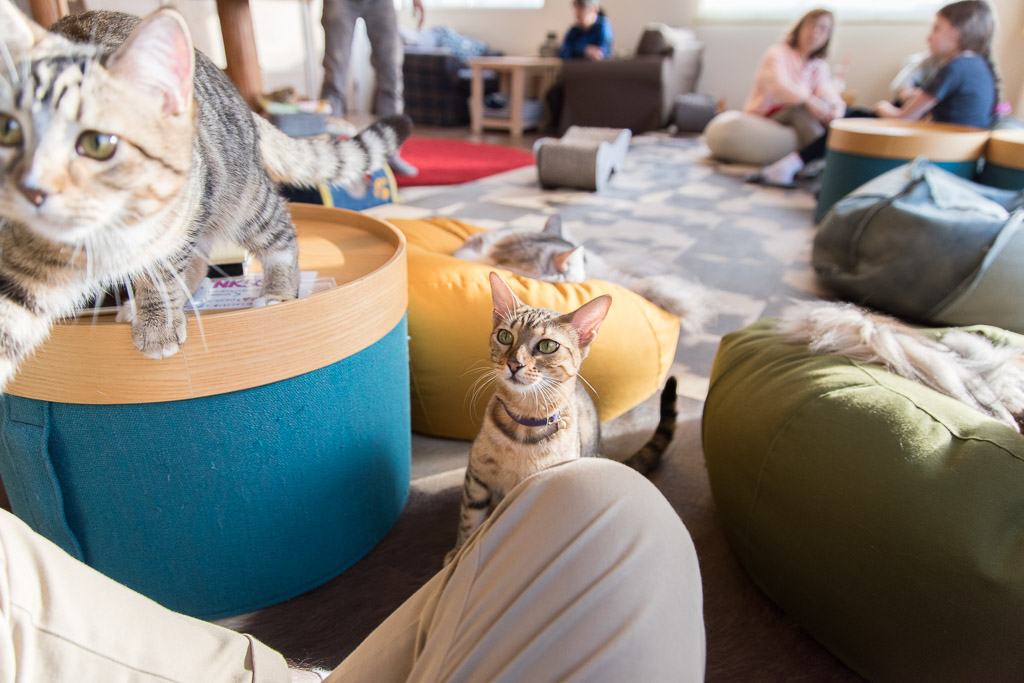 Cats were coming immediately!
They were coming on my knee.
Especially these 2 cats in this picture came many times.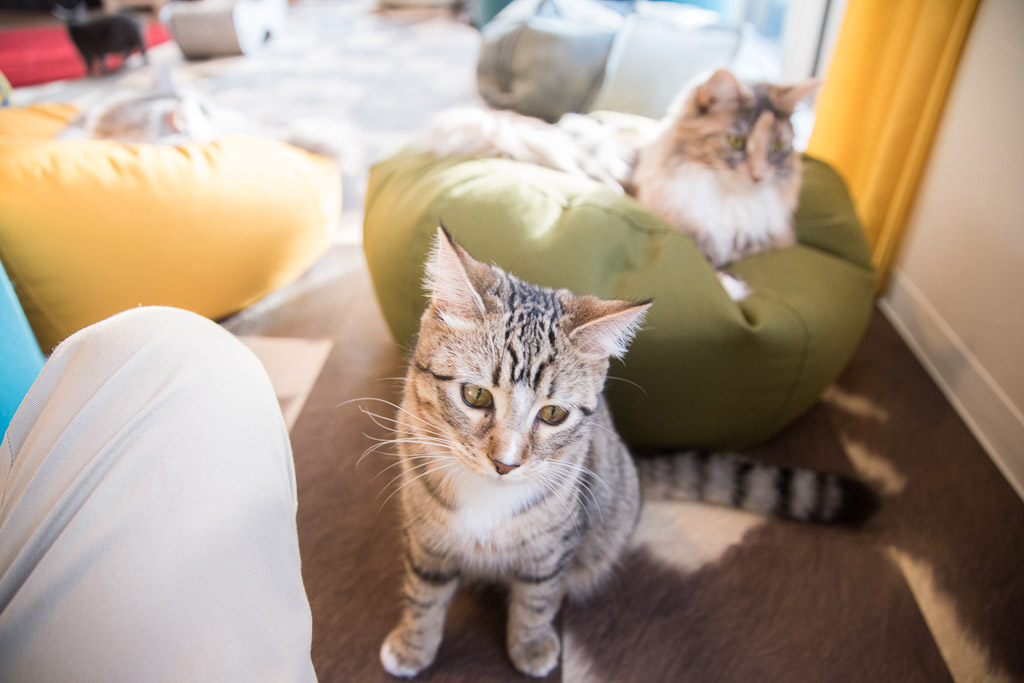 I took pictures before I feed them. They waited for me.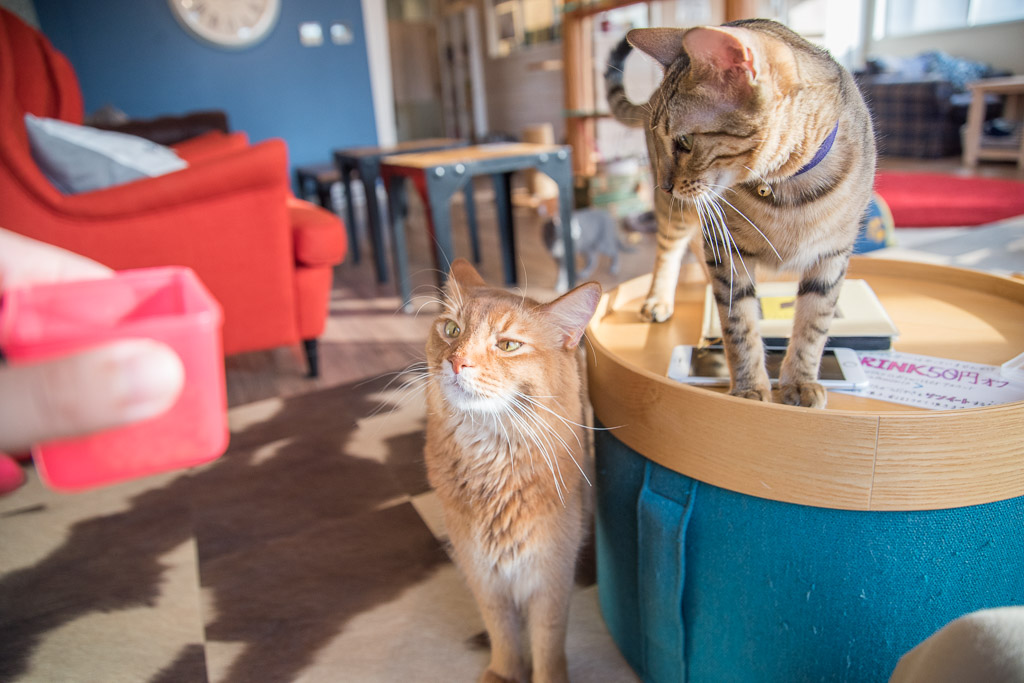 Somebody else were coming.
I know how big snack power is...
They were gone as soon as they finished eating. So I felt a little bit lonely but you know, this is what cat is.
MONTA's cats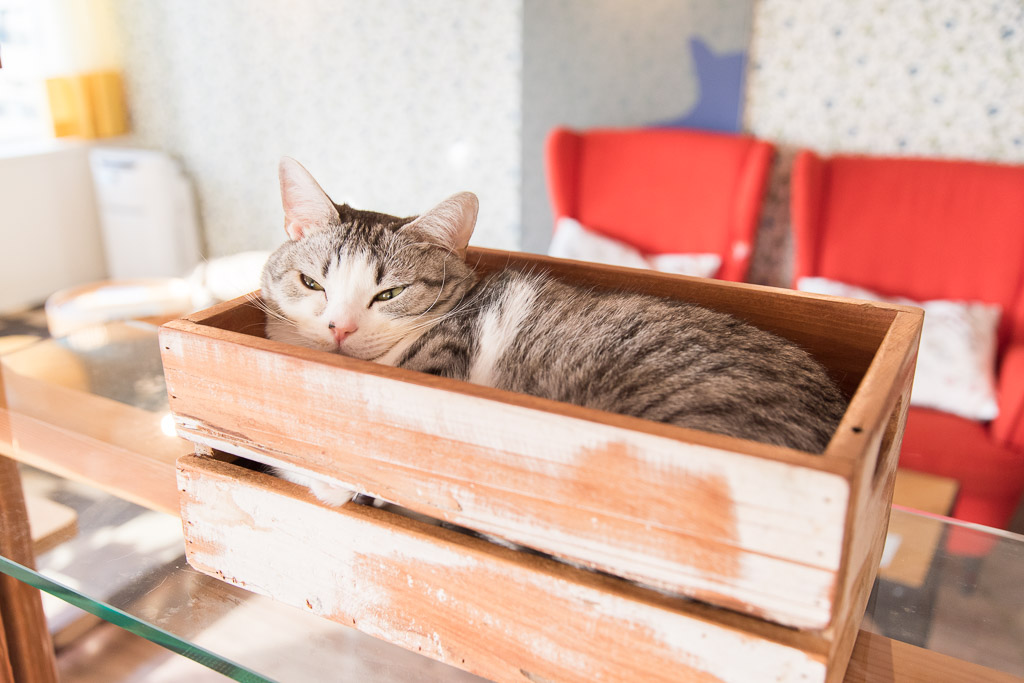 The cats was in the box all day.
She love the box.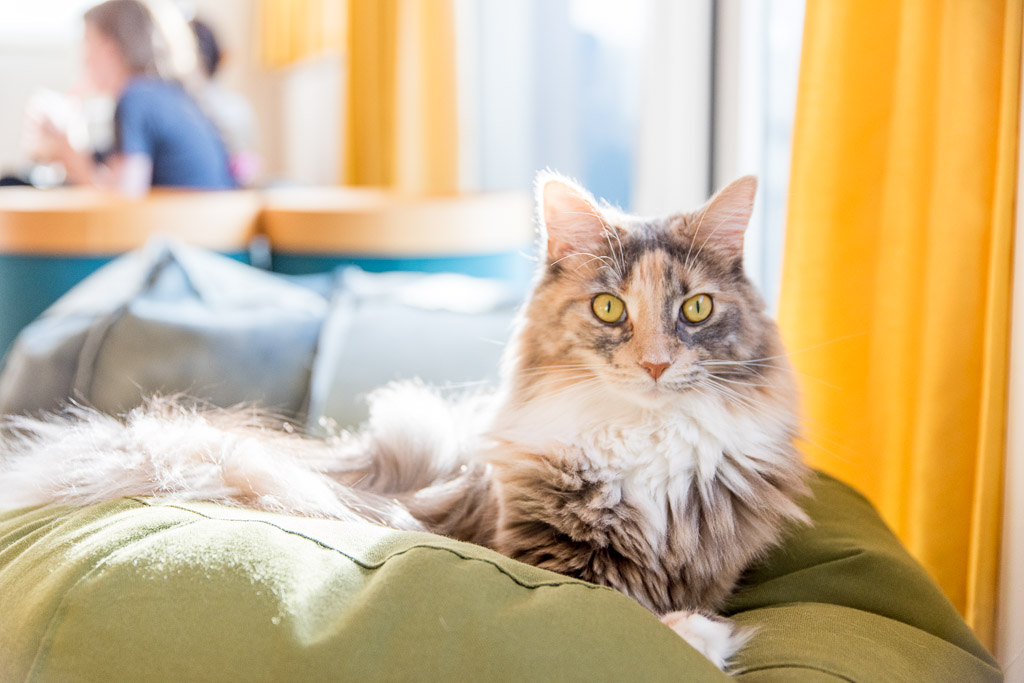 He sat by me.
I could touch him so much!
His hair was so soft.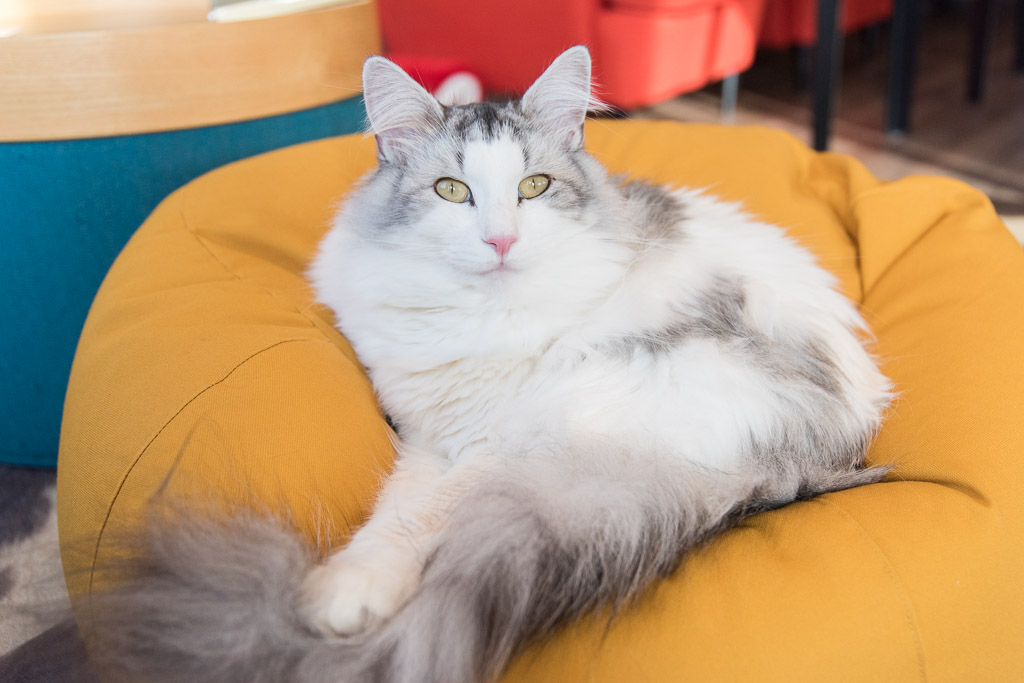 He was in front of me.
He looks beautiful.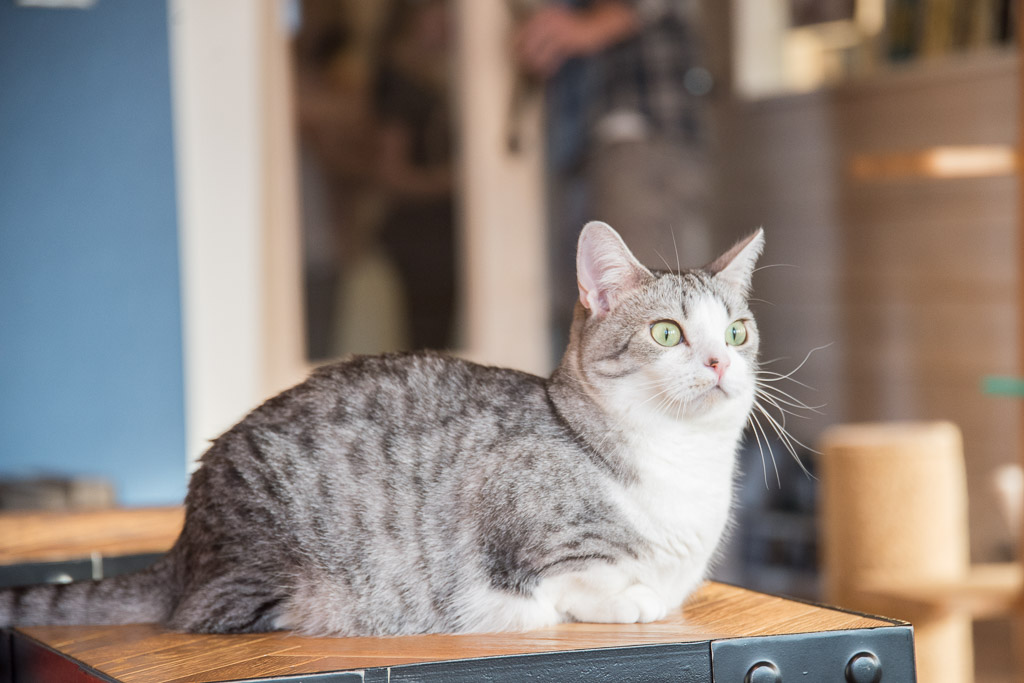 I couldn't touch him because this cat was running around.
He was sensitive for big sounds.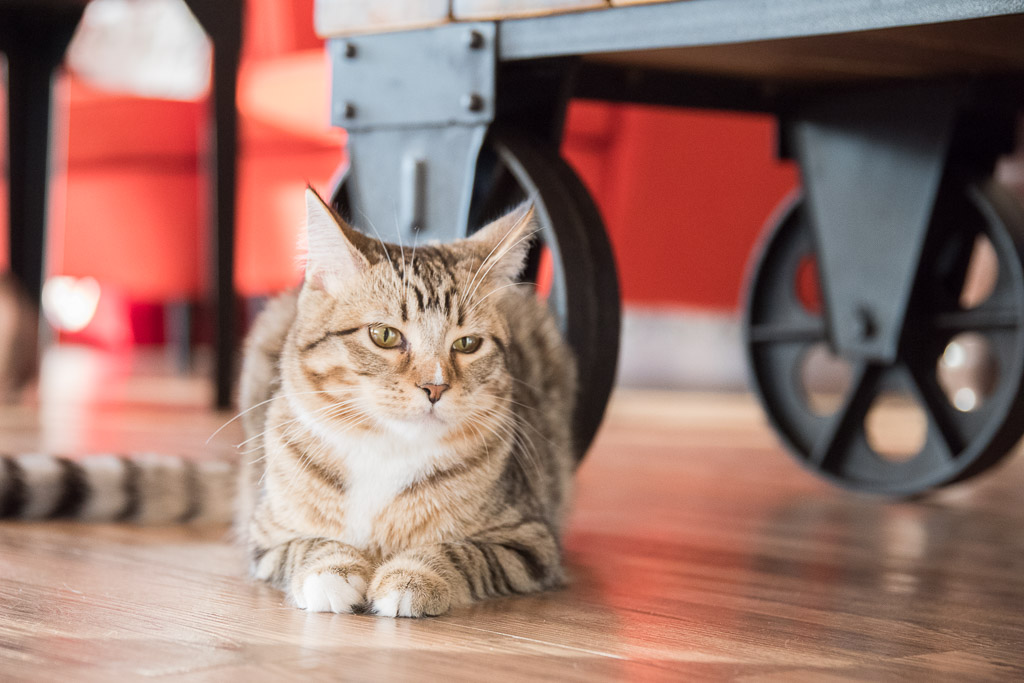 He looks ennui.
Price and Option
Weekdays
Every 10 minutes・・・200 yen
30 minutes・・・600 yen
60 minutes・・・1,000 yen
90 minutes・・・1,500 yen
1DAY PASS (You can stay there for 1 day)・・・2,000 yen
Weekends
Every 10 minutes・・・2,000 yen
30 minutes・・・600 yen
60 minutes・・・1,200 yen
90 minutes・・・・1,700 yen
120 minutes・・・2,200 yen
150 minutes・・・2,600 yen
1DAY PASS(You can stay there for 1 day)・・・3,000 yen
※ non-taxed price
Food menu(Some example)
coffee・・・380 yen
Beer (Asahi super dry)・・・500 yen
carbonara ・・・630 yen
mix pizza・・・580 yen
chicken fry・・・450 yen
snacks for cats・・・300 yen
MONTA's point
Cat's are not stinky.
Cats will come especially if you have snacks.
Cats will gather at clerk when he has a toy. But It's gonna be good for taking good pictures.
They don't have manga.
The interior is fashionable.
No entry for children under 11 years old.
Information about MONTA
Satellite Fuji Building 8F 1-5-2 Hanagawado Taitouku Tokyo Japan
It is located in 1 minute from Asakusa station.
You can see Yoshinoya in 1 floor as same building.
Business hours: 11:00 to 20:00 (last order is 19:30)
Regular holiday: Tuesday (If a national holiday, the next Wednesday will be closed)
URL:モンタ(MONTA)
TEL:03-5830-7428
My cat cafe ranking
It is my own ranking that I went to various cat cafes and became a cat cafe meister (self-named).
Please refer to it when you want to play with friends, date, or want to be alone, or when you want to play with a cat in your family.
Nearby cat cafe information