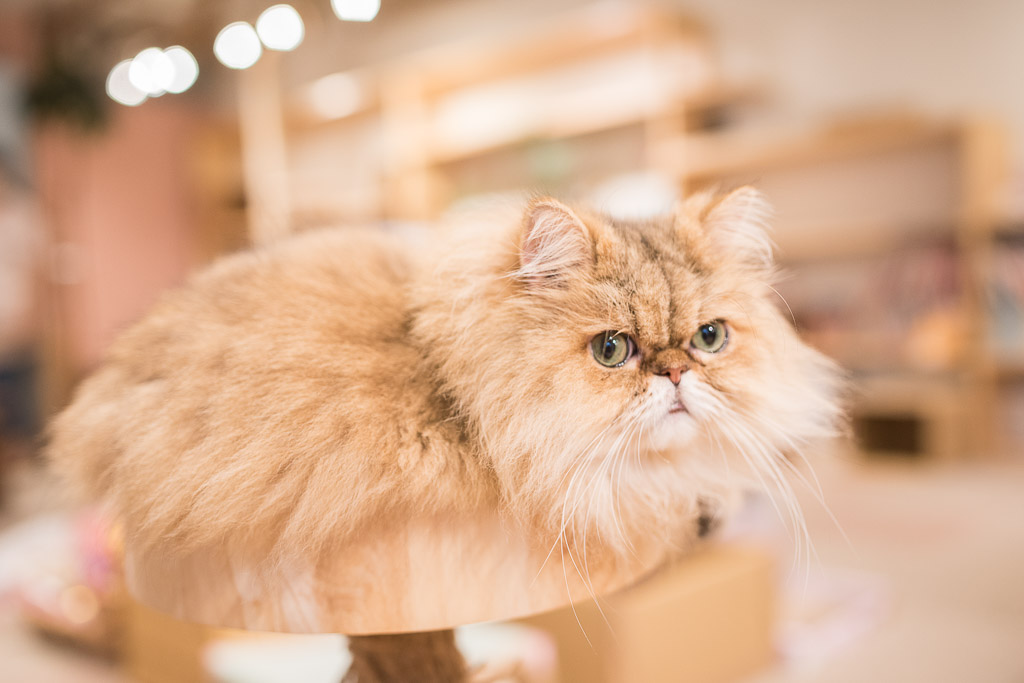 I went to a cat cafe Cateriam in Shimokitazawa which is fashionable town.
It's right close to Shimokitazawa Station, about a 1-minute walk.
You can relax in Cateriam. And the cat cafe is so clean. There are not crowded.
In the first place, there weren't many people walking around here in Shimokitazawa, so it was just a time when there were no people in the area.
I arrived at 1 pm. I was alone for first 10 minutes! It was like a heaven.
[Tokyo japan Cat cafe] Shimokitazawa Cateriam reviews!

Cat cafe Cateriam location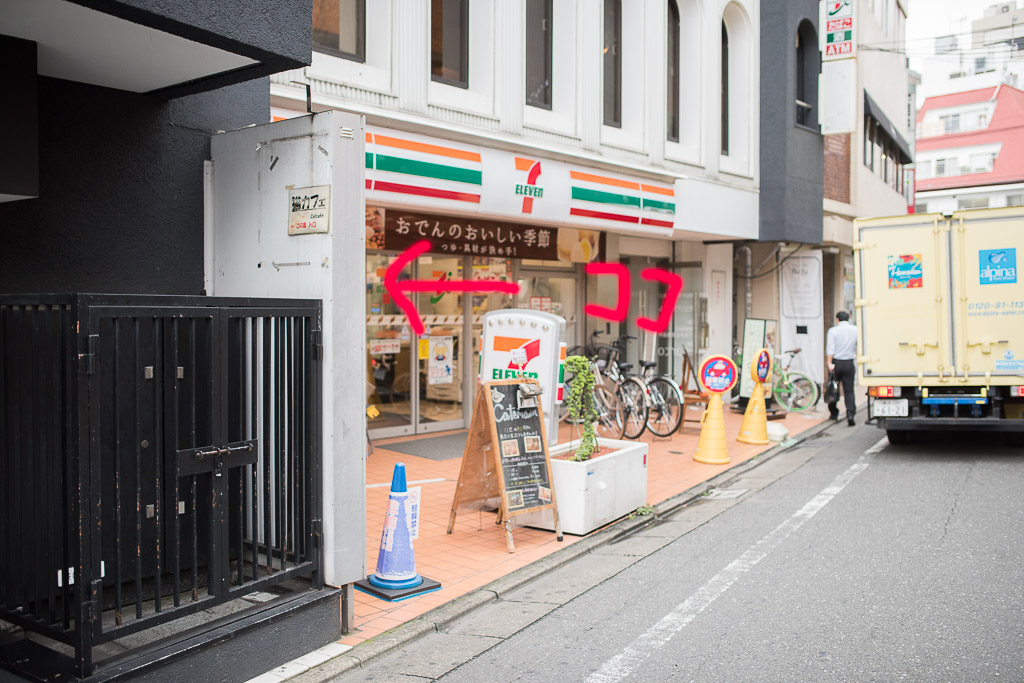 Cateriam is on the second floor of the building next to the 7-Eleven which near the station.
It was not related to the cat cafe at all, but I went after eating soup curry.
Shimokitazawa is actually famous for soup curry ...
I ate at a soup curry shop called SAMURAI. It was so delicious, so if you come to this cat cafe, please go there too.
Signboard said that welcome everyone even if you are alone!
I was so happy because I am always alone.
Actually there were many couples and girls ...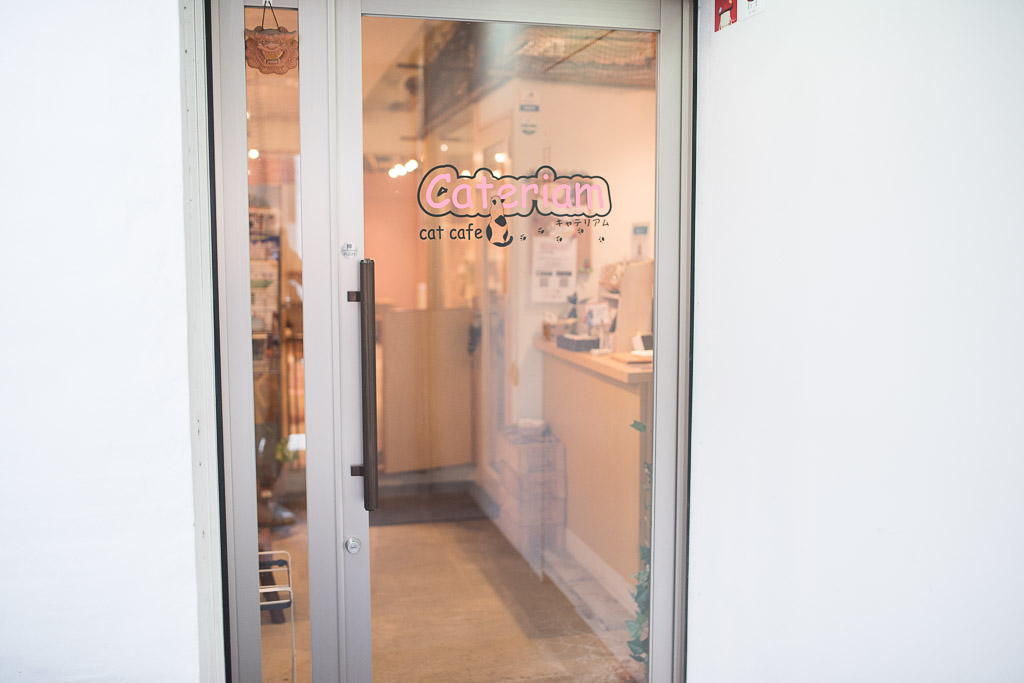 The entrance of the shop looks like this.
This entrance is designed to make it easy to escape, so make sure you don't have a cat nearby.
The charge form is
1,000 yen per hour (with one drink)
15 minutes trial 300 yen
30 minutes trial 500 yen
250 yen per 15-minute extension
There is also a profitable pack fee.
I was there for two hours, but at the time of checkout, the clerk made the price of the pack fee. Kindness! (400 yen discount from the normal rate)
It is a reasonably priced form.
Entered a Cat cafe Cateriam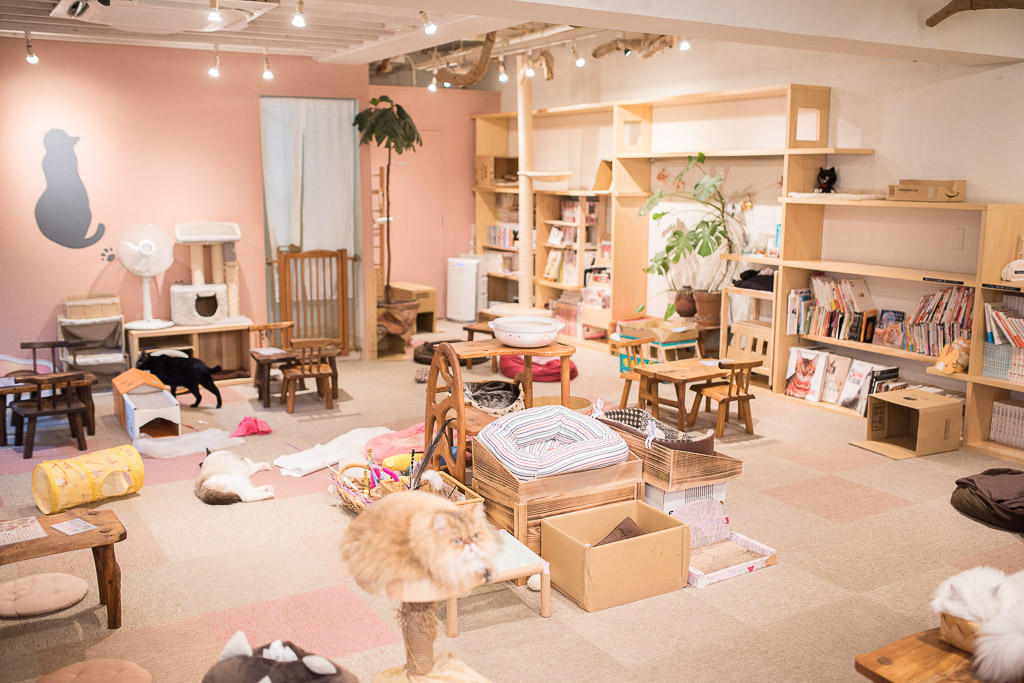 The inside of the store looks like this.
It is neither narrow nor wide.
However, when I entered, there was no one else and it was in a chartered state!
Cats were sleeping everywhere!
I was there for 2 hours. But even when it was the most crowded, there were about 3 groups, so I could relax quite a bit.
Cats aren't stinky and room is so clean.
First, when you enter the store please hear about the precautions. After that wash your hands in the bathroom at the back of the store.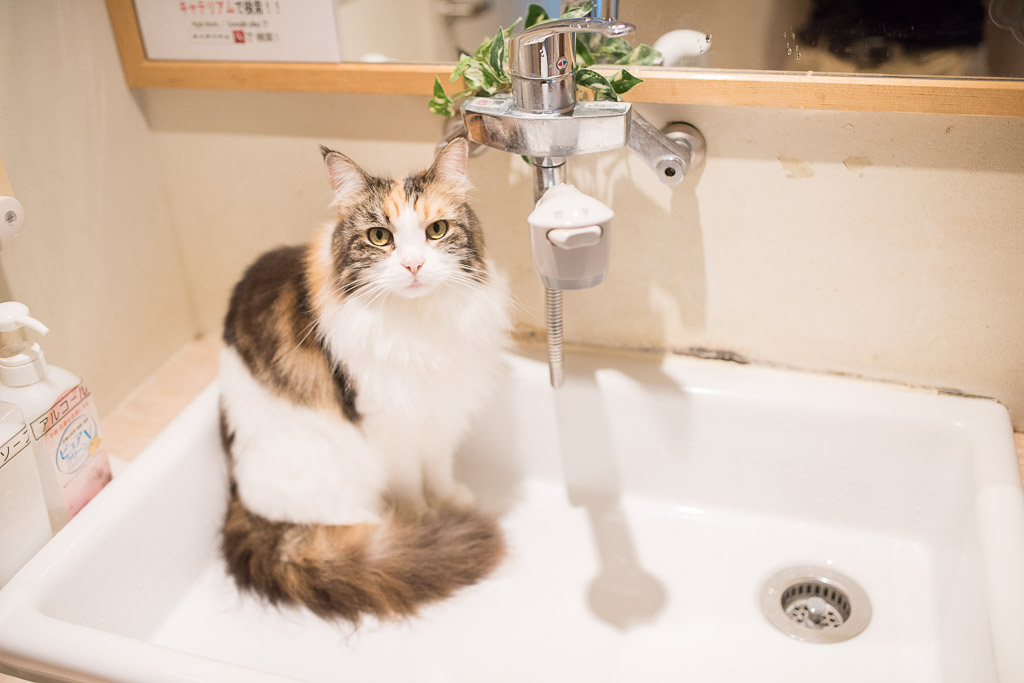 When I washed my hands, Airou of Maine Coon came and asked me to play.
What a cute!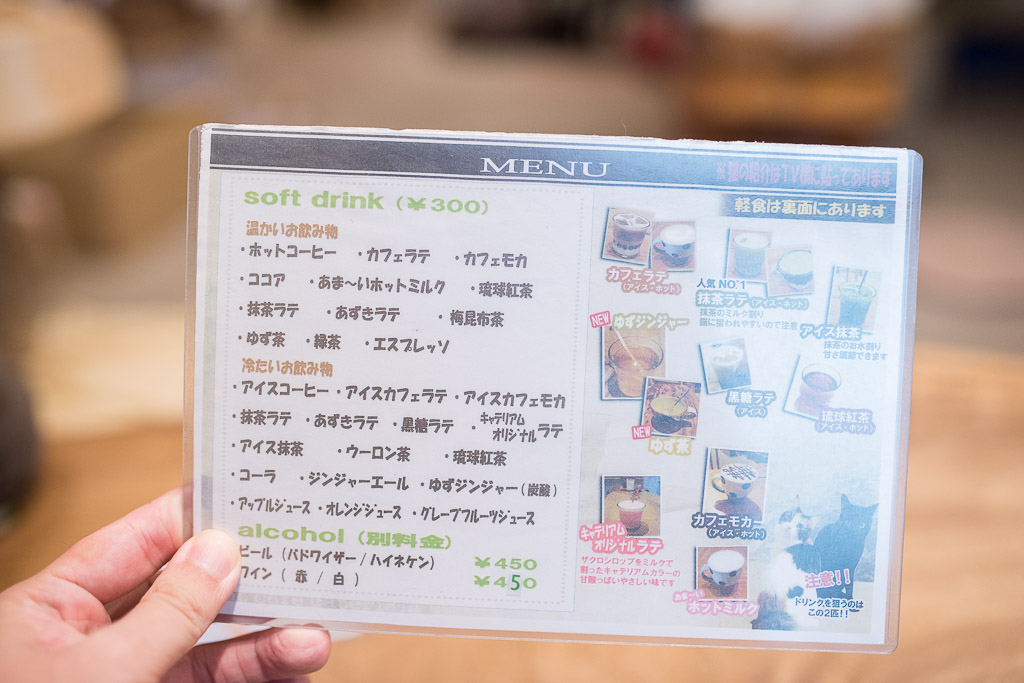 I stayed there for 1 hour with one drink for free.(You can chose some plans). So I could get one drink for free.
Well, I decided to order cocoa.
So here is Cocoa.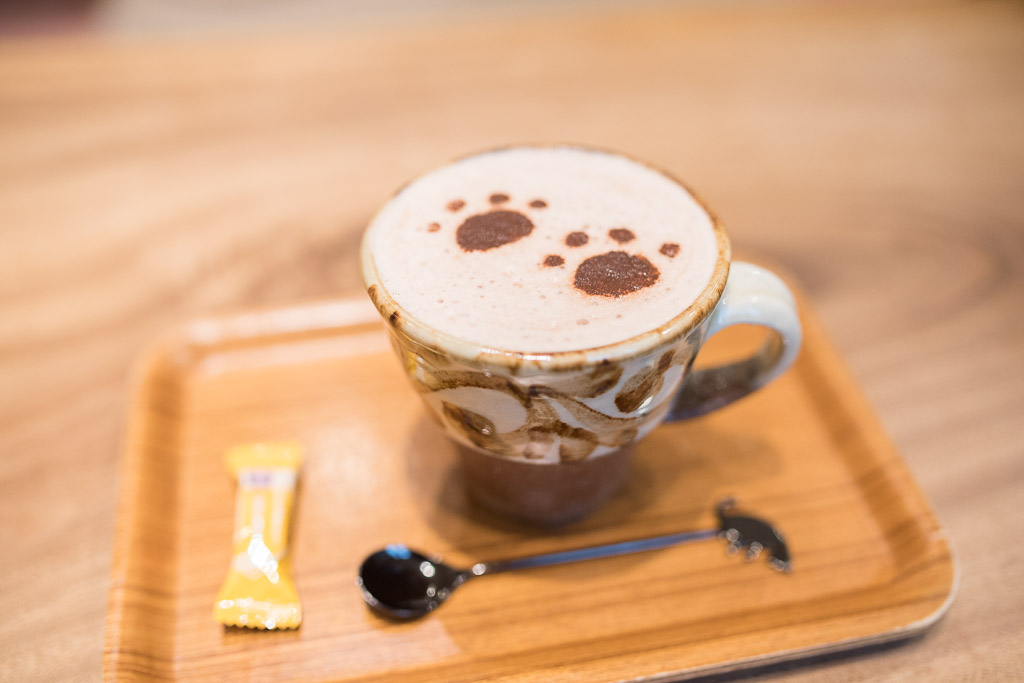 It was cute….
It was cocoa with cat paws art!
I think that your girl friend must be excited when she looks at this cute cocoa!
Like "OMG How cute!"
Actually I was also saying in my heart.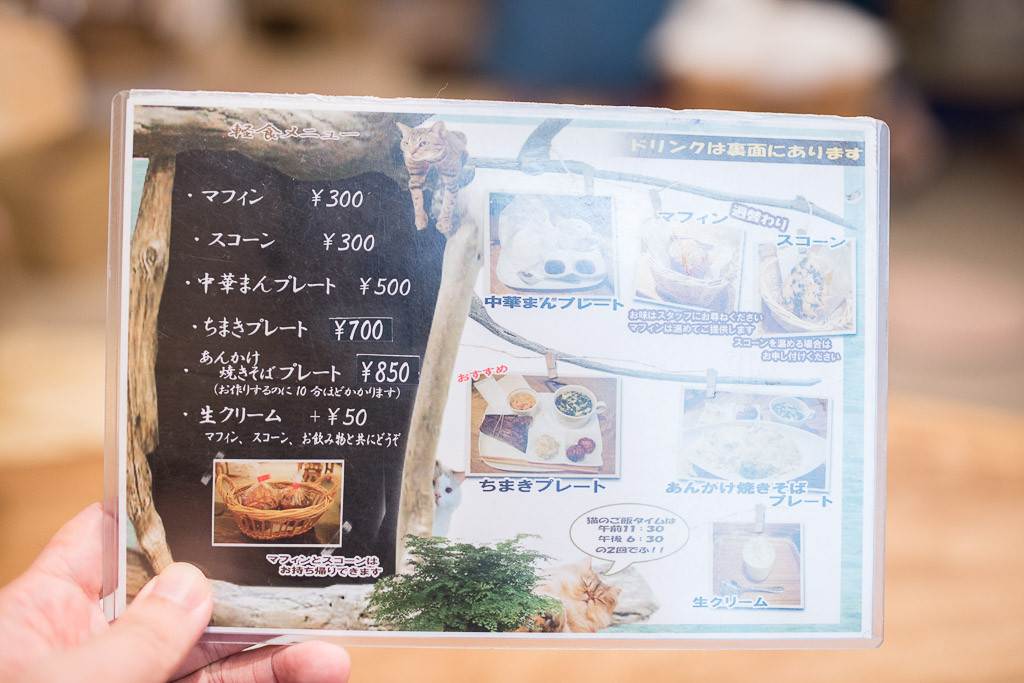 There is also food menu, so don't worry when you're hungry.
They have Chimaki. So If you are allergic to other food than Chimaki, you don't have to worry about it.
Wait. What is Chimaki?
I googled and found that Chimaki is kind of sticky rice cake.
I guessed that foods were tasty too because cocoa was good.
However, this time I had eaten chicken and 20 kinds of vegetable soup curry (delicious) just before.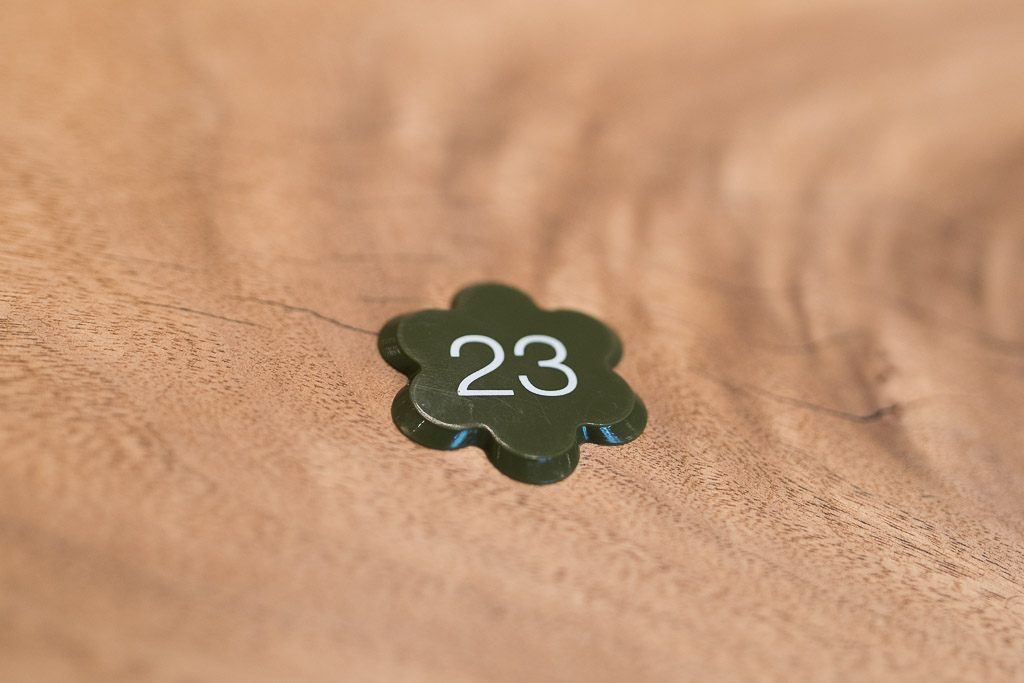 In this cat cafe, time is managed by the number plate.
If you forget when you entered, you might be confused what time you should go out.
I totally forgot this time.
I am too easygoing.
But price is not so expensive. You can stay there for 2 hours with one free drink.
It's time for a nap for a cat
I entered the store around 13:00, so the cats were almost asleep.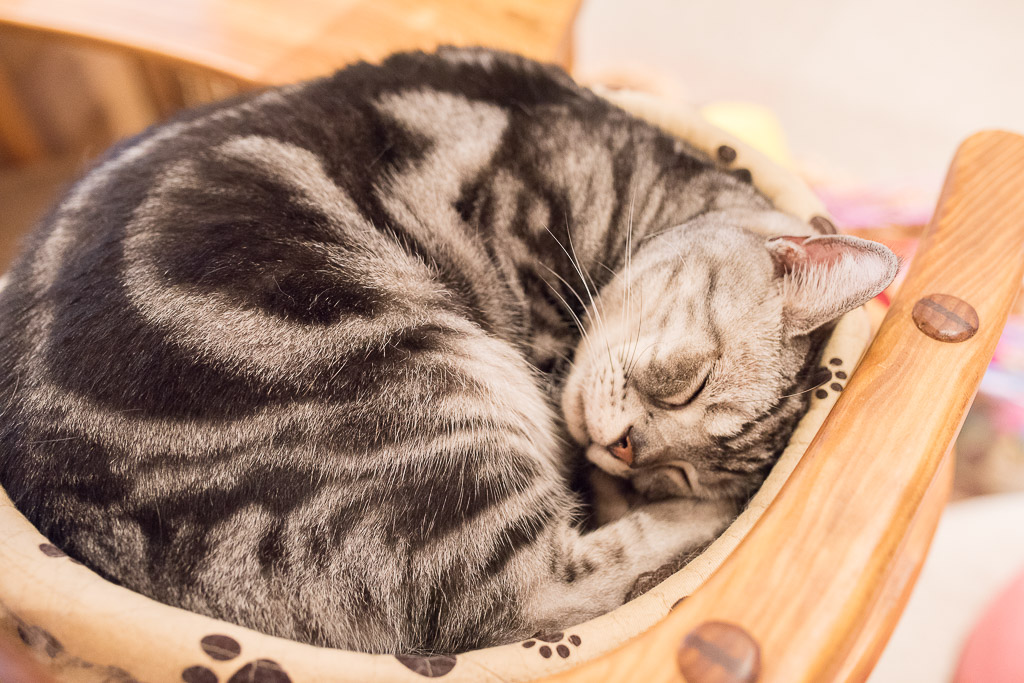 He is Ben of American short hair with a cute sleeping face.
When I saw his stomach part swell up as his breathe, I could relax.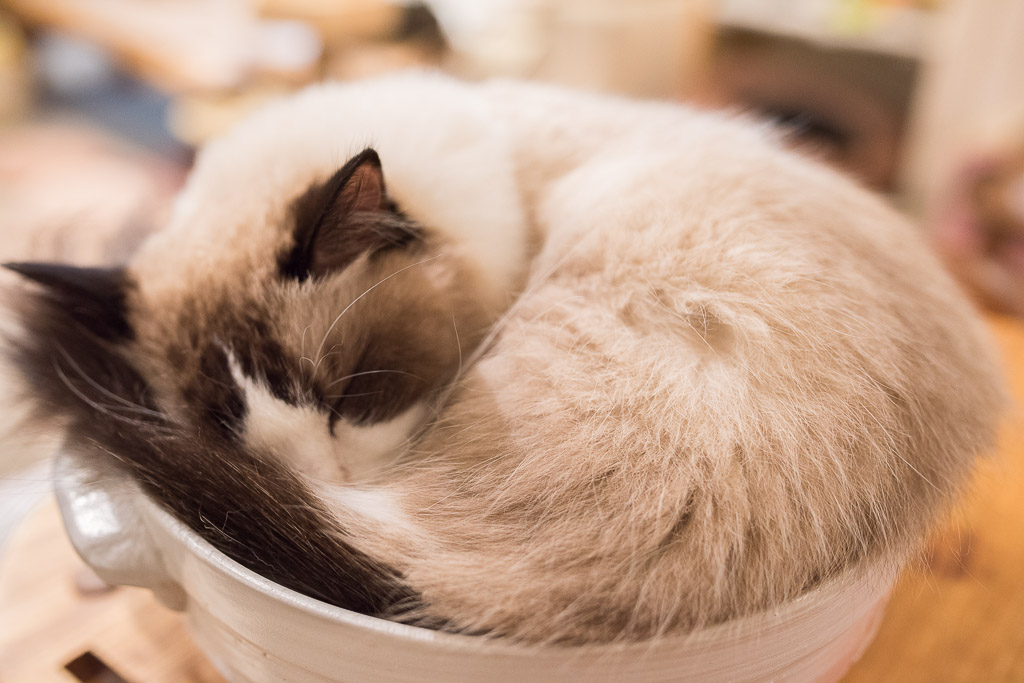 He is Dolly of ragdoll sleeping in pod.
Oh, he got up.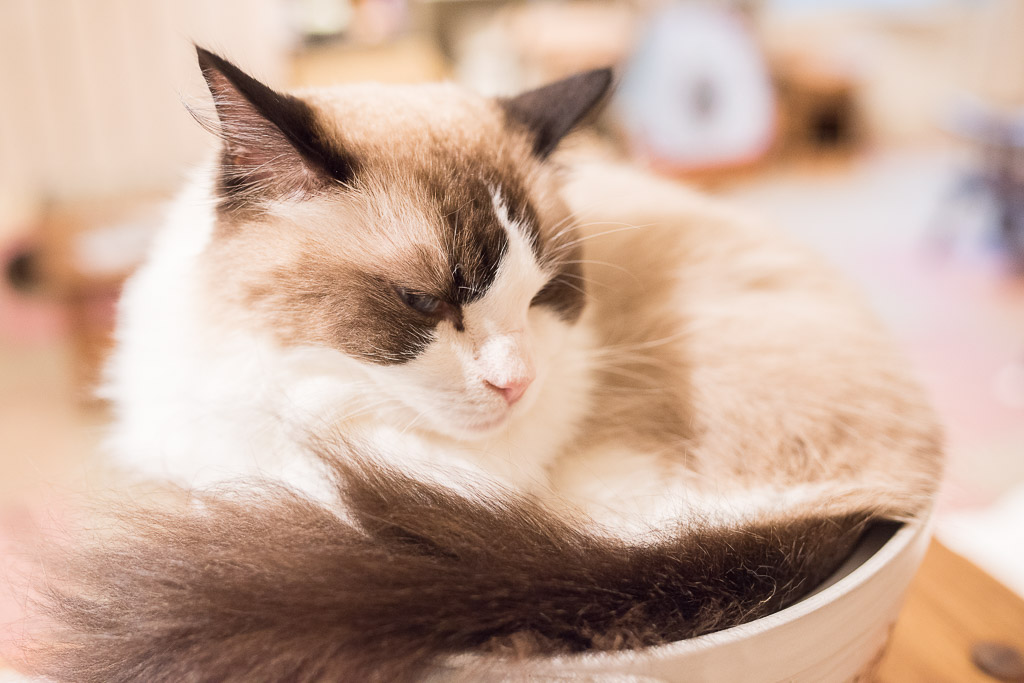 And he was going to sleep again.
I thought he was awake! He is Shiro of Chinchila. So I tried to take pictures of him...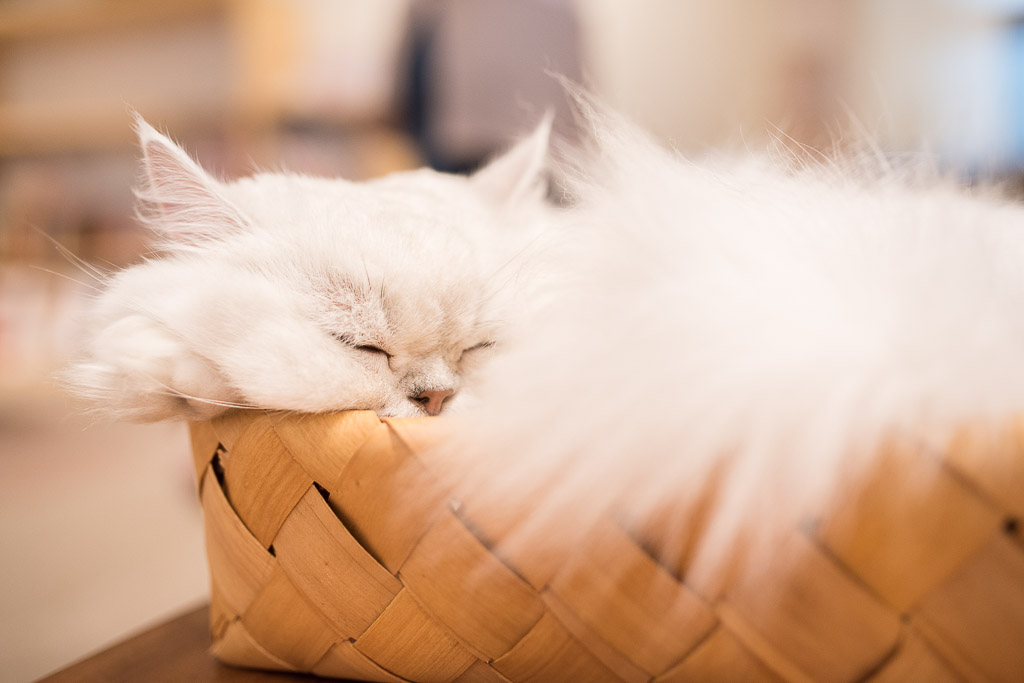 But as soon he slept also haha.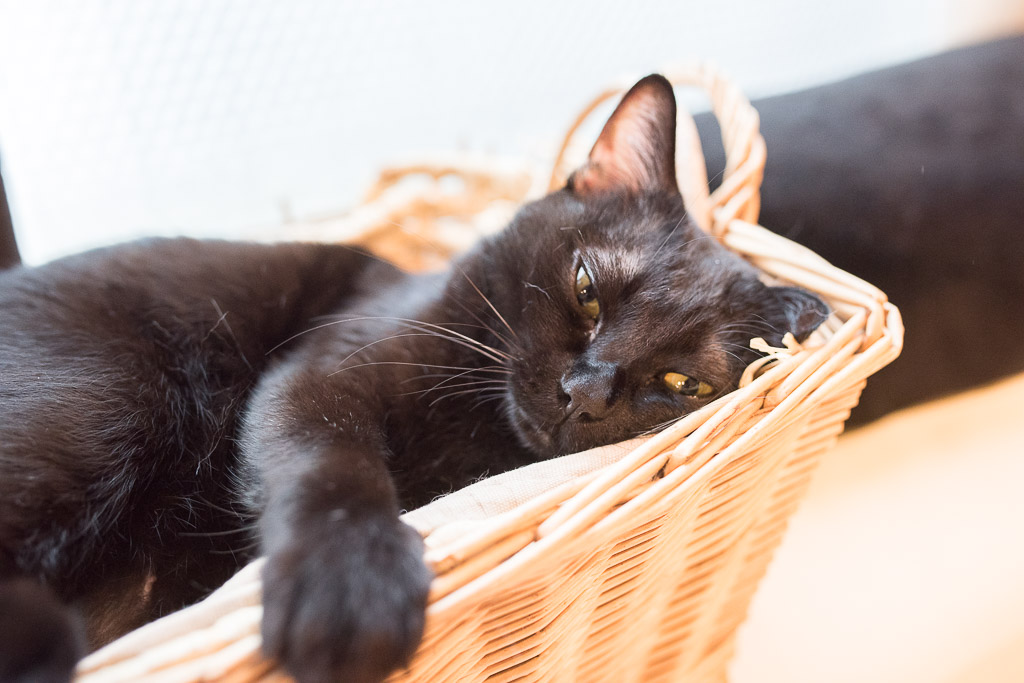 He is Guri of 11 years old Japanese cat. He seemed to be awake, so I would stroke his chin.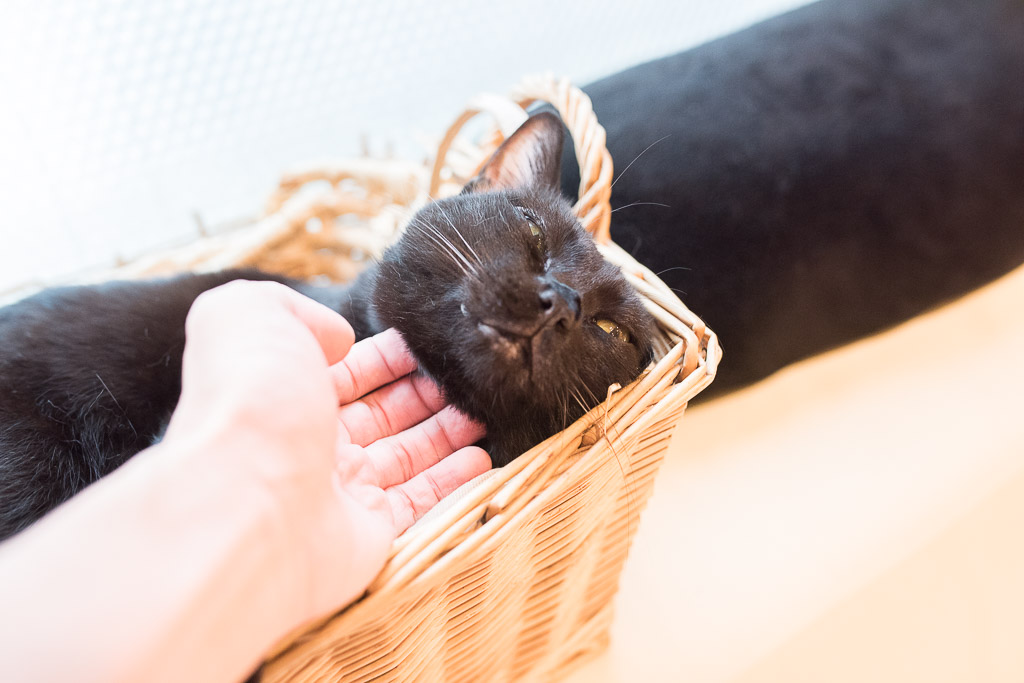 Guri Guri…(His name is also Guri.lol)
※Guri guri means kind of sounds when someone stroke someone in Japanese.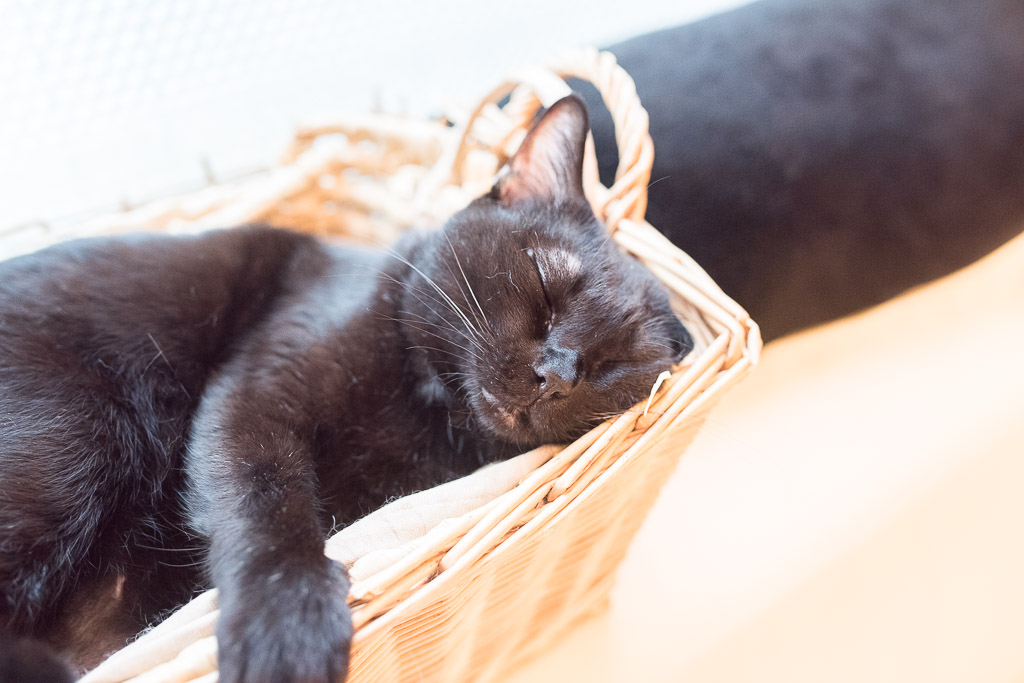 Then he slept.
By the way, there is a sofa in front of this place where Guri is.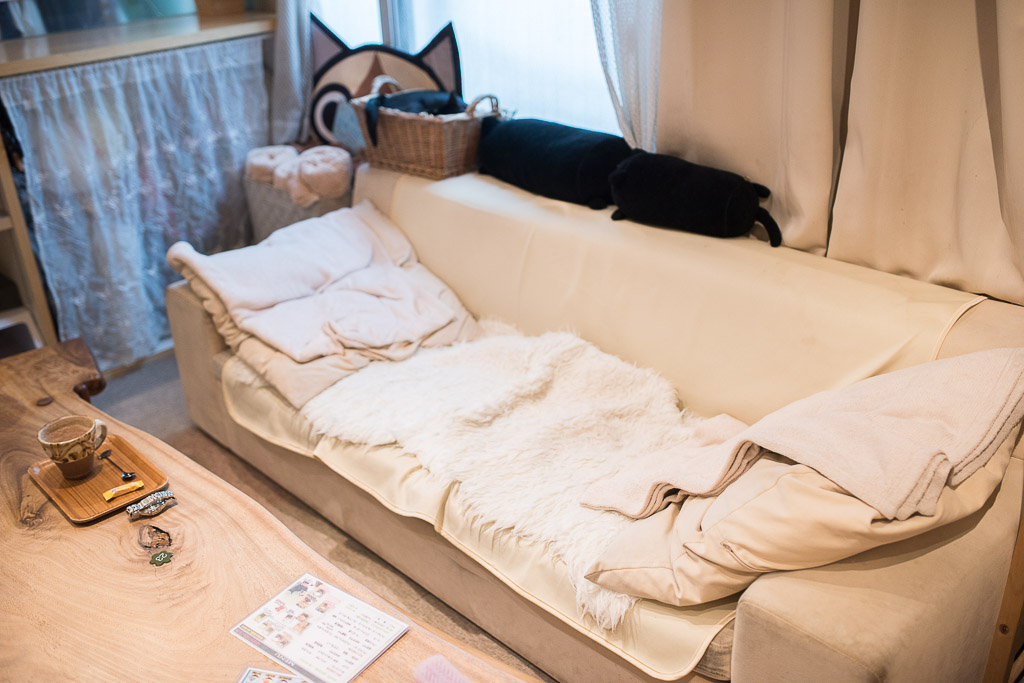 This sofa is really comfortable.
You might go into dream world when you touch Guri at this sofa with putting a blanket.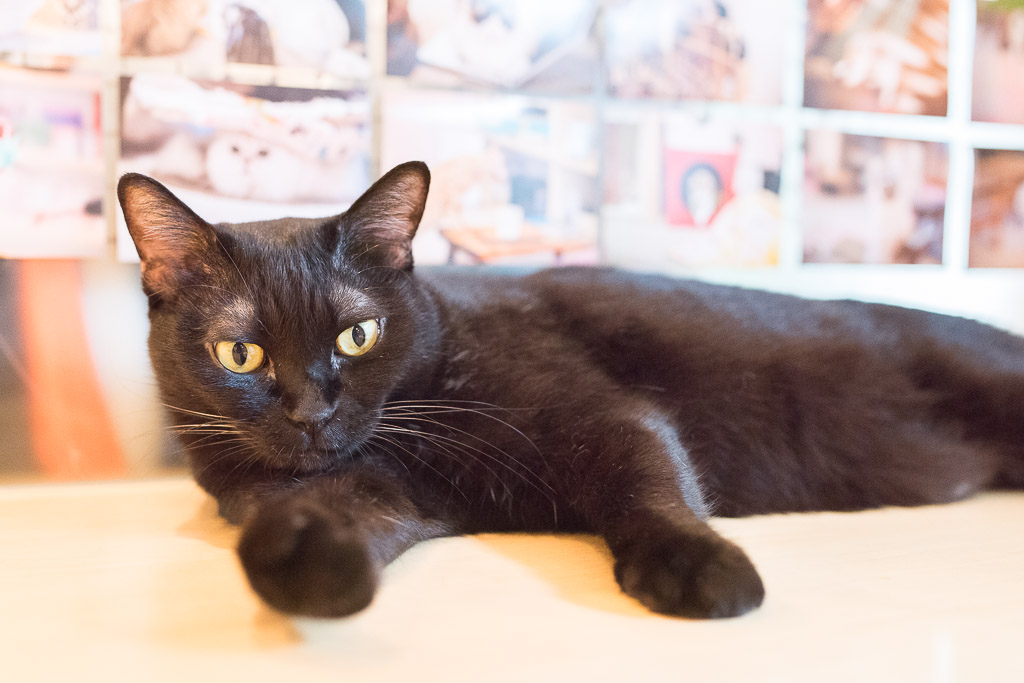 Oh, He moved.
The clerk told me that Guri would be happy to be touched Guri's ass.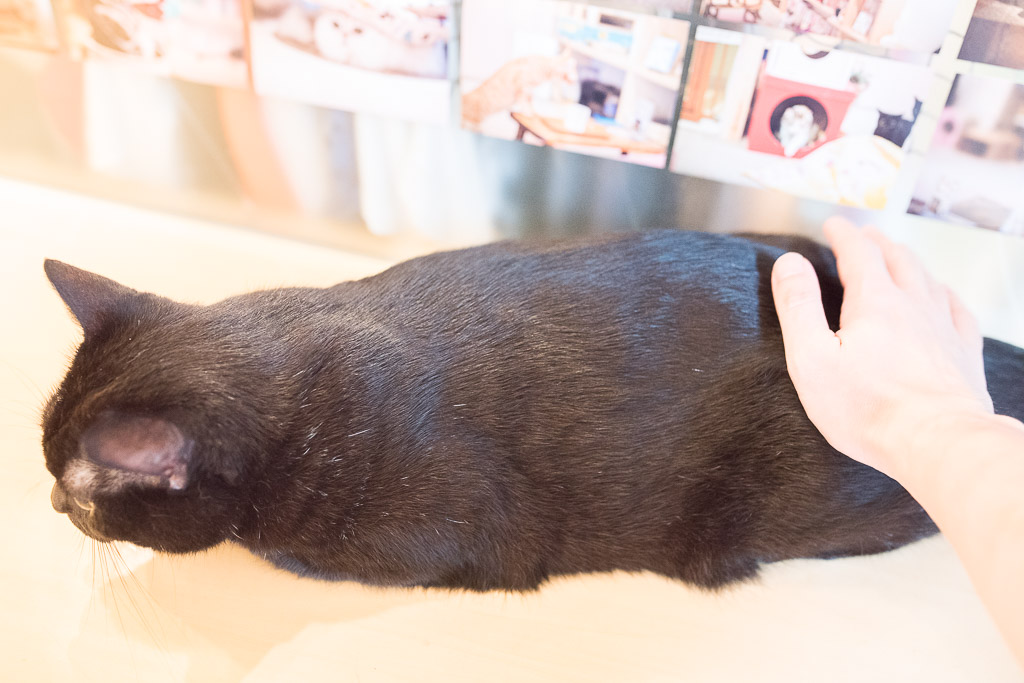 Guri looks so happy.
This shape is called Kobako-zuwari. When cats feel relaxing they sit like this.
He waved his tail when I touched his ass.
And he stopped waving his tail when I stopped. He is easy to understand!
Probably He seemed to have recognized me as a friend. He waved his tail when I touched his back also.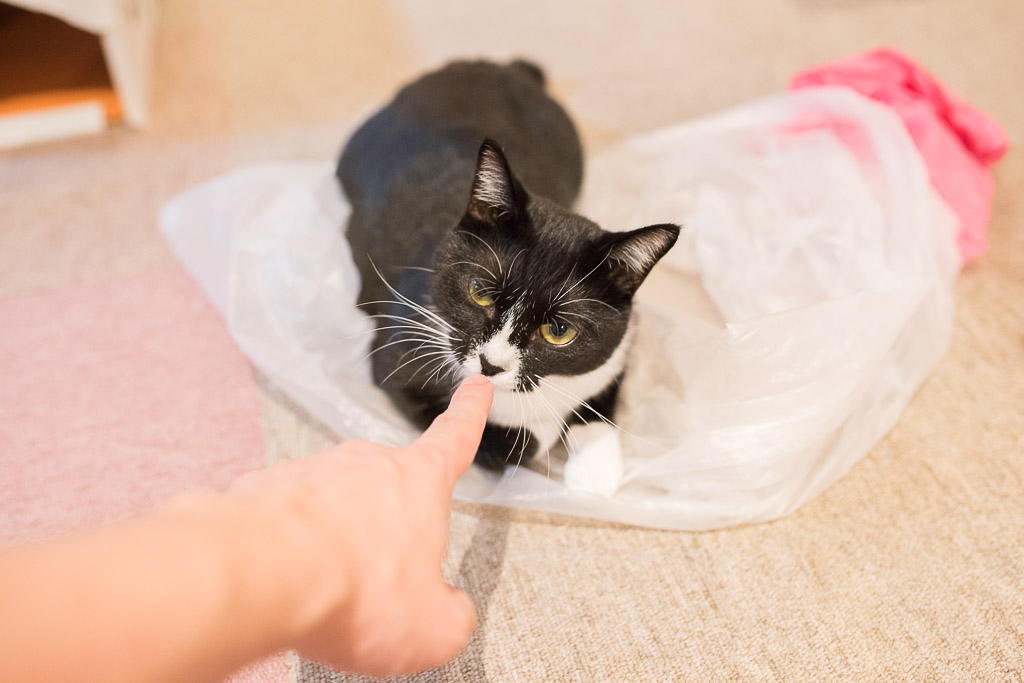 He is so active because he is still kitten.
He played with clerk. But I just touched little bit because this cat is shy.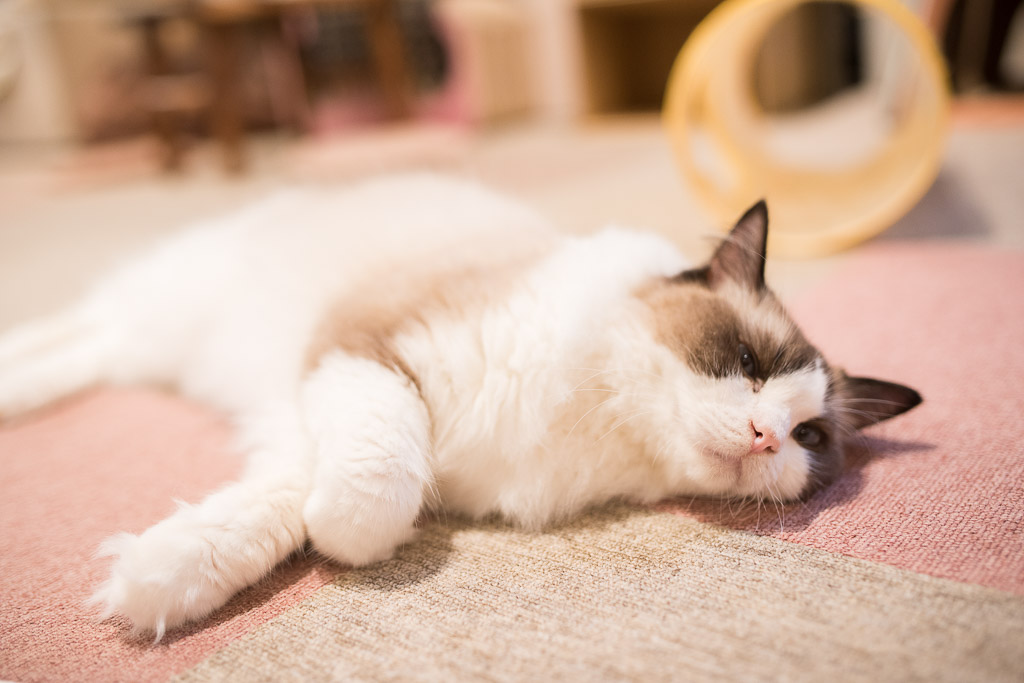 Dolly was in a different place, so I played with toys.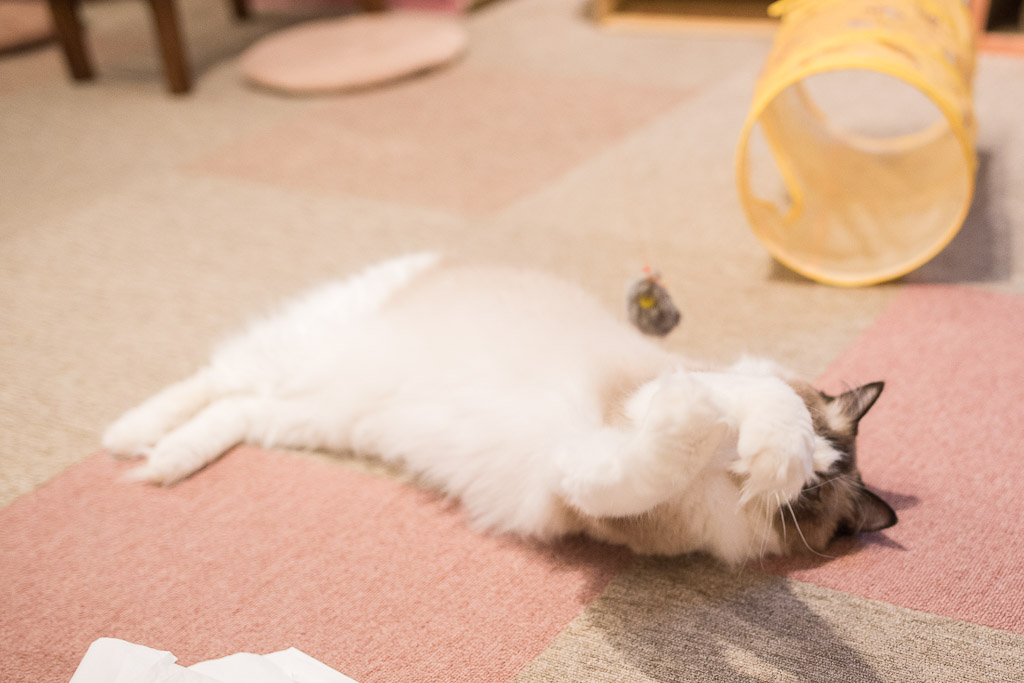 Dolly missed to catch the toy.
The hind legs looks like completely unmotivated.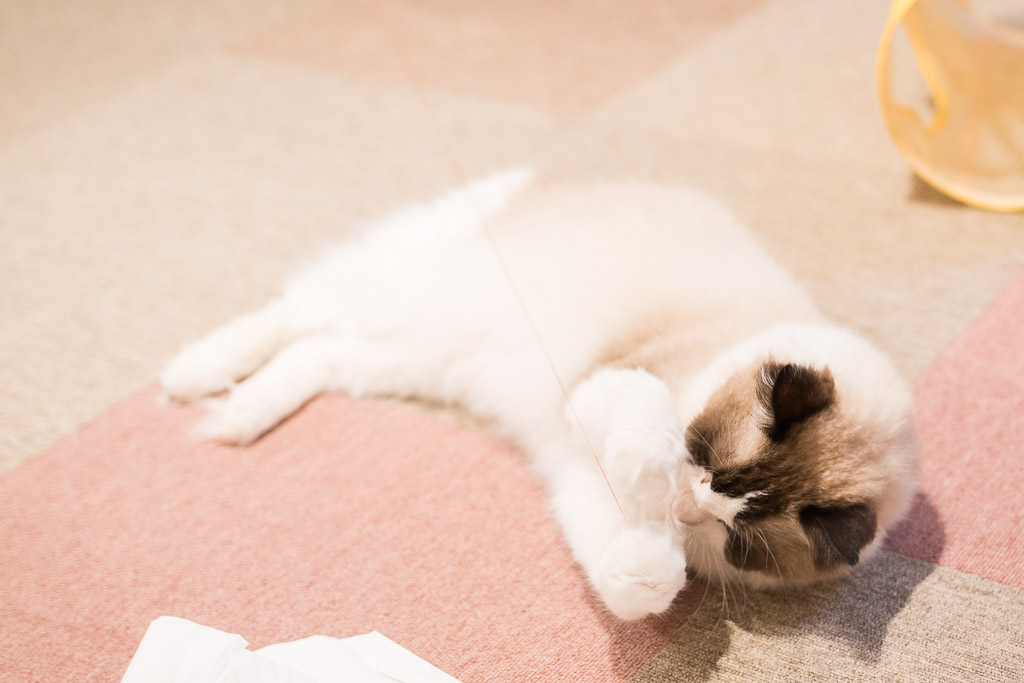 But he finally got a toy!
cute….
Cateriam also sold cat miscellaneous goods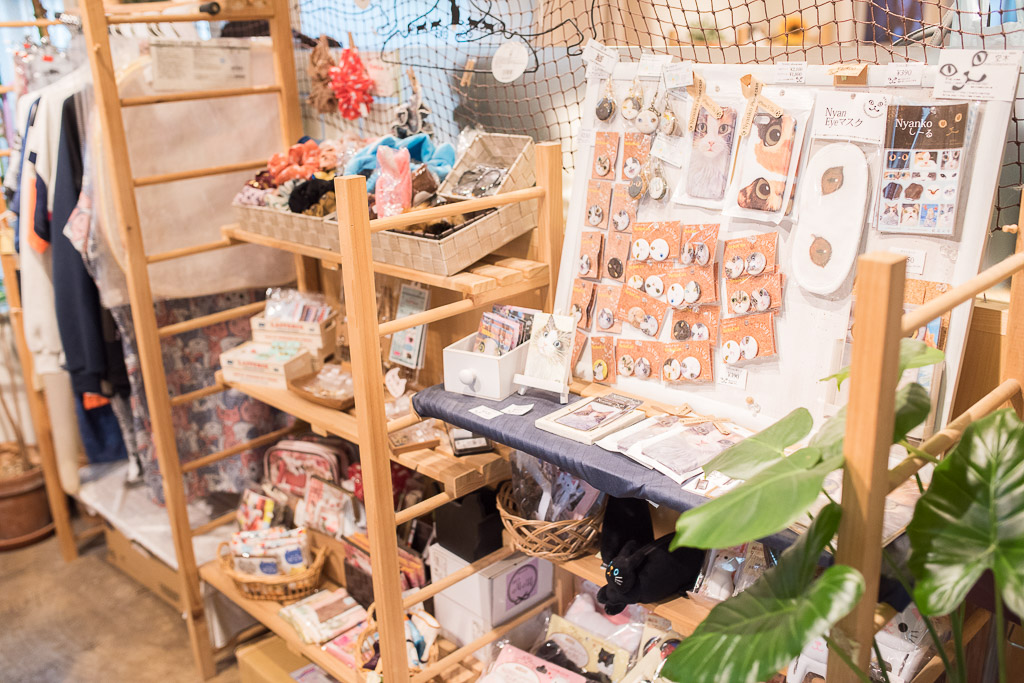 Cat miscellaneous goods are sold in front of the zone where cats are.
There are variety of cat goods rather than a limited edition at this shop.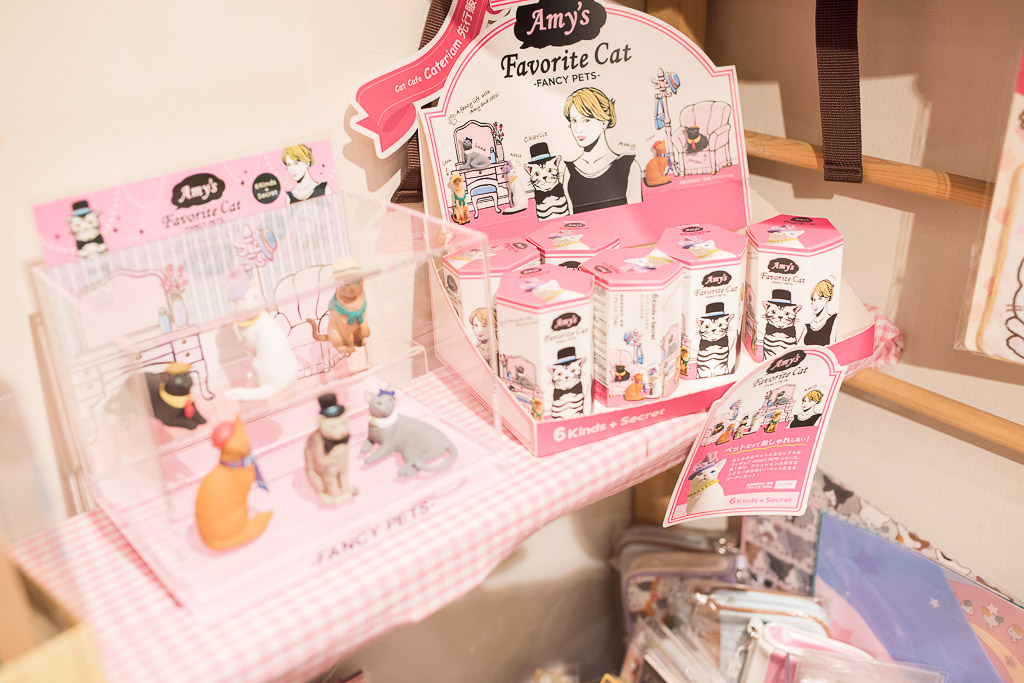 When you come on a date, your girlfriend will be happy to see that.
If you get stuck in a conversation, go to see cat miscellaneous goods.
A shop that shows the owner's love for cats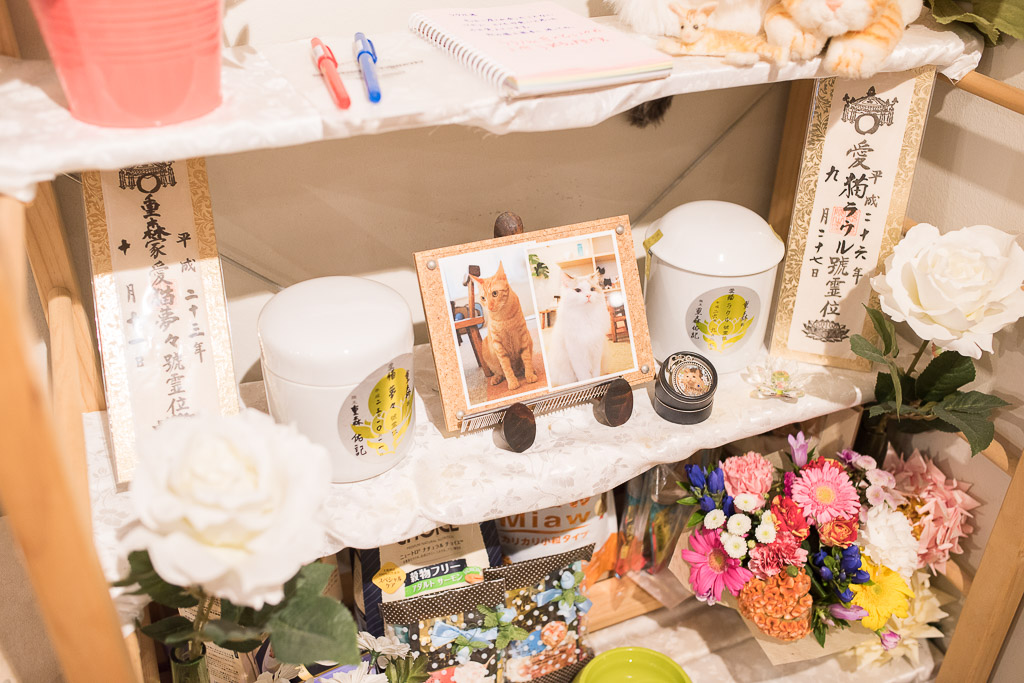 In the store, there was a space for the cats that were here before.
You can feel that the shop owners love cats.
The cats have a lot of love from clerks. So cats looks very relaxing.
I think that cat clerk at every cat cafe is just a cat lover, but the cats here are just as loving as domestic cats.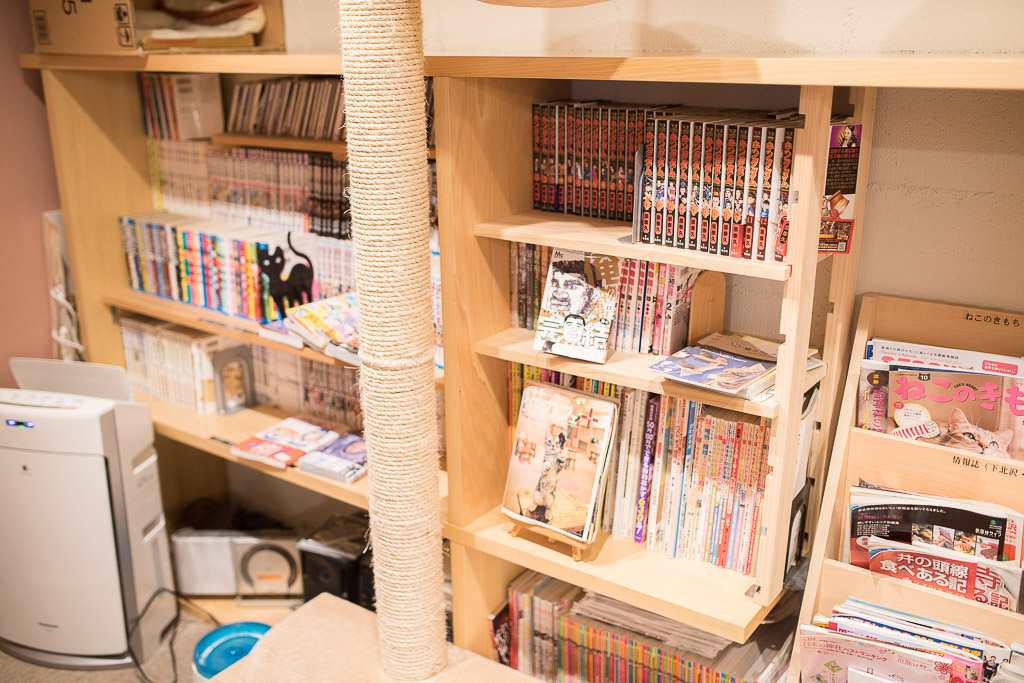 And also they have many manga.
※Manga means comics.
You can relax so much.
I can describe this cat cafe as just "chill"
Price / option
1 hour 1,000 yen free drink included (add 250 yen every 15 minutes extension)
Trial 15 minutes ... ¥ 300
30 minutes trial ... 500 yen
Pack price
2-hour pack ... ¥ 1,600 (¥ 1,700 on weekends and holidays)
3-hour pack: ¥ 1,900 (¥ 2,200 on weekends and holidays)
5-hour pack: 2,800 yen (3,000 yen on weekends and holidays)
All-you-can-drink soft drinks: 200 yen (250 yen on weekends and holidays)
1DAY pass with free drinks Free entry and exit 3700 yen (4,100 yen on weekends and holidays)
Children over the age of 5 are also allowed to enter (accompanied by parents under elementary school age)
Point of cat cafe Cateriam
You can relax so much.
It is not crowded.
Cats are very friendly.
Cats are not stinky.
They sell cat miscellaneous goods.
Store information
Montblanc Building 2F, 2-26-6 Kitazawa, Setagaya-ku, Tokyo
1 minute walk from Inokashira Line Shimokitazawa Station.
A 5-minute walk from Shimokitazawa Station on the Odakyu Line.
Business hours:Tuesday-Friday from 11:00 to 21:00 (last reception 20:45) Saturdays, Sundays, and holidays from 10:00 to 21:30 (last reception 21:00)
Regular holiday:Monday (open on public holidays, closed on next Tuesday)
Store URL:キャテリアム
Store phone number:03-3468-8114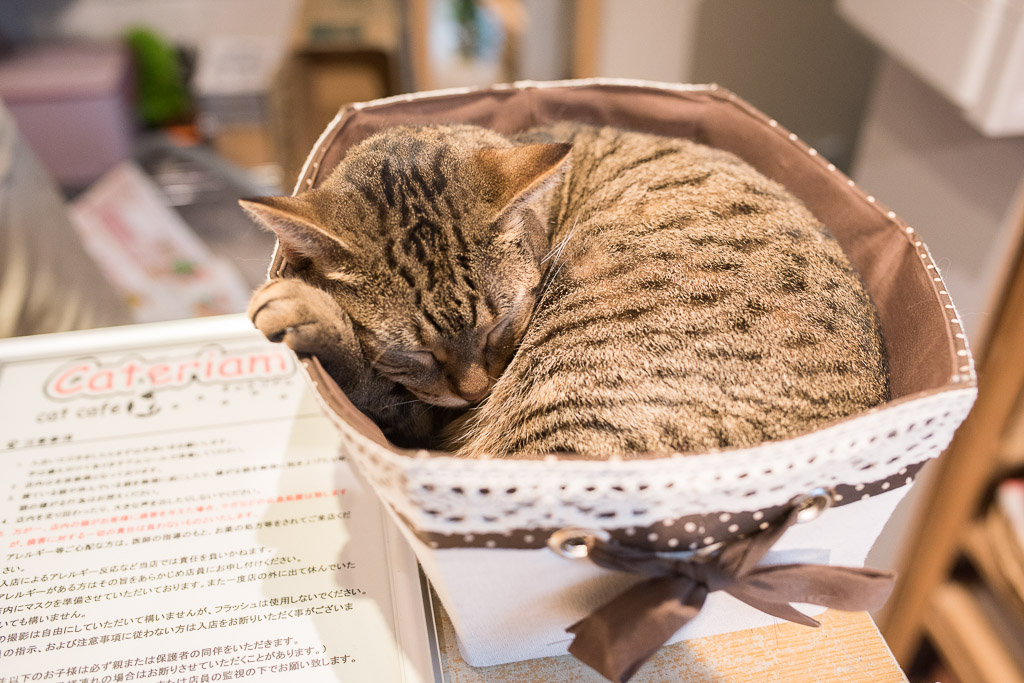 A cat sleeping at the checkout ... lol
After leaving the store, I stopped by the signboard on the stairs.
It was the perfect place to relax.
My cat cafe ranking
It is my own ranking that went to various cat cafes and became a cat cafe meister (self-name).
Please refer to this when you want to date with friends, when you want to date, when you want to spend time alone, when you want to play with your family and cat.
Nearby cat cafe