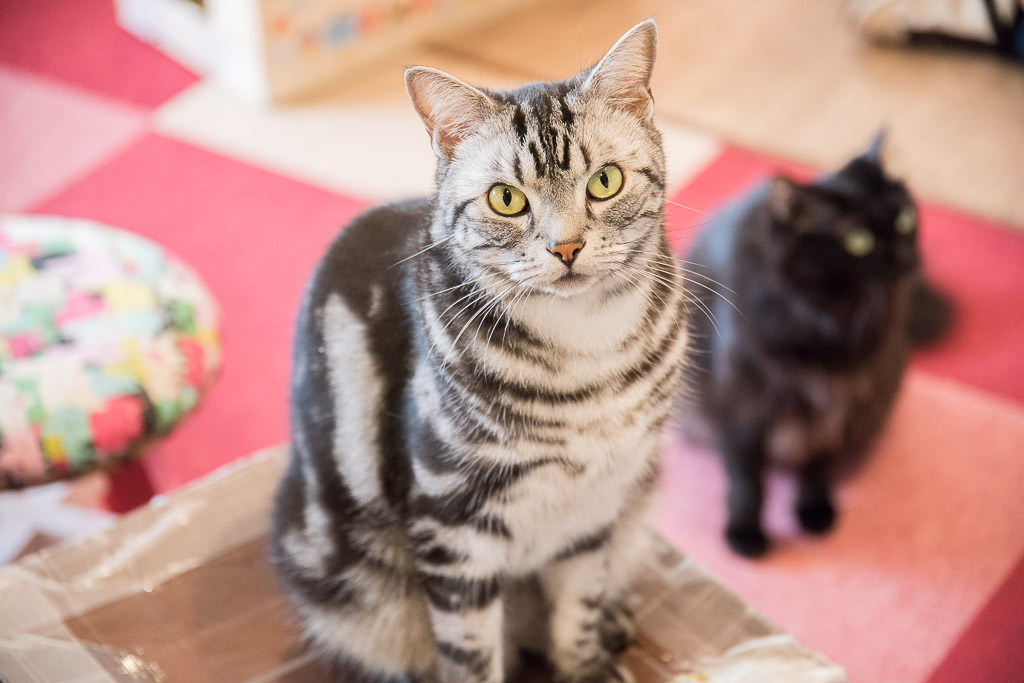 I went to a cat cafe nekomaru in Ueno.
It is a cat cafe located about a 1-minute walk from Asakusa Exit of Ueno Station.
This is basic cat cafe in Japan, you can be popular by giving cats snack.
This is only one cat cafe in Ueno, so if you want to play with cats in Ueno you can go this cat cafe!
[Tokyo japan Cat cafe] Ueno nekomaru reviews!

nekomaru cafe videos
Cat cafe nekomaru location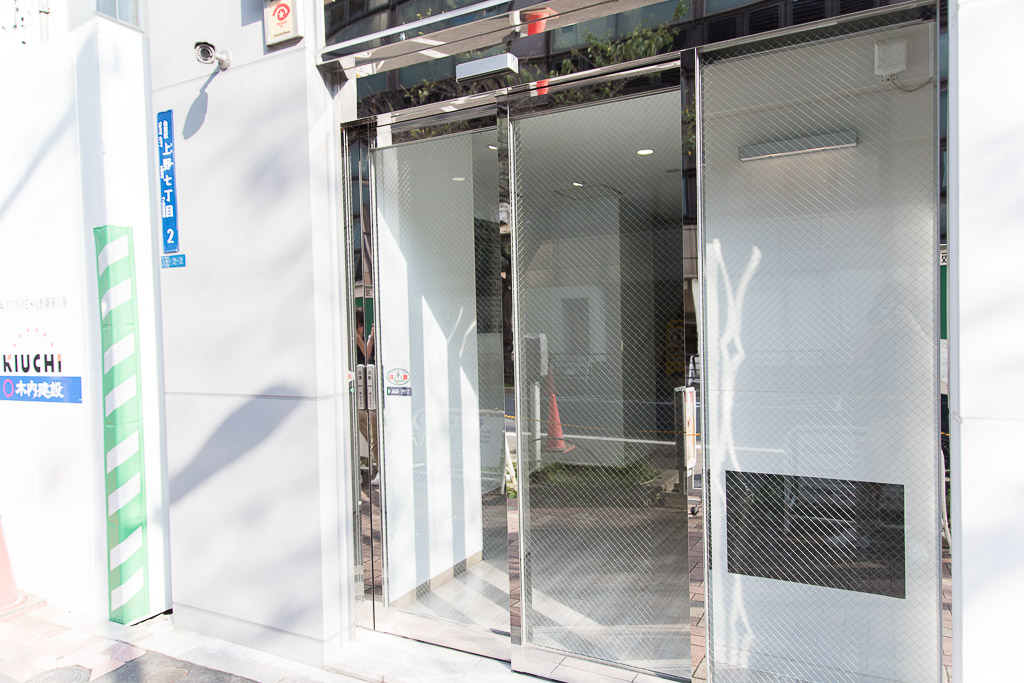 Nekomaru Cafe is on the 8th floor of a normal building.
It is next to a burger shop called First Kitchen Wendy's.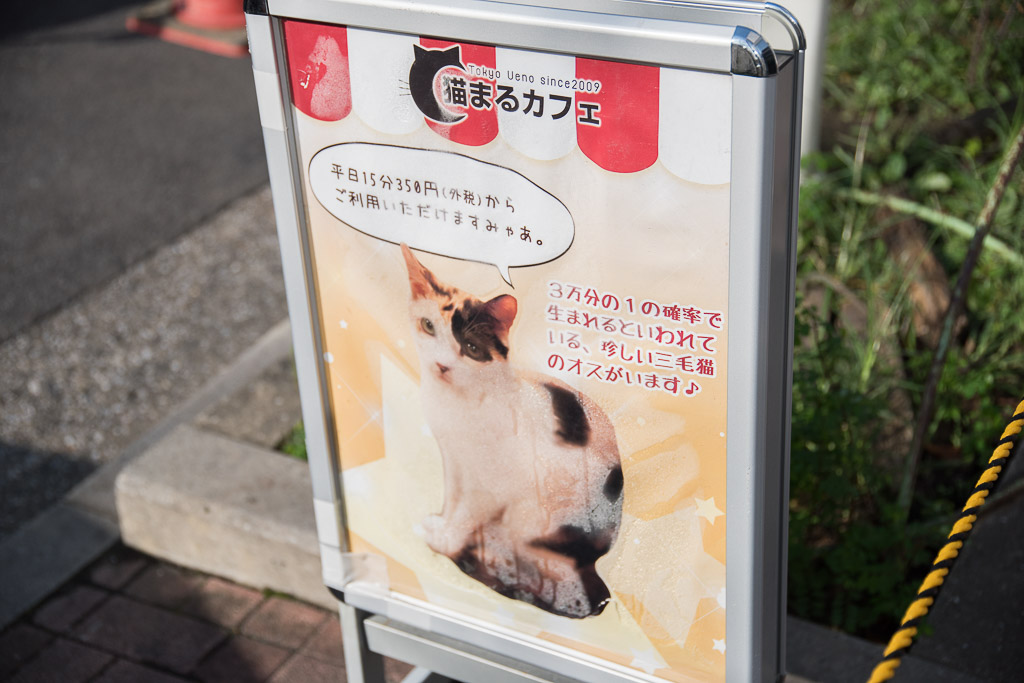 There is a sign like this, so if you use the sign as a landmark, you won't get lost.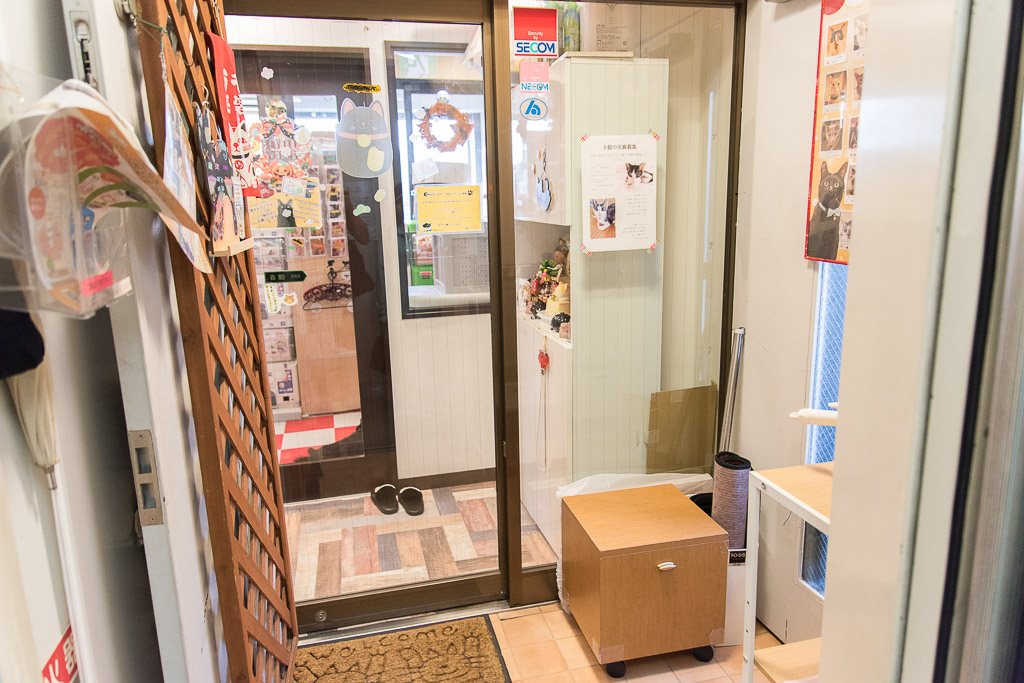 Cat cafe looks like this. You can see when you get off the elevator on the 8th floor.
Open the front door, change to slippers and enter the store!
The price is 350 yen for 15 minutes.
It is 1,200 yen for the 1-hour plan and 1,600 yen for the 90-minutes plan, it will be a little profitable.
Entered a Cat cafe nekomaru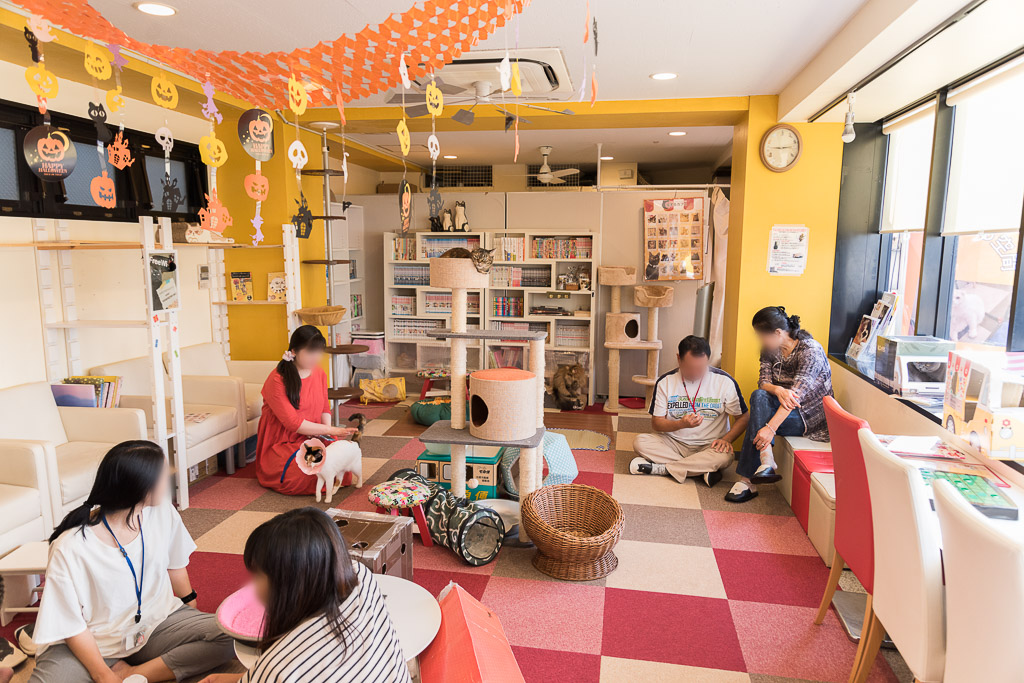 As you can see, the store has a colorful floor.
The size of the room is neither large nor narrow, it is a very ordinary cat cafe.
There are sofa seats, but almost customers were sitting on the floor and playing with the cats.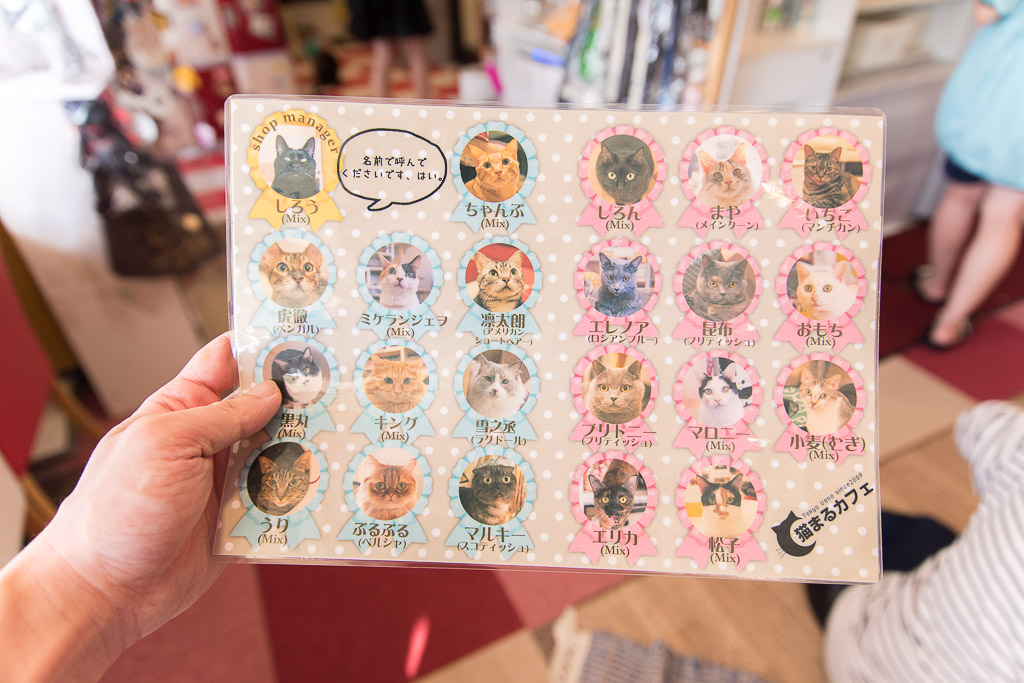 I could get name table when I entered the store.
It was pretty useful.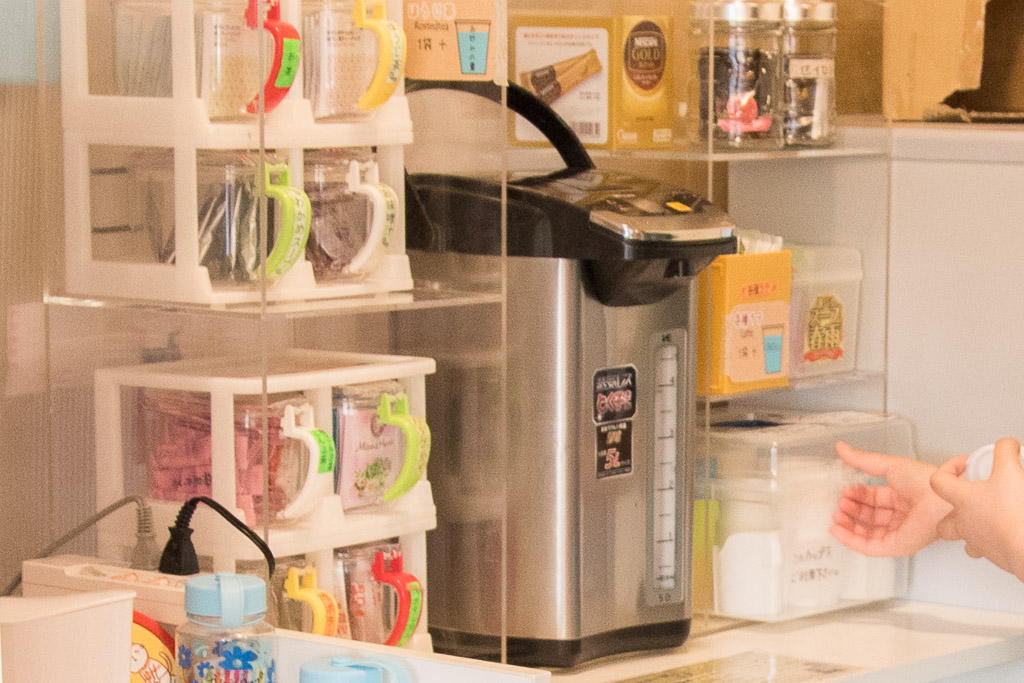 Help yourself to drink for free.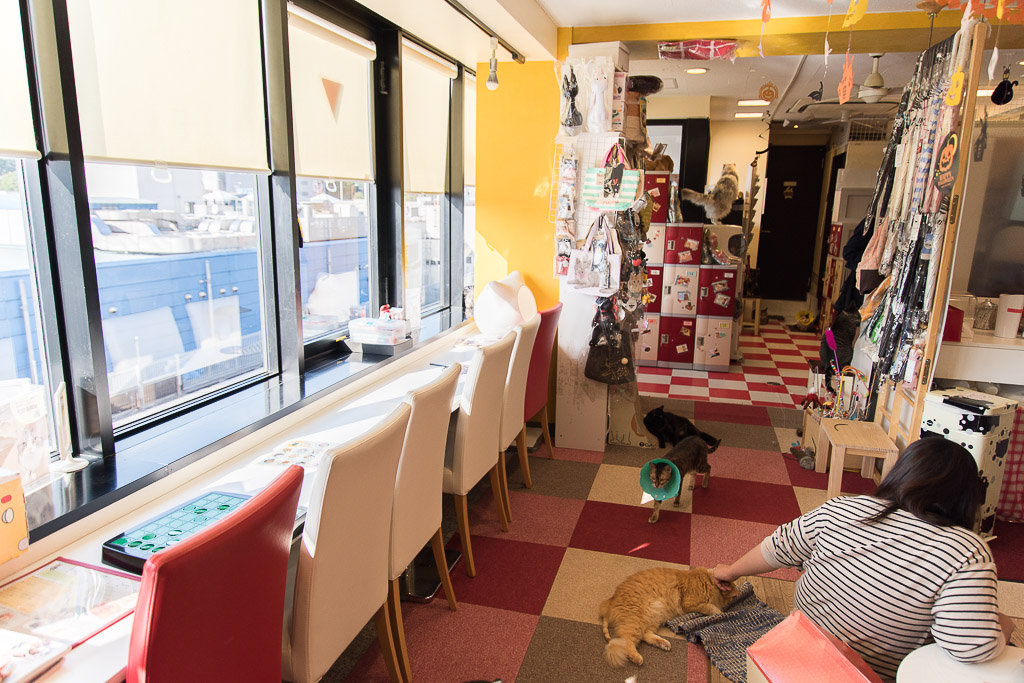 The window seats are sunny and you can relax during looking out.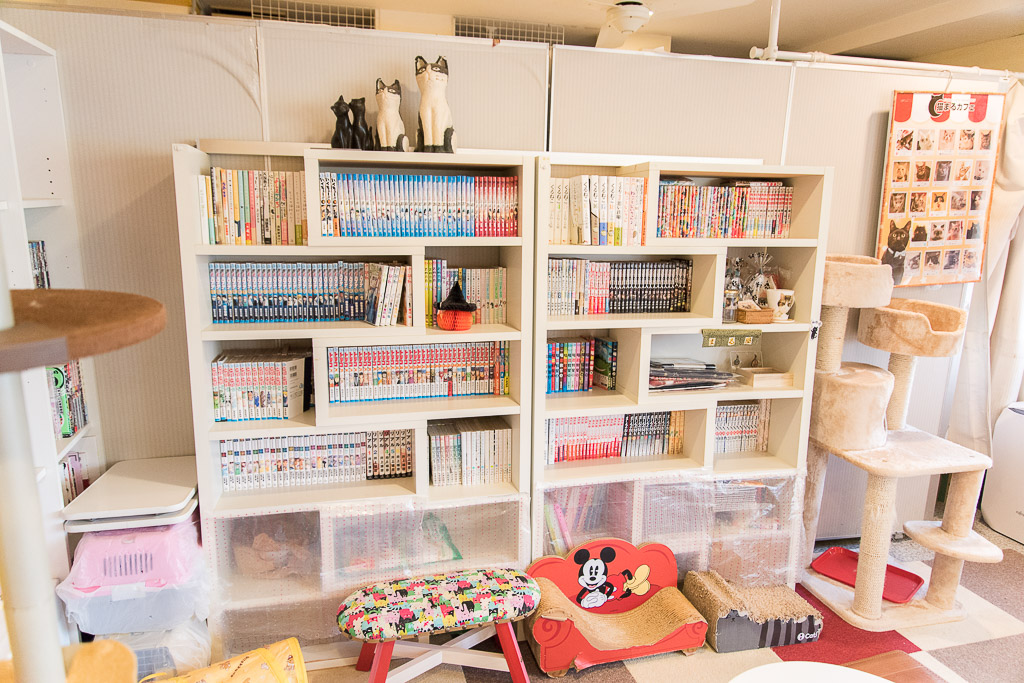 There are so many manga, so you can relax and enjoy manga when you come alone.
* Manga means comics in Japanese.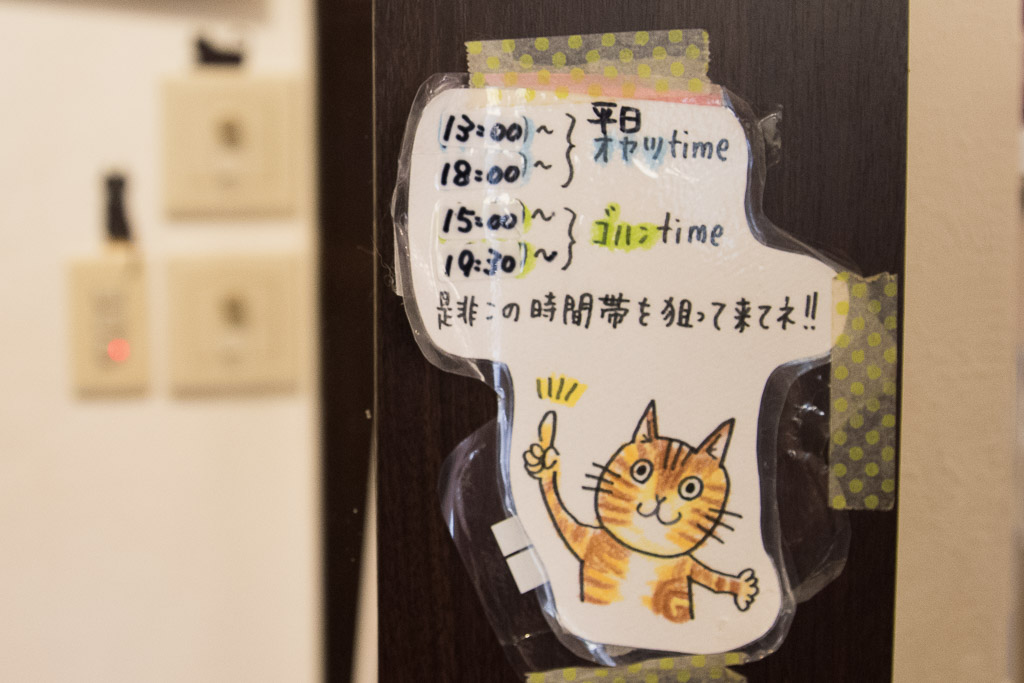 Gohan time is from 15:00 and 19:30. ※Gohan time means time to eat.
The snacks time is from 13:00 and 18:00.
I went to this cat cafe at 15:00 so I could see that they were eating Cat food!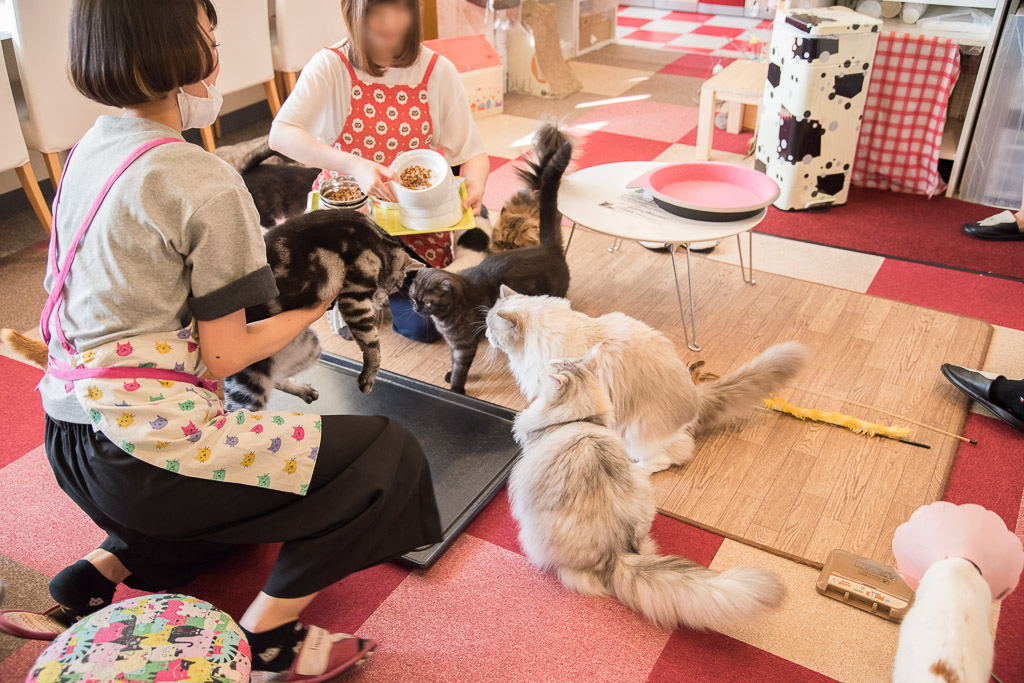 When the store clerk prepares Cat food, everyone will come and go.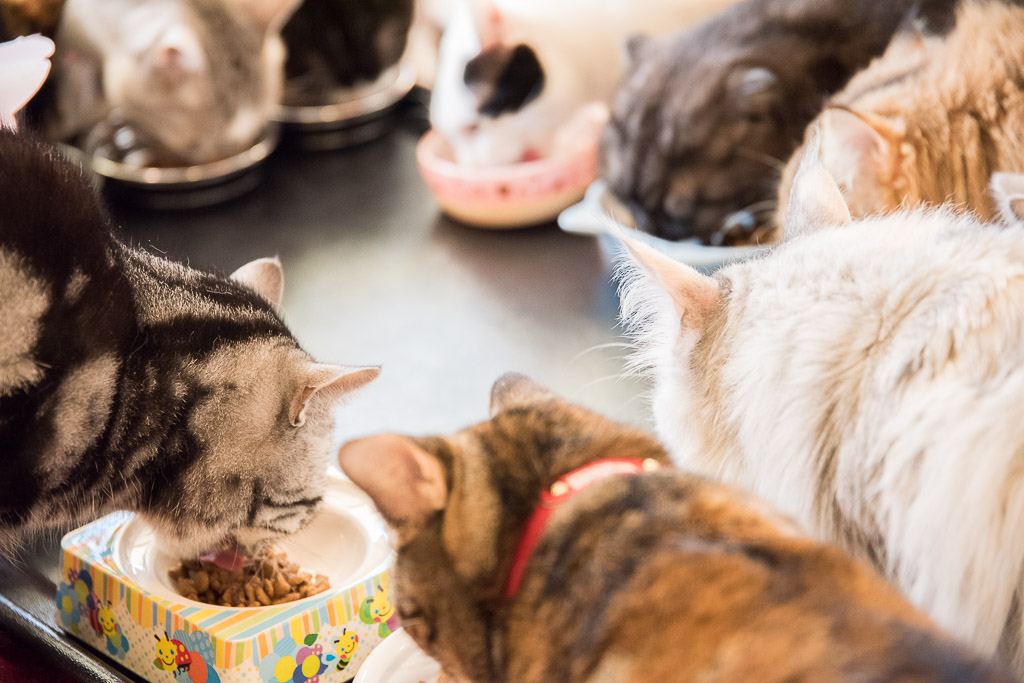 Everyone is crazy about eating.
You will be relax as watching them ...
The ultimate snack time
At 13:00 and 18:00 are snack time. You can get a snack for free and give it to cats.
But even outside that time, you can buy a snack .
I want to play with a cat  ... So I bought a snack.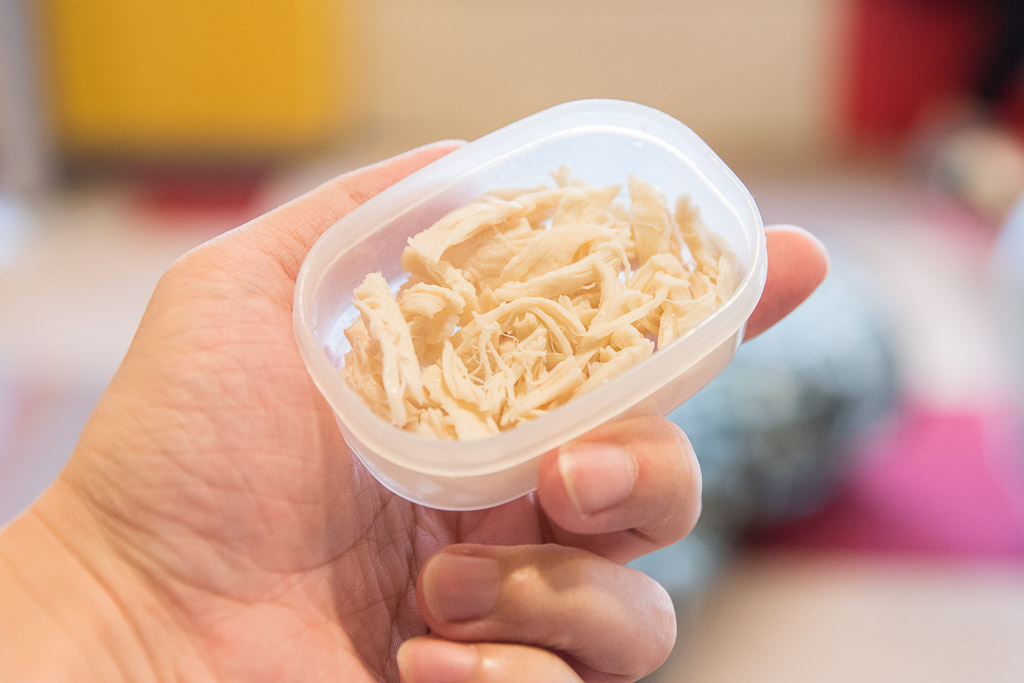 This is a snack!
Cats came soon!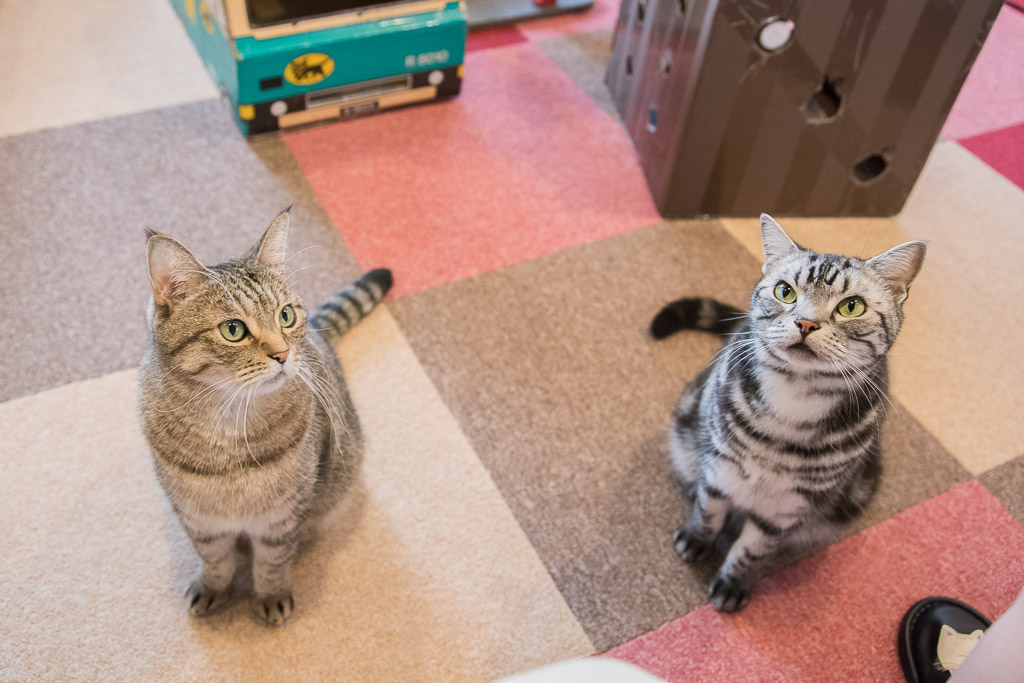 Look at their face! They wanted to eat a snack in a minute!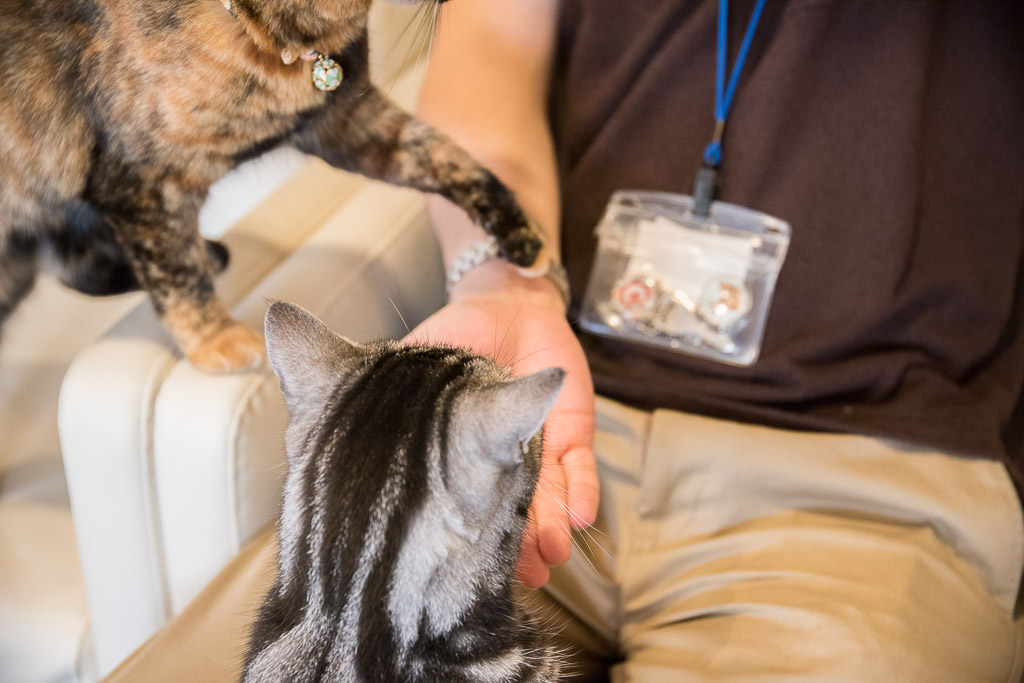 Everyone didn't hesitate to come on my knee.
It was interesting that the way of eating was completely different depending on the cat.
This Ichigo chan was eating slowly and seriously.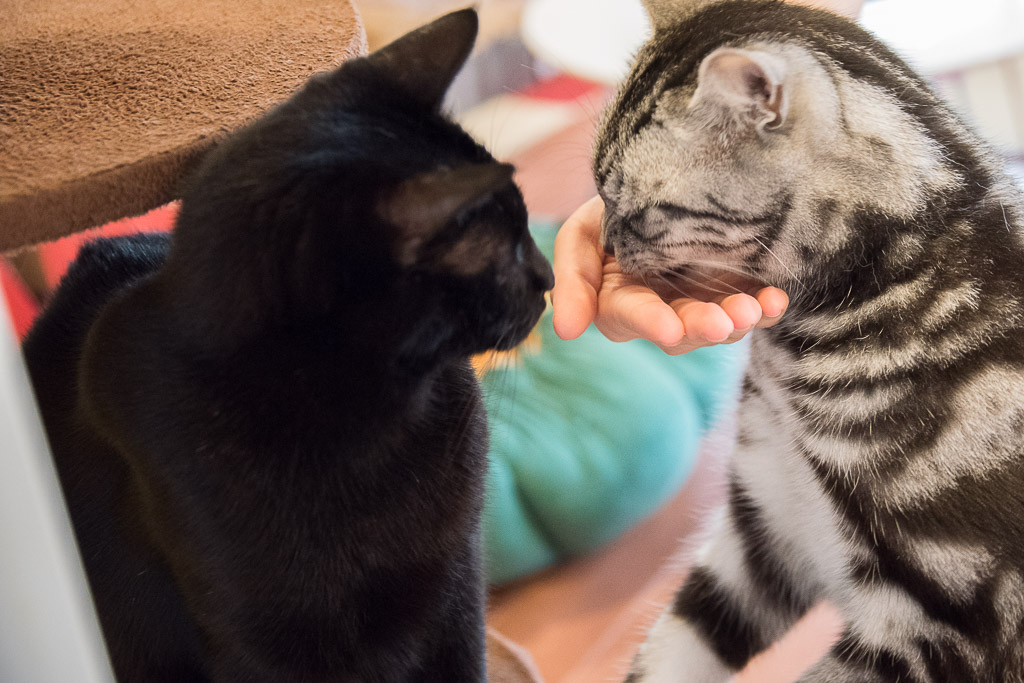 Rintaro was hasty.
He seemed to ask me, "Give me a snack soon!"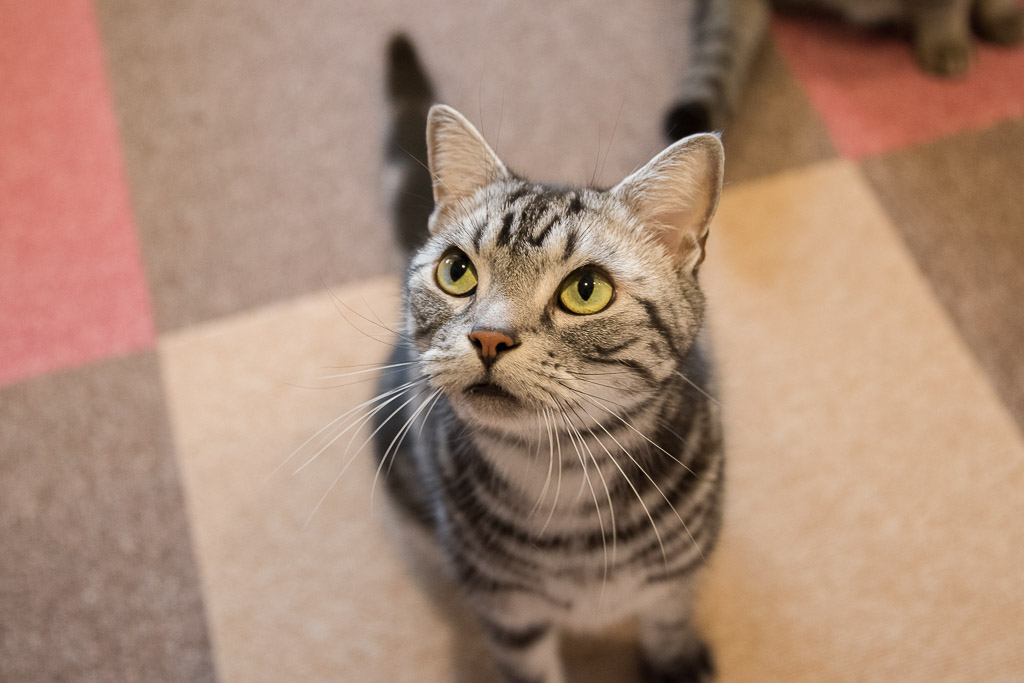 He wanted to eat more even though he already ate a lot.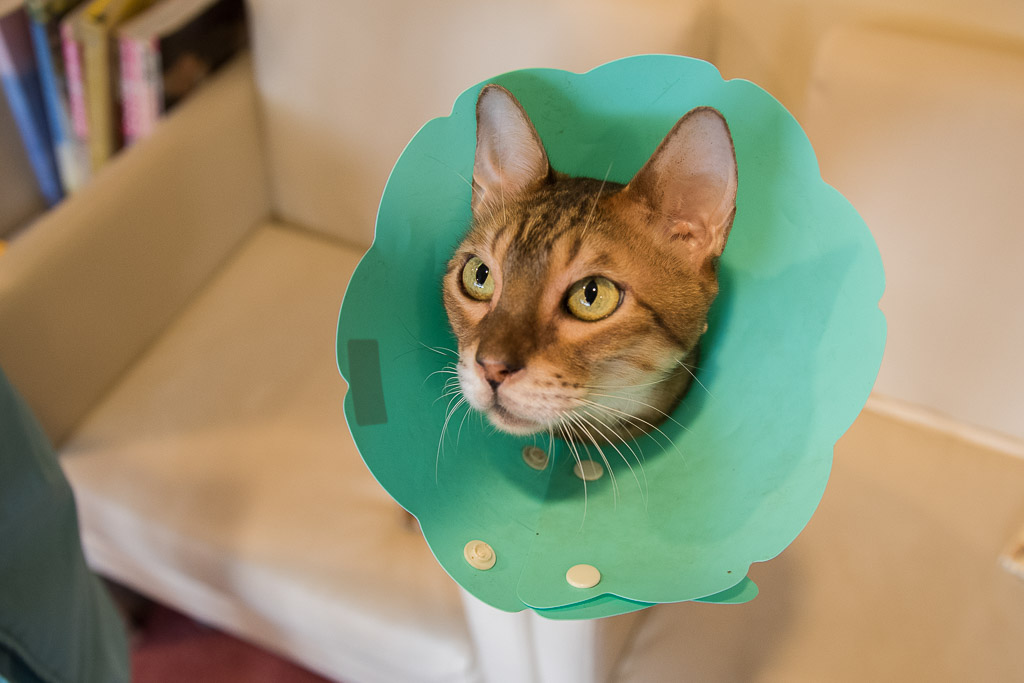 Kotetsu was more big eater than Rintaro.
He wanted to eat every time!
He tried to get snacks from everywhere.
Because the amount of snacks is moderate, so you can enjoy with cats until you are satisfied!
Cats in the cat cafe nekomaru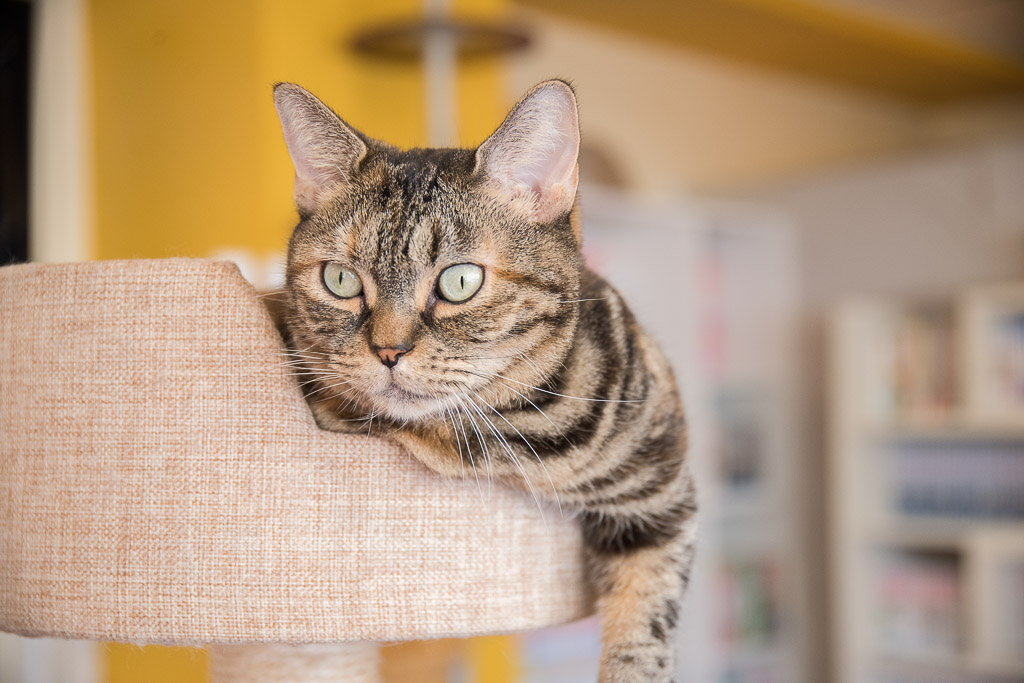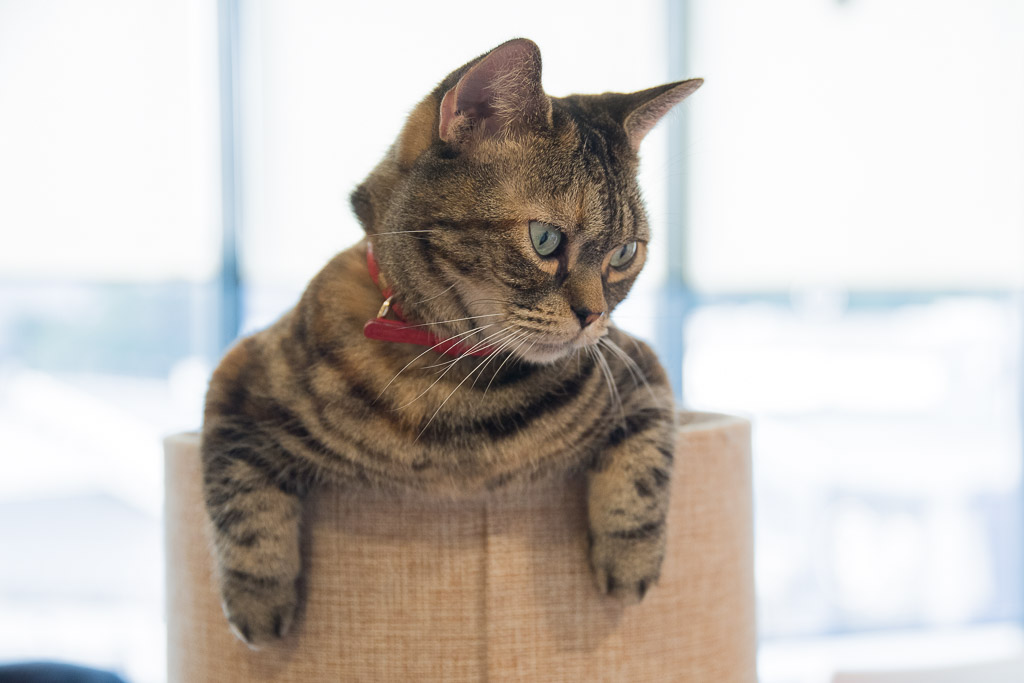 Ichigo chan of Munchikan.
Forefoot are cute!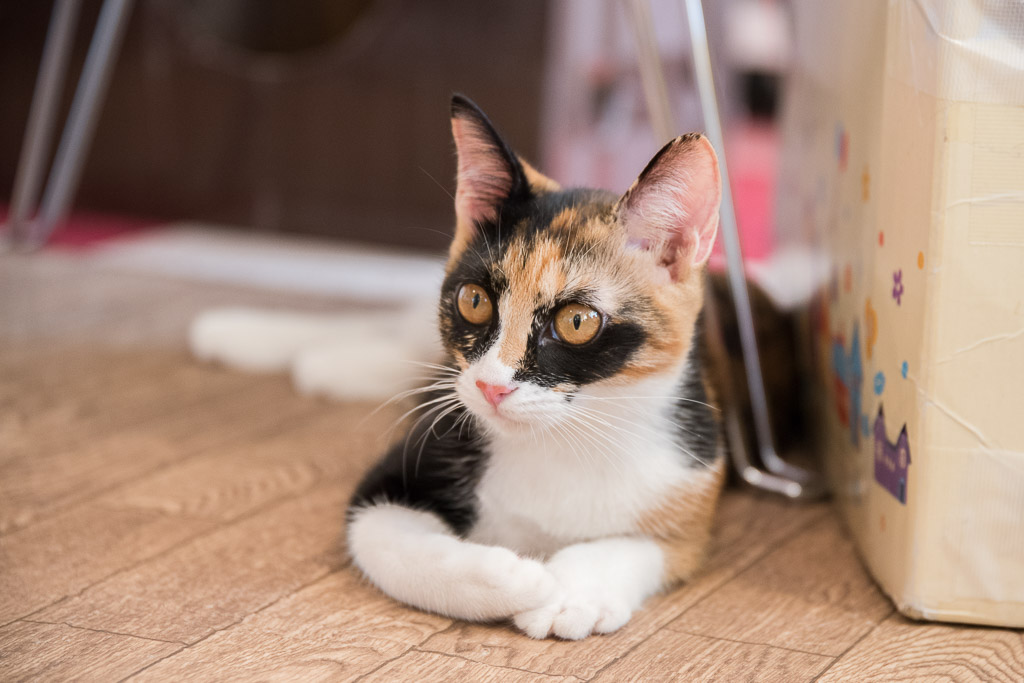 This is a mysterious cat that is not in the cat introduction.
I found it in the corner of the room.
A rare character?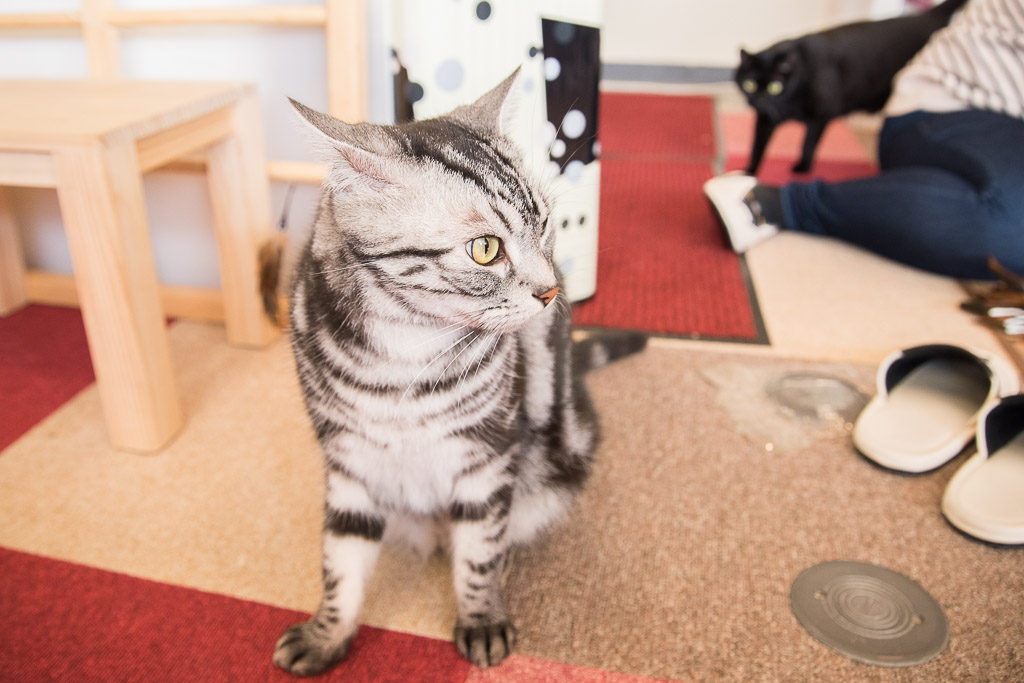 Rintaro.
A cat that loves snacks.
It's pretty aggressive for snacks.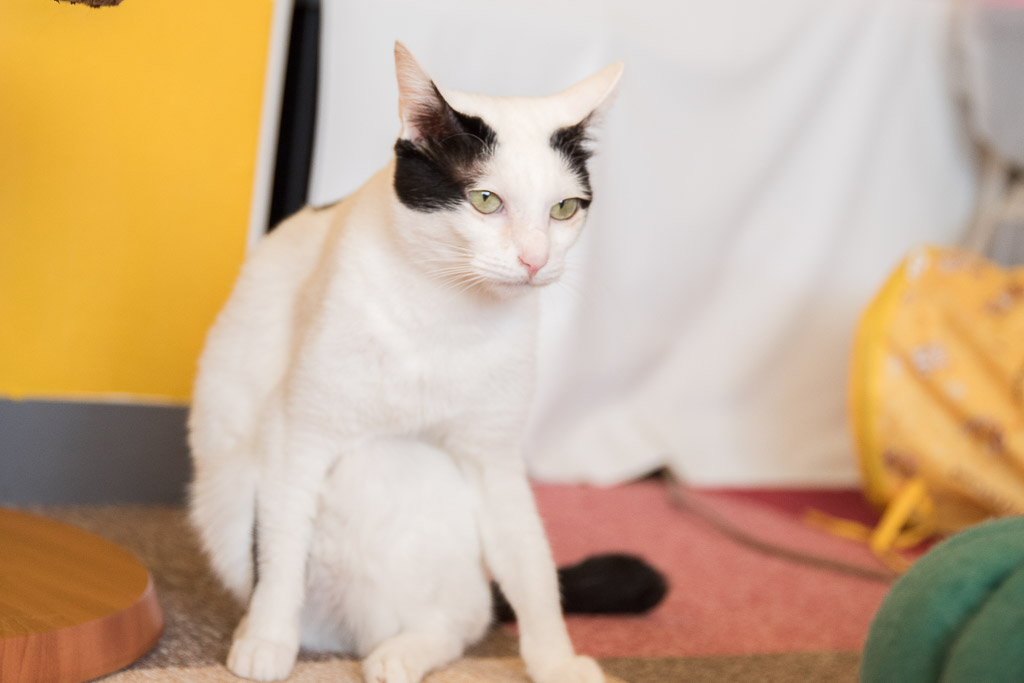 Maloney.
She used to be wild cat.
She looks funny shape。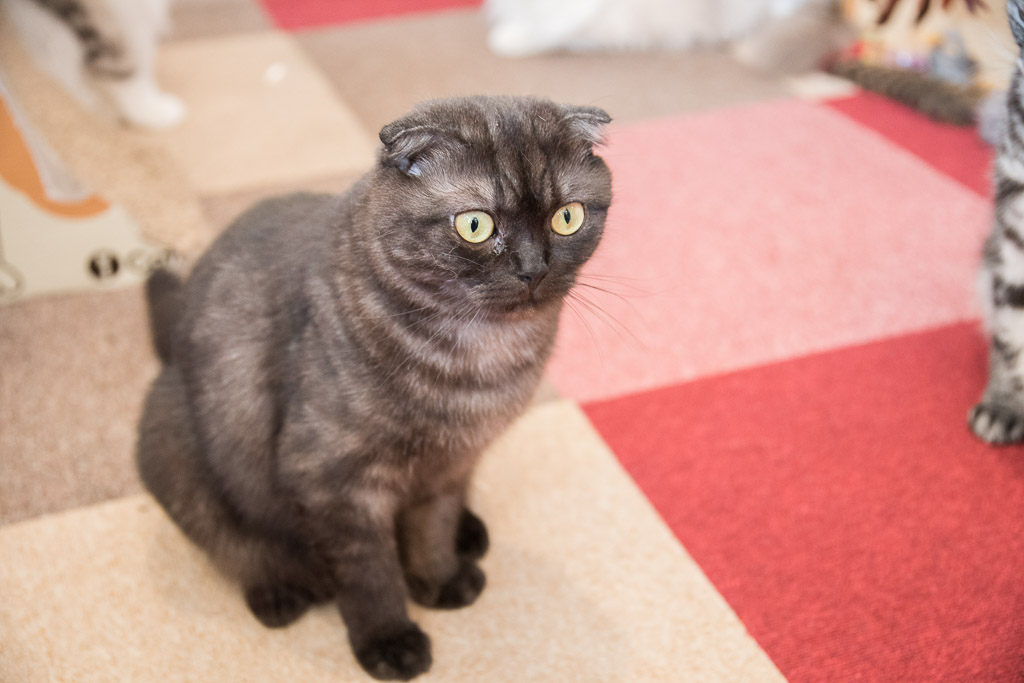 Maruki of Scottish Fold.
He didn't come to me for a snack ...
I want to feed him next time!
Price / option
15 minutes… 350 yen (weekdays only)
From 60 minutes on weekends and holidays.
60 minutes… 1,200 yen (Saturdays, Sundays, and holidays 1,300 yen)
90 minutes… 1,600 yen (Saturdays, Sundays, and holidays 1,800 yen)
Snack ants.
Children can enter (up to 5 people per hour).
For details, please visit the store website.
Point of cat cafe nekomaru
Ueno's only one cat cafe.
There is snack time.
There are some manga.
The cat smell is a little strong.
There are couple and just one.
Store information
7-2-2 Ueno, Taito-ku, Tokyo
Hours: 11: 00-22: 00 (Last entry at 21:00)
Saturday from 10:00 to 22:00 (last entry at 16:00)
Sundays and holidays from 10:00 to 20:00 (last entry at 19:00)
Regular holiday: Irregular holidays
Store URL:猫まるカフェ
Store phone number:03-5826-2501
My cat cafe ranking
It is my own ranking that went to various cat cafes and became a cat cafe meister (self-name).
Please refer to this when you want to date with friends, when you want to date, when you want to spend time alone, when you want to play with your family and cat.
Nearby cat cafe