I went to Cat Cafe nekonoirukyuukeizyo 299 in Ikebukuro.
The concept is different from other cat cafes.
It feels like a cat is resting on a stylish cartoon cafe.
The shop is quite spacious.And there are comfortable sofas.
There are tatami spaces, spaces with a desk where you can work, bed seats, etc. It is good to be in various styles.
In addition, there are about 2,000 comics.This is quite a large number of Japanese cat cafes.
Of course, the chargers are free to use, smartphone chargers can be rented, and wifi is available for free.
* No matter how long you stay, the price will not exceed 2000 yen on weekdays. (Excluding drink options etc.)
* There is a cat cafe  Nekonomise in Machida as a sister store.
[Tokyo japan Cat cafe] Ikebukuro nekonoirukyuukeizyo 299 reviews!

Cat cafe nekonoirukyuukeizyo 299 location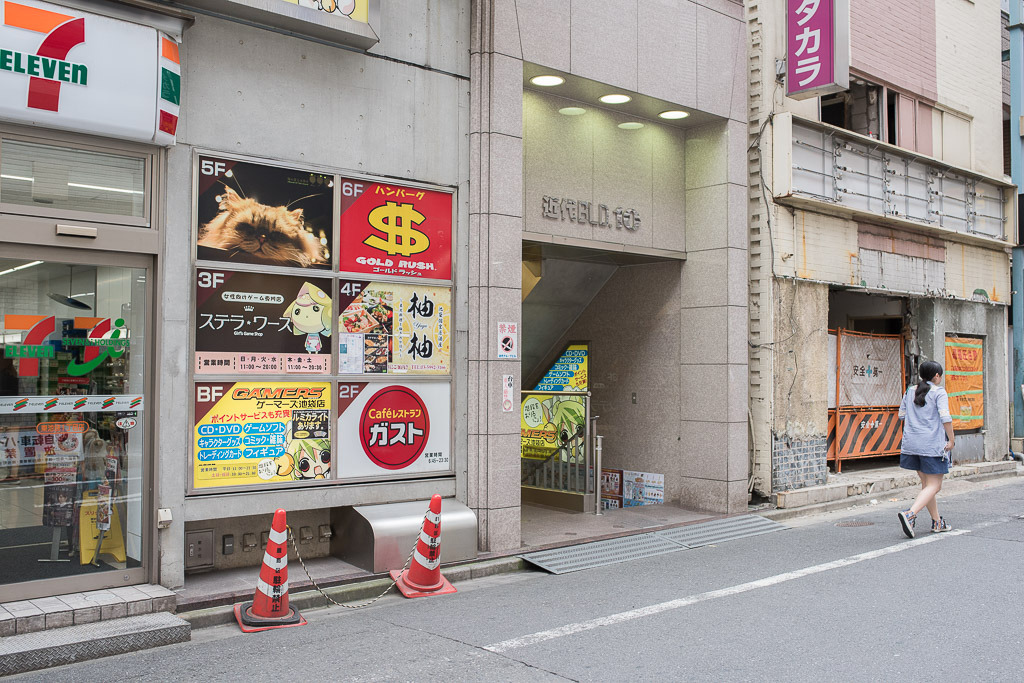 nekonoirukyuukeizyo 299 is the 5th floor of this gray building.
You get out of the east exit of Ikebukuro Station and walked to the sunshine area for about 8 minutes.
By the way, there is a cat cafe called Nekorobi right across from here.
The fee is 200 yen for 10 minutes, and will not exceed 2000 yen for weekdays and 3500 yen for holidays .
In addition to this, you can drink any drink for 350 yen and cat snacks are 500 yen (limited 8 meals).
The price is cheap, but the cat snack is a little expensive, I guess.
I feel like it's better to just stay with a cat in the atmosphere of the shop than to play with them a lot.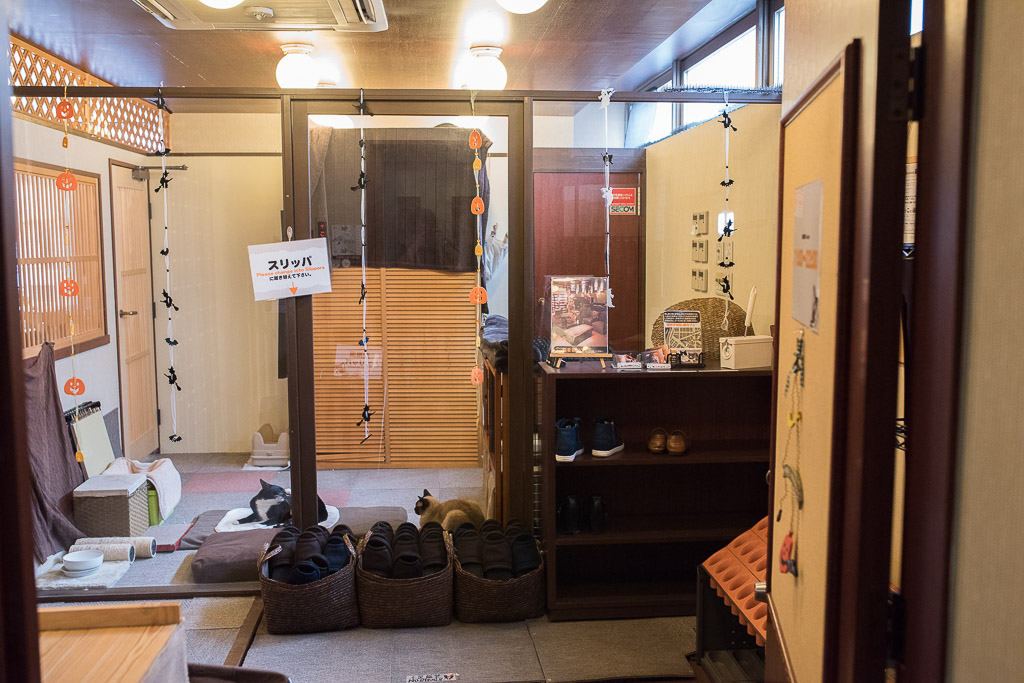 It looks like this when you get off the elevator.
Change your shoes to slippers and enter the shop.
Entered a Cat cafe nekonoirukyuukeizyo 299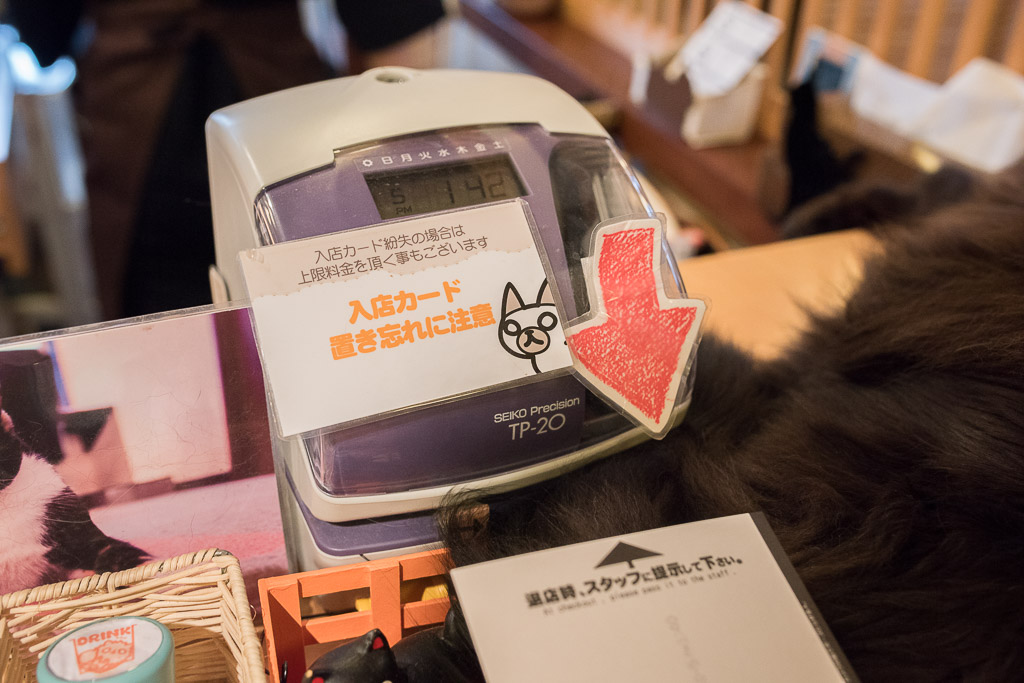 When you enter, the time is stamped on this entry card.
The fee is postpaid.
Unfortunately I thought the clerk felt a little frustrated.
The other woman was good, so the response varies depending on the staff.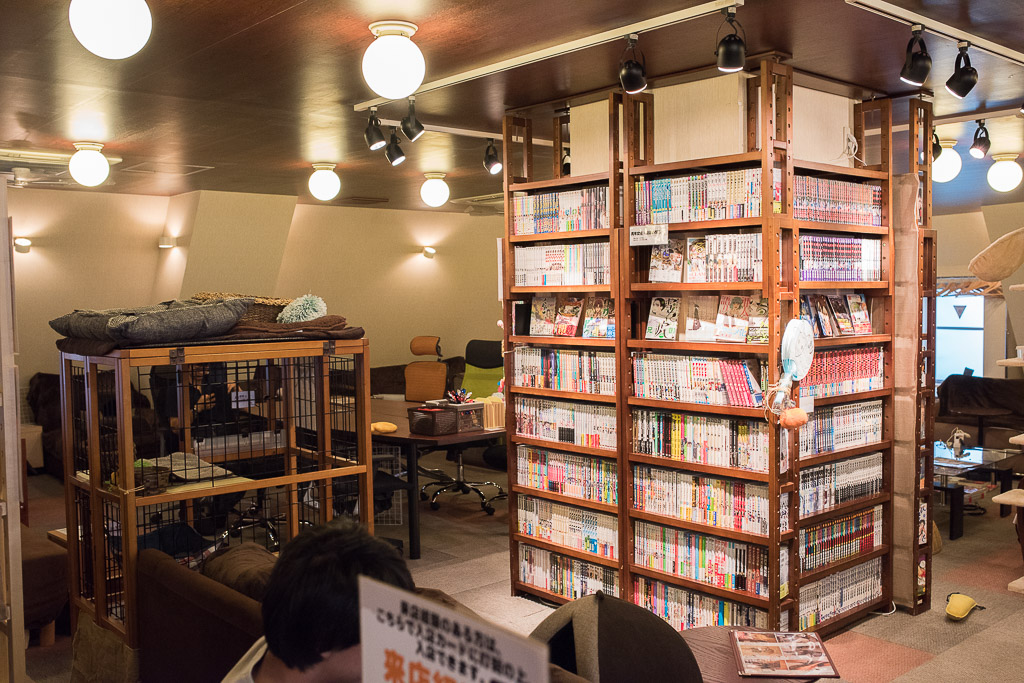 The first thing which you see when you enter the store is a bunch of manga!
About 2000 comics on the official website are not lies.
Not only here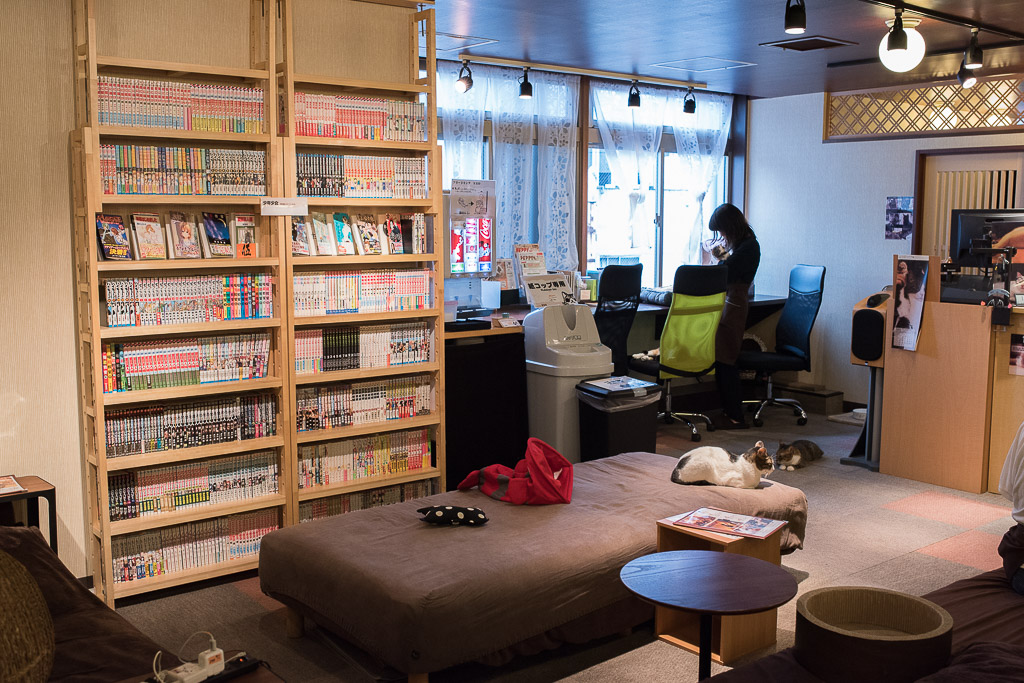 There are bookshelves in various places like this.
The cats were sleeping because I went too late.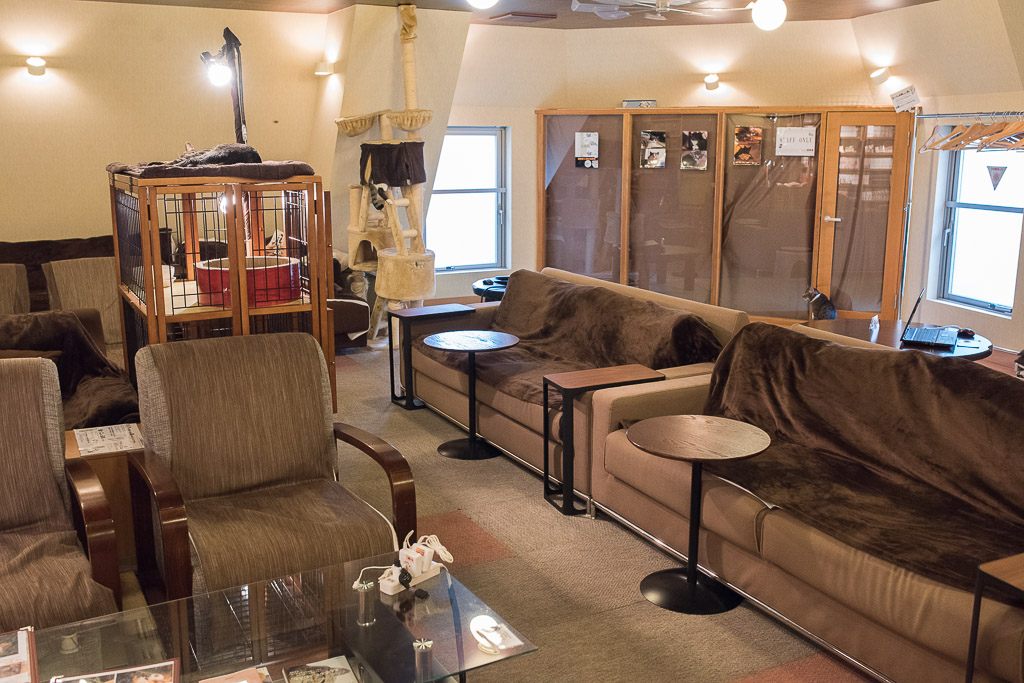 And look at this comfortable sofa and chair ...! You can be relax so much.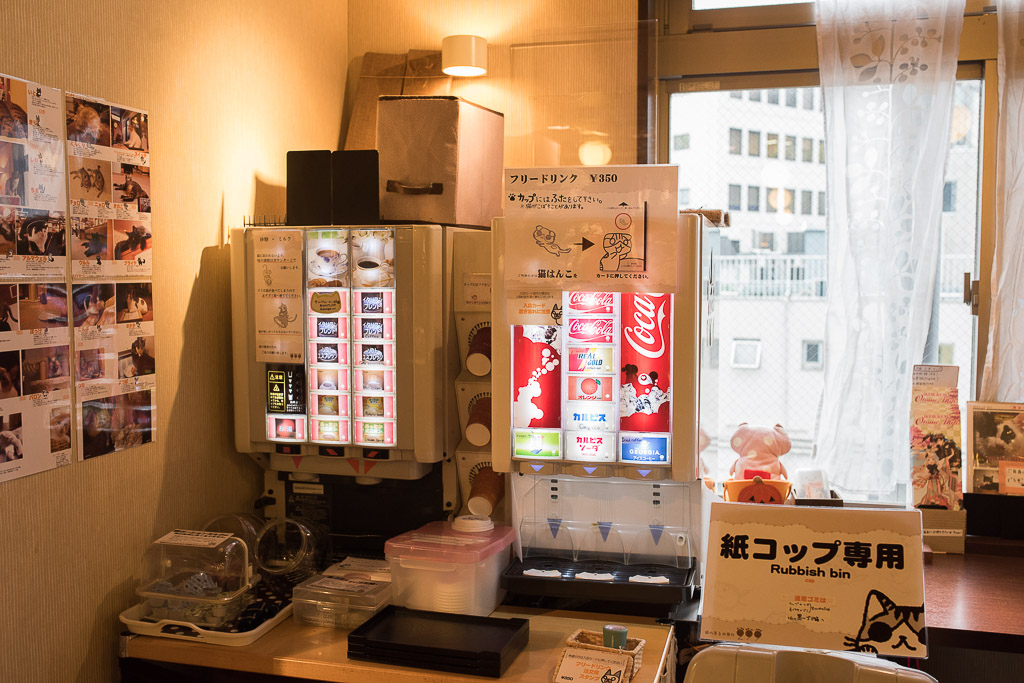 The drink space looks like this.
There aren't many kinds, but you can drink any drink for 350 yen, so it might be good for those who stay for a long time.
If you ask for cola at the pub, it will cost 600 or 700 yen ...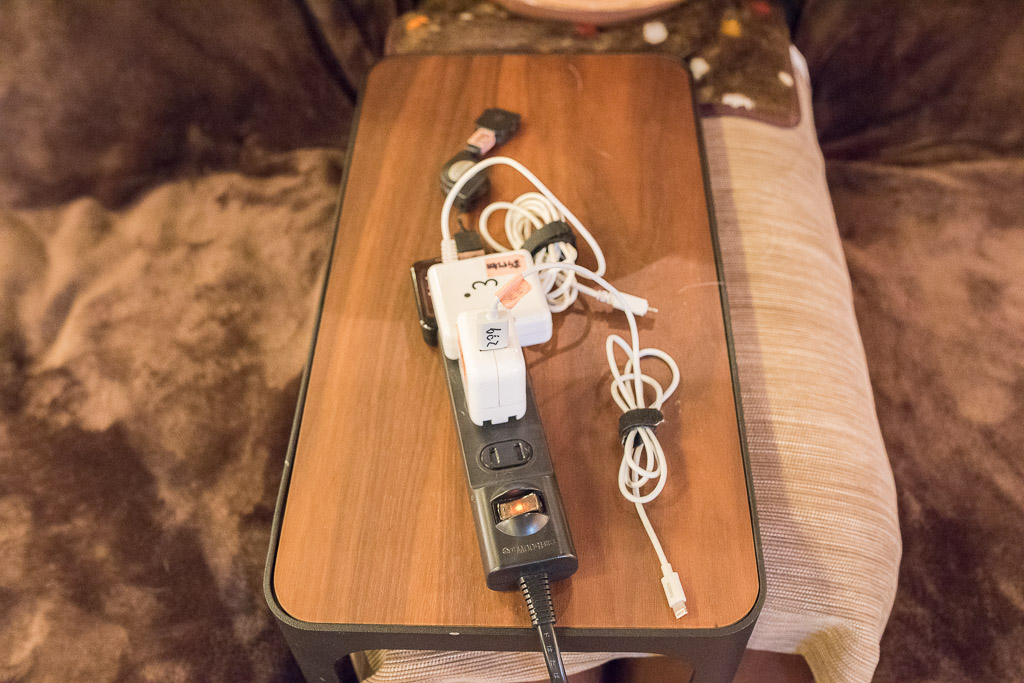 Each power supply had a smartphone charger attached like this.
Both Android and iPhone can be charged.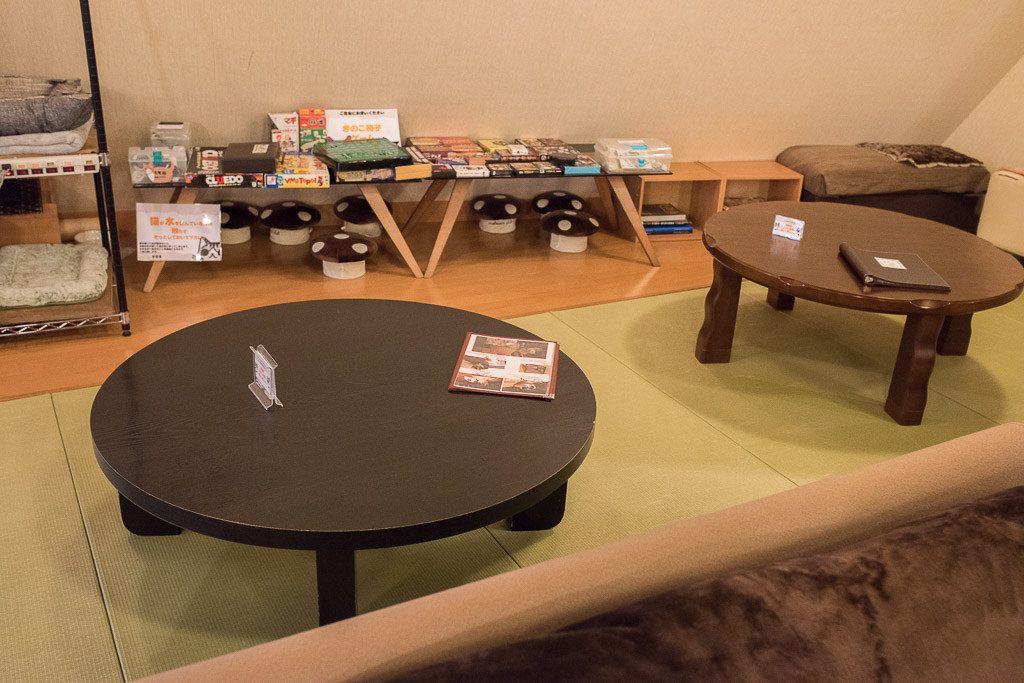 And what a tatami corner!
It 's like a Japanese resting place.
The customers are very relaxed
Unlike other cat cafes, all these customers are relaxed.
Because it was a weekday, there were many customers who came alone, and everyone enjoyed time in the style they wanted.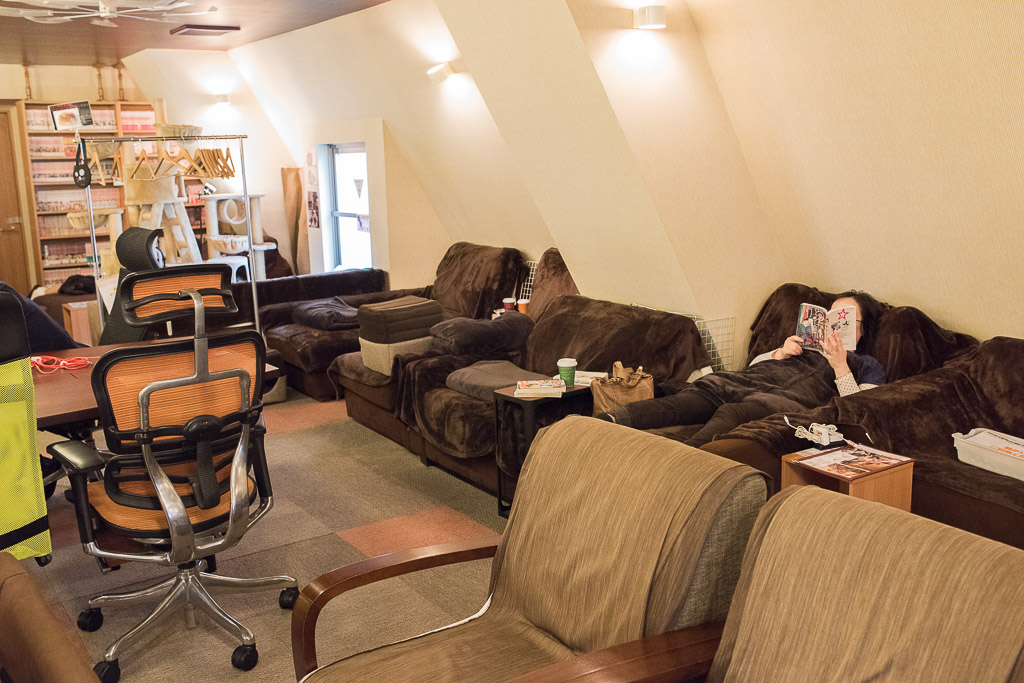 You can relax like this ...
There are also bed seats that make you feel comfortable sleeping.
A rare cat cafe with a personal computer
There are also seats with laptop.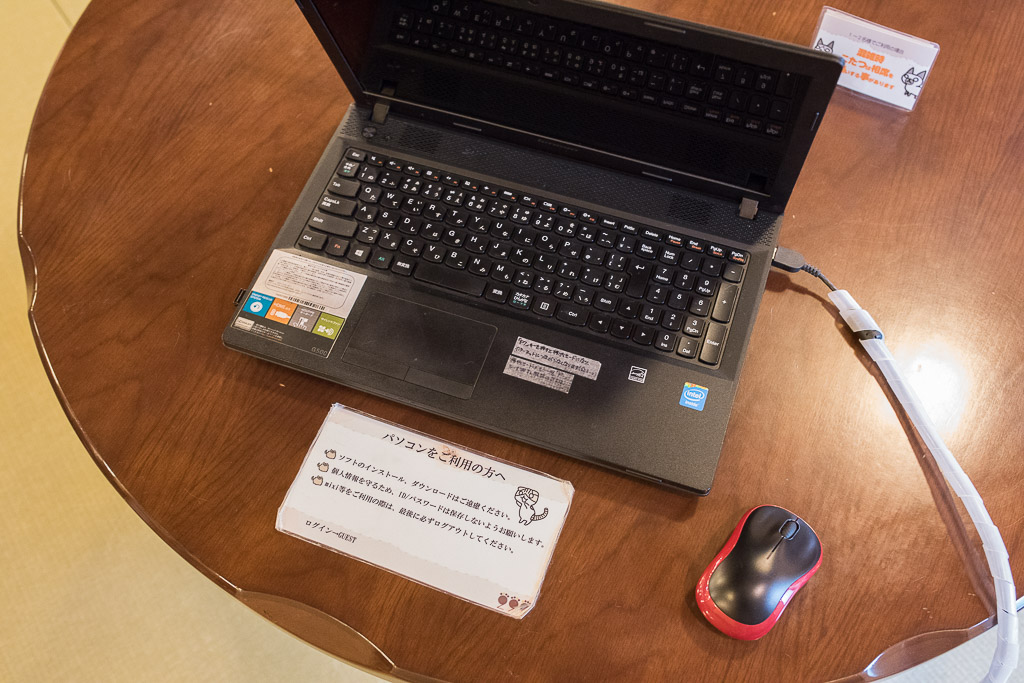 This is a laptop in Japanese style room.
It's convenient for a little web browsing.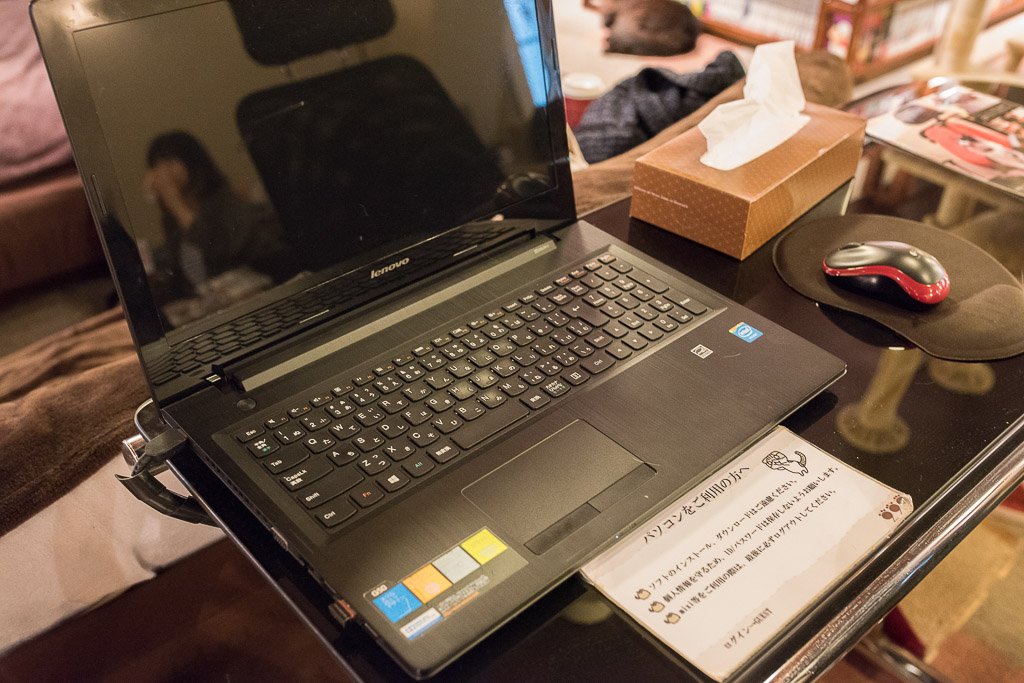 This is a laptop on tables that make it easy to work.
Of course, you can also use the Internet by connecting your laptop with wifi.
nekonoirukyuukeizyo 299 cats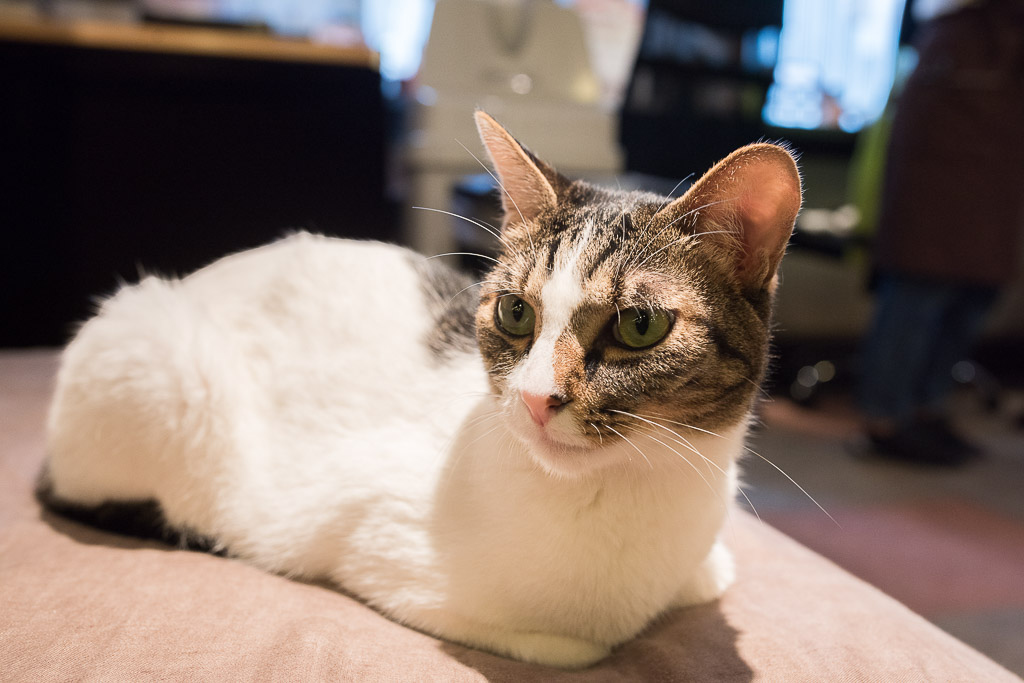 Compared to the cats in other cat cafes, I felt like many cats didn't like to be touched too much.
Are they not friendly? No, they are friendly.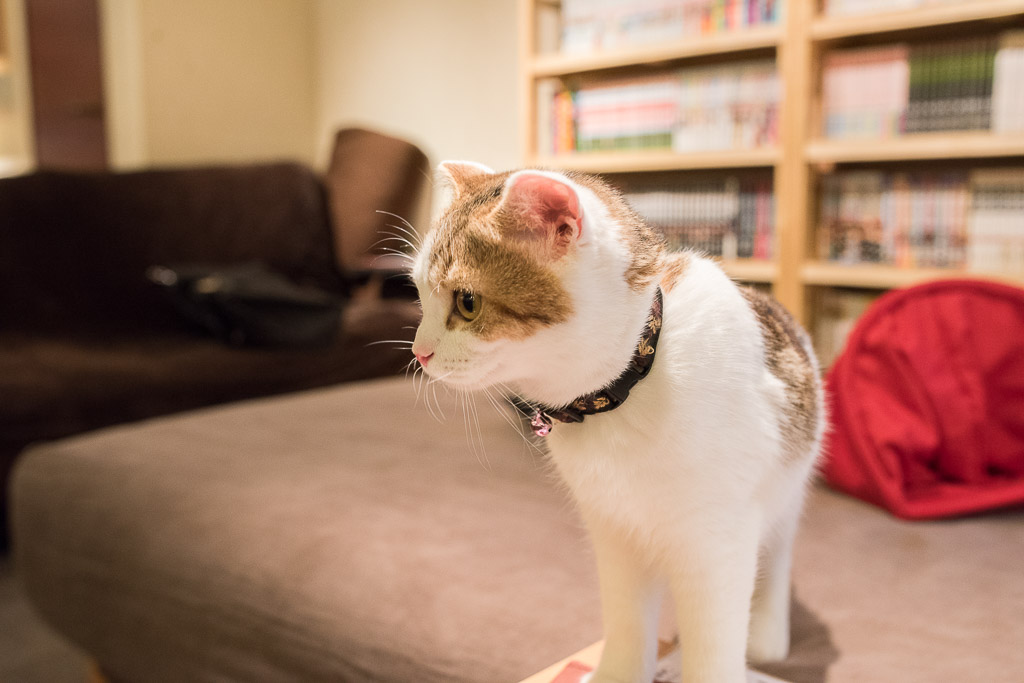 She came to me slowly.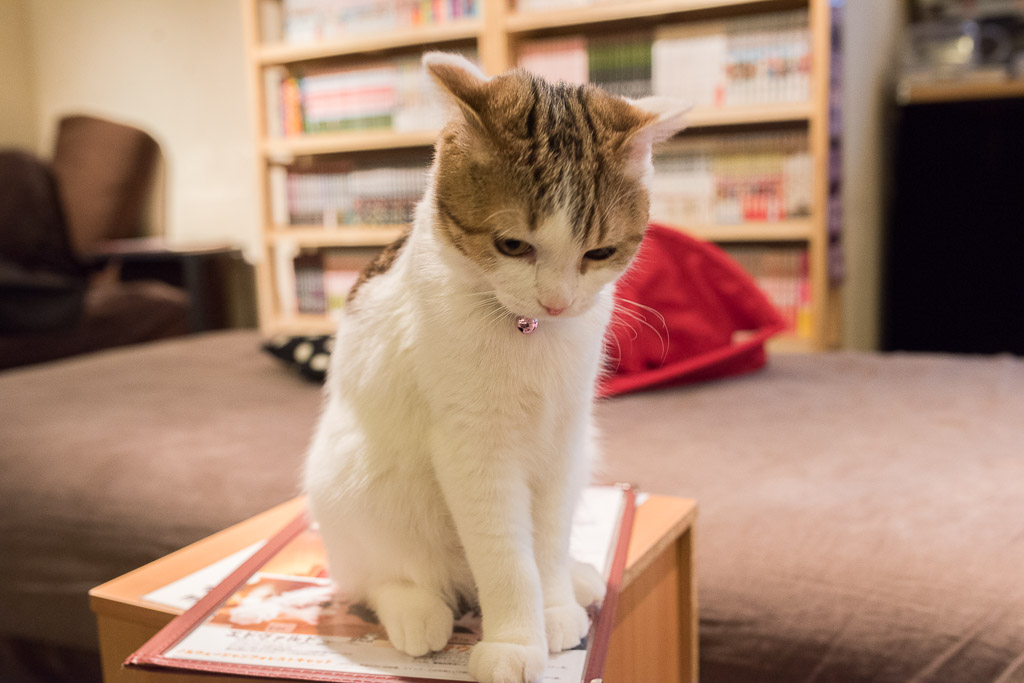 A cat staring at my leg.
Do you want to say that I have short legs?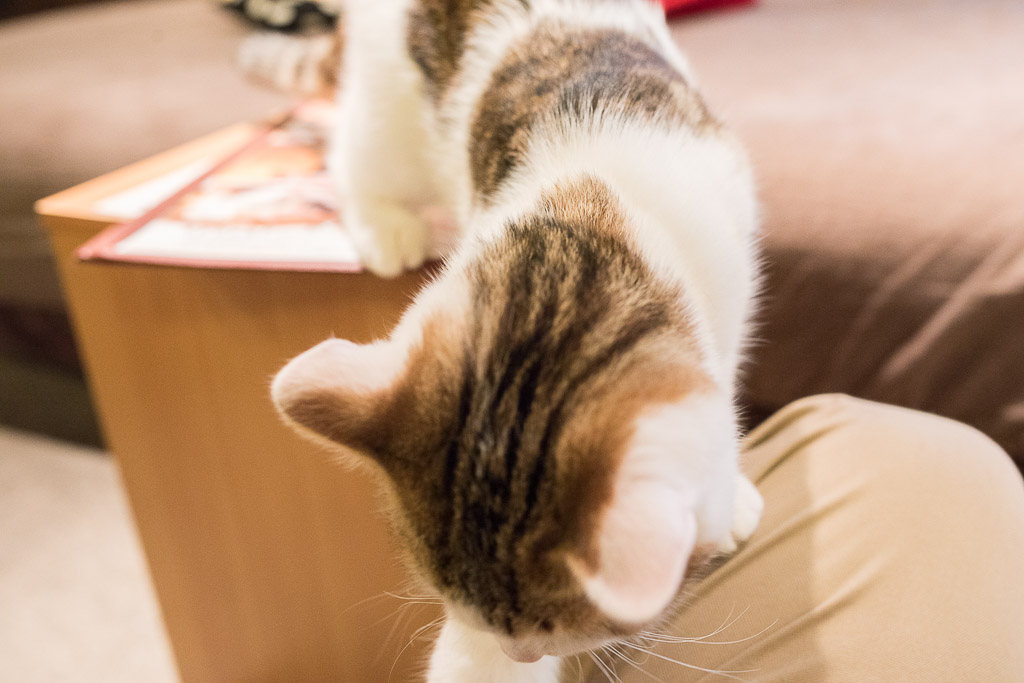 He suddenly came to my knees!
Wow, how friendly!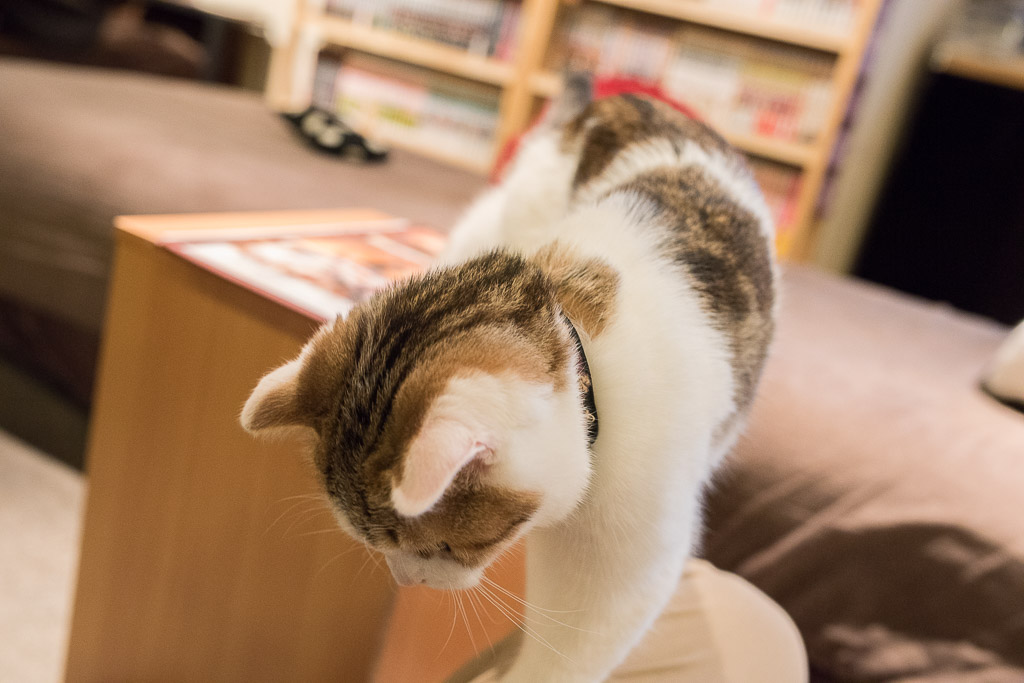 I was so excited!
cute….
This cat was walking around.
She has short legs.
She can be my friend!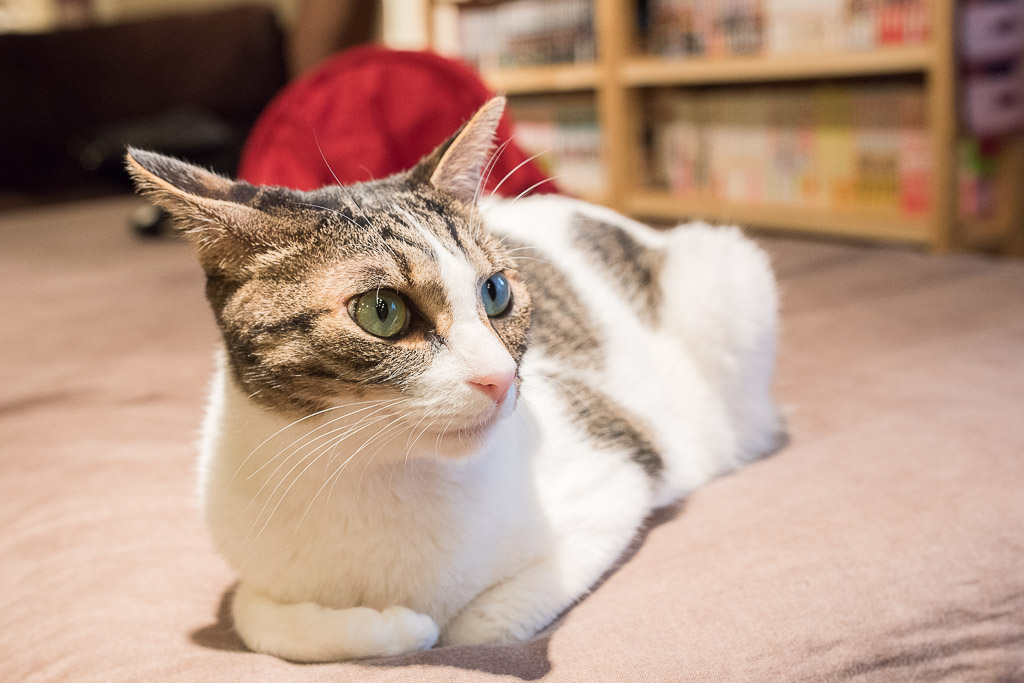 He didn't move in 2 hours at all.
I guess he love this spot.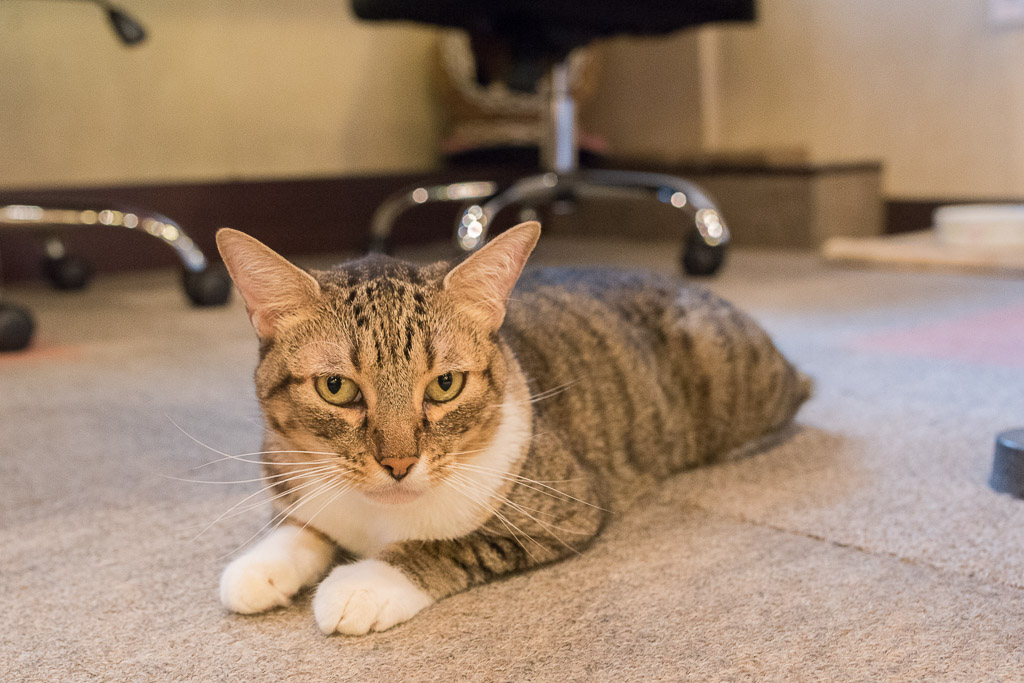 Thank you for looking at my camera!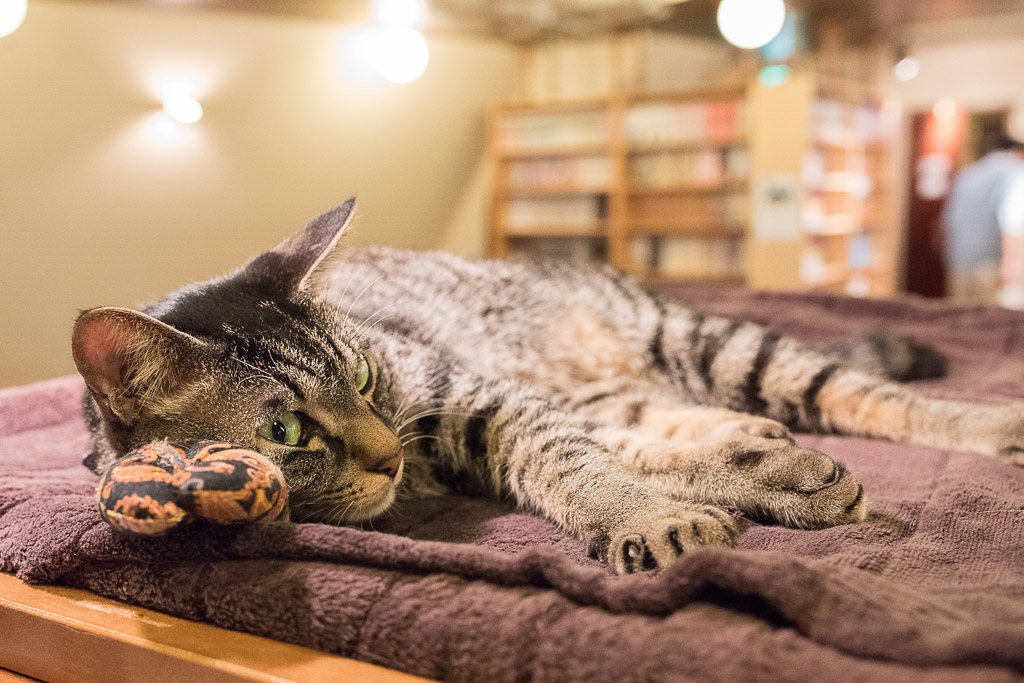 Another cat is relaxing.
If you give a snack to them, you'll probably popular by them, but hmm, 500 yen is a little expensive.
Price / option
10 minutes ... 200 yen
30 minutes… 600 yen
On weekdays, the upper limit is 2,000 yen
On weekends and holidays, the upper limit is 3,500 yen
90 minutes pack… 1,500 yen
1,800 yen for 5 packs after
On Saturdays, Sundays and holidays, the 2-hour pack is 2,000 yen.
On Saturdays, Sundays and holidays, a 3-hour pack is 2,500 yen.
Free drink ( It mean that you can drink any drinks anytime) ... 350 yen
Cat snack ... 500 yen (limited to 8 meals. Not possible depending on the condition of the cats)
* The age limit is higher than junior high school students.
Point of cat cafe nekonoirukyuukeizyo 299
・ You can relax with whole bunch of manga.
・ Cats are not stinky.
-You can stay until as you want for 2000 yen. It is so cheap.
・ When I went on weekdays, there were many customers alone.
・ There are many comfortable seats such as sofas and bed seats. There is also a tatami mat.
・ I can't touch the cats very much.
Store information
1-23-9 Higashiikebukuro, Toshima-ku, Tokyo Modern BLD.
Business hours: 11: 00-22: 00
Regular holiday: None
Store URL:猫の居る休憩所299
Store phone number:03-6914-0071
My cat cafe ranking
It is my own ranking that went to various cat cafes and became a cat cafe meister (self-name).
Please refer to this when you want to date with friends, when you want to date, when you want to spend time alone, when you want to play with your family and cat.
Nearby cat cafe