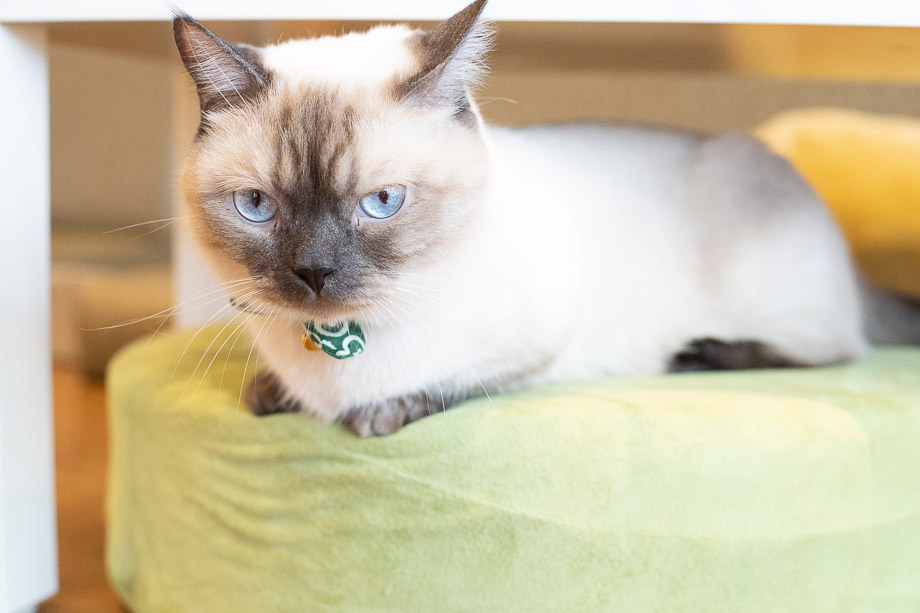 I went to Mofunyan that is located in 2 minutes from Shyakujiikoen station by walk. I relaxed so much. The feature here is that there are only short legs cats. … I feel close to them. haha
[Tokyo japan Cat cafe] Syakujiikoen Mofunyan reviews!

Shop location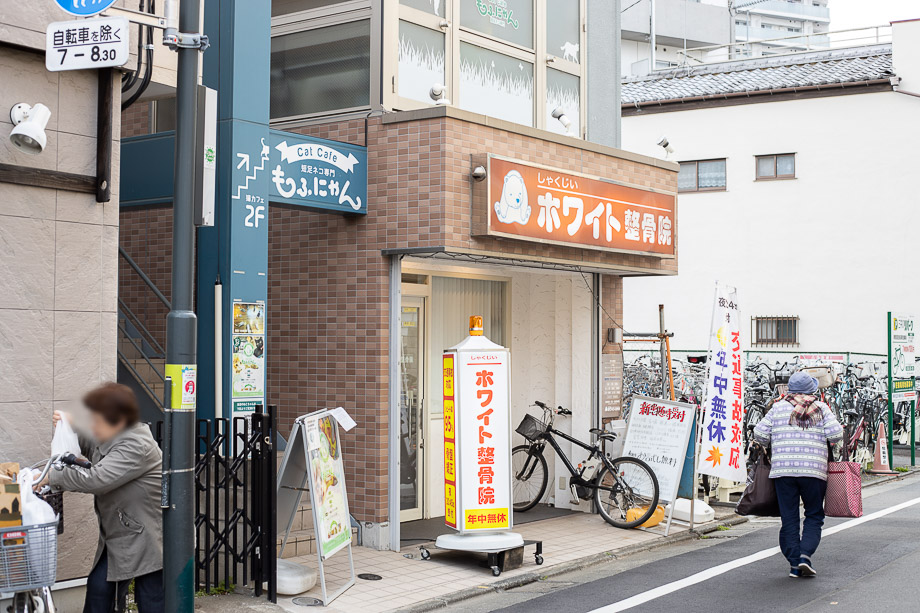 It is located in 2 minutes from Shakujiikoen station by walk. You might not get lost. There is White Osteopath at 1st floor. Mohunyan is at 2nd floor. By the way, there is a tofu shop next to that building. I bout an okara doughnut (70 yen). Actually it was so nice. I recommend it!
This is a signboard. No under junior high school students age can enter here. I think that this judgment is a decisive decision.
Let's get into Mofunyan!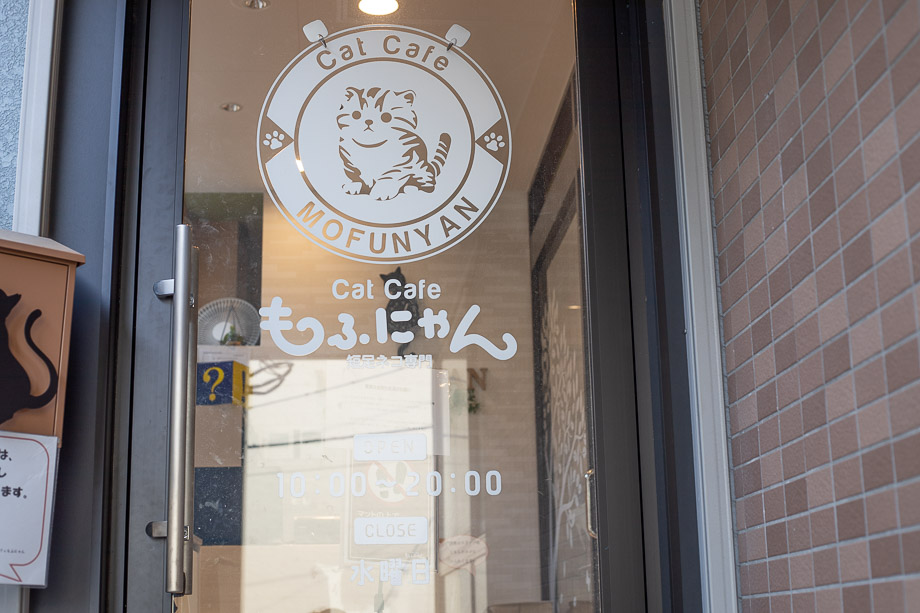 You can see cute logo. Specializes in short-leg cats. By the way, even if you say short legs, the muscles of the cat are well developed, so there is jump power. Crossing short legs often results in stillbirth, so it is normal to mate short legs and normal length cats. The probability of having a short-legged cat is about 20%. I was rare if I was a cat, but I have never been treated rarely even with short legs because I am human. I've been told that the way I walk is pretty like a penguin, but I don't know if I'm being praised or deceived. I think my legs are longer than penguin's ones.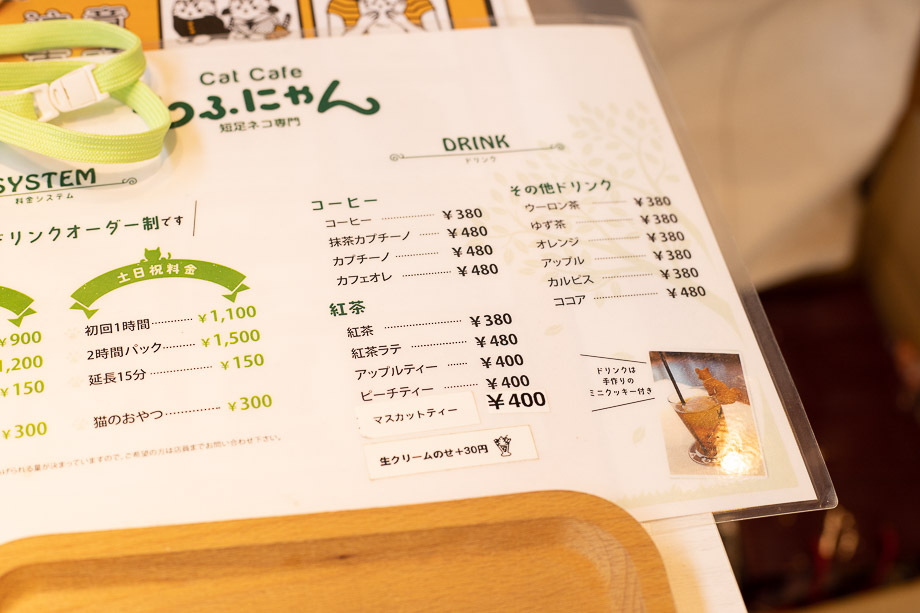 You pay fee at first. I payed 900 yen for 1 hour staying and 480 yen for a cocoa. It was total 1,380 yen. ( You need to order one drink at least. )
If you wanna have a stamp card, you will draw a lottery with the name of the cat and get a card with each cat's photos.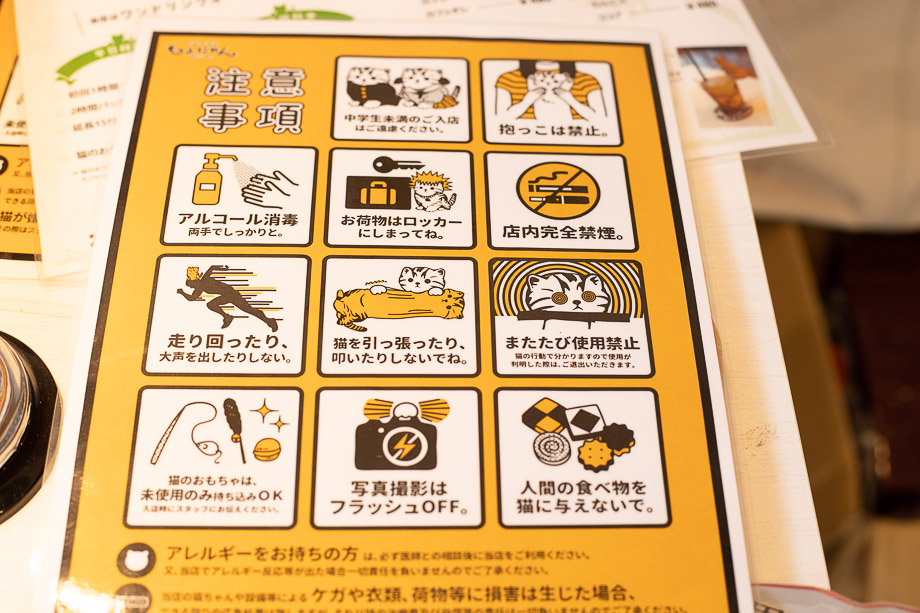 This is precautions.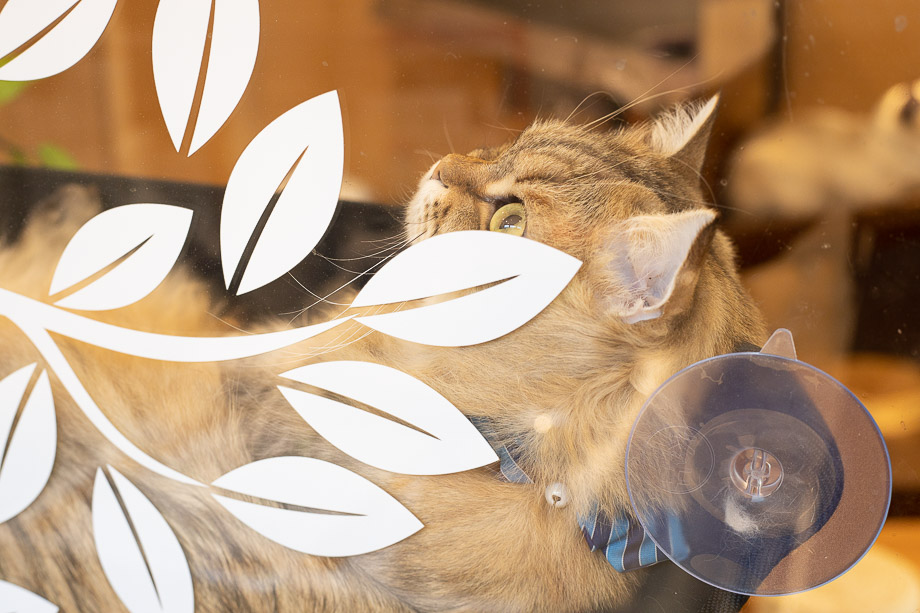 Some cats looked at me. So cute!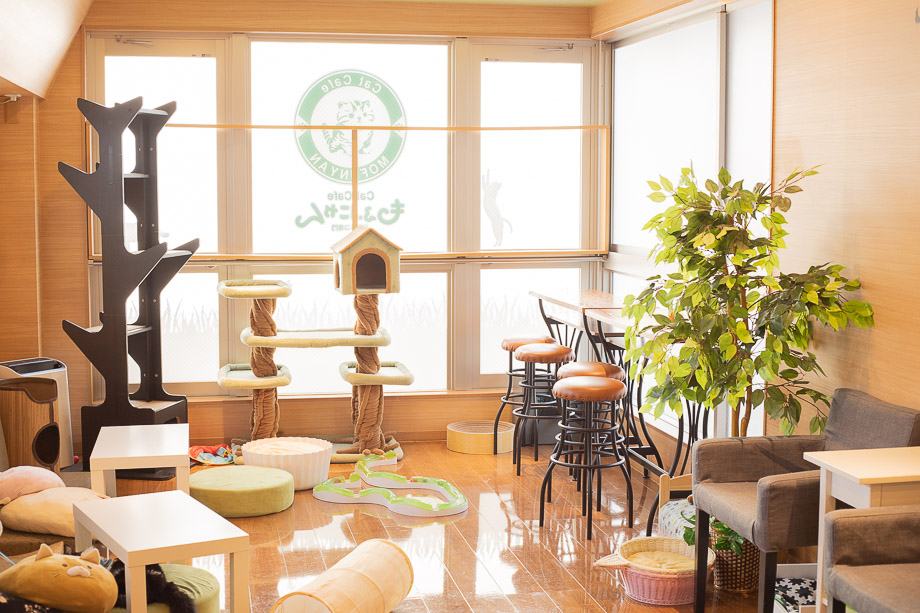 This is inside looks. Cats are not stinky.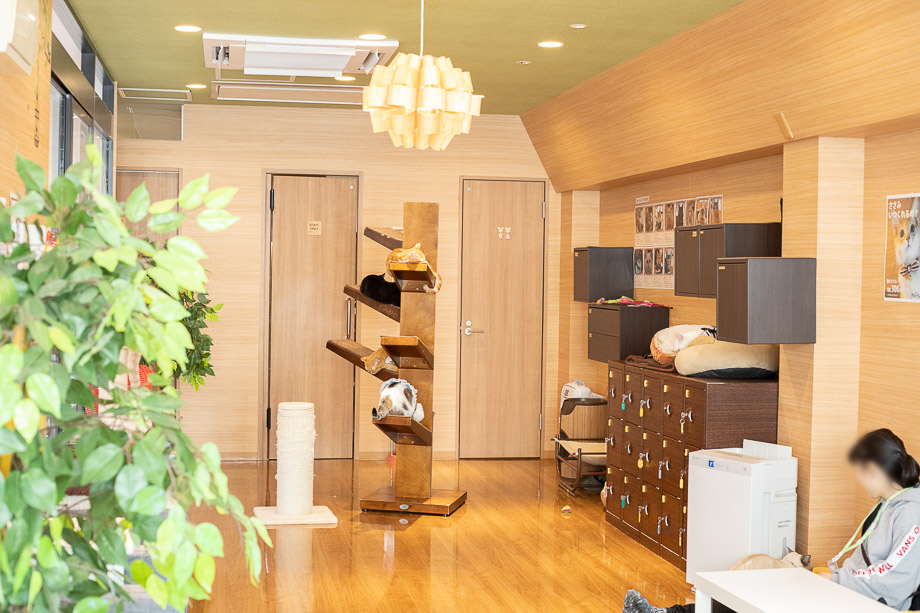 You can put your bags into boxes. There were only women customers when I went to there. Atmosphere is chilling. You will relax.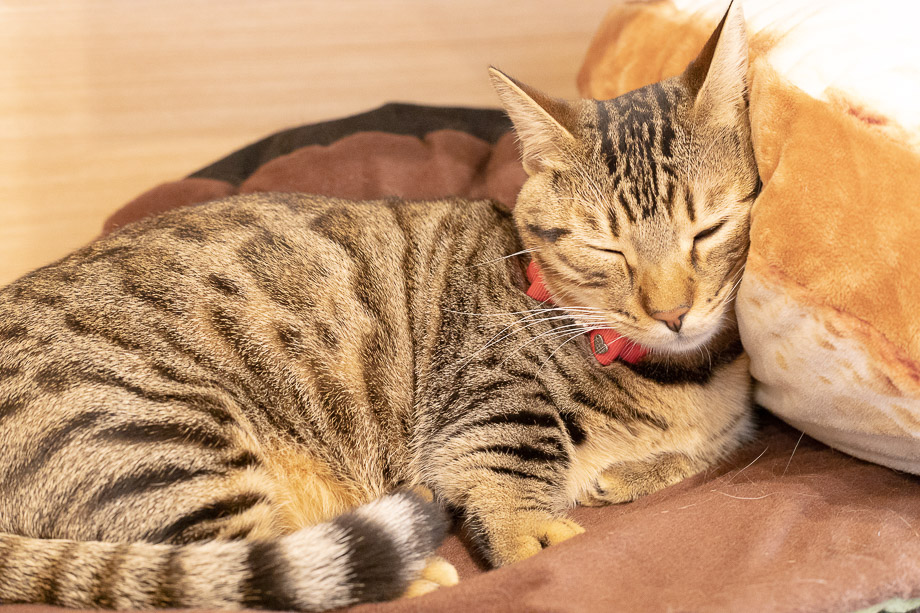 The cat was chilling as well.
There are many toys. Cats love toys!
Cats are very interested in toys in Mofunyan. I couldn't play with cats in a cat cafe of MOCHA though.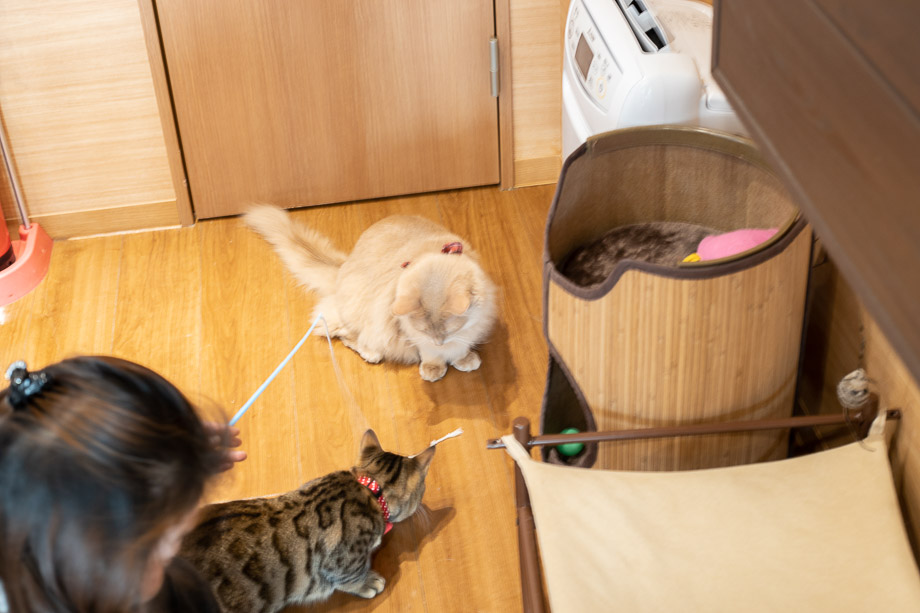 The customer played with cats. She looked fun.
I did as well.
He is Chachamaru. He looks happy. Cats looks like
Cats don't feel stress.
They are friendly.
Cats don't fight each other.
It's quite nice. Mostly cats wear cloth. They are not active but still friendly. If you want relax, it will be nice place to visit.
Cat treats are limited in quantity and food time is around 14:00
Snacks are limited to 300 yen per item.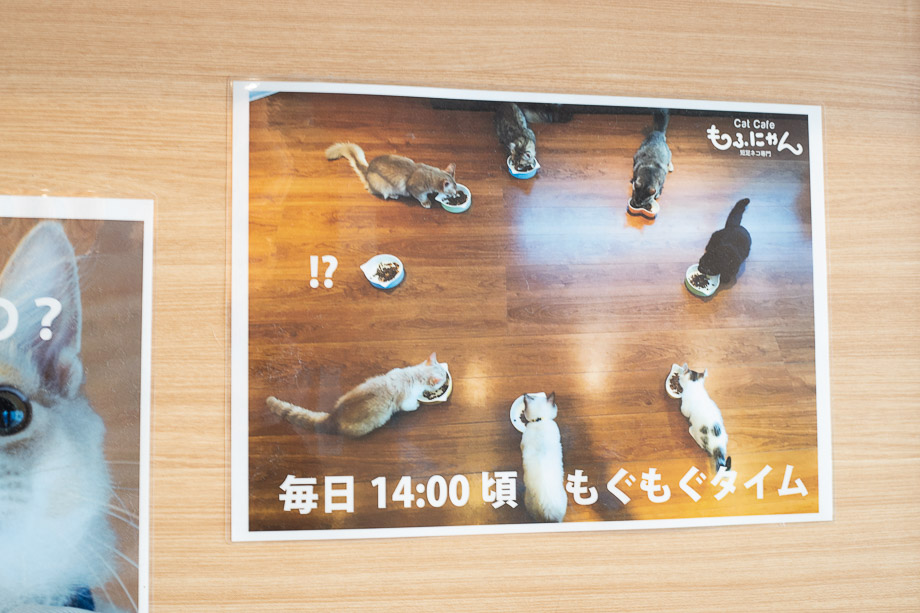 If you want to see a cat that eats food, it seems better to go around 14:00.
Cats of Mofunyan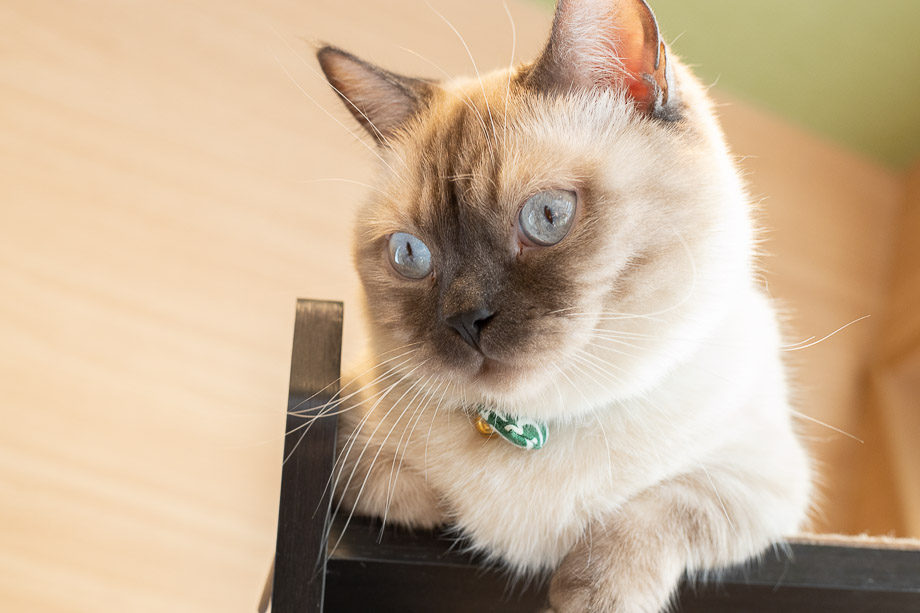 He is Hibiki that has beautiful blue eyes. (exotic and munchkin mixed)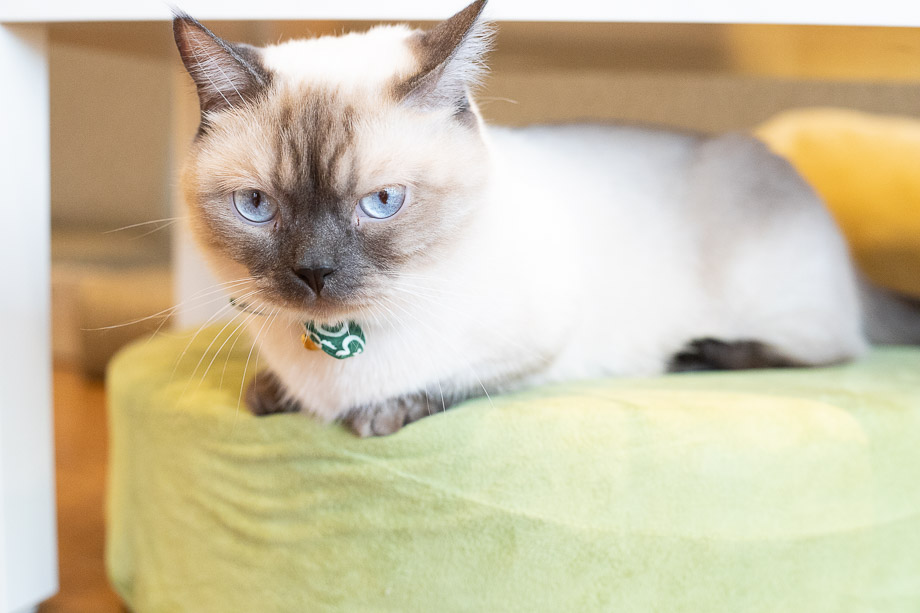 His face is cute.
She is Komari (maybe).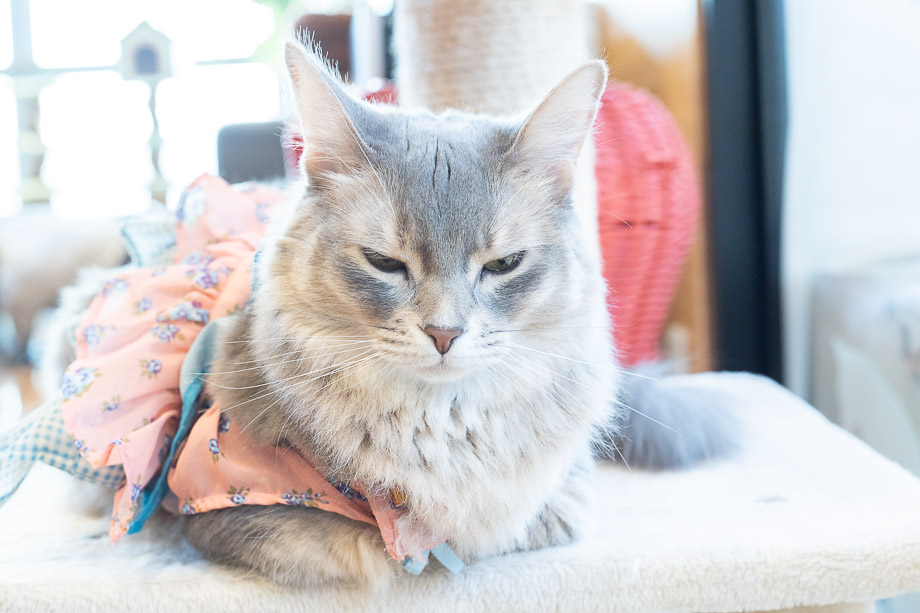 She seemed sleepy.
She has fluffy hair.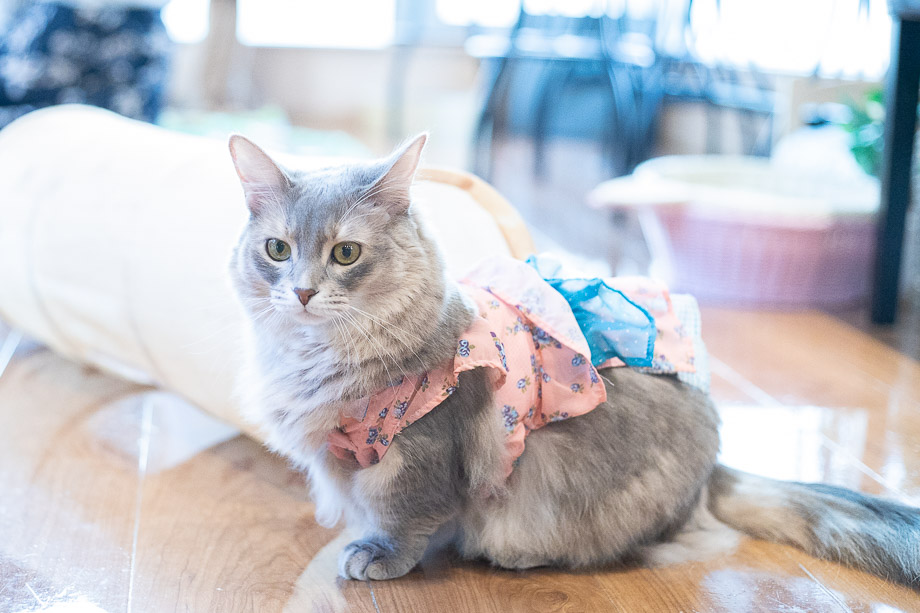 I took a lot of picture of her.
It's nice face.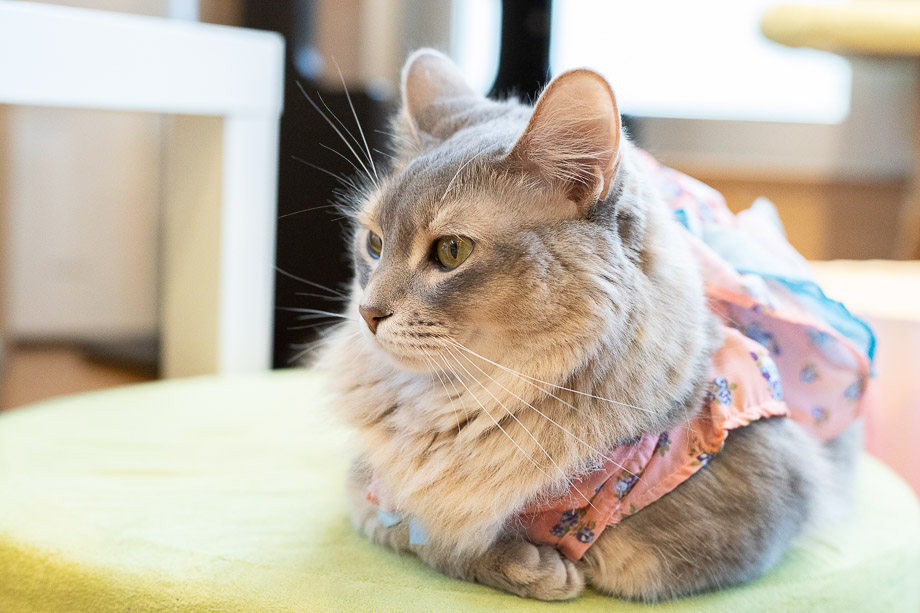 She is beautiful.
And then she slept.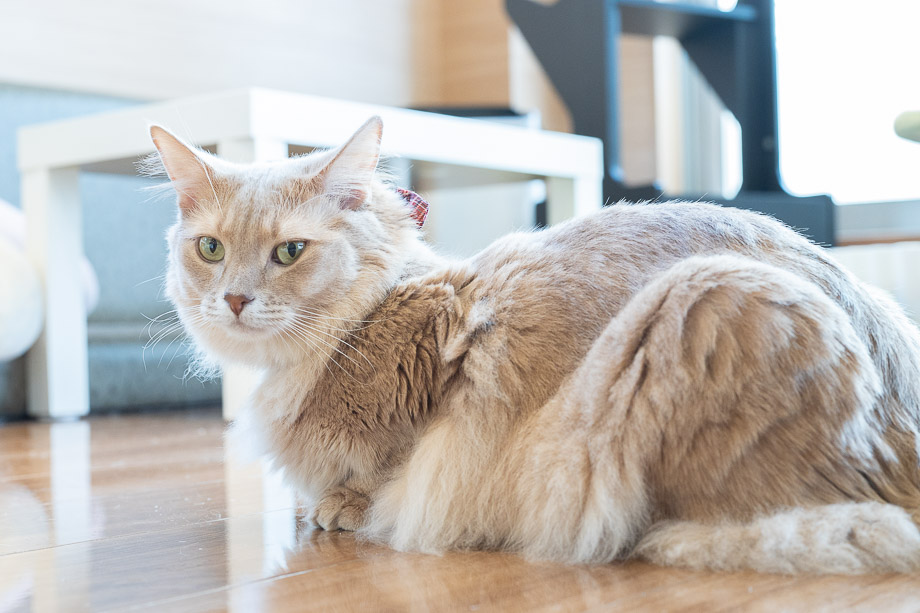 He is Liku.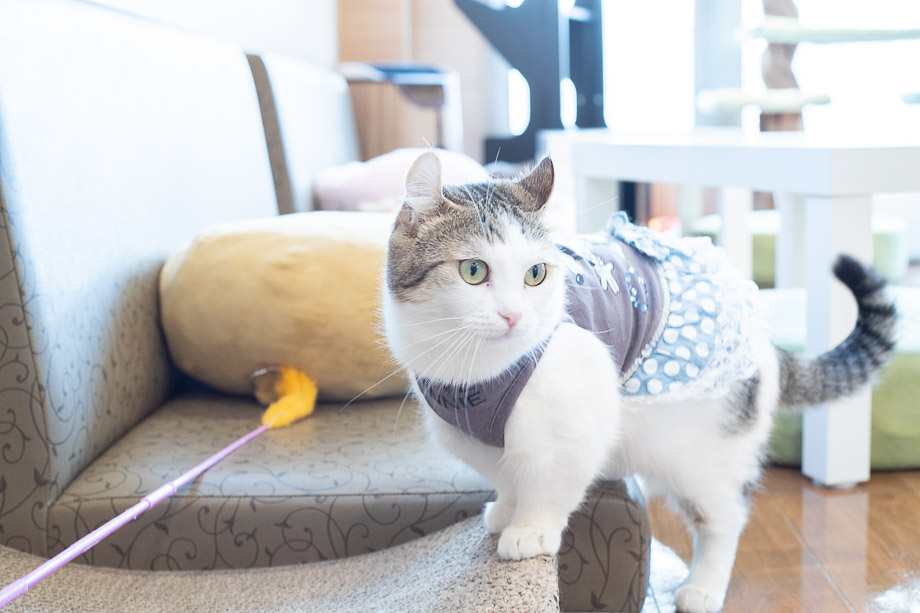 She is Mey. She likes to play with toys.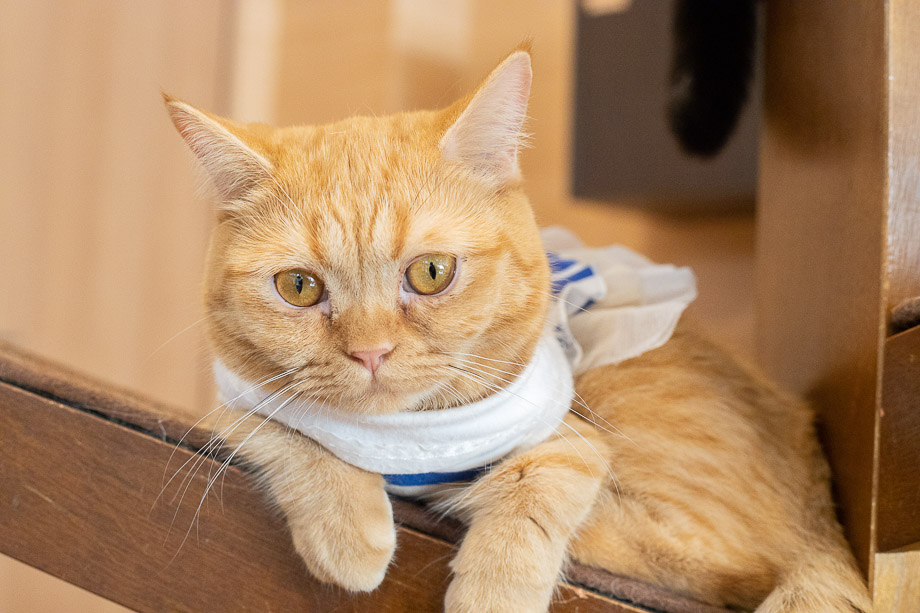 She is Yuzuha. (exotic and munchikun mixed)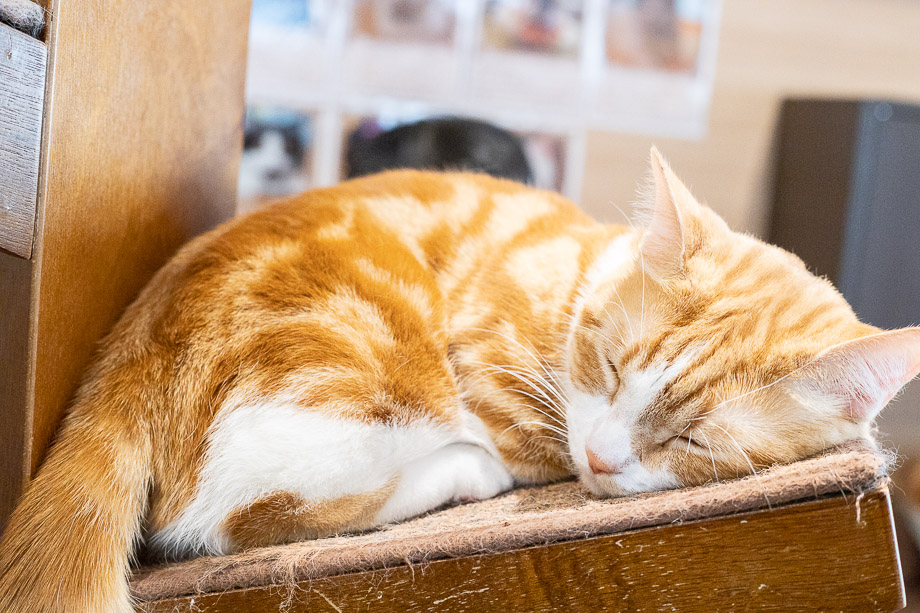 He is Haruma (munchikun).
He is Kuu. I felt sleepy when I saw him.
Price and Option
Weekdays first one hour・・・900 yen 2 hours・・・1200 yen 15 minutes extension ・・・150 yen Weekends first one hour・・・1100 yen 2 hour・・・1500 yen 15 minutes extension・・・150 yen snacks for cats・・・300 yen
shrimp pilaf ・・・580 yen
dry curry・・・580 yen
chicken rice・・・580 yen
carbonara・・・650 yen
naporitan・・・650 yen
meat source pasta・・・650 yen
french fries・・・320 yen
french fries(chili)・・・320 yen
gratin bread (with soup)・・・390 yen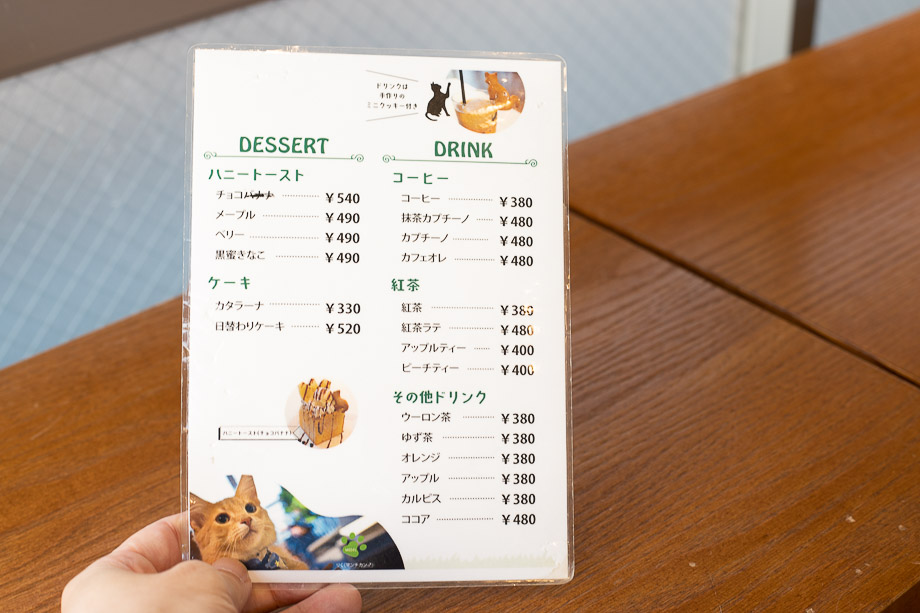 honey toast(chocolate)・・・540 yen
honey toast (maple)・・・490 yen
honey toast (berry)・・・490 yen
honey toast(Kuromitsu Kinako)・・・490 yen
catalana・・・330 yen
cake・・・520 yen
coffee・・・380 yen
matcha cappuccino・・・480 yen
cappuccino・・・480 yen
café au lait・・・480 yen
tea・・・380 yen
tea latte・・・480 yen
apple tea・・・400 yen
peach tea・・・400 yen
oolong tea・・・380 yen
yuzu tea・・・380 yen
orange juice・・・380 yen
apple juice ・・・380 yen
Calpis・・・380 yen
cocoa・・・480 yen
Mofunyan's point
Cats are not stinky.
Cats are interested in toys.
There are many regular customers.
You can go by yourself.
You will enjoy light meal.
Mostly women customer.
You will relax.
Cats have short legs.
Shop information
3-20-25-2F Syakuziicho Nerimaku Tokyo
It's located in 2 minutes from Shakujiikoen station (Seibu Ikebukuro line). Business hours: 10:00 to 20:00 (last order 19:00) Regular holiday: Wednesday URL:
Mofunyan
TEL:03-6913-2516
My cat cafe ranking
It's my personal ranking that went to various cat cafes and became a cat cafe meister (self-named). Please refer to it when you want to play with friends, date, or want to be alone, or play with a cat in your family.
→See the cat cafe ranking.
Nearby cat cafes