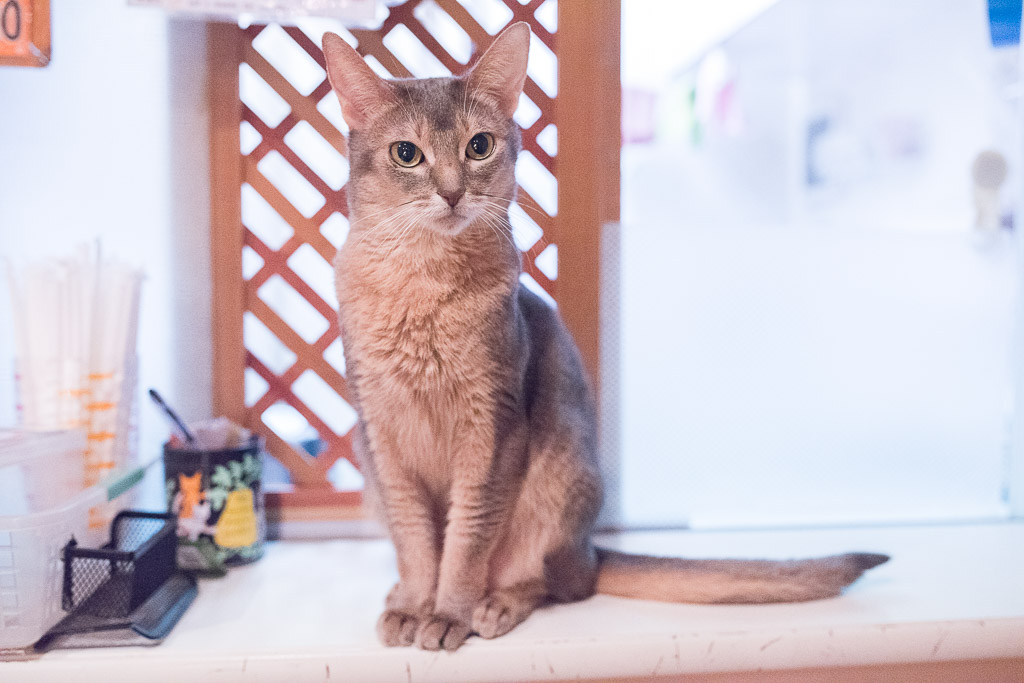 I went to the cat cafe Jalala! This cat cafe is in 10 minutes walk from Akihabara station,
You can hug a cat at Jalala! ( There are some exceptions )
This shop is recommended for those who want to be friendly with cats.
[japan Cat cafe] Akihabara JaLaLa reviews!

Cat cafe JaLaLa location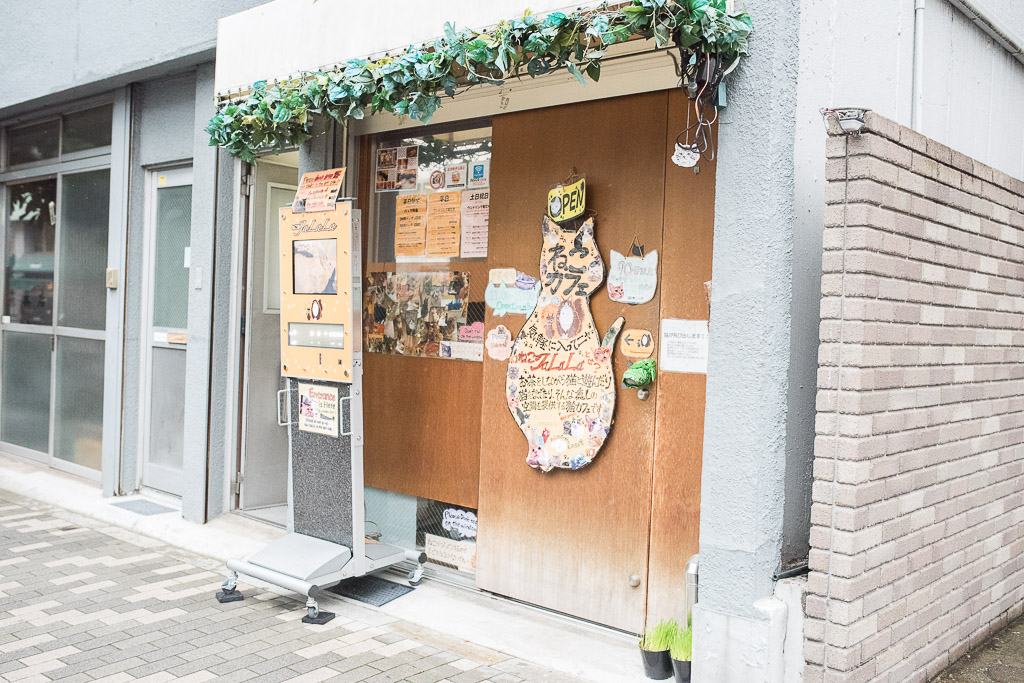 It is a 10-minutes walk from Akihabara station. It is on main street.
If you want, you can make a reservation in advance by phone.
I think that reservation is important when you are going to as dating!
You can also rent a shop.
Entered a Cat cafe JaLaLa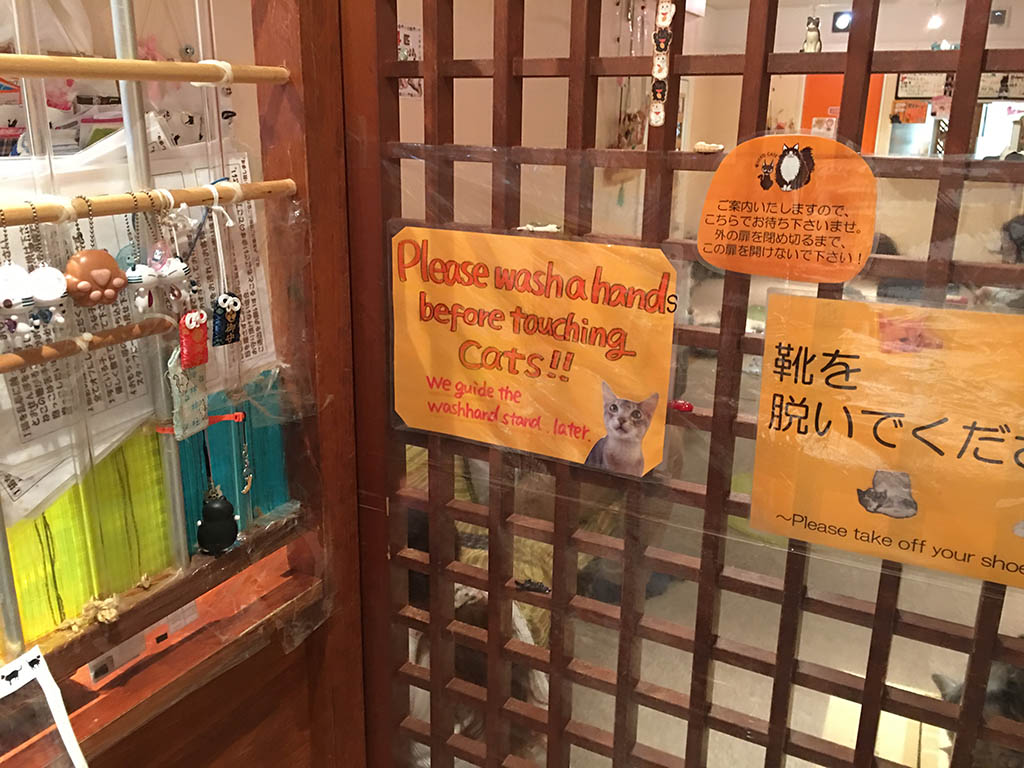 There is a reception right after entering the store.
Please take off your shoes and hear to the clerk's instructions.
Price form
30 minutes… 550 yen (Saturday, Sunday, holiday 650 yen)
60 minutes… 1,100 yen (Saturdays, Sundays, and holidays 1,300 yen)
90 minutes… 1,650 yen (Saturdays, Sundays, and holidays 1,950 yen)
120 minutes… 2,200 yen (Saturdays, Sundays, and holidays 2,600 yen)
Extension is 550 yen every 30 minutes (650 yen on Saturdays, Sundays and holidays)
In addition, there is an appropriate pack fee (see below).
Please note that you have to order one drink at least, so it will be added to the price.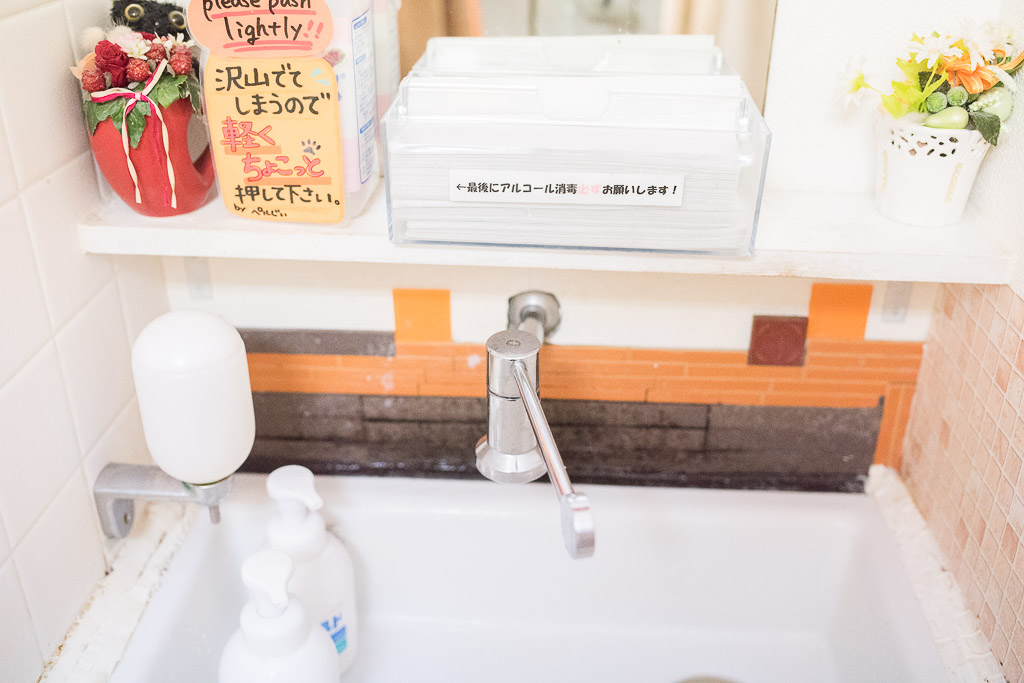 Wash your hands after that you go inside.
First, wash with water and soap and wipe the alcohol to disinfect.
Prohibited matters are
Do not touch the cat wildly
Don't do something that cats don't want. For example, don't touch with toy and disturb cats.
If you want to hold a cat, please ask for clerks first.
When you wanna take pictures, turn off all flash and light
Do not wake up sleeping cats
Don't bring toys from other place
The great thing is that you can hug a cat.
In almost cat cafe in Japan, you are not allowed it. So it is rare!
Youu must be happy if you love cats,right?
Perfect for you who want to be healed after a broken heart.
Inside a Cat cafe jalala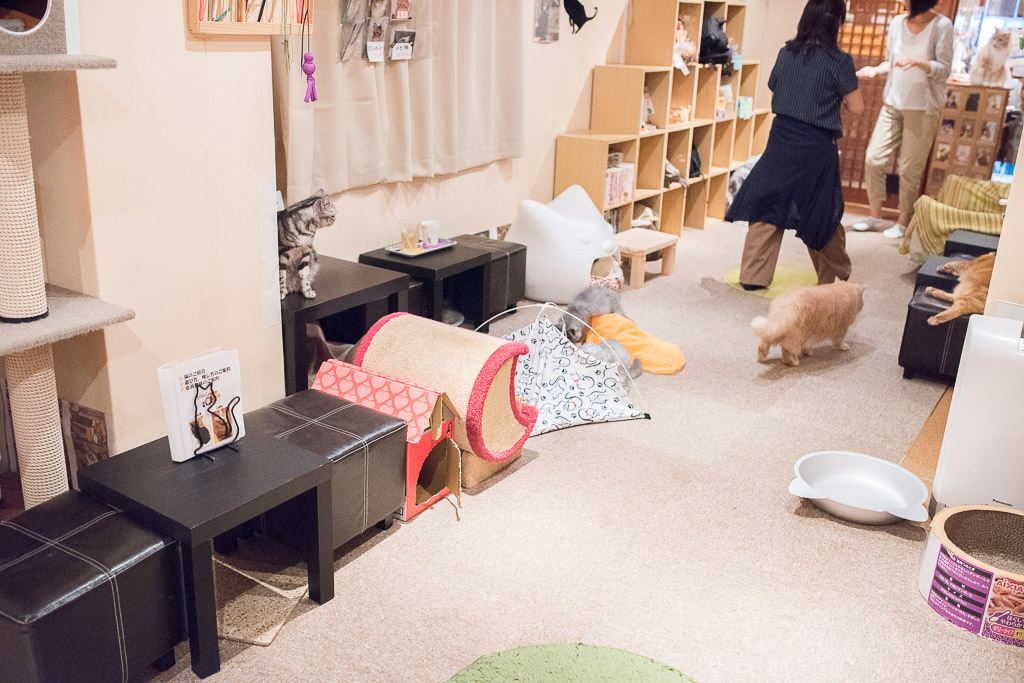 This picture is what it's like inside the store.
To be honest, it is not so wide.
Many people can not enter here, so I think good to book on Saturdays, Sundays and holidays.
I went there around 13:00 on weekdays and still had 4.5 customers.
This is a very popular cat cafe.
That's why friendliness of cats but I will explain later.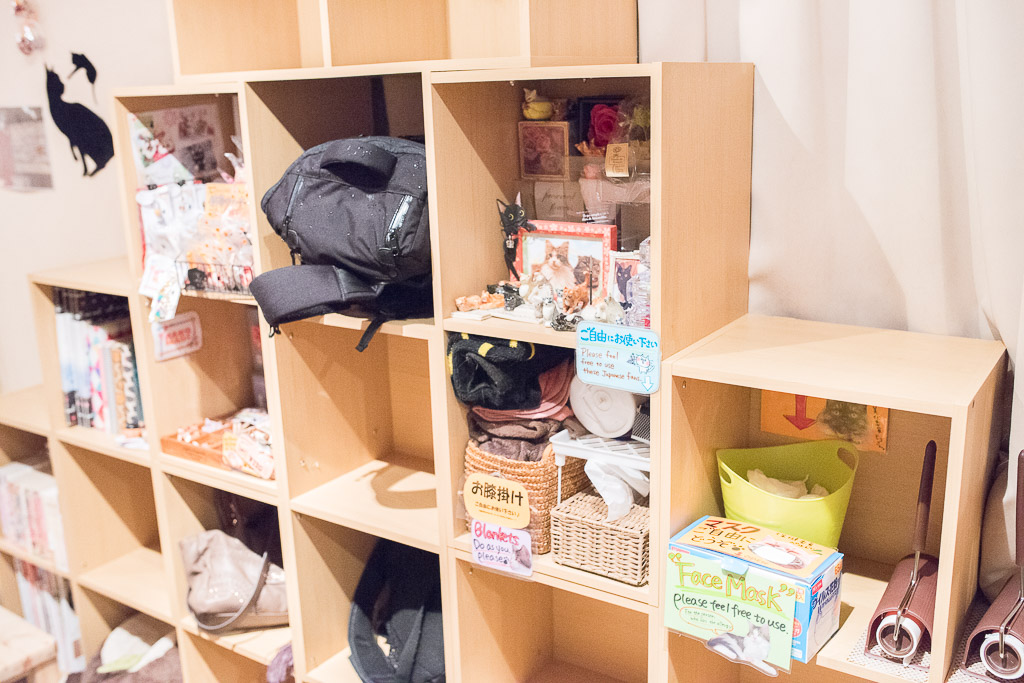 Please put your luggage in the empty space on this shelf.
If you put it here, the cat will not be mischievous. (Perhaps)
I'm glad I can borrow a blanket.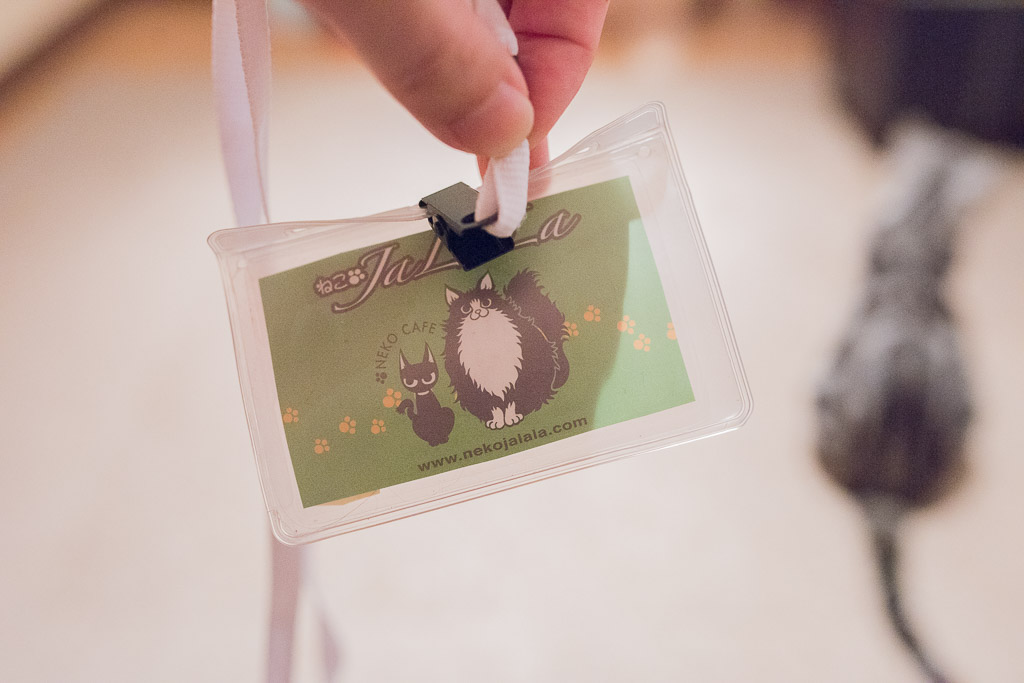 When you enter the store, you have to put this card on your neck.
Fees are postpaid and the clerk will notify you several minutes before the end.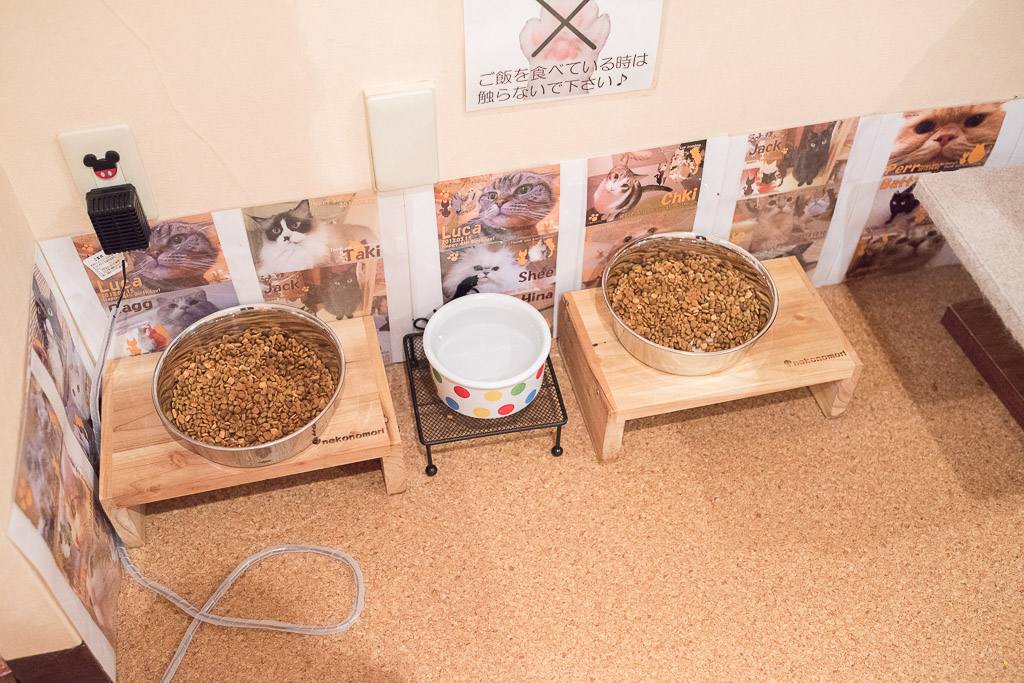 It is a food spot for cats.
Do not touch while they are eating.
Can you imagine? You would like to kill somebody if he tickle the flank while you are eating.
Human drink menu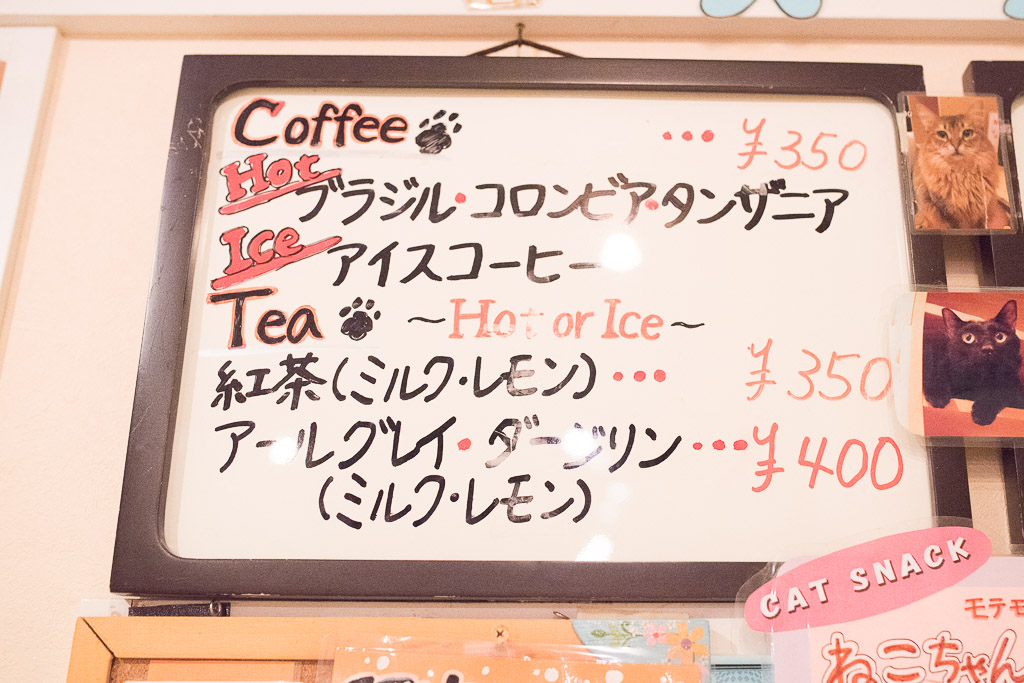 Hot coffee, iced coffee, tea ...
There are various drinks, so you will be able to find some your favorite!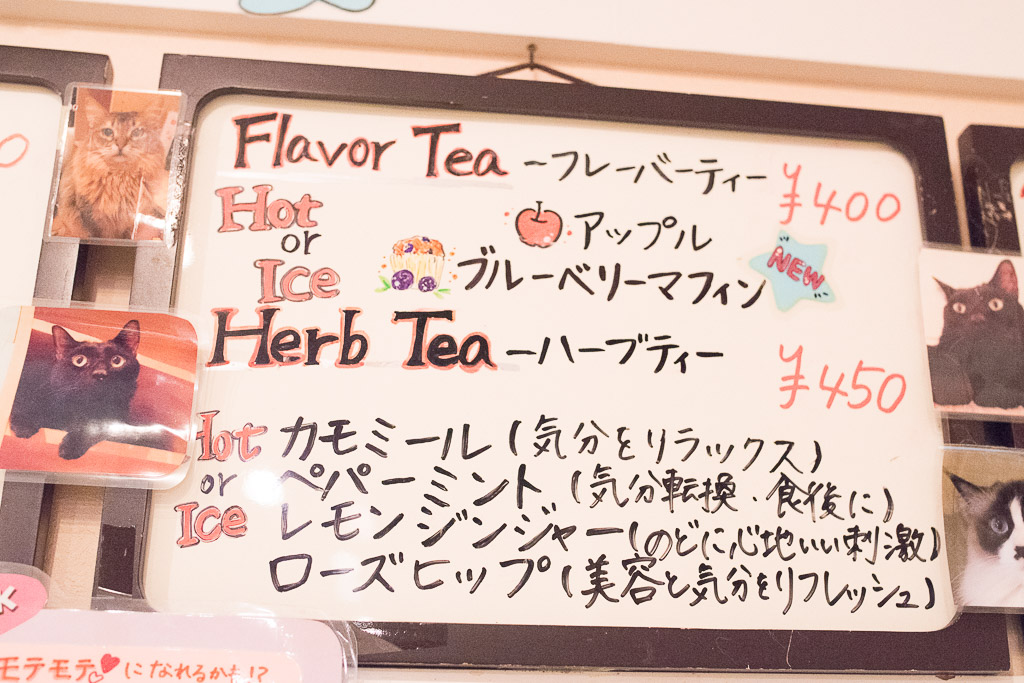 The tea which made in here is made with mineral water.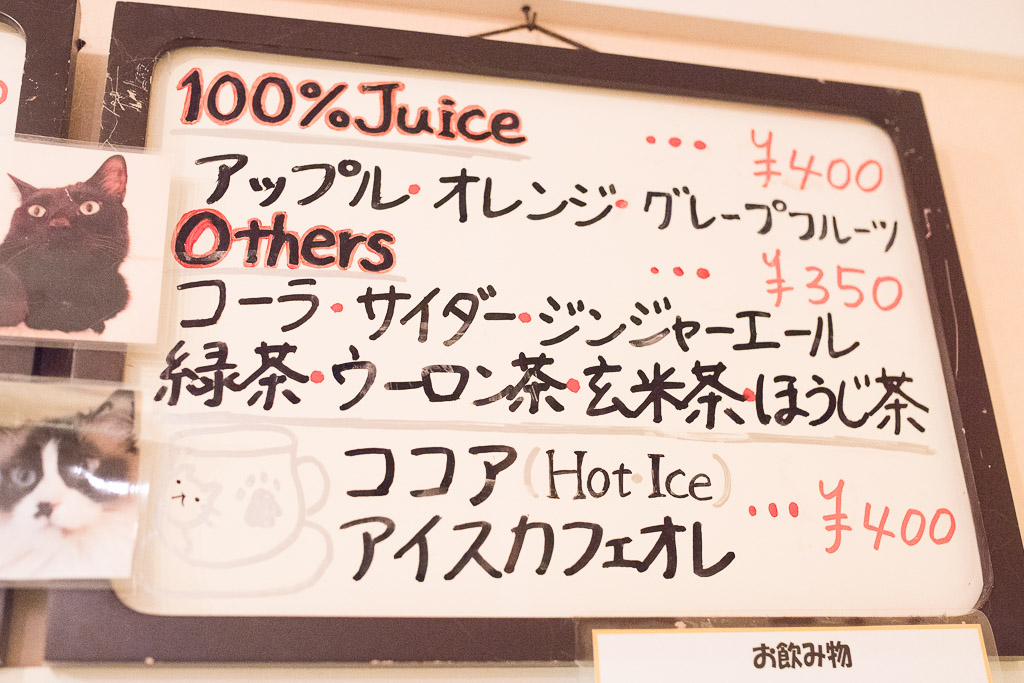 Of course, there is Coca-Cola that everyone loves.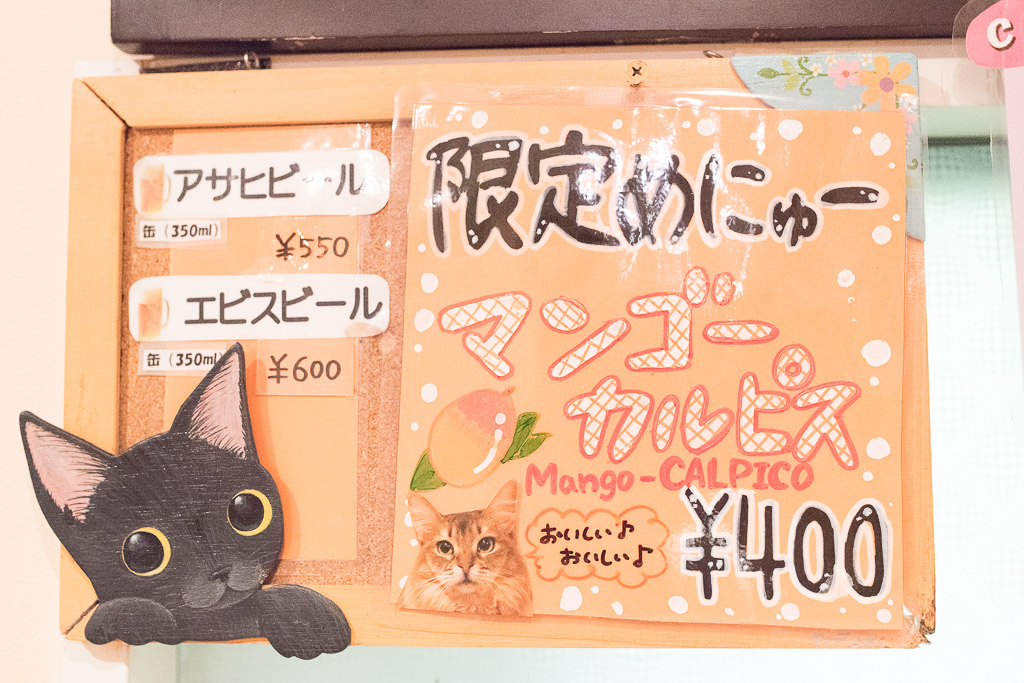 There is also a beer for adults!
There is also a mango CALPICO for children.
I recommend Mango CALPICO for a date, and Ebisu Beer for healing yourself.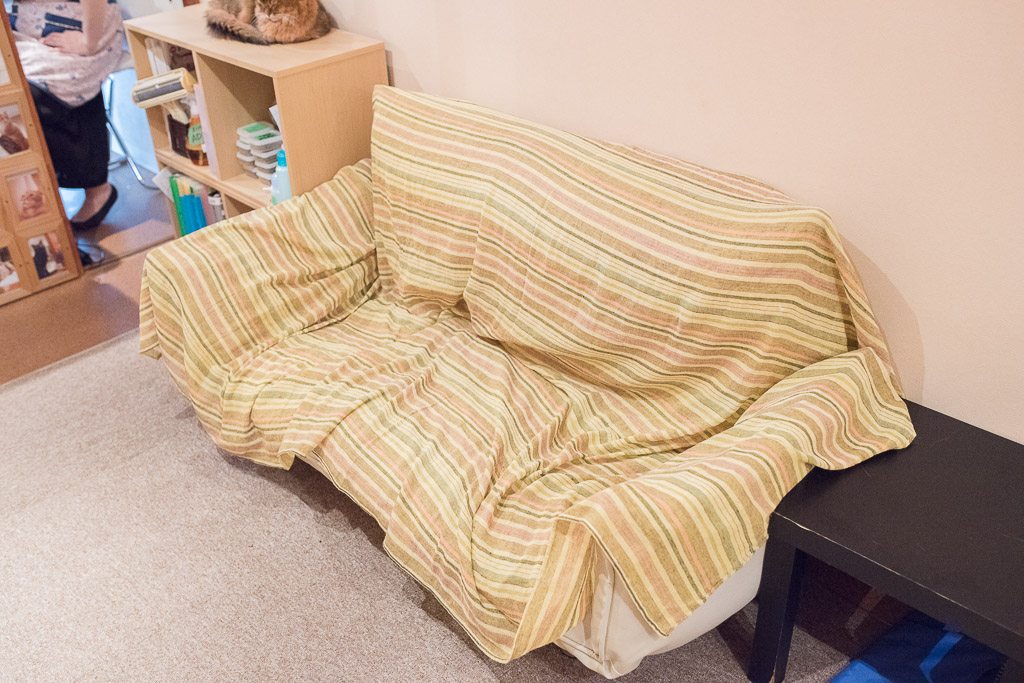 There was a good sofa for lovers I guess.
Here you can play with cats with your girl or boy friend.
"Why all cats go to your place!"
"Haha, all cats are jealous of Mika's cuteness."
"I love you ...!"
Will you have such a conversation? You will not.
Cat-friendly contact method
There were instructions about how to you can be liked by cats.
Even though you have the theory like "I don't follow that manual of love!", please try it.
First of all, it's okay to follow the manual, because it's about cats, not love.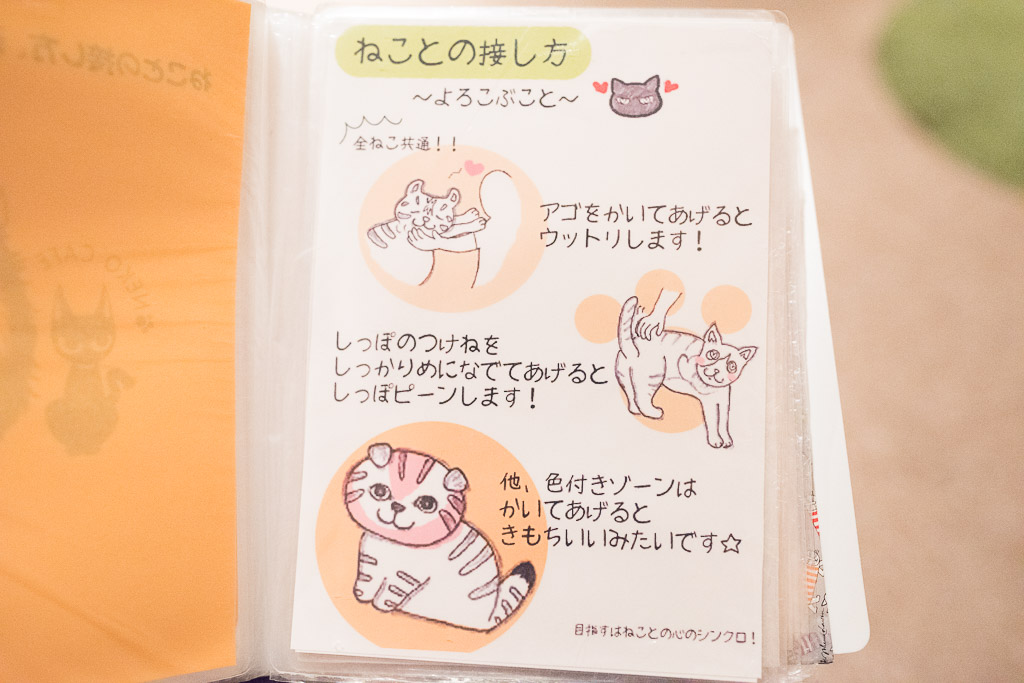 It says cats like to be touched them chin.
Let's try.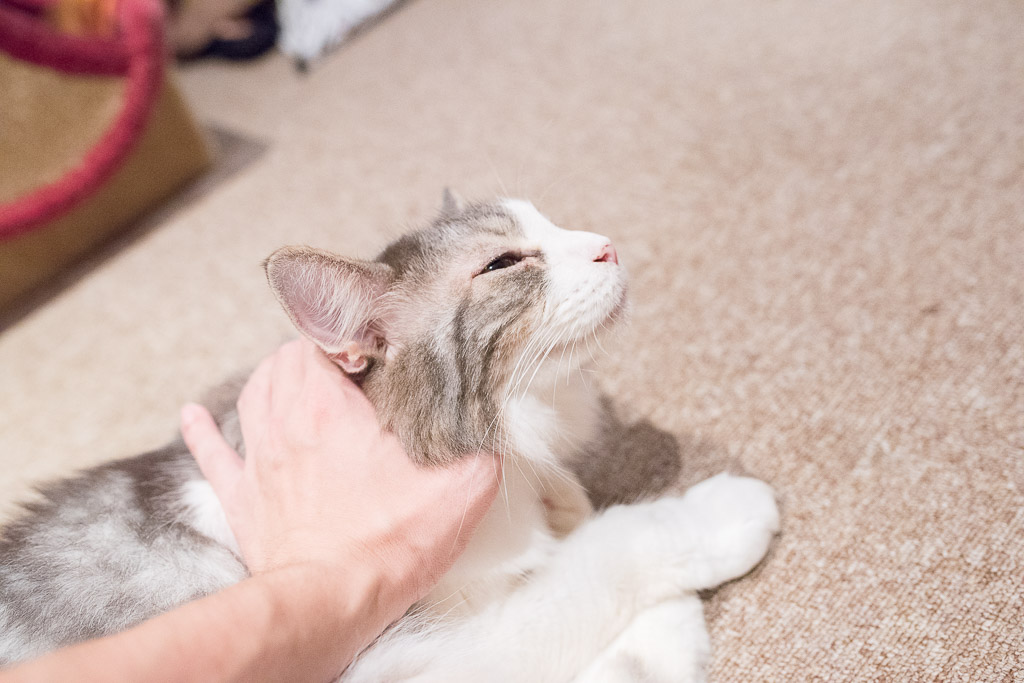 Cats like this.
This photo looks like to be tightening the cat's neck by me, but just I touched the chin.
In addition, he seems to be happy to scratch between the ears of his head.
I'll try.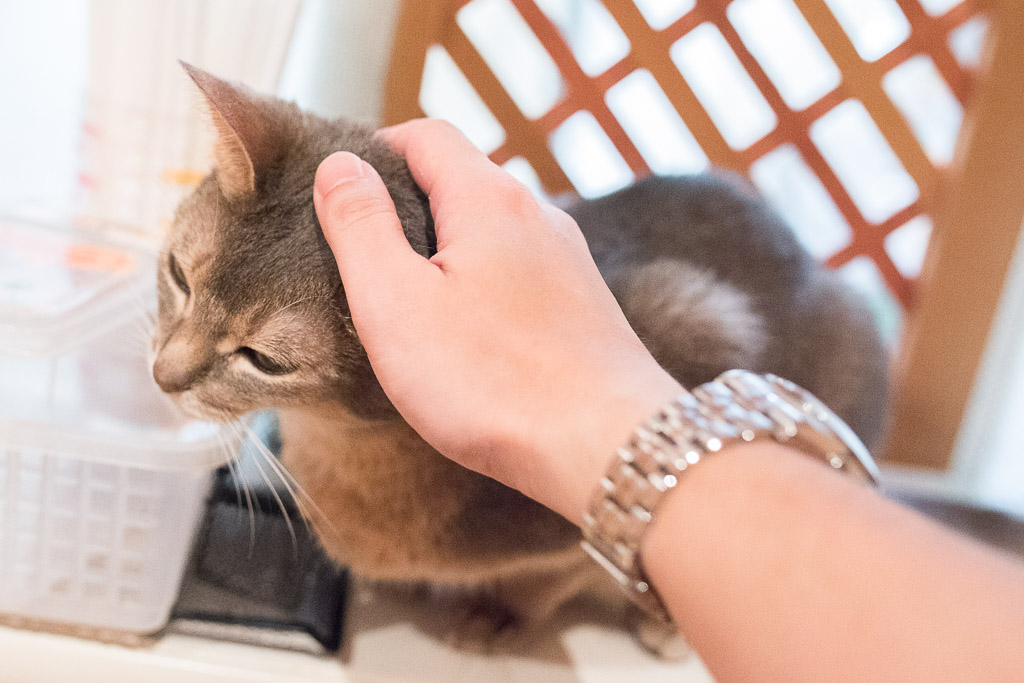 It looks good.
Kittens are running around very well, so it is difficult to touch, but adult cats are easy.
They are so fluffy!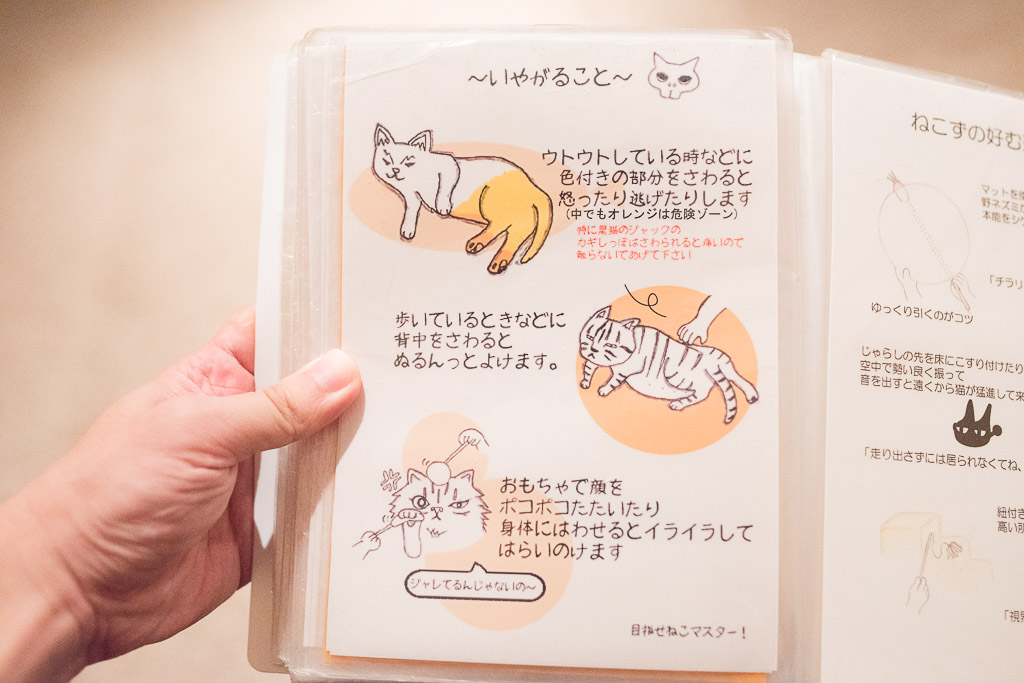 On the other hand, there are some places that should not be touched.
Stop hitting with toys.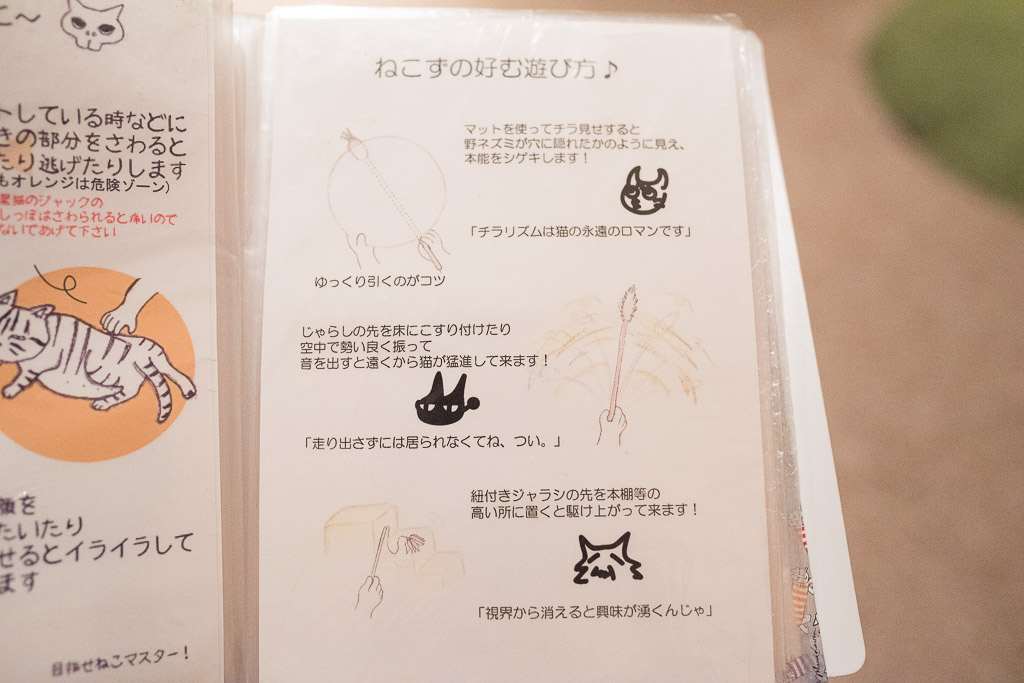 This is how to use toys.
There are many different types of toys, and clerks will tell you what each cat's favorite is.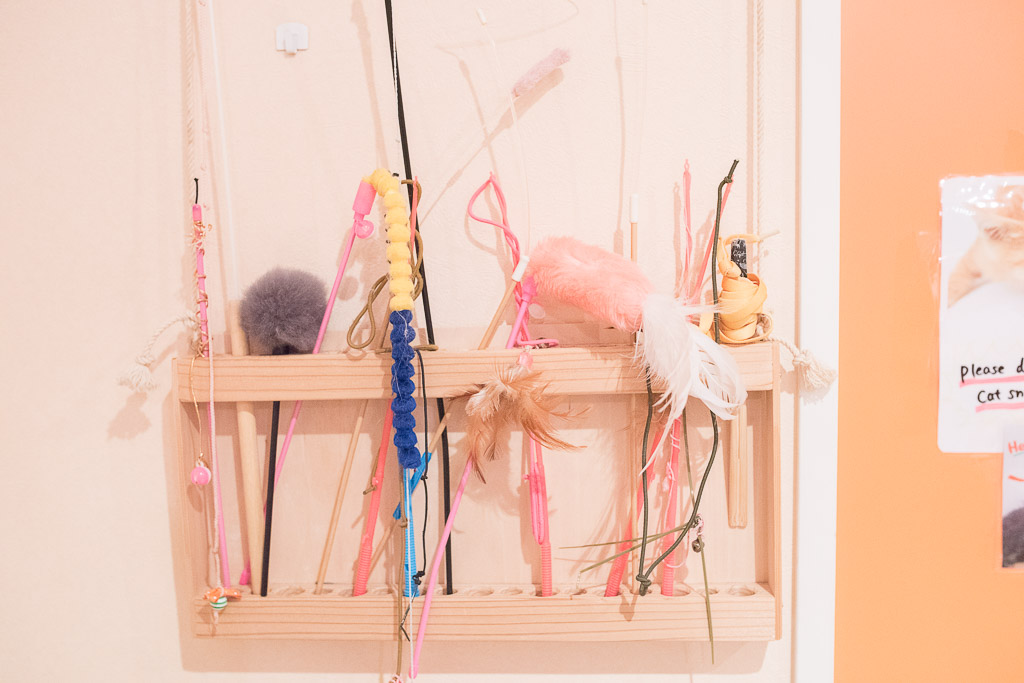 In fact, there are toys about twice this.
Adult cats don't care so much, but child cats really care.
I chose something a third from left looks like grandma's earpick .
Play with the kitten with toys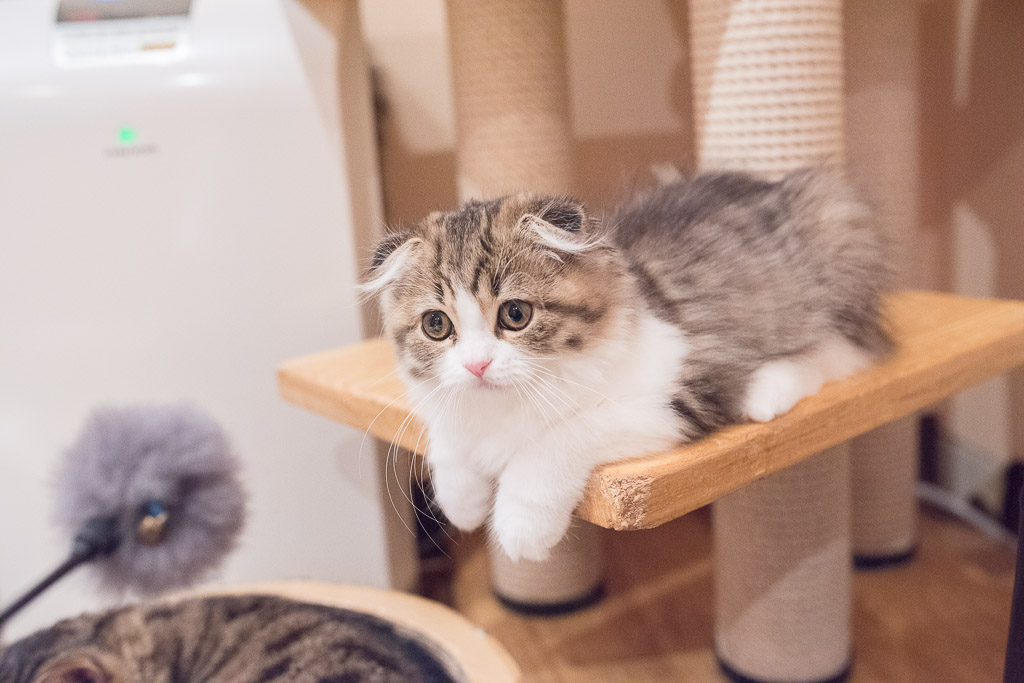 A kitten was very interested in the toy.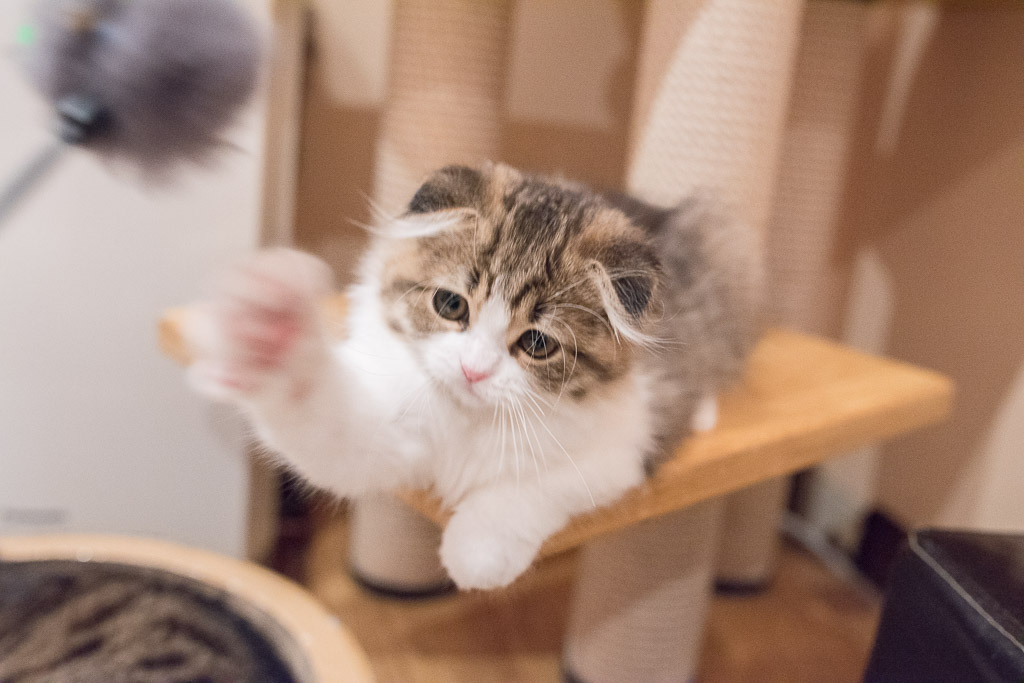 Cat punch out!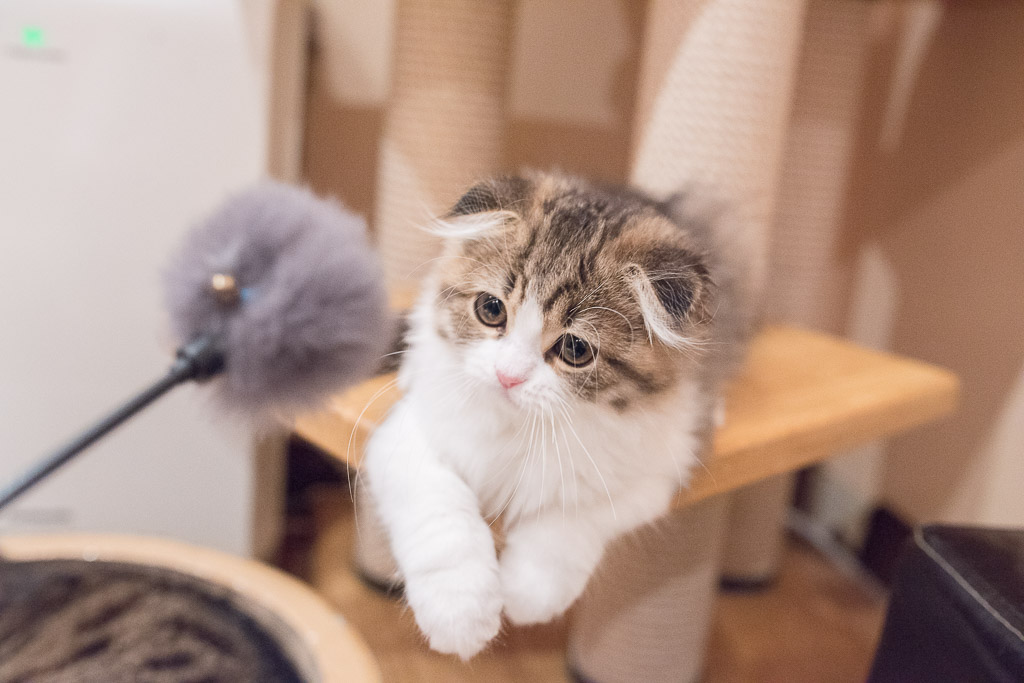 can't reach it.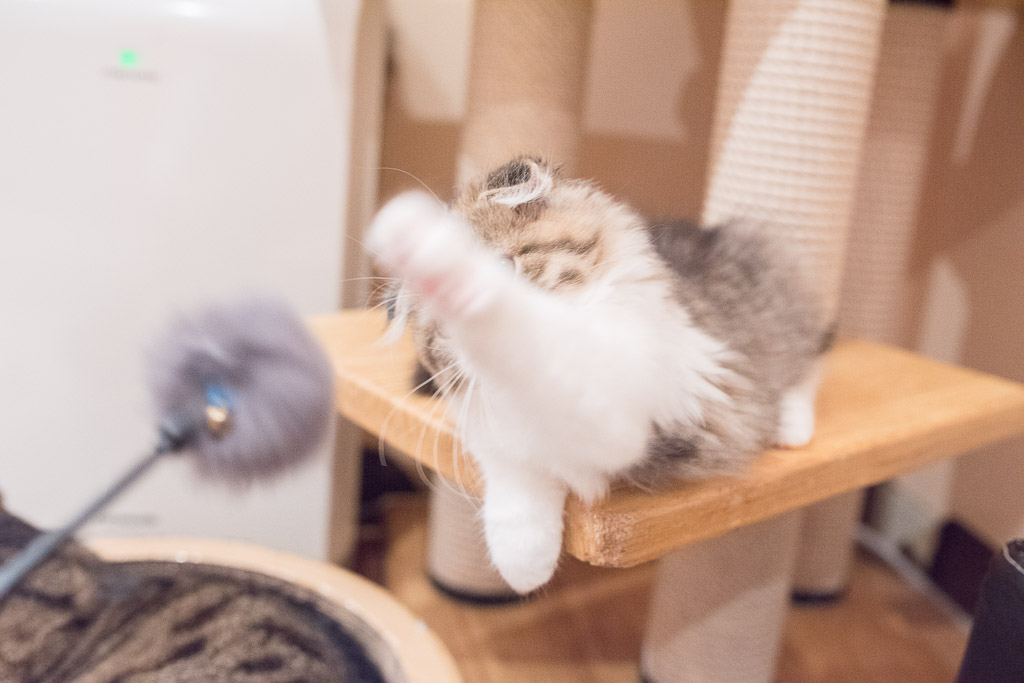 Cat punch with opposite hand!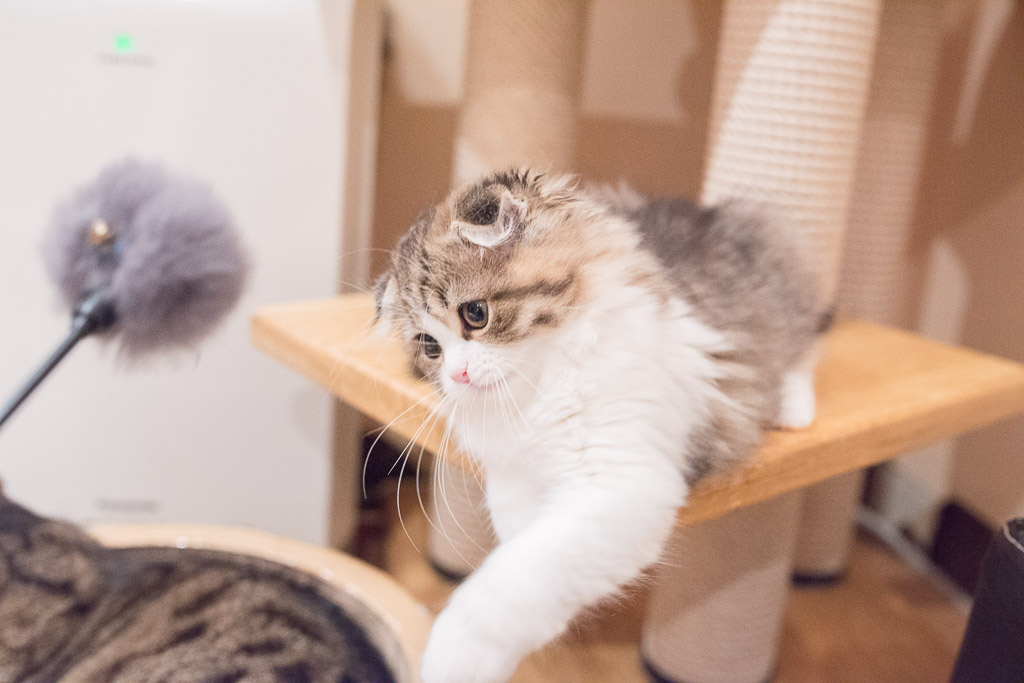 A kitten cannot reach it because I'm faster.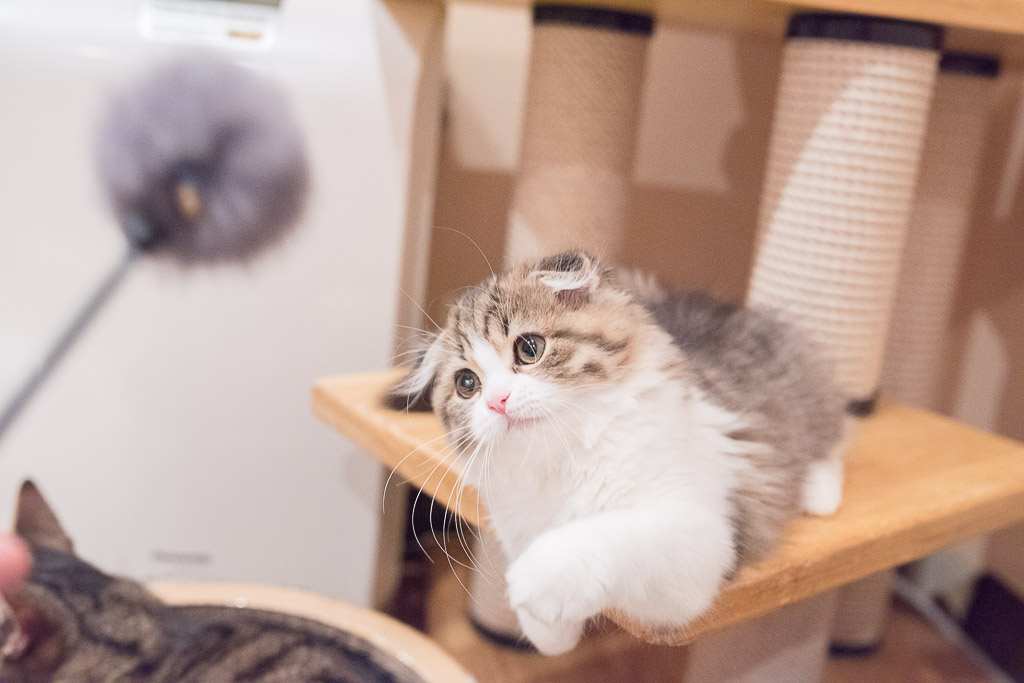 A kitten plays with me very much.
What a cute face ...! !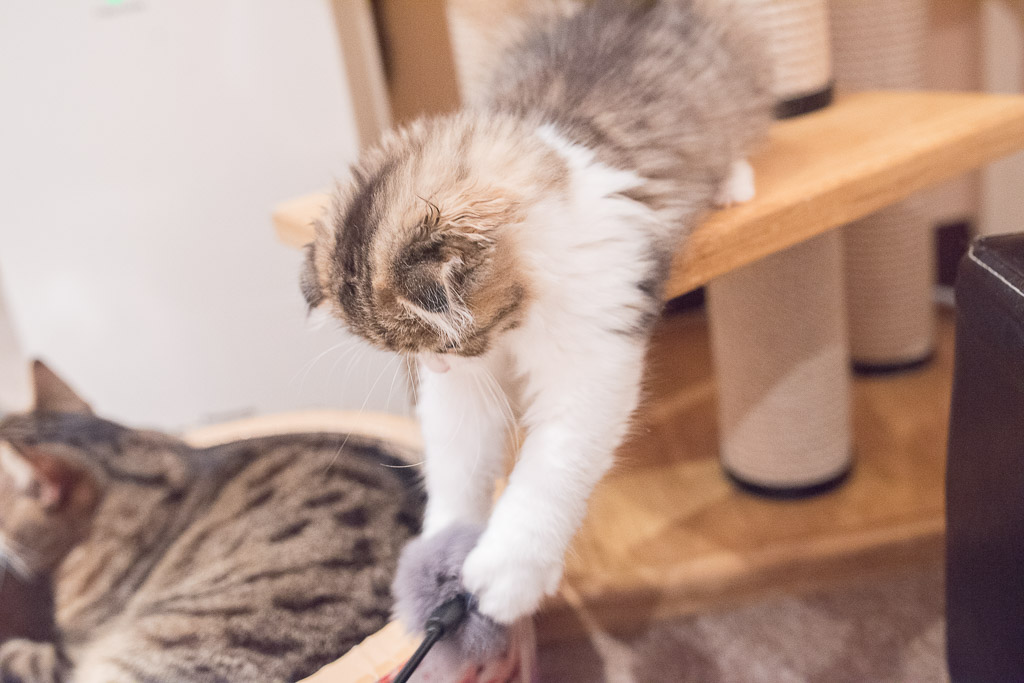 At the end, a kitten was able to catch the toy.
It's cute, isn't it?
Too cute.
There is also a classic cat snack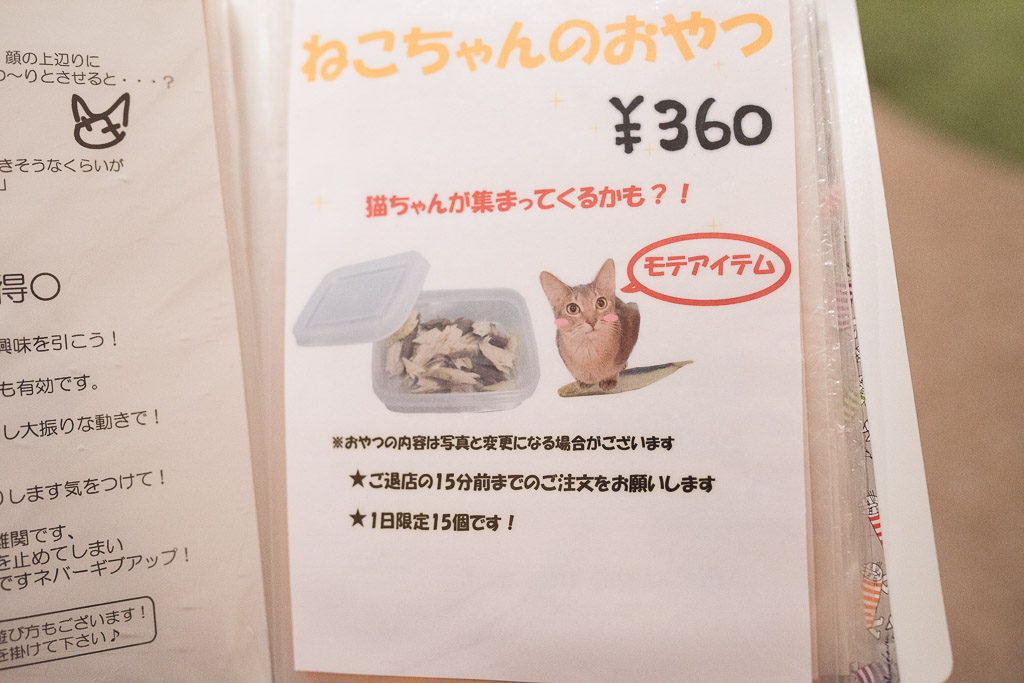 A cat snack is 360 yen.
Yeah, I think it is little expensive ...
What should I do….
….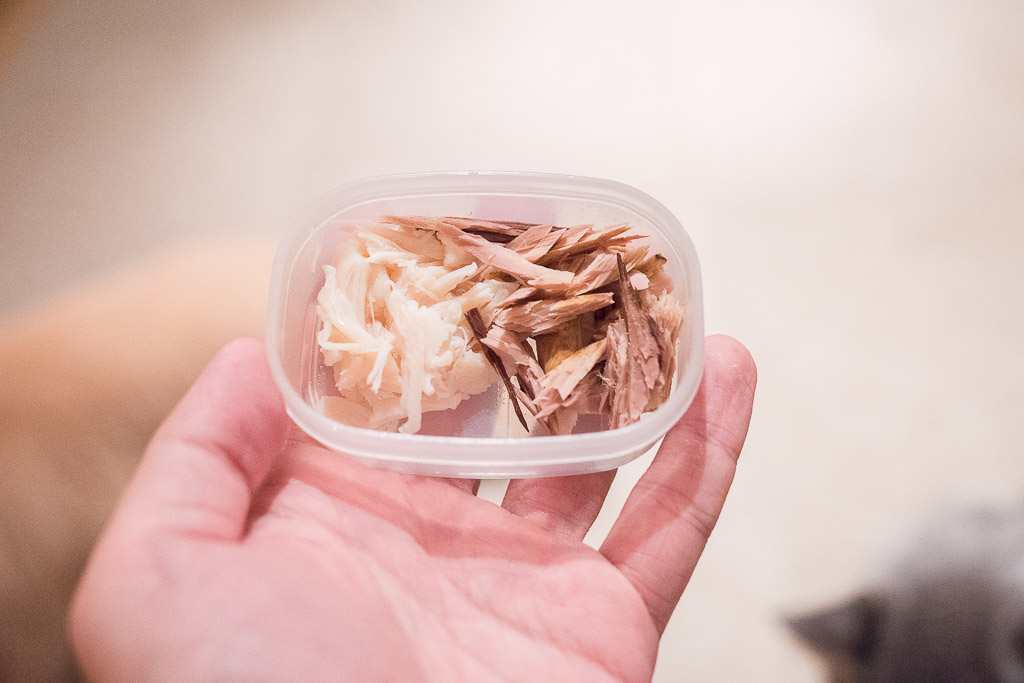 I bought it.
The white one is chicken breast strips and the black one is tuna.
When you ask some clerks for a snack, they warm up it.
Well, the effect of the snack ...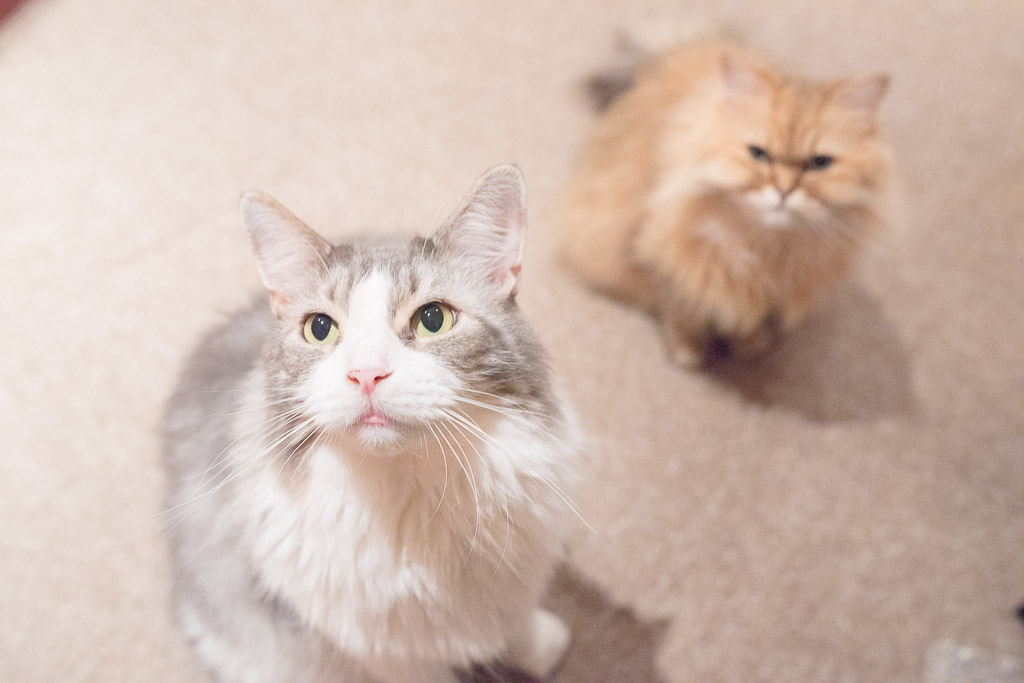 They are looking at me.
NO, they are looking at snack.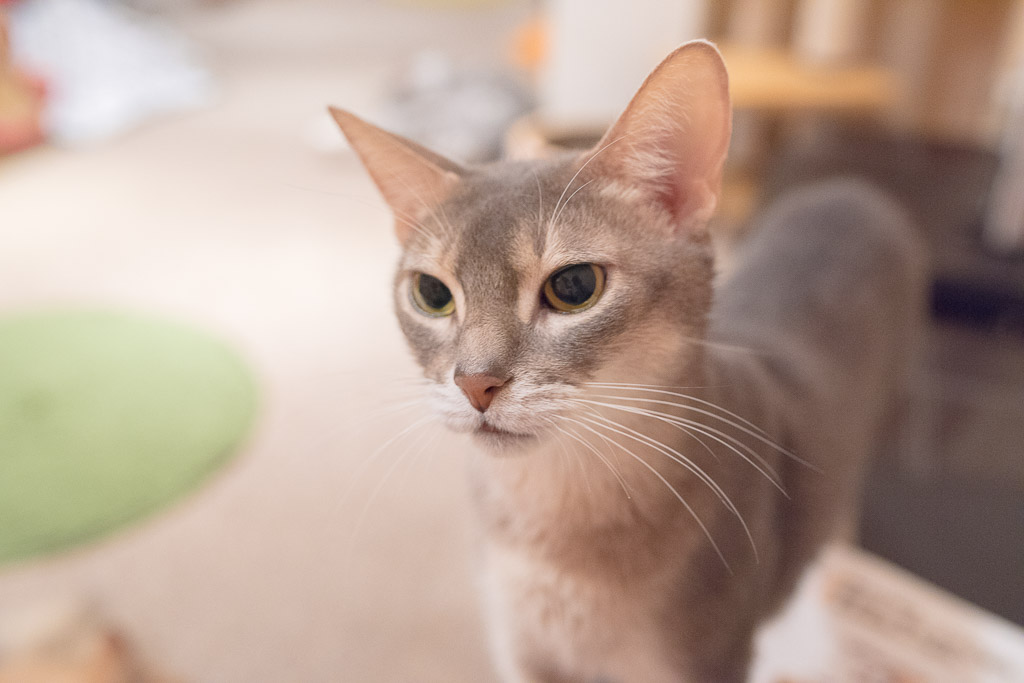 The eyes are seriously watching the snacks as they get on my knees.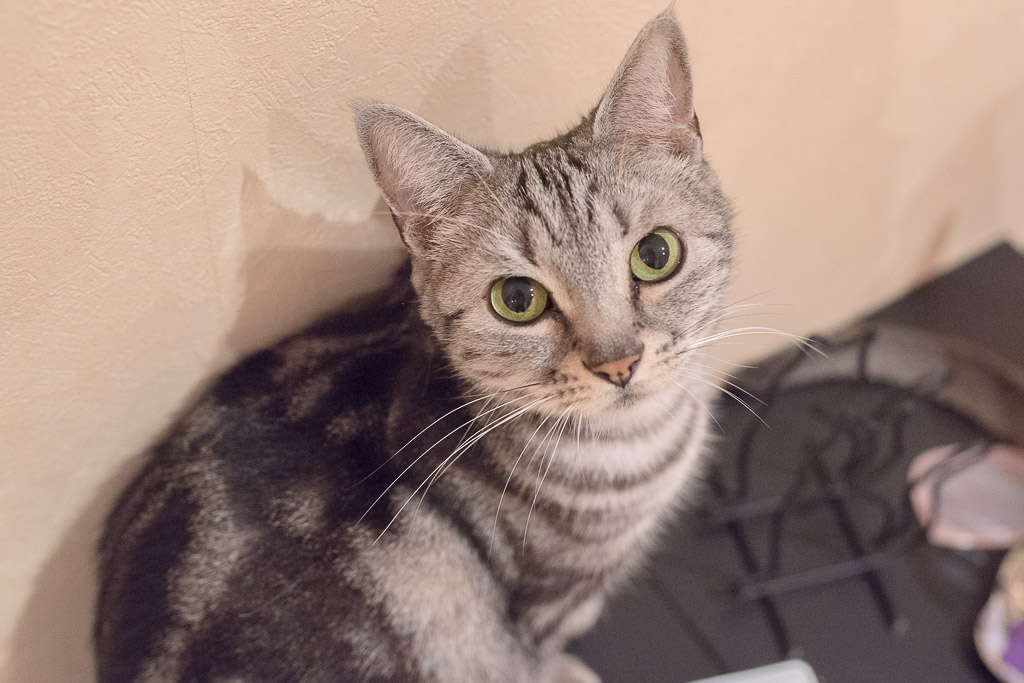 She is coming here because of snack.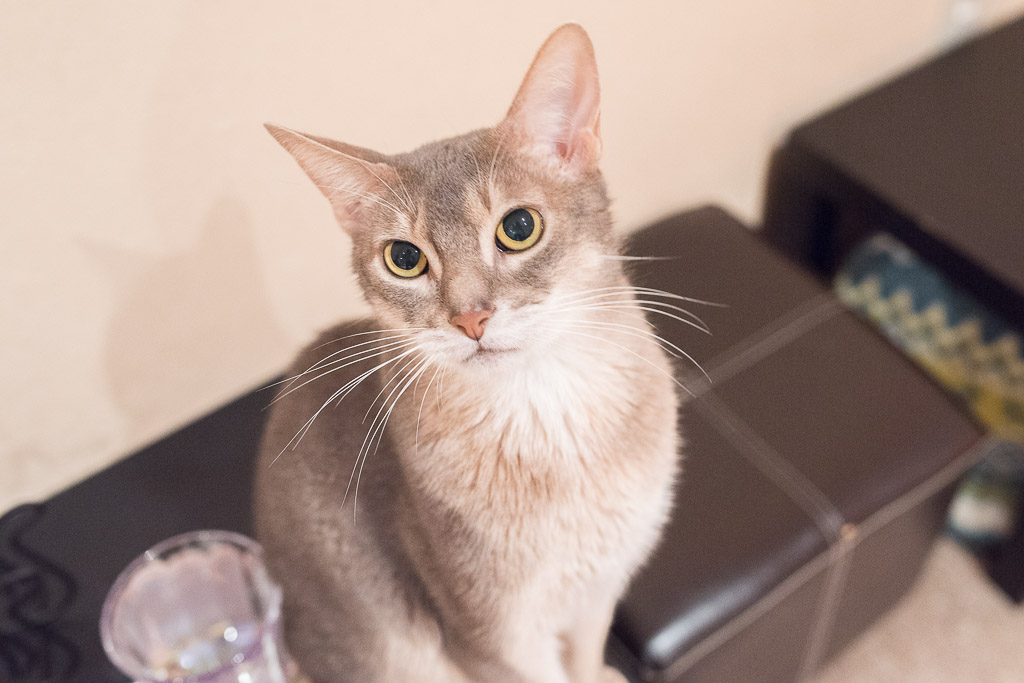 I have two kinds of snacks, chicken breast strips and Tuna (maybe).
Somehow, many cats like chicken breast strips more, I guess.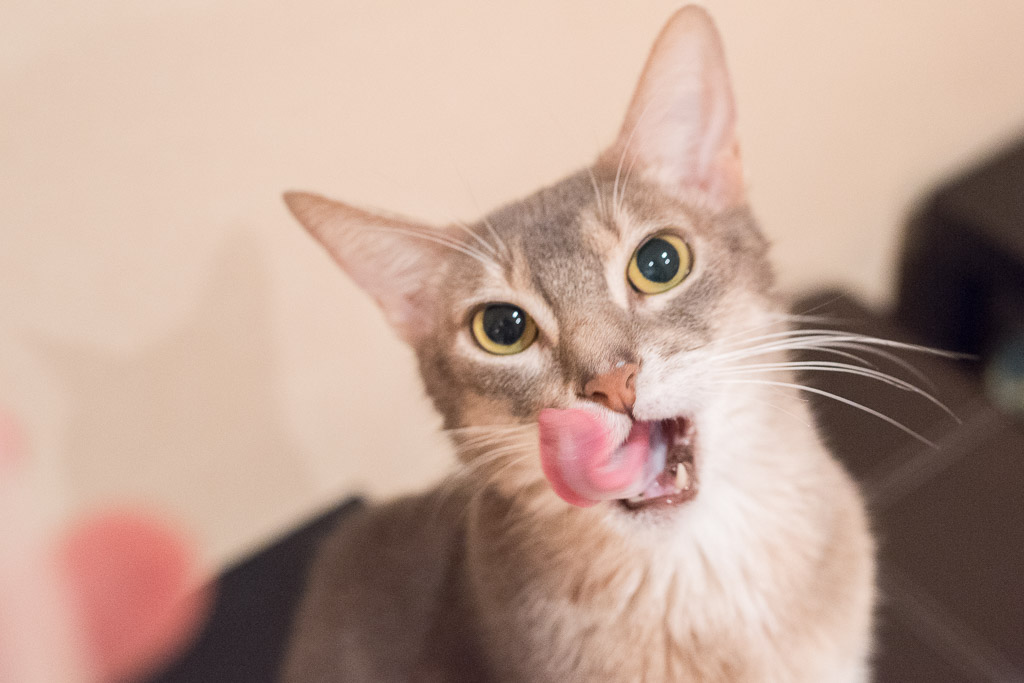 It's cute ...
Please don't give a snack to kittens.
Anyway, if you have a cat snack , you can become very popular.
And since it's easy to take pictures.
I recommend to someone who wanna take good pictures.
Images of cute cats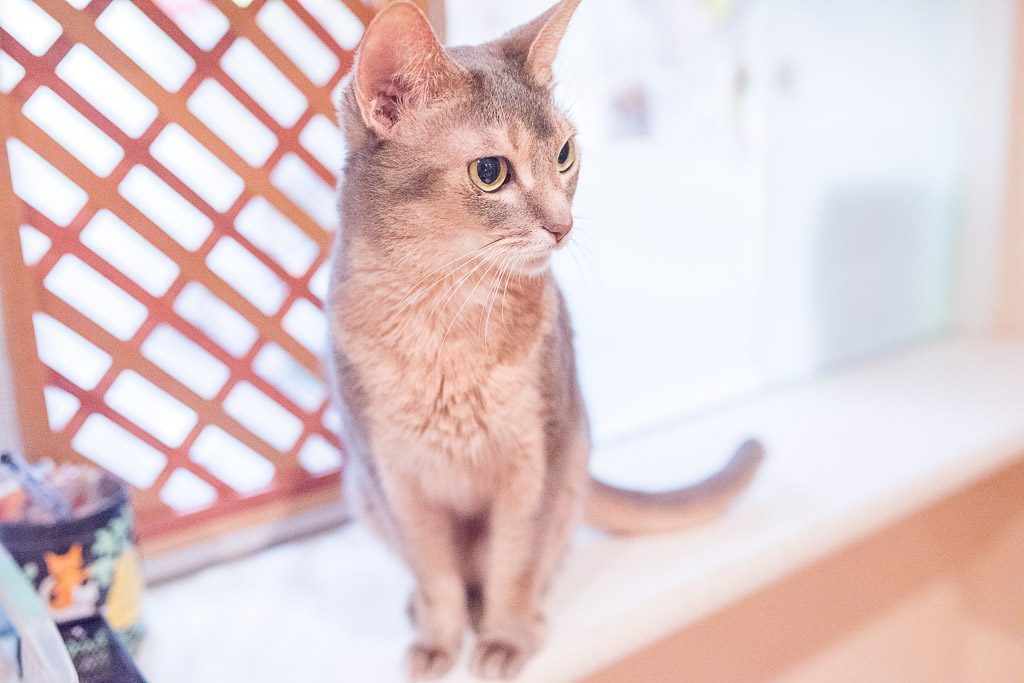 She is a JaLaLa's Signboard girl , Abyssinian Anne.
She didn't move with this counter. This is her territory.
When you stroke her back, her tail will pop up.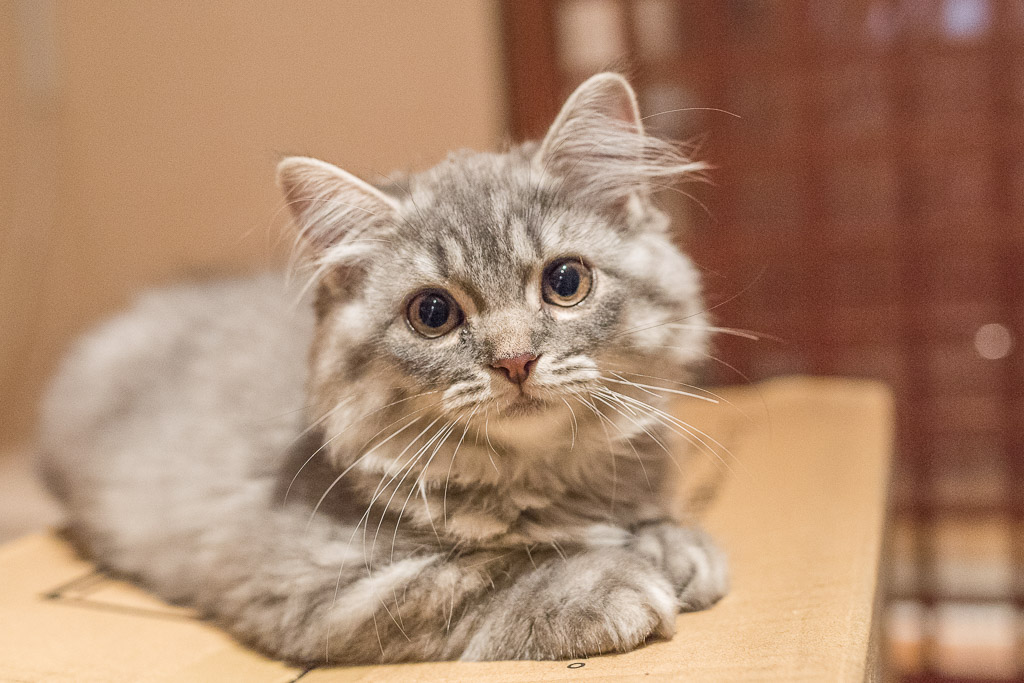 The cuteness of kittens is the best in the universe.
By the way, when I went to Jalala, there were 5 kittens.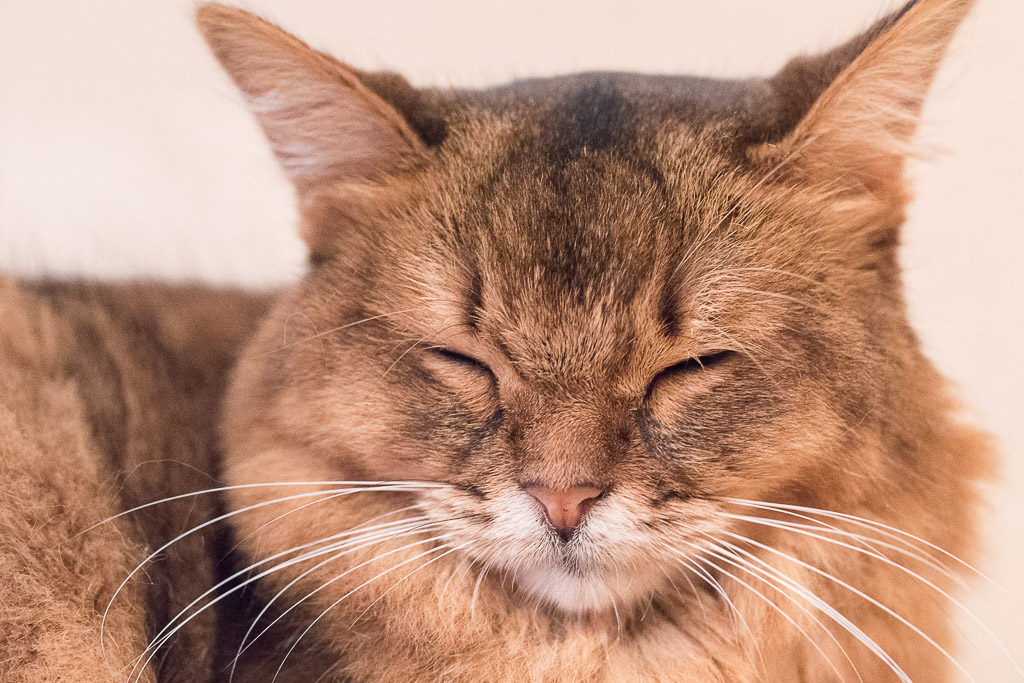 Mari of Somali who has a cute sleeping face.
Everyone will misunderstand that she is a kitten even though she is an adult.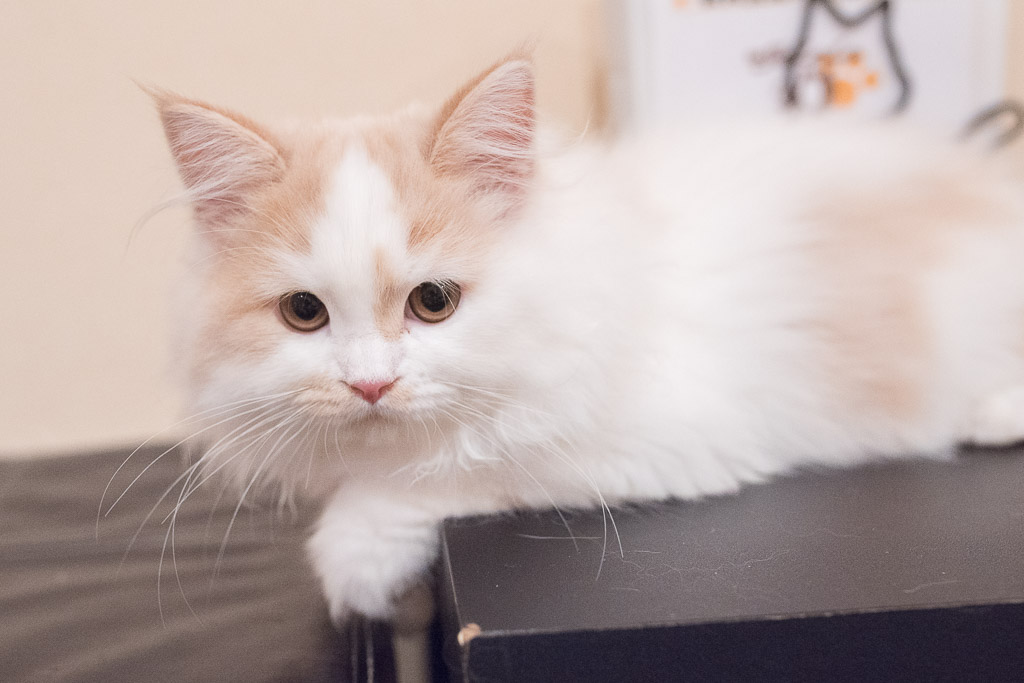 Her face is so cute.
Maybe she is a kitten ...?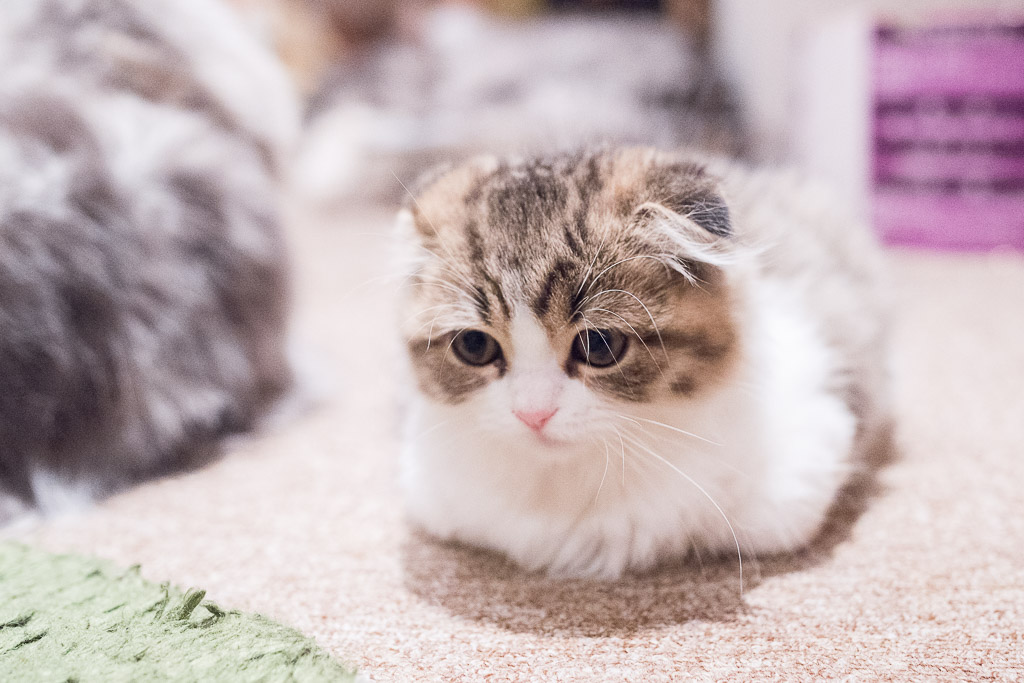 This is also a kitten.
The face looked a little lonely ...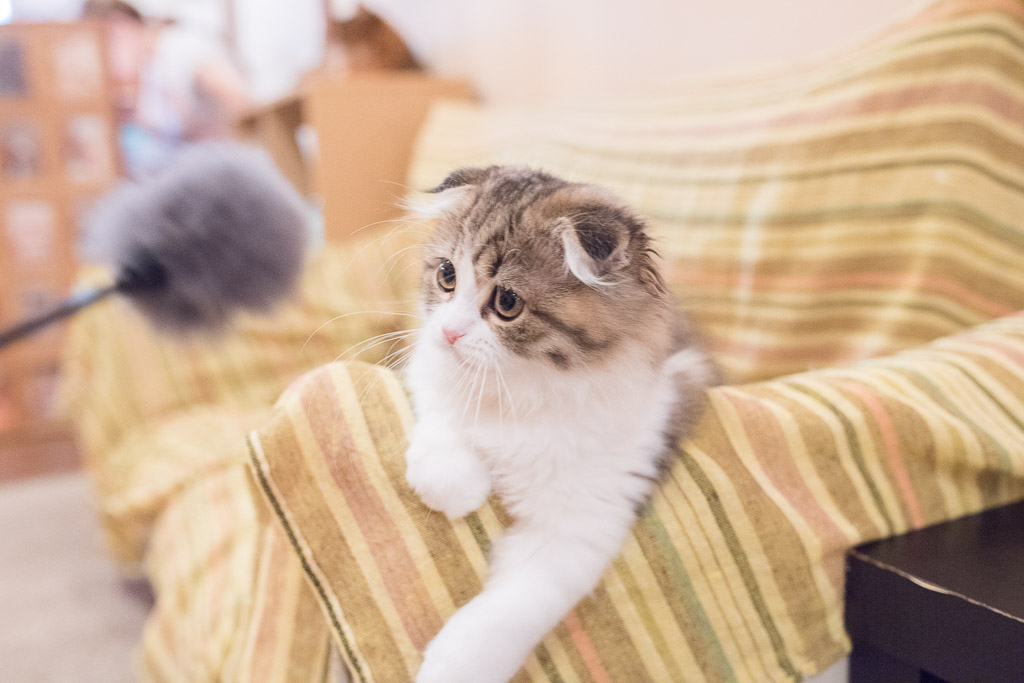 But She enjoyed.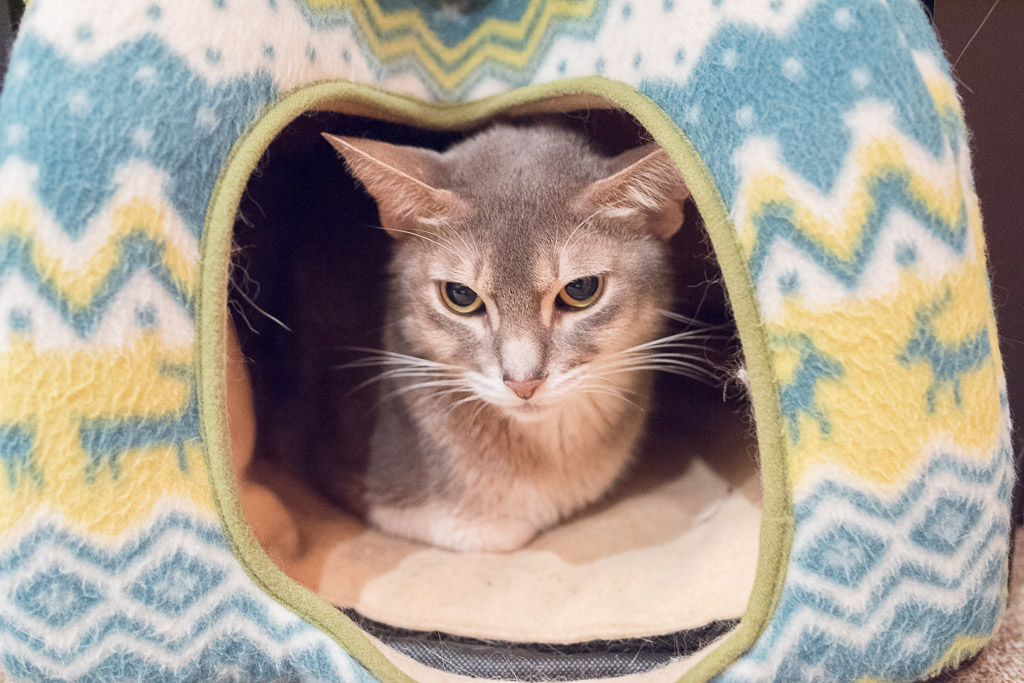 If cats gets tired of being a human partner, they take a break in bed.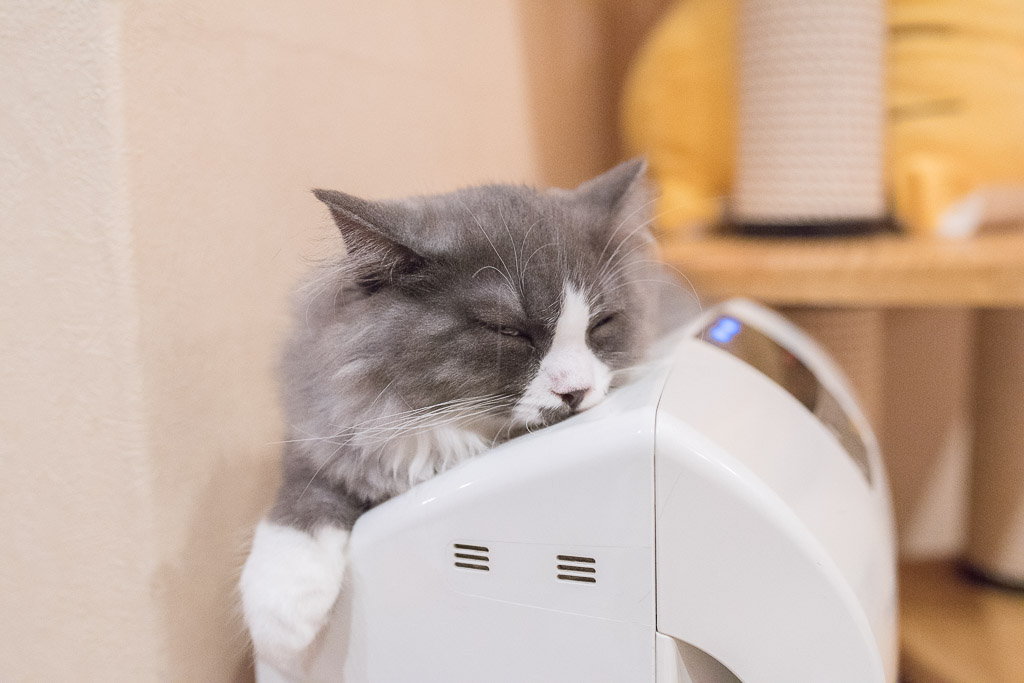 Cats can sleep on an air purifier.
Freedom.
Price / option
30 minutes… 550 yen (Saturdays, Sundays, and holidays 650 yen)
60 minutes… 1,100 yen (Saturdays, Sundays, and holidays 1,300 yen)
90 minutes… 1,650 yen (Saturdays, Sundays, and holidays 1,950 yen)
120 minutes… 2,200 yen (Saturdays, Sundays, and holidays 2,600 yen)
Extension is 550 yen every 30 minutes (Saturdays, Sundays, and holidays 650 yen)
You have to order one drink at least.
[Package charge] Weekdays from 11:00 to 13:00
2-hour pack ... 2,000 yen (up to 650 yen discount)
3-hour pack ... 2800 yen (up to 950 yen discount)
* One drink is included (+200 yen for alcohol)
You can also rent a shop.
Drinks are gonna be half price from the second cup. (Other than alcohol)
Cat snack ... 350 yen
Telephone reservation is possible.
* Elementary customers under 4 years old are only 30 minutes.
Point of cat cafe JaLaLa
The clerks are very friendly.
There are some clerks who speak English.
It may be difficult to take pictures with DSLR camera because it is dark.
There are kittens.
Easy to touch cat
They are not stinky.
Kittens like toys.
You can drink alcohol.
The room is narrow.
You can hug cats. (You have to check with the clerk)
Store information
1F, 3-5-5 Sotokanda, Chiyoda-ku, Tokyo
10-minute walk from Akihabara Station's Electric Town Exit.
3 minutes walk from Suehirocho Station.
5 minutes on foot from Yushima Station.
Business hours: 11: 00-20: 00 (last order 19:30)
Regular holiday: Basically no holidays
* Recommended on weekdays from 11:00 to 14:00 and weekends and holidays from 11:00 to 13:00.
Store URL:猫カフェ・JaLaLa
Store phone number:03-3258-2525
My cat cafe ranking
It is my own ranking that went to various cat cafes and became a cat cafe meister (self-name).
Please refer to this when you want to date with friends, when you want to date, when you want to spend time alone, when you want to play with your family and cat.
Nearby cat cafe