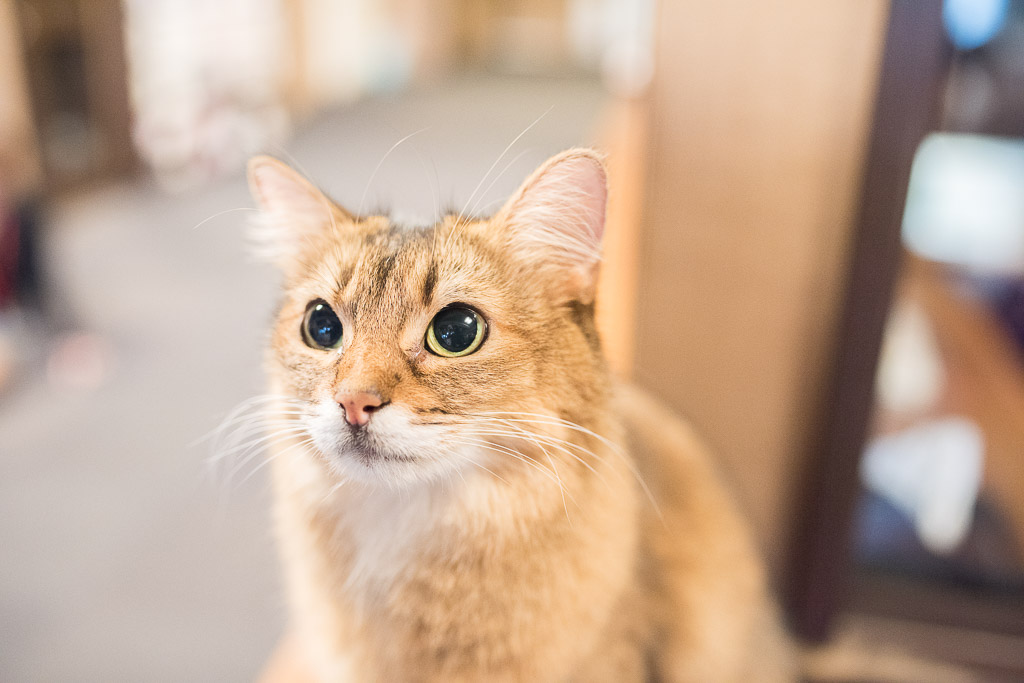 I went to the cat cafe Chariko, located 6 or 7 minutes on foot from the east exit of Shinjuku station!
Shinjuku is one of the busiest places in Japan. But surprisingly you will be able to relax very much there with cats. It 's a very relaxed place.
This time I went to a cat cafe called Calico. There you can choose from many menus and eat delicious meals!
[japan Cat cafe]  Shinjuku Calico reviews!

Cat cafe Calico location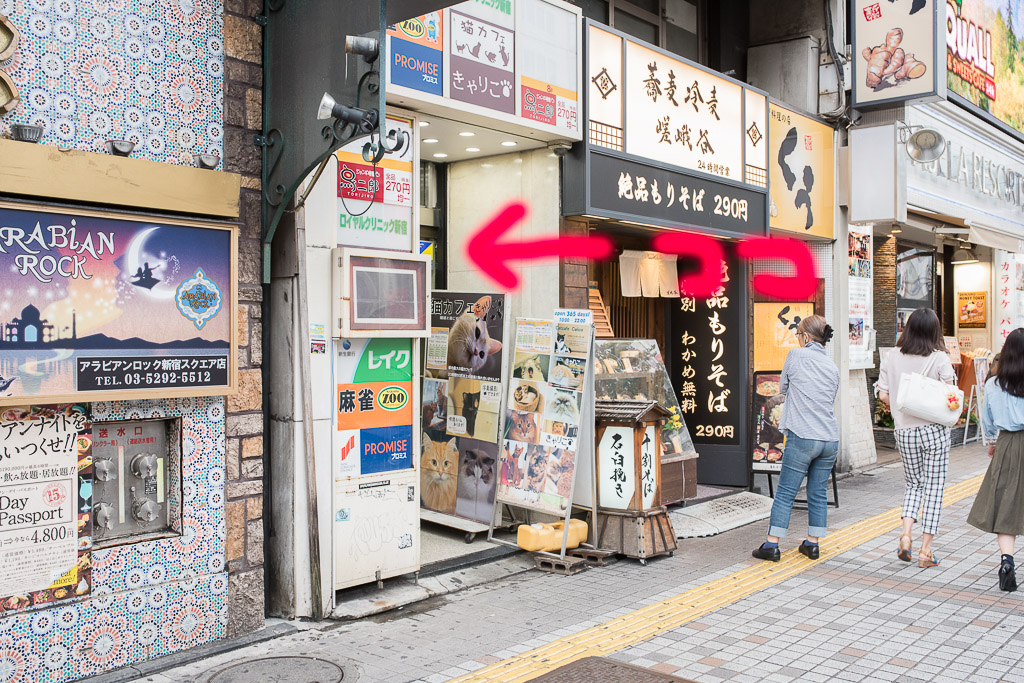 Cat Cafe Calico is just before entering Kabukicho.
It is about next to Don Quixote in Kabukicho.
Next is an Izakaya called Arabian Rock, and the other side is a soba restaurant.
Please do not overlook the entrance because it is narrow.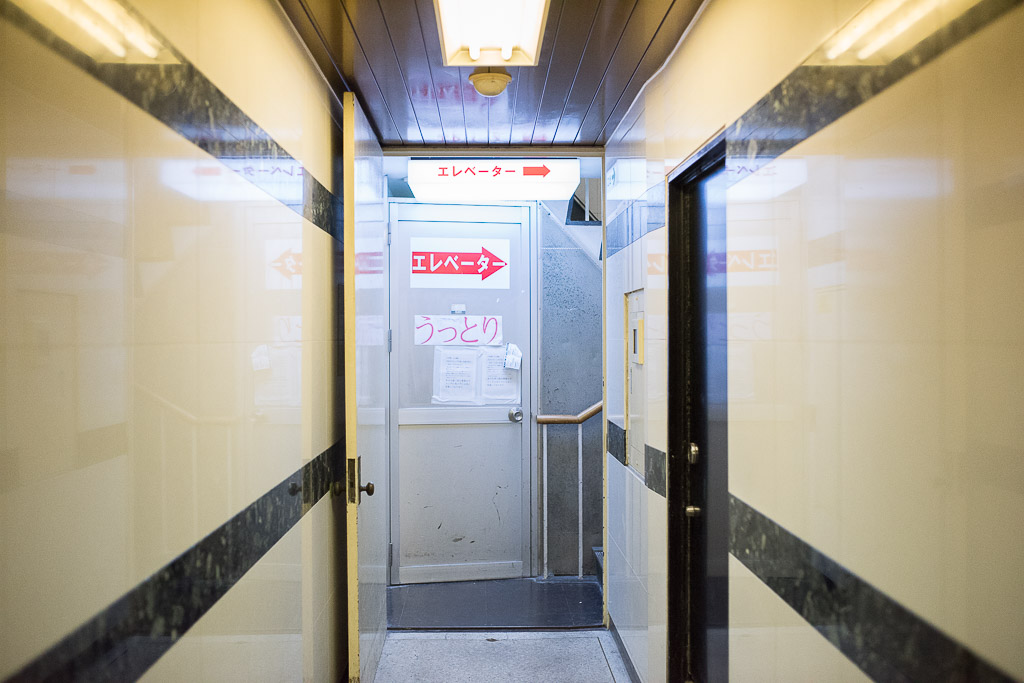 You may feel a little suspicious when you enter the building, but it's okay.
Calico is on the 5th and 6th floors, and the reception is on the 6th floor.
Entered a Cat cafe Calico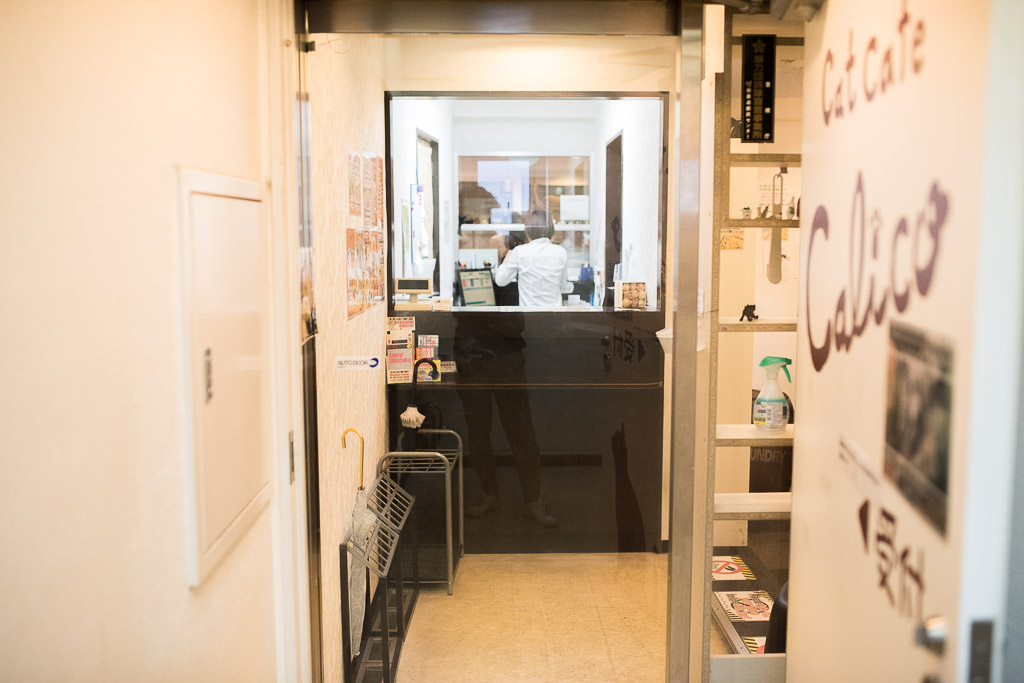 As soon as you get to the 6th floor, you can see the entrance.
I'm in the mirror, but I hope you don't notice that my legs are short.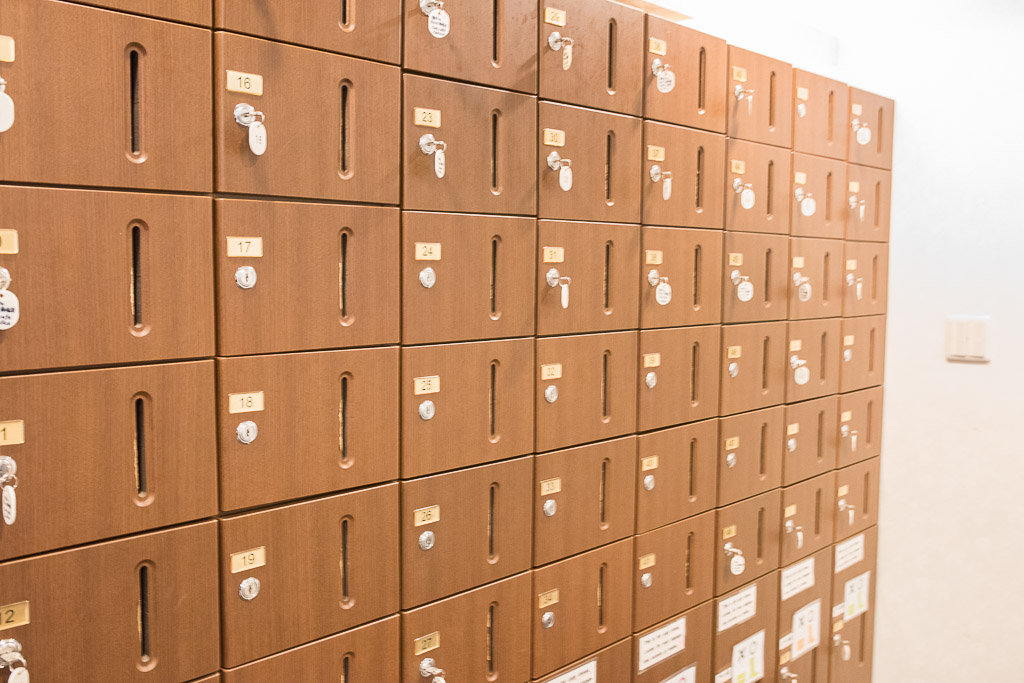 Please take off your shoes and change to slippers.
All these shoe racks can be locked. So you don't have to worry about theft or losing your shoes.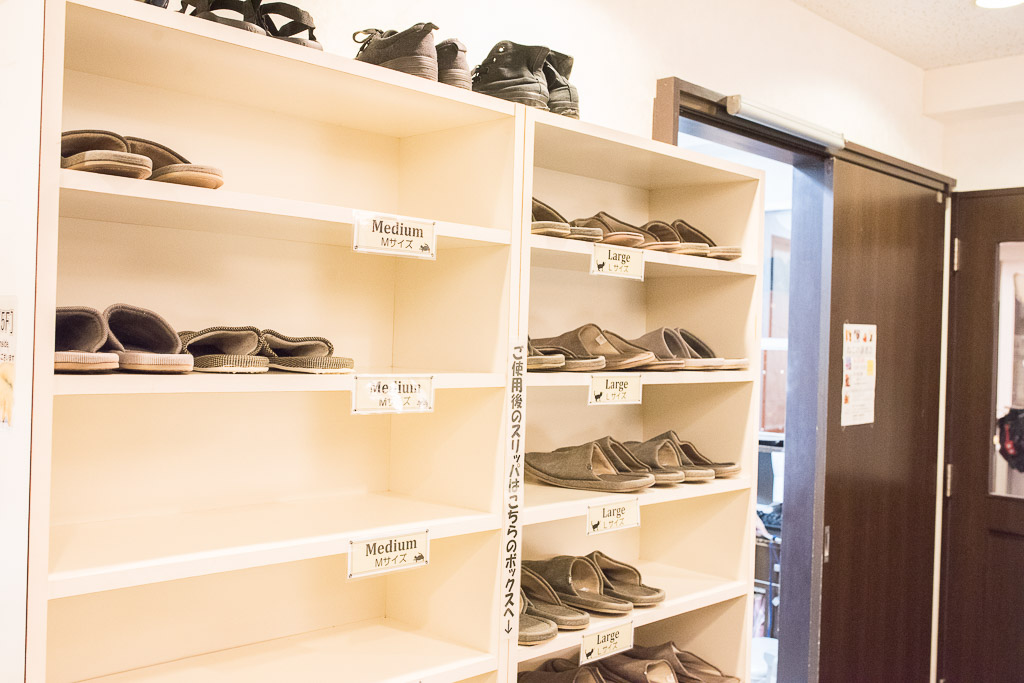 There are two types of slippers, suitable for people of various heights.
How nice!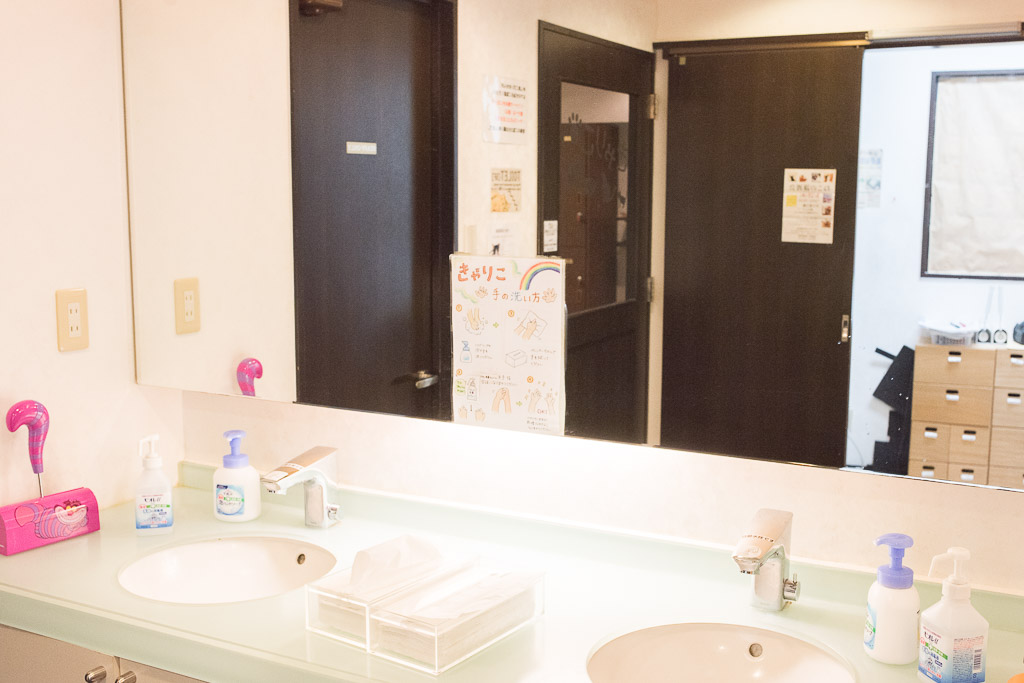 Please wash your hands after hearing the explanation from the clerk at the counter.
The washroom is so clean.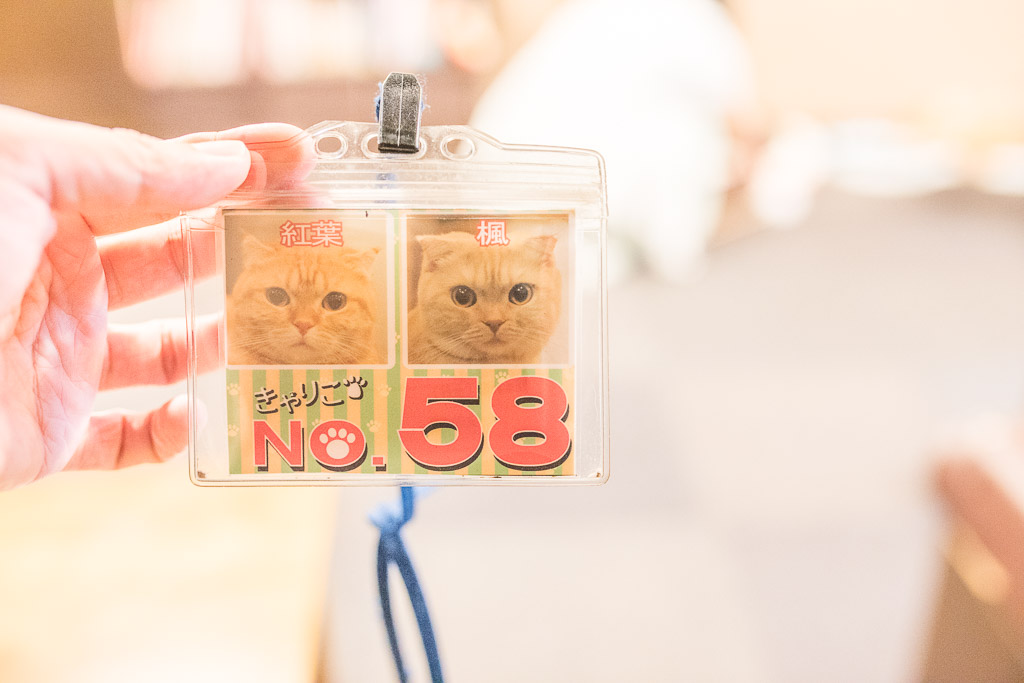 In Calico, charges are postpaid and managed with this number.
When you buy drinks, food, and cat snacks after entering the store, this is a system that pays you at the same time when you leave the store.
The charge is 1,000 yen per hour (1,200 yen on weekends and holidays), and 150 yen is added every 10 minutes.
There are other good pack prices,
90-minute pack ... 1,300 yen (1,500 yen on weekends and holidays)
2-hour pack ... ¥ 1,500 (¥ 1,800 on weekends and holidays)
3-hour pack… 2,000 yen (Saturday, Sunday, and holidays are 2,400 yen)
Free time(It means that you can stay until as you want): ¥ 2,500 (¥ 3,000 on weekends and holidays)
It is also possible to go outside and re-enter the store, so it is a good idea to have free time.
Prohibited matters
Do not use flash
Do not take pictures of other customers' faces
Don't shoot pictures the same cat for a long time
Don't sleep on the sofa
Do not put your feet on the table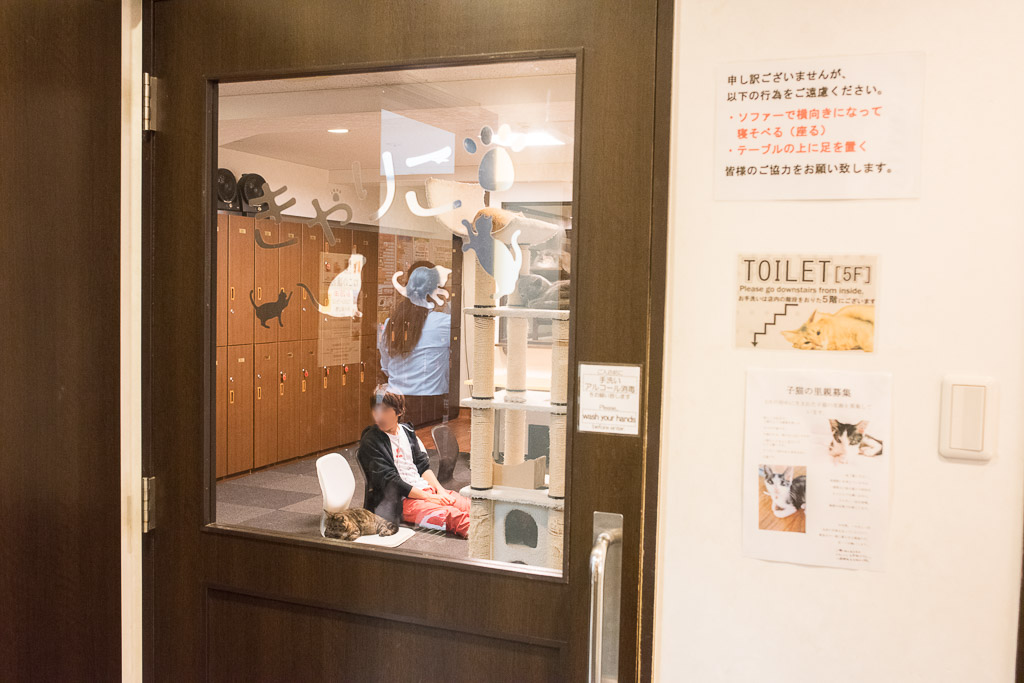 When you 're all ready, go to the cat room!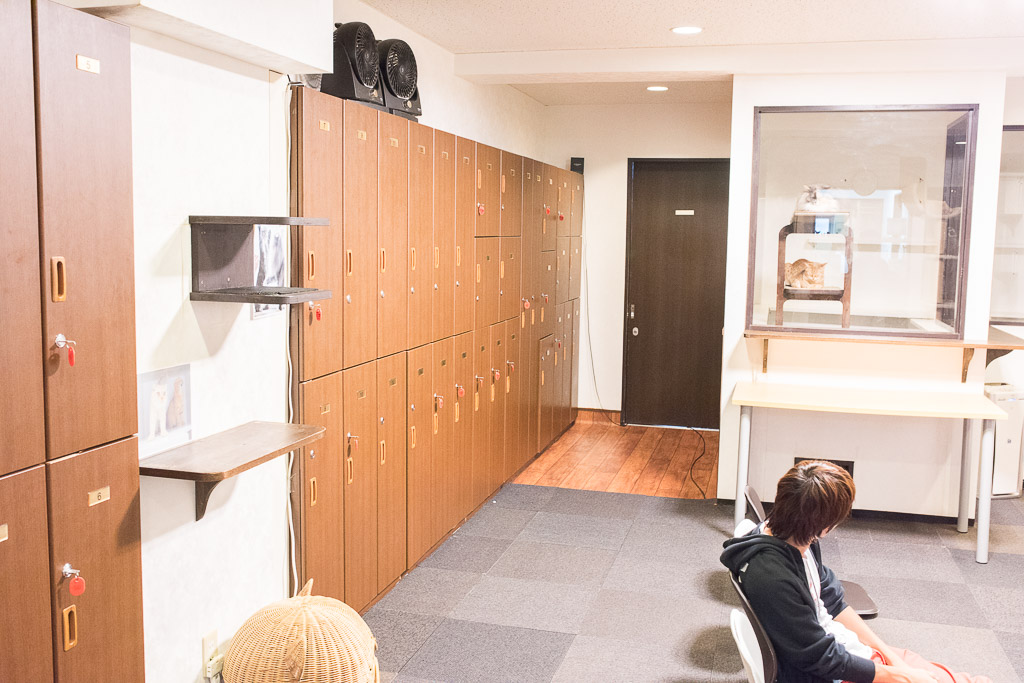 There are lockers to put your luggage in the space with the cat.
I think that's Convenient for people who stopped by while traveling.
These lockers are also locked for securely.
There are cats on this floor, but if you want to more relax, I recommend the 5th floor below.
Cat sleeping everywhere
This time I went to Calico around 13:00 on weekdays, but everyone seemed to take a nap and slept everywhere.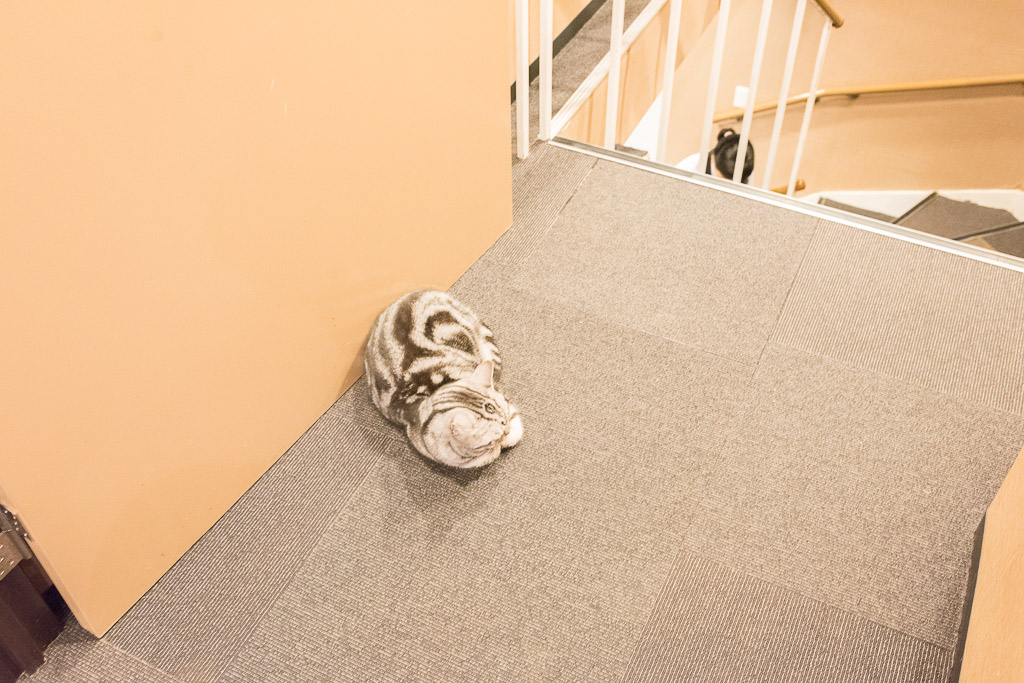 It 's like a door stopper…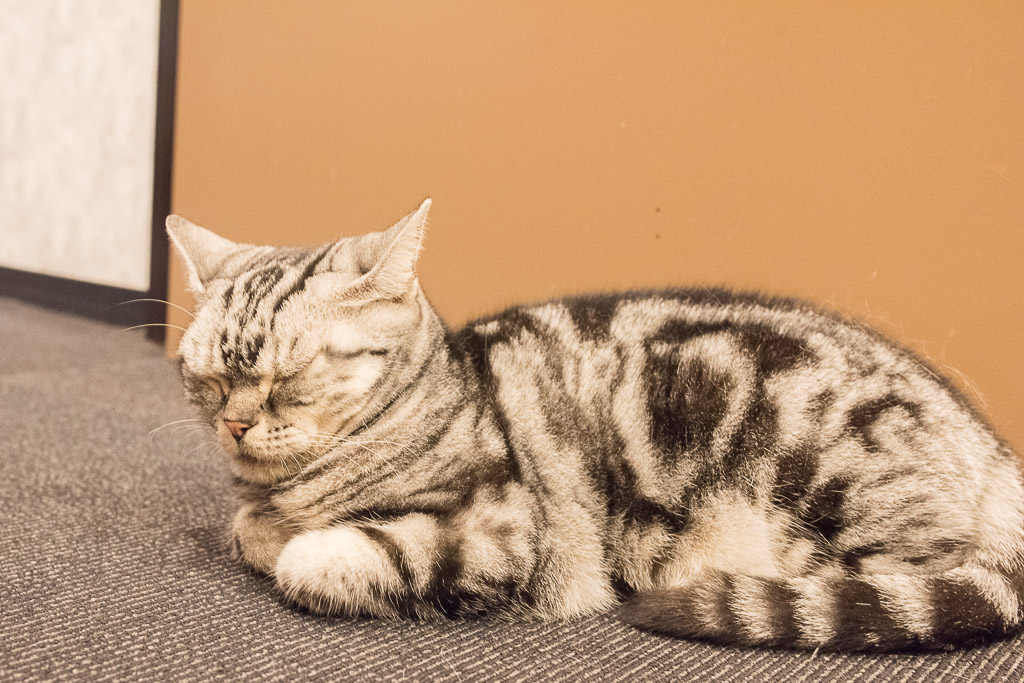 Actually it was a cat sleeping with a philosophical look.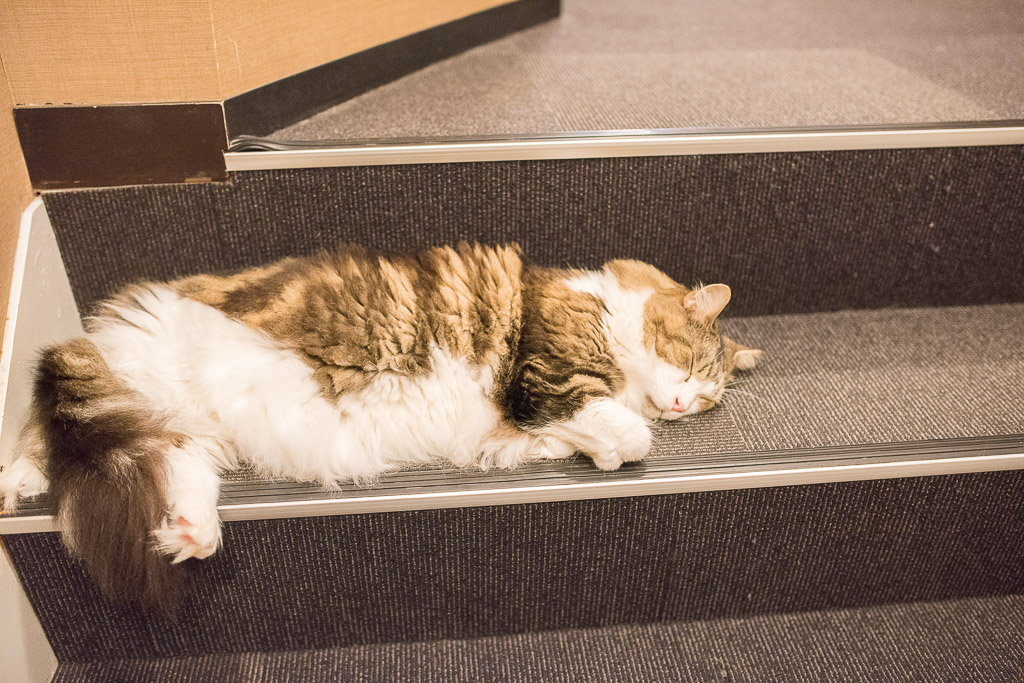 A cat sleeping comfortably on the stairs.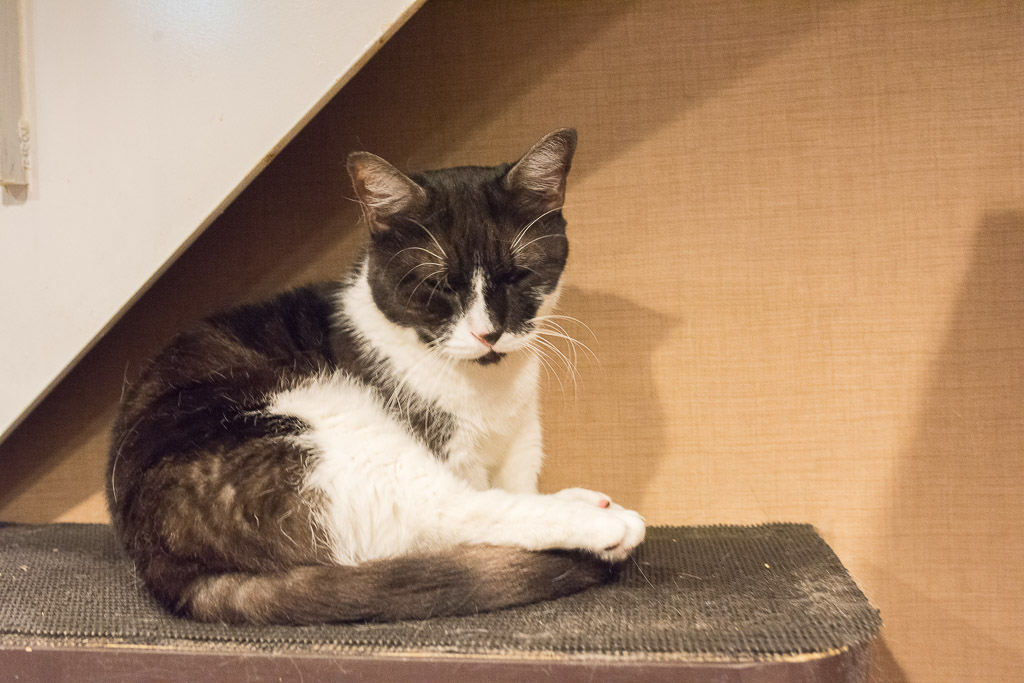 Cat sleeping comfortably under the stairs ...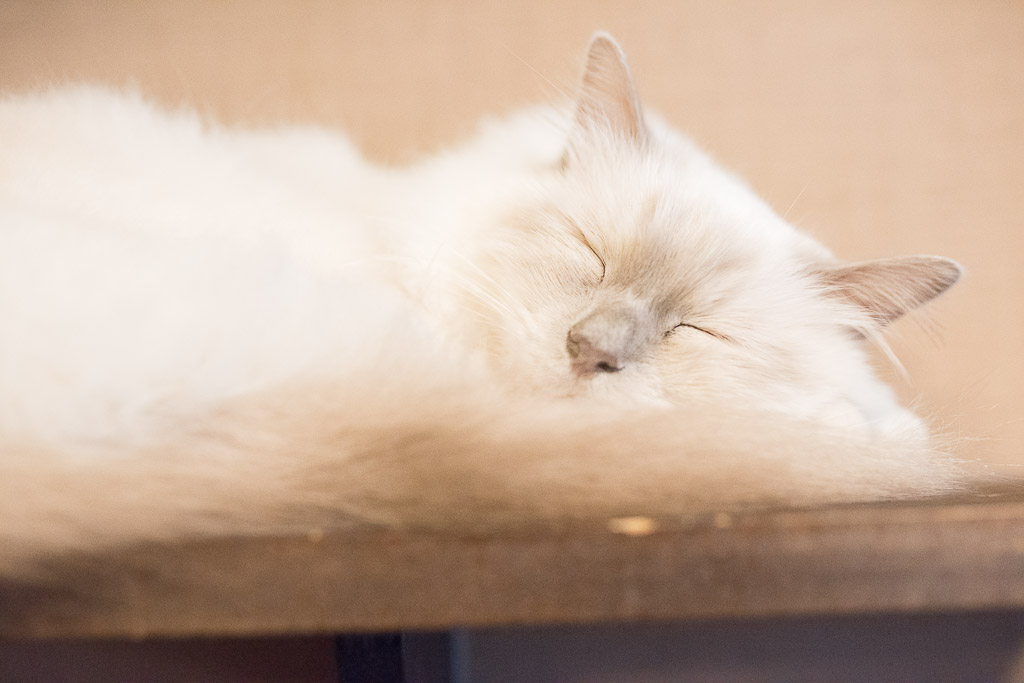 When I looked up, I could find a sleeping cat here also.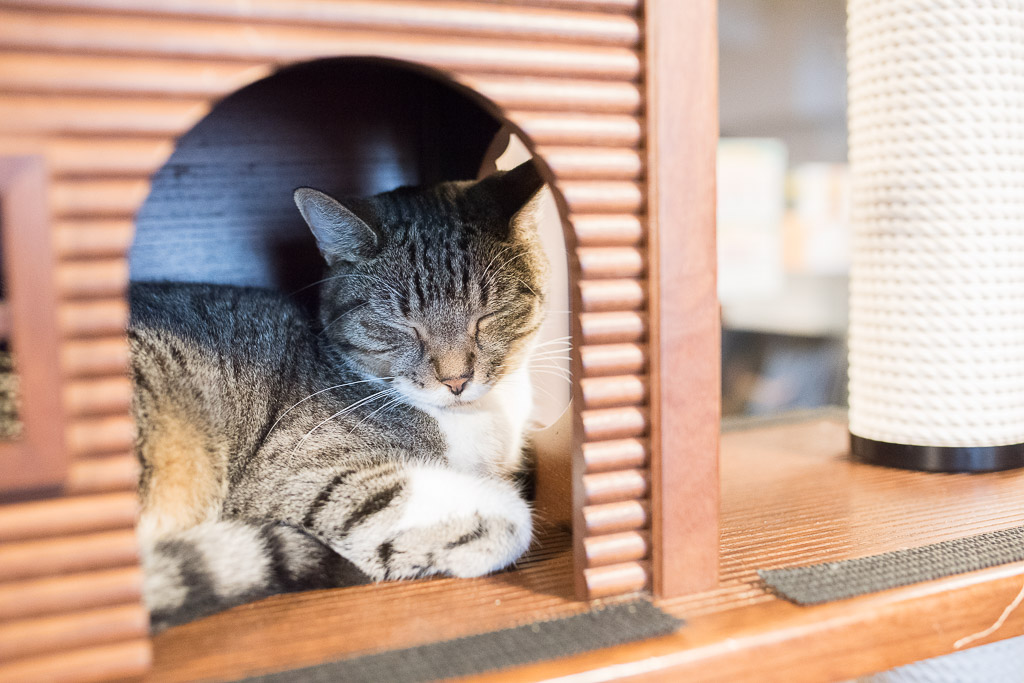 Relaxing in the room and napping.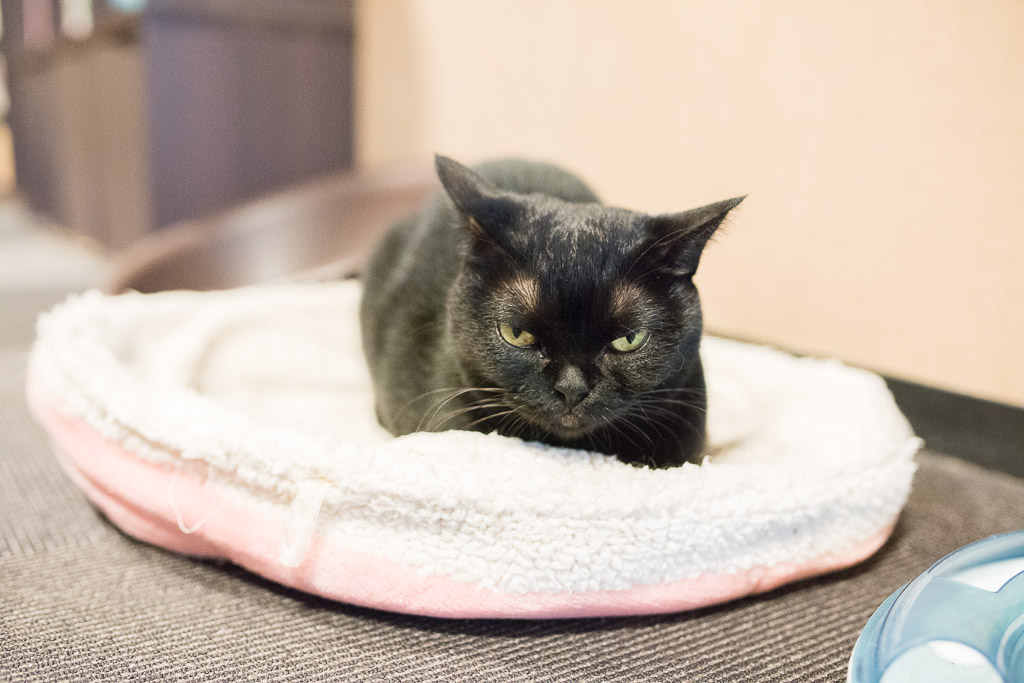 The cat in the bed was awake.
But she slept right after taking this picture.
The store on the 5th floor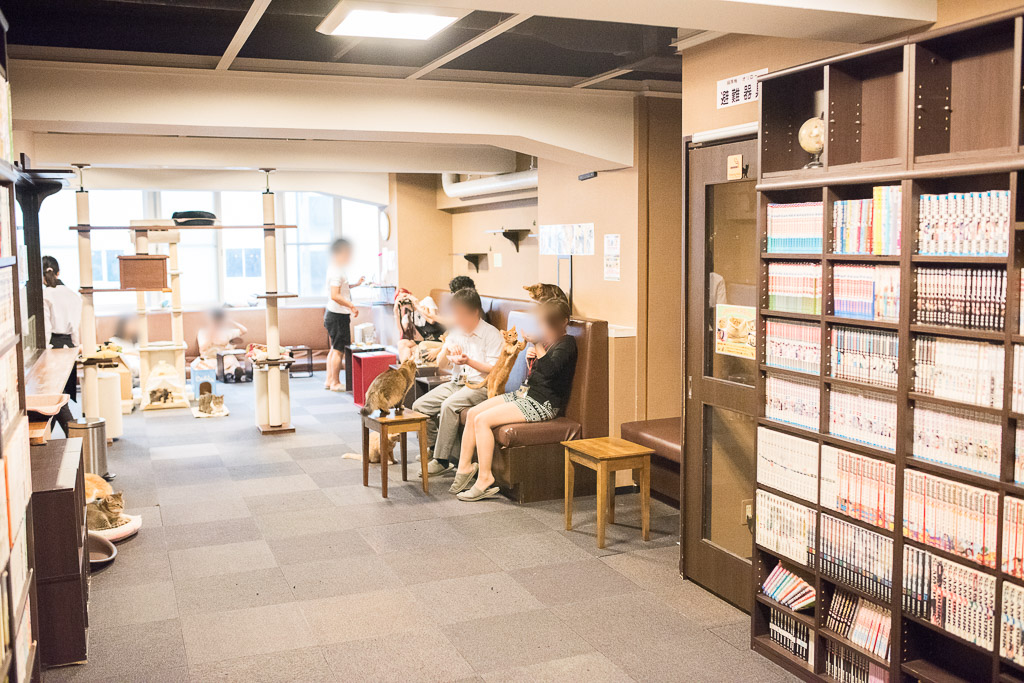 This is the 5th floor where I got down the stairs.
There are sofa and flat seats, so you can choose what you like depends on the distance with the person you went with!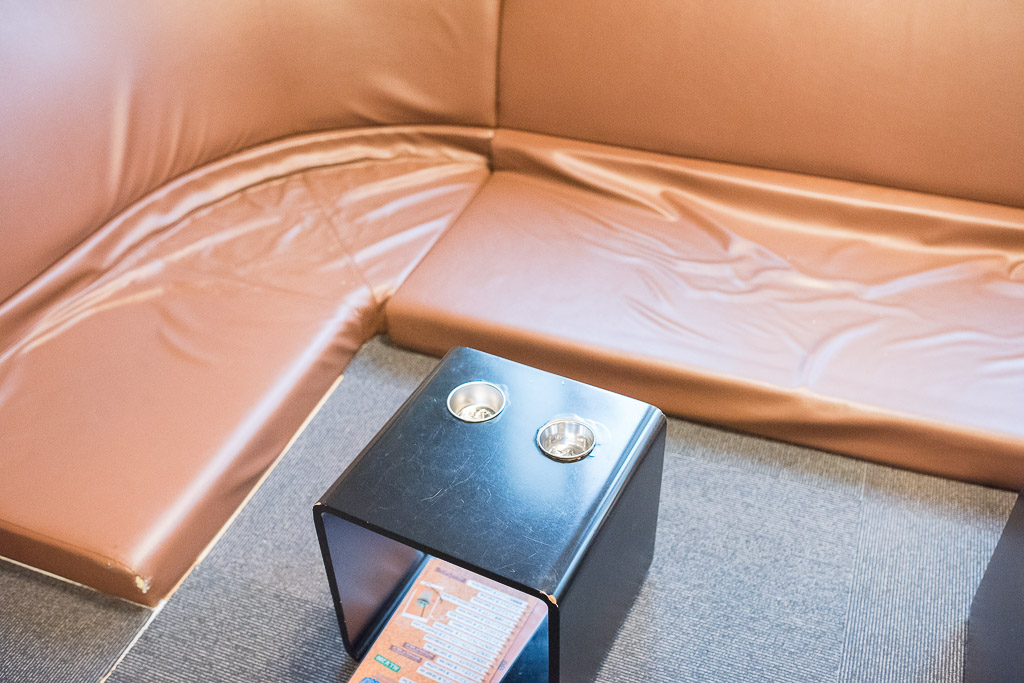 This flat sheet is recommended for those who love lovers and die if they are not together.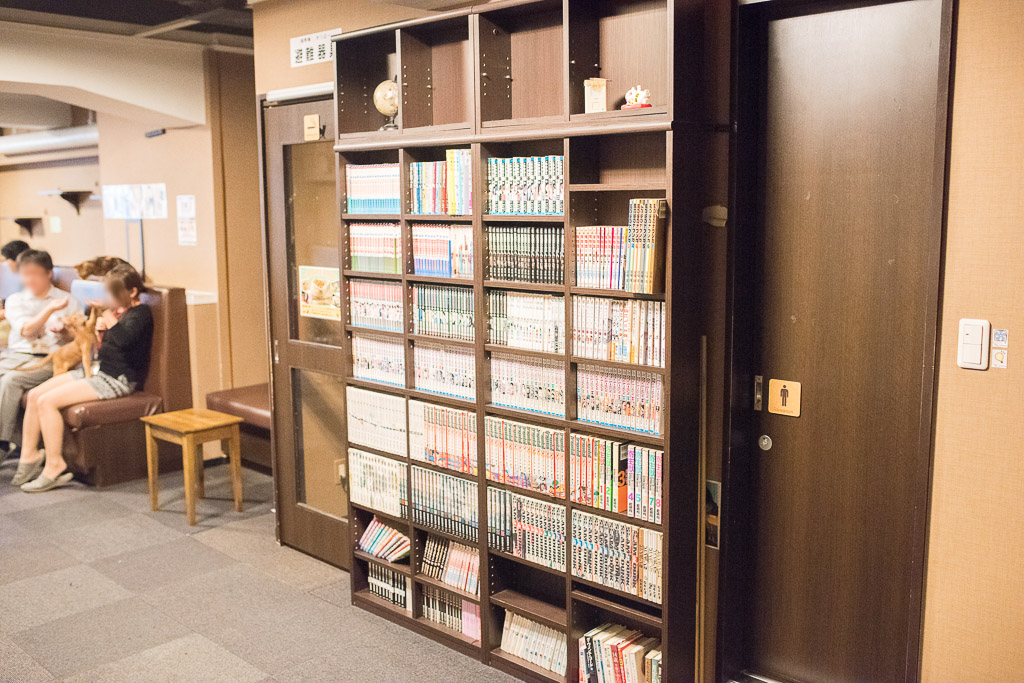 Of course there are also comics.
There was a cartoon on the opposite wall.
There are two toilets for men and women, which are separated.
※Manga means comics in Japanese.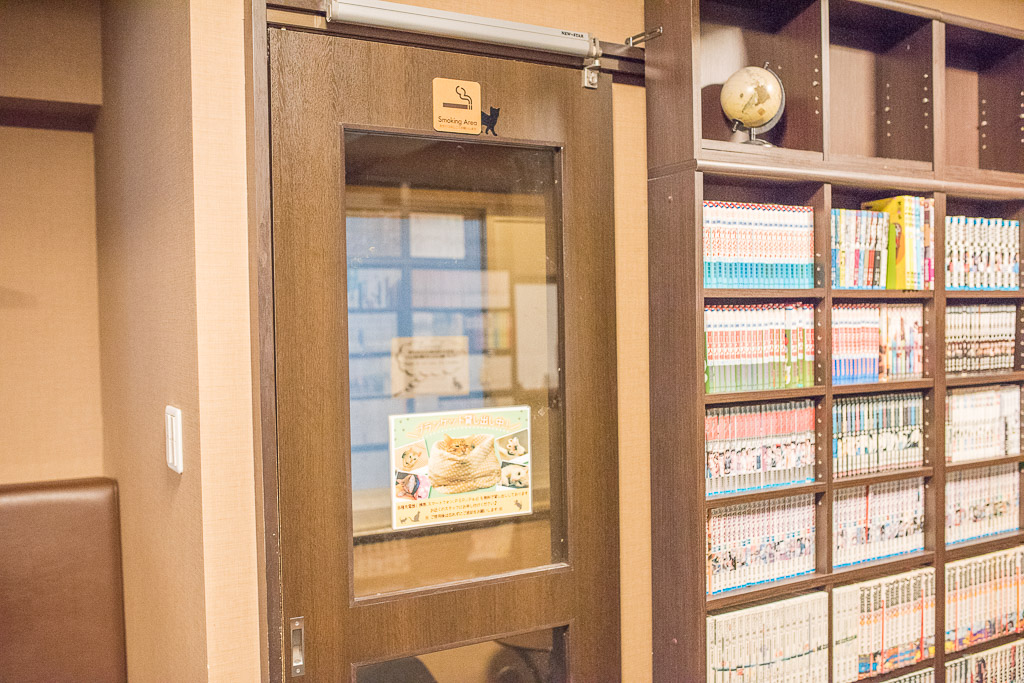 There is also a smoking room in the cat cafe.
If you are a heavy smoker, you are relief, right?
Abundant drinks and food
There are whole bunch of menu.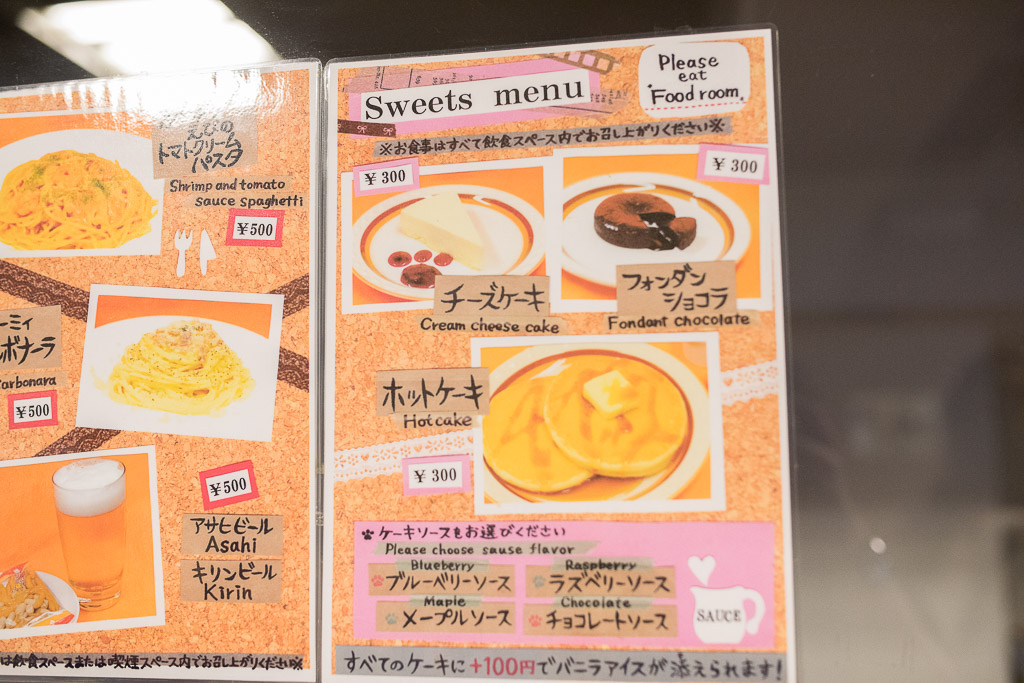 For example, cheese cake (300 yen), fondant chocolate (300 yen), hot cake (300 yen)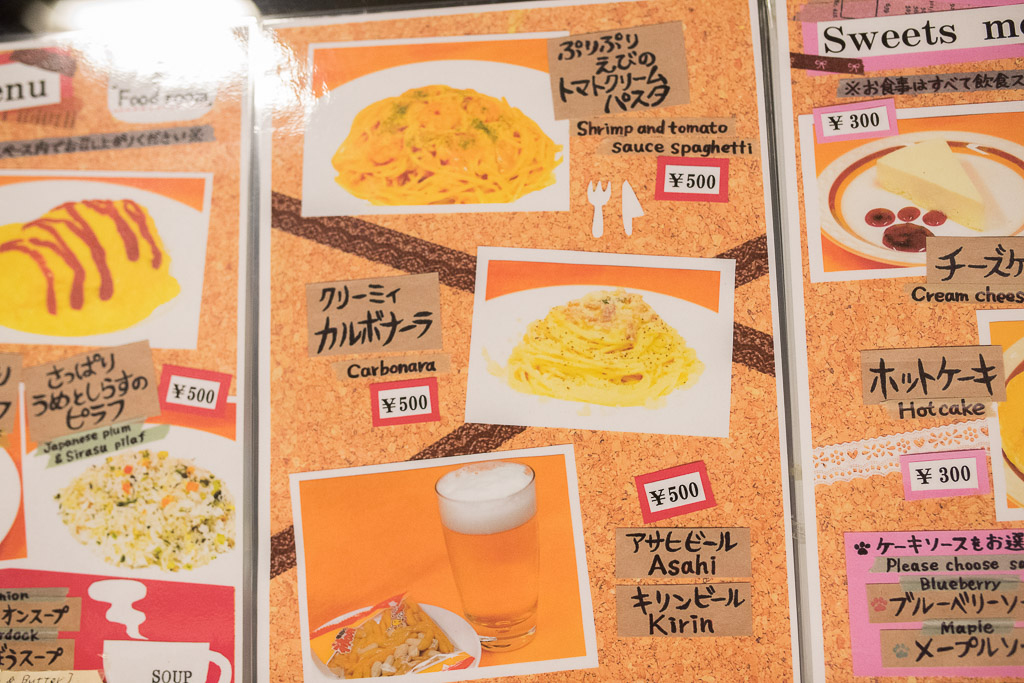 And to pasta!
In addition to tomato cream pasta (500 yen) and carbonara (500 yen), beer is also available. (500 yen)
Drink beer while relaxing with a cat ... that's great!
Surprisingly, the pasta was also served with ground beef sauce (500 yen).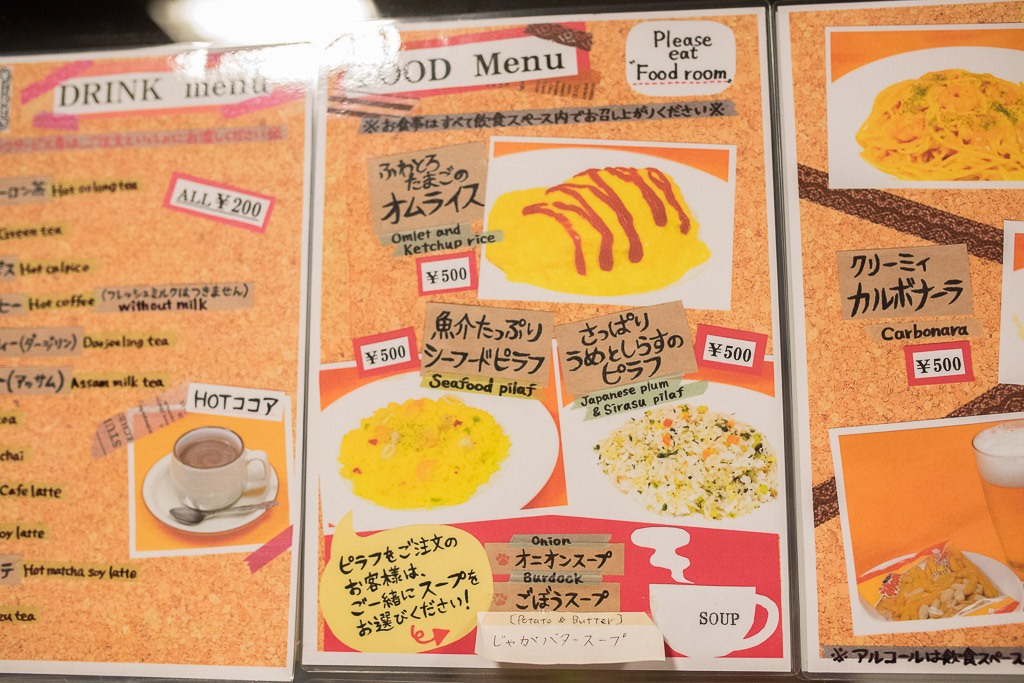 If you come on a date, you will find omelet rice (500 yen), and if you are hungry, there is also a pilaf (500 yen).
In addition, if you ask for a pilaf, you will be served an onion or burdock soup or potato butter soup.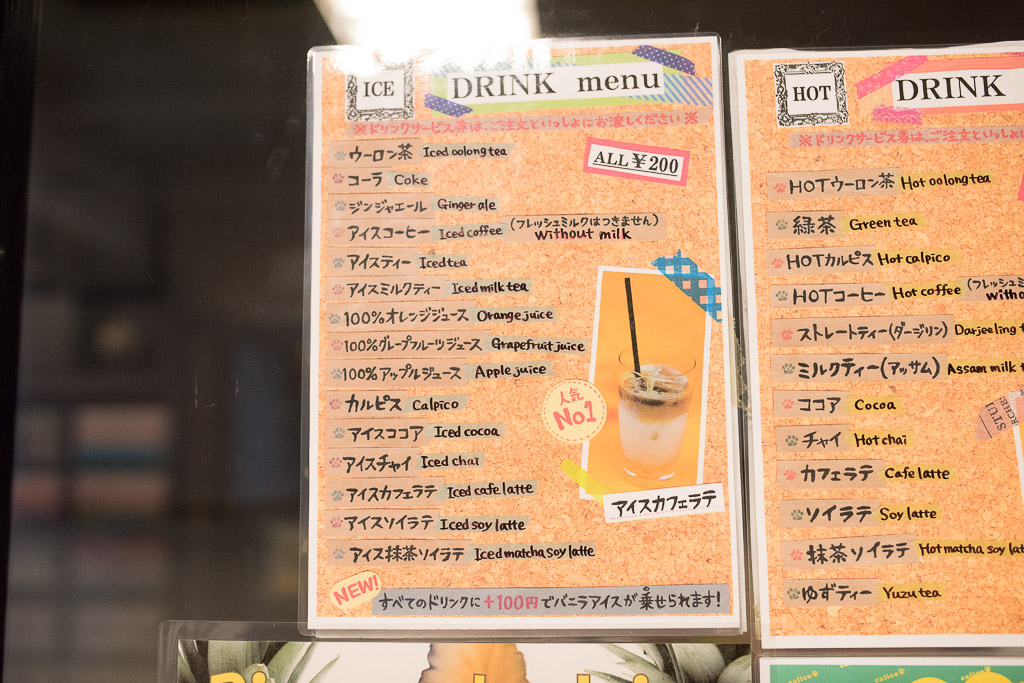 Most drinks at ordinary coffee shops are 200 yen.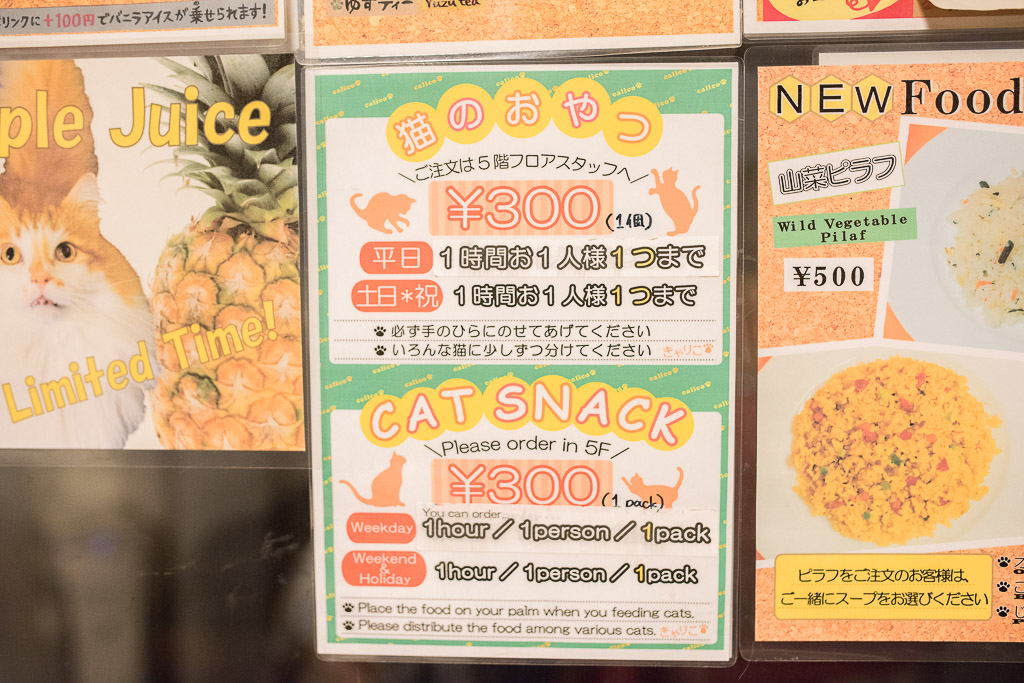 Of course there is a cat snack and it costs 300 yen.
If you get it, you will be popular with cats.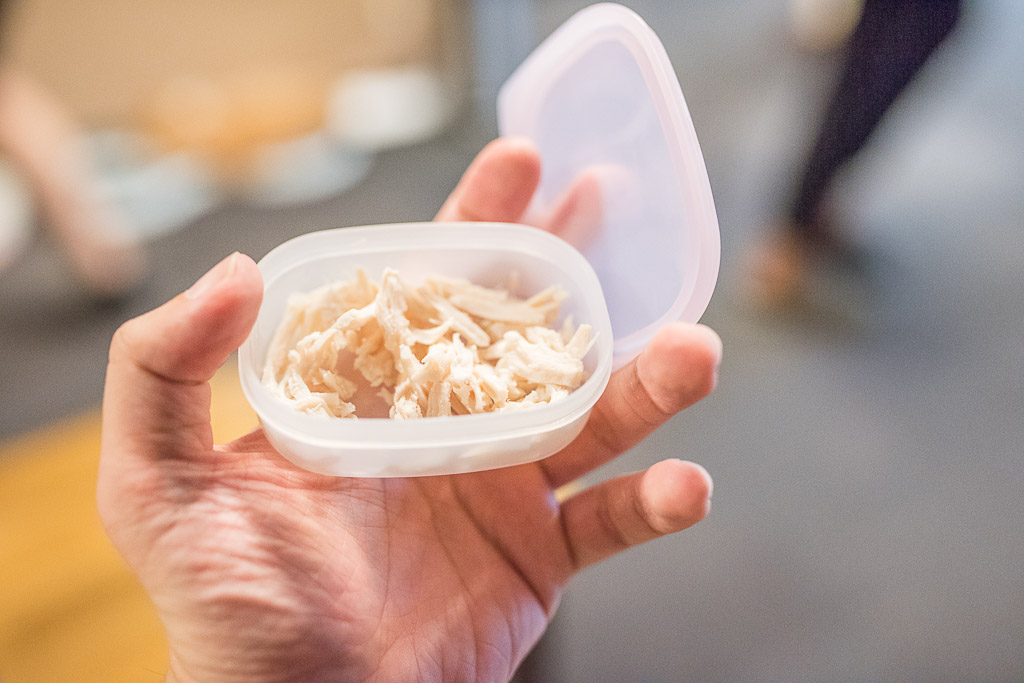 I bought it.
This is a cat snack (300 yen).
Do not eat yourself.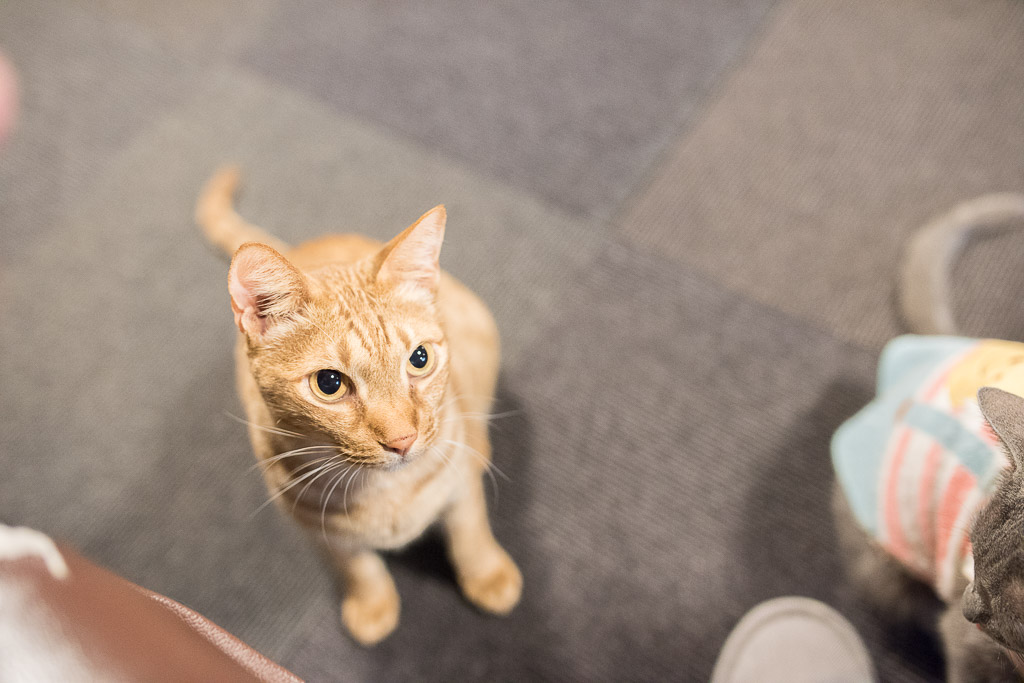 When I got it, about 4 cats were coming!
By the way, the cat on the right is on my knee. Can you see?
Such a cute!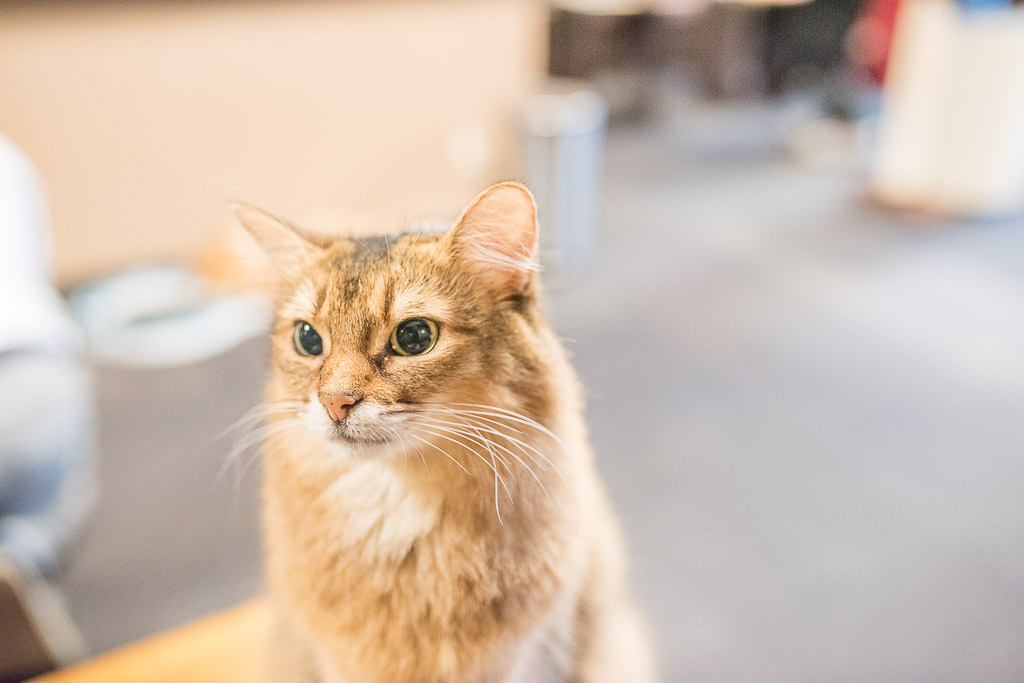 A cat which is very interested in the snack, while I took pictures of this cat.
I want you to look at my camera ... But the cat 's gaze is on a snack ...!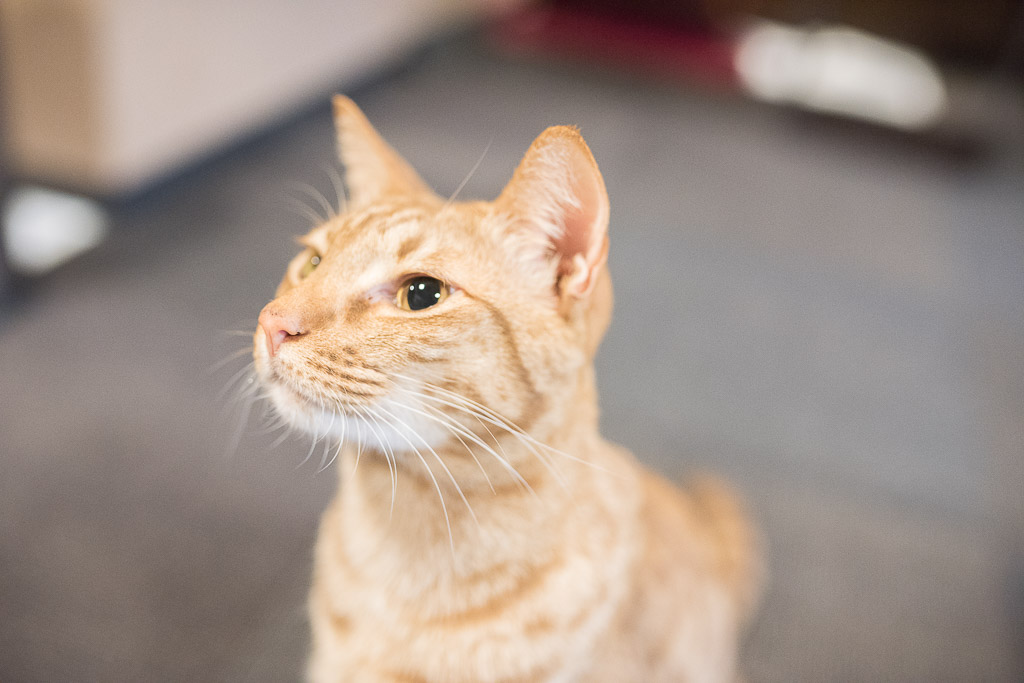 When I lifted a snack, a cat looked up also.
What acute!
If you bring a snack to the camera ...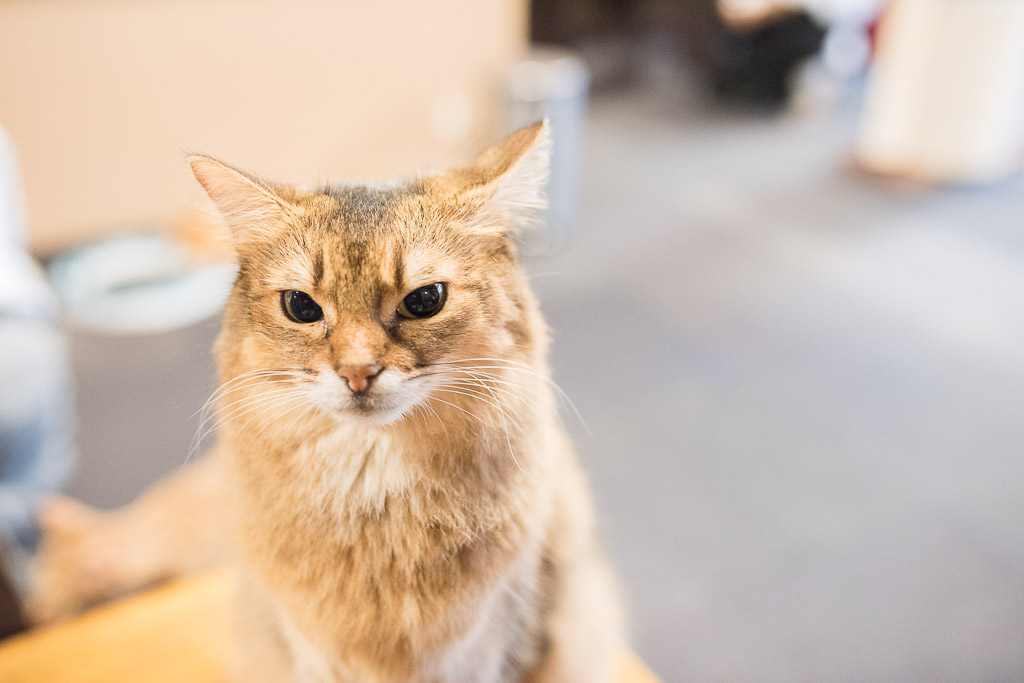 I finally got a good photo!
If you have a snack, cats will ride on you. And cats are waiting for a snack. cute.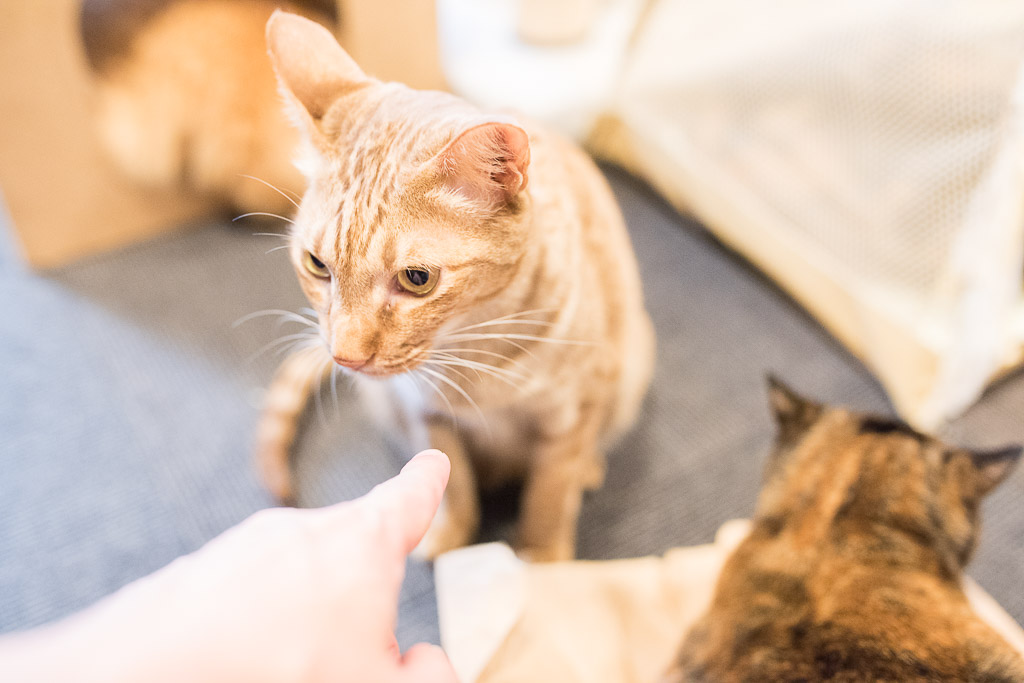 After giving cats a snack, I felt that we were friends!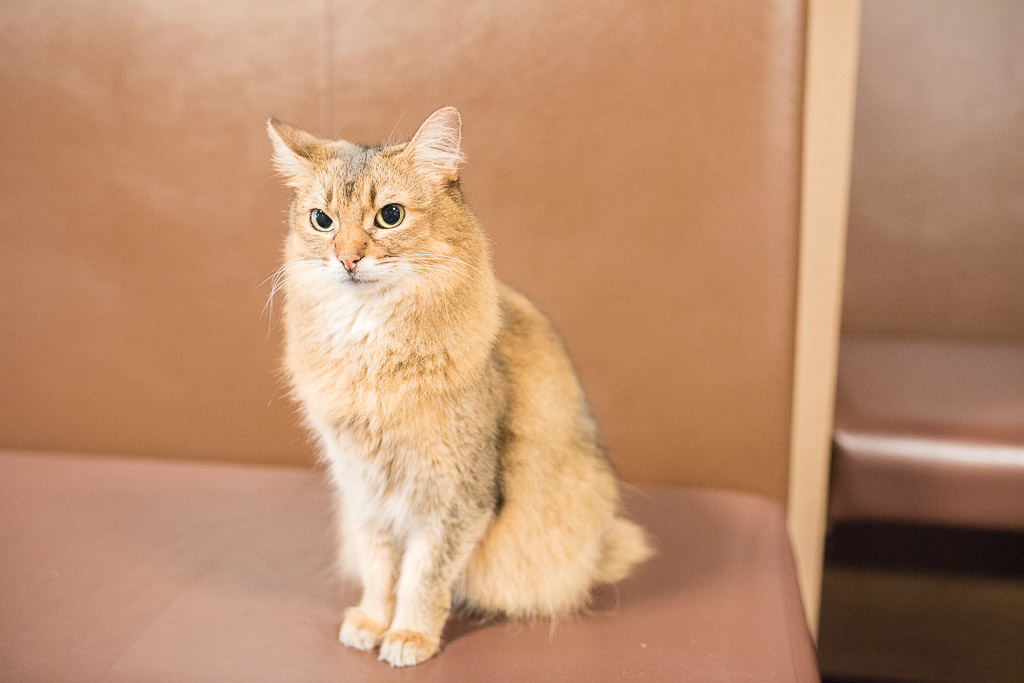 A nice picture!
Clerks were kind
When I was accounting, the cat had a cute face and disturbed me.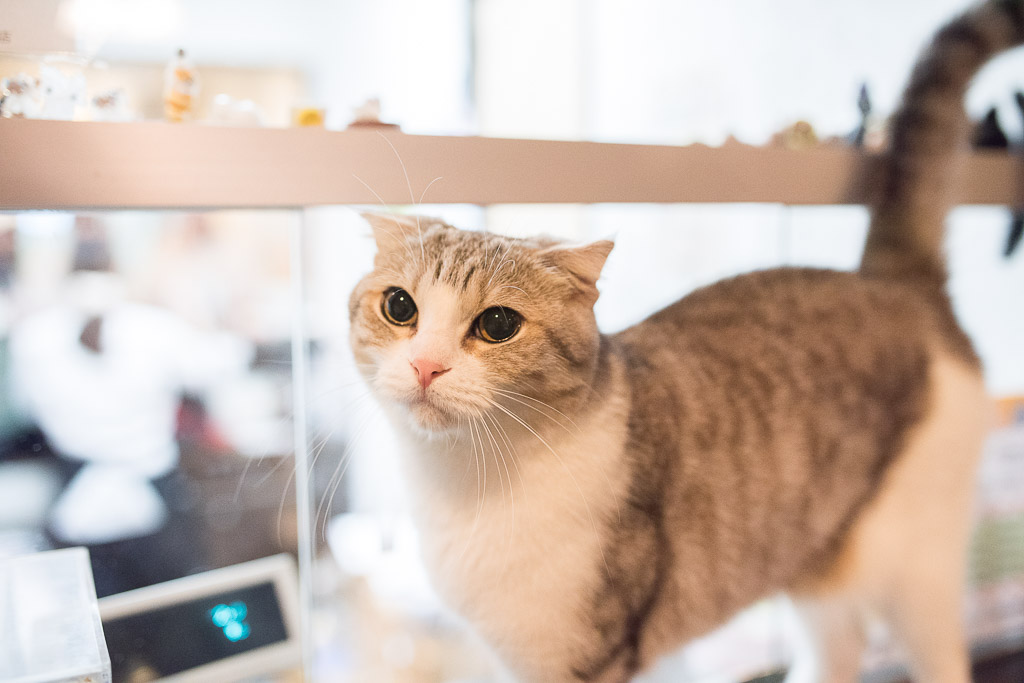 Cute eyes ...!
The clerk who was checking out came here and cooperated in the shooting!
He is so kind...!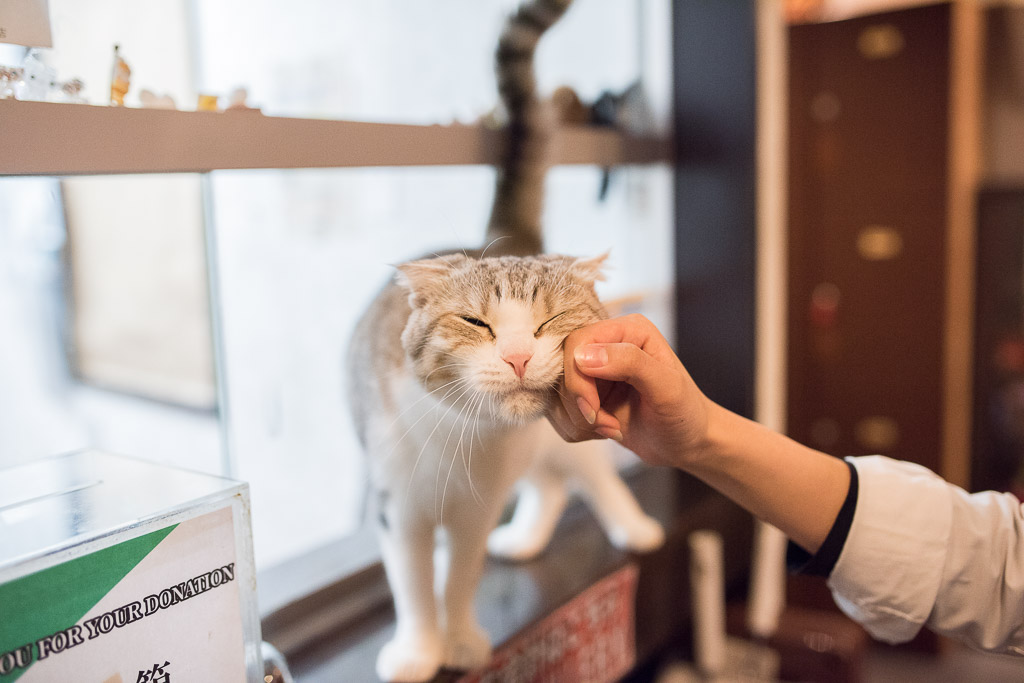 I think that cats trust clerks.
I enjoyed this cat cafe so much!
Price / option
Charges are 1,000 yen per hour (1,200 yen for weekends and holidays) and 150 yen will be added for every 10 minutes of extension.
Or
90-minute pack… 1,300 yen (1,500 yen for weekends and holidays)
2-hour pack ... ¥ 1,500 (¥ 1,800 for weekends and holidays)
3-hour pack… 2,000 yen (Saturdays, Sundays, and holidays are 2,400 yen)
Free time(It means that you can stay until as you want)… 2,500 yen (3,000 yen for weekends and holidays)
Cat snack ... 300 yen
Drink ... 200 yen
Beer ... 500 yen
Point of cat cafe Calico
The moment the cat enters, it smells a bit, but I don't care immediately.
There is a male clerk.
Since the room is dark, shooting is a little difficult.
A wide variety of food and drinks.
There are many customers.
There are 6th and 5th floors.
Classic atmosphere and mood.
The clerk was kind
Store information
1-16-2 Kabukicho, Shinjuku Fuji Building 5 / 6F (6F entrance)
Exit the east exit of Shinjuku Station and head toward Kabukicho.
Next to Don Quixote next to next.
Business hours: 10:00 to 22:00 (Last order is 21:15)
Closed days: Open all year round
* Junior high school students and above are available.
Store URL:新宿猫カフェ・きゃりこ
Store phone number:03-6457-6387
My cat cafe ranking
It is my own ranking that went to various cat cafes and became a cat cafe meister (self-name).
Please refer to this when you want to date with friends, when you want to date, when you want to spend time alone, when you want to play with your family and cat.
Nearby cat cafe