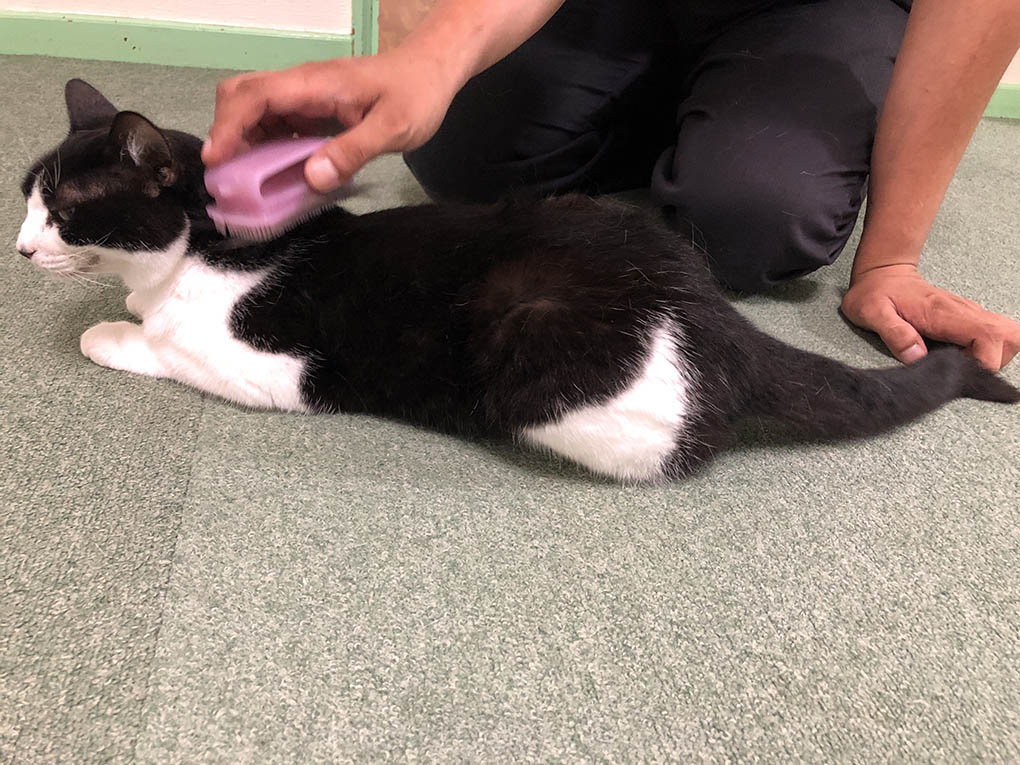 I went to a cat cafe to play with cats Nekoccha in Yokohama, not a cat cafe.
The rating of this shop, Google Map, is brilliantly divided into high and low ratings.
The average score is as low as 2.9, so if it is a food shop I don't go.
But I was curious and I wanted to go there.
As a result of actually going, it was found that "This is the only" Fureai Cat Cafe "".
This experience is not possible at other cat cafes.
Because the cat had been sitting on my lap and relaxed for about an hour while I was there...
It is highly recommended for those who really want to touch cats and healed by them.
Also recommended for those who want to interact with cats but don't know how to do it.
On the other hand, I can't recommend it to anyone who wants to go to a cat cafe to aim for an instagram.
If there is a precaution to enjoy here, I think that "Let's protect manners first before complying with the rules".
Well, don't think about it too hard, but most people should be OK …
I will write a review of Nekoccha, the only contact cat cafe in Yokohama, and also in the country, so please check it out.
I will thoroughly review whether Nekoccha reviews are true!

What is the reputation of Nekoccha?
The review that gives a low rating of Nekoccha is like this.
Highly rated reviews "I've been there for years" "Cats are free because the explanation is severe" "People who can not receive explanations are humans until then" The expression is slightly changed, but in summary, the exact same thing is written On the other hand, five stars are continuous and concentrated without writing any text, but it is funny Obviously it 's an organizational vote. Why did you review recently when you went many years ago? Laughs If you need such a customer, please train your employees properly. Although it is highly likely that you will be disgusted, it is very pitiful if you manage to review and actually go out and feel disgusted. If you really write reviews from the customer's standpoint,it is ok. But are the people who are involved in the high evaluation that is not so understand what you are doing?
Is high evaluation an organization vote? This is a suspicious review.
Well, when I actually went there, I thought that the evaluation would seem to be divided.
The fact that the evaluation is divided means that there are some highly evaluated people.
By the way, I'm not a shill for Nekoccha and I'm not asked.
There is no such cat cafe! It 's the worst. Religious! Attitudes that do not consider customers as customers. They don't think it's a business. If they choose customers, they should make a membership system. The first thing to try is written. The staff is also brainwashed. I don't know what the staff is, but my attitude is foolish. Raise your voice! ! ! There should be no such store! ! It can only be unpleasant! !
When I went there for the first time, I was usually treated as a customer.
Rather, I was talking with the owner and staff all the time in the second half.
I wonder if it depends on the staff …
They talked with the regulars so that it wouldn't be bad.
However, if you go with the attitude of " I am a customer!", You will probably be disliked.
If the rules are so strict that you can't follow the clerk, you will be overwhelmed and you will not be able to enter the store. The friend who went with me told me that he was good because he knew how to interact with the cat because he gave a lecture. When I looked at the reviews later on the internet, there are still pros and cons. The person who says good is clearly seen as a sentence like a store official. I understand the feeling of trying to drop a customer who doesn't follow manners, but I can't agree with the way. It should be possible to confirm in advance on the website, etc., that it is a store that selects customers at least. How is the management way to form a victim's meeting?
The rules are fixed, but not difficult.
It was very normal.
As this person also writes, I think that it is a management policy that "I can't enter customers who don't follow manners."
If you think about the cats, it might be a way of doing it.
Some customers who come to the cat cafe
Try to stroke forcibly
Hit with a toy
do such a thing that cats dislike.
At another cat cafe, the staff struck the cat's face with toys …
When the stress of cats accumulates in this way, it becomes a cat cafe where there are only cats that do not depend on human beings.
I went before, but the clerk was out of the question. I was lectured but I couldn't enter it. What?
Unfortunately, it seems that you won't be able to enter without first listening to the first lecture.
However, it was so easy that it wasn't difficult …?
Perhaps someone with a bad attitude will not be allowed to enter.
I'm curious about what it was like …
Next, let's take a look at the reviews of those who highly rates.
Low review summary: Rules are strict. If you don't protect, you can't enter the store. That's what it means. All. As you can see from how to write a low-rated review, it seems that they have excepted such people. When you go to other cat cafes, the cats don't get on their laps, but in this cat cafe, the cats are boiled and hugged when you are seated. It 's the best. I think it is the result of careful guidance from the store clerk and meticulous efforts that never let the cat feel bad. I can follow the rules of the store! It's super recommended for ordinary people. I think you should try it once.
Well, I think the reason why the low-rated reviews are quite emotional is that they can't be helped because they didn't actually put them in.
There is no doubt that the cats will come as soon as they enter the space with the cats.
The reason why cats are so defenseless is realized by not putting in "humans who do bad things" thoroughly.
In other words, if you learn how to interact with cats, you will become a "person who is easy to be liked by cats"!
Visited on the posting date. As in other reviews, there are about 20 minutes of attention and explanation, but there is no high-pressure attitude and it is rather friendly. I said, "If you do not understand something, please call me immediately" and start. A cat comes on the knee in less than a minute after sitting. After several tens of minutes, two cats on the lap. The atmosphere is good, and each cat is firmly considered. I want to go again. If I look at other reviews, are those who are disgustingly high-pressured, that is, those who are likely to have a negative impact on cats, are they paying in front of the gate? ? It was a lovely corner.
It's like this, and it's quite a high rating for people who want to interact with cats.
Cat cafe that has been divided into two evaluations so far is not so …
Videos when I went to Nekoccha
This is the movie when I first went to Nekoccha.
If you look at this, you can see that the cat is always on the lap.
Place of Nekoccha
Nekoccha is about a 5-minute walk from Yokohama Station.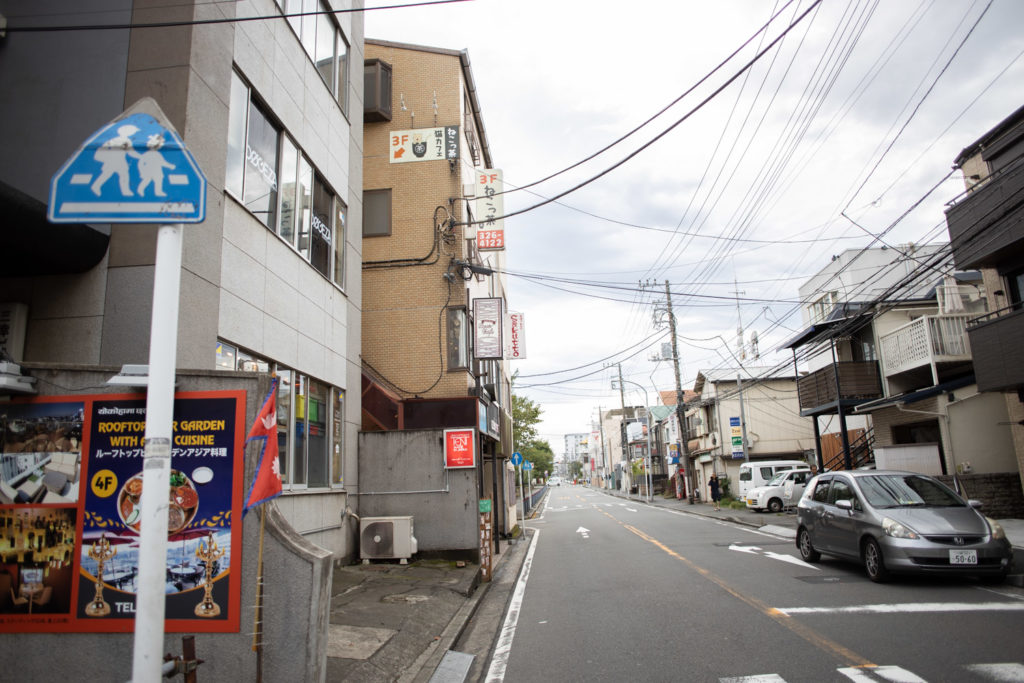 ※Detailed map is below
As I walked, I saw it on my right.
At this point, I'm nervous because I see the previous reputation.
This is … legendary … Nekoccha …!
When I look at the signboard on the right, it seems that the second floor is a maid cafe.
If I said "go home!", let's heal my heart at the maid cafe.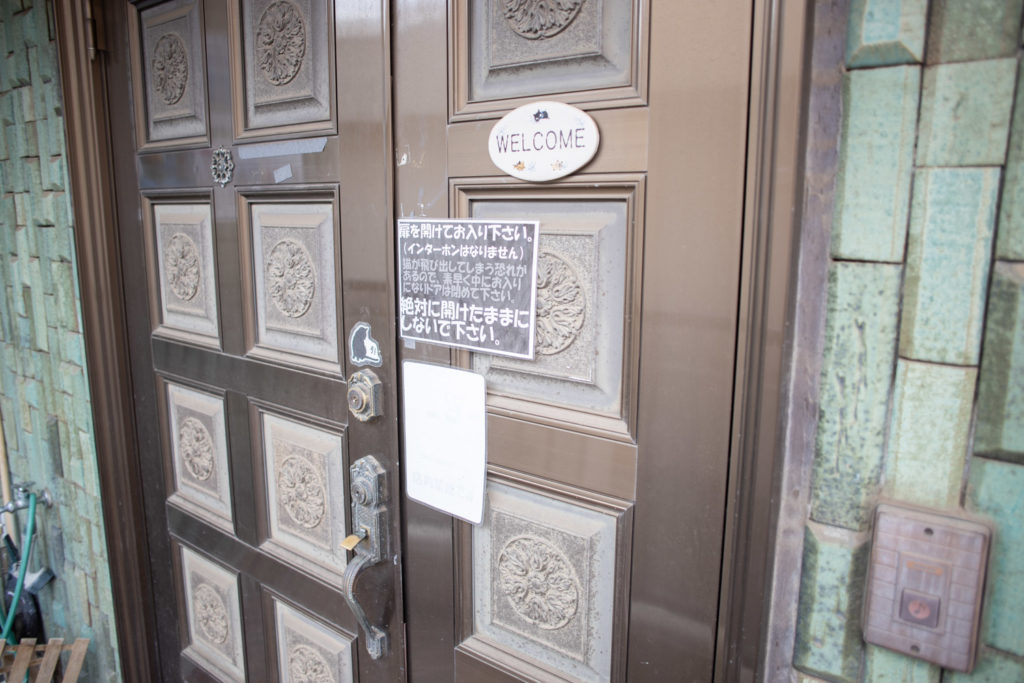 I came to the front of the closed door. (Actually not closed)
The tension is Max.
How much would I get angry ?!
Enter Nekoccha
As soon as I opened the door, there was a notice.
When I was taking the picture...
"Sorry, please delete it because it is forbidden to take notes"
I was immediately angry by the staff.
Certainly, under the cautionary note, it was written that photography was prohibited.
Erase obediently and read the note.
When you have finished reading the precautionary statements, please call the staff, so call her and go to the next step.
About the formal dress of Nekoccha
Nekoccha has a formal dress set just like in a little expensive restaurant you must be smart casual.
This is what you shouldn't wear.
・Lace, frills, fur, mesh-like clothes (These four items cannot be entered if there is even a little on the clothes) ・Strings (including parka strings) ・Knit / Sweater (including cardigan) ・Ribbon, beads ・Leather product (Be careful not to see the belt) ・Frayed trousers (including damaged jeans) ・A lot of decorations (beads, etc.)※You cannot enter the store with a muffler, stall, hat, sunglasses and accessories (including wedding rings).
Quite tough …!
The Apple Watch I wore was also bad, so I'll take it off and put it in my bag.
The camera was OK, but if you point a single-lens camera, everyone will run away, so it might be better to shoot with a smartphone.
Check your outfit yourself and have the staff check it
When the check from the staff is over, I will finally enter.
First, let's get an explanation of the price at the counter like an ordinary cat cafe.
The basic charge is 200 yen every 10 minutes and is a one drink order system.
By the way, I stayed for an hour and it was 2,000 yen.
I was planning to go out earlier and save money, but it was comfortable and well …
If this was the case, it would have been better to have a good value pack.
※Price plans are listed below.
Once inside, take a little lesson for 10 minutes after washing your hands
Once inside, first wash your hands and take the staff's classes.
In the meantime, the strictness of prohibiting eye contact with cats.
To be honest, I thought, "Do you want to do that?", But some of the customers are unimaginable, so I wonder if it can't be helped.
During the class, cats sit on their laps.
What a sense of distance!
In the lecture,
How to get closer to the cat
Timing of stroke cats
how to stroke
Notes on playing with toys
Learn these,etc.
Some people may think "I already know!", But listen carefully.
There are also unexpected things that seem to understand but don't understand …
Reasons why this cat cafe is where cat is closest in the world
Only those who have undergone such strict training can interact with the cats here.
By doing so, defenseless cats will be able to serve customers who have never met before.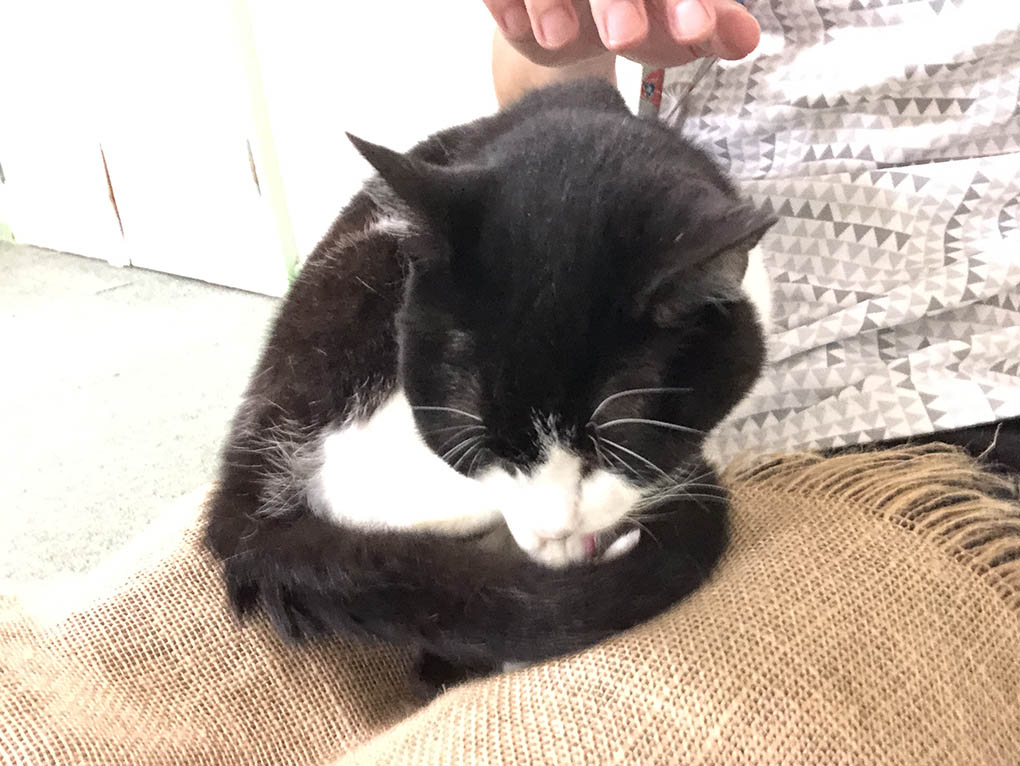 It's so relaxed that you don't think it's your first meeting.
By the way, I played well with toys, but I forgot to take a photo because I played too much with my best.
This is really a contact with a cat that can only be found here.
For example, I feel like I'm playing with a student at a strict princess school …?
I have only been there once, but I thought it was a shop with many regular customers.
For those who say "I want to get in touch with my cat!", this is a highly recommended cat cafe for people.
Charge・Option
| | |
| --- | --- |
| Time | Charge |
| Every 10 minutes (1 drink order system) | 200yen |
| 90-minute pack (includes 1 drink) | 1,600yen |
| 120-minute pack (includes 1 drink) | 2,100yen |
| 180 minute pack (with 2 drinks) | 3,100yen |
| drink | From 400 yen |
| Sapporo black label | 600 yen (+200 yen when packed) |
※Reservation is required for those who are elementary school students or older and junior high school students or younger together.
Shop information
1-6-29 Okano, Nishi-ku, Yokohama, Sho's Yokohama 3F
From Yokohama Station Minami West Exit, go straight in the direction of VIVRE. After passing Don Quixote and Daiei and proceed about 50m, go straight to the left at the Okano intersection.
You will see the sign immediately.
Business hours: Weekdays from 14:00 to 20:00 (L.O18), Saturdays, Sundays, and holidays from 11:00 to 20:00 (L.O18: 00)
Regular holiday: Irregular holidays
phone number:045-326-4122
Age restriction: Reservation is required if you are from elementary school age or older and junior high school age or younger together
Official site:Nekoccha
My cat cafe ranking
It is my own ranking that I went to various cat cafes and became a cat cafe meister (self-named).
Please refer to it when you want to play with friends, date, or want to be alone, or when you want to play with a cat in your family.