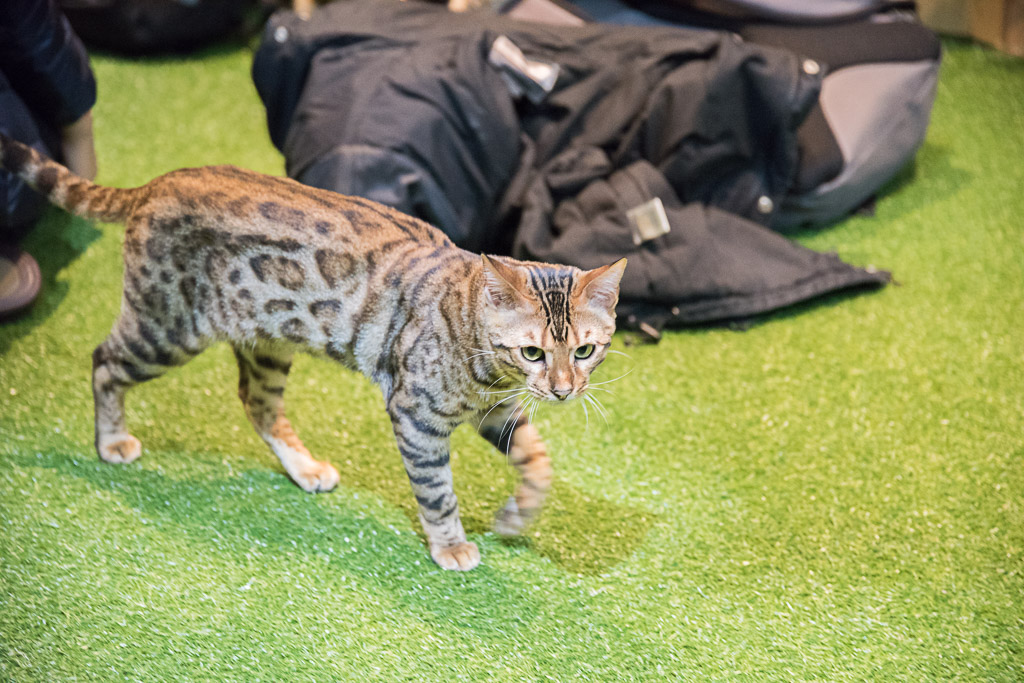 I went to the cat cafe of Hyonekonomori in Harajuku.
There were so many people because it is located center of Takeshita street.
There are only Bengal cats.
The interior of the store was unified with a jungle-like interior.
A unique shop matched the city of Harajuku.
[japan Cat cafe] Harajuku Hyonekonomori reviews!

Hyonekonomori location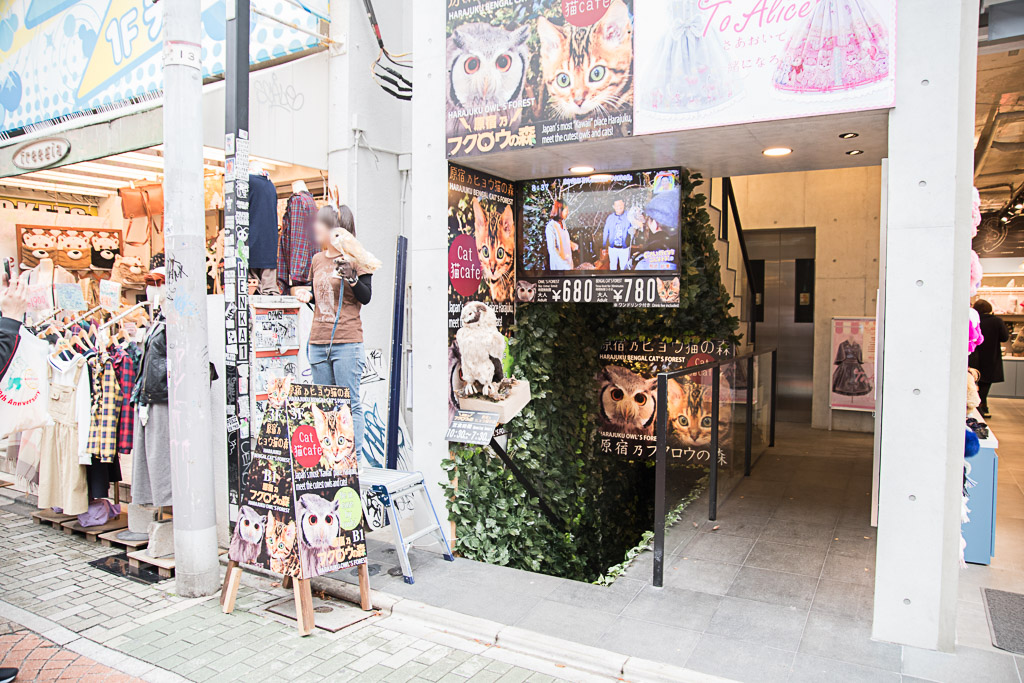 If you are walking along Takeshita Street, you can quickly find this shop.
At this time, Owl Forest staff member in the same building was standing outside.
By the way, Owl Forest is also managed by the same company, and there is a plan that allows you to come and go both shop.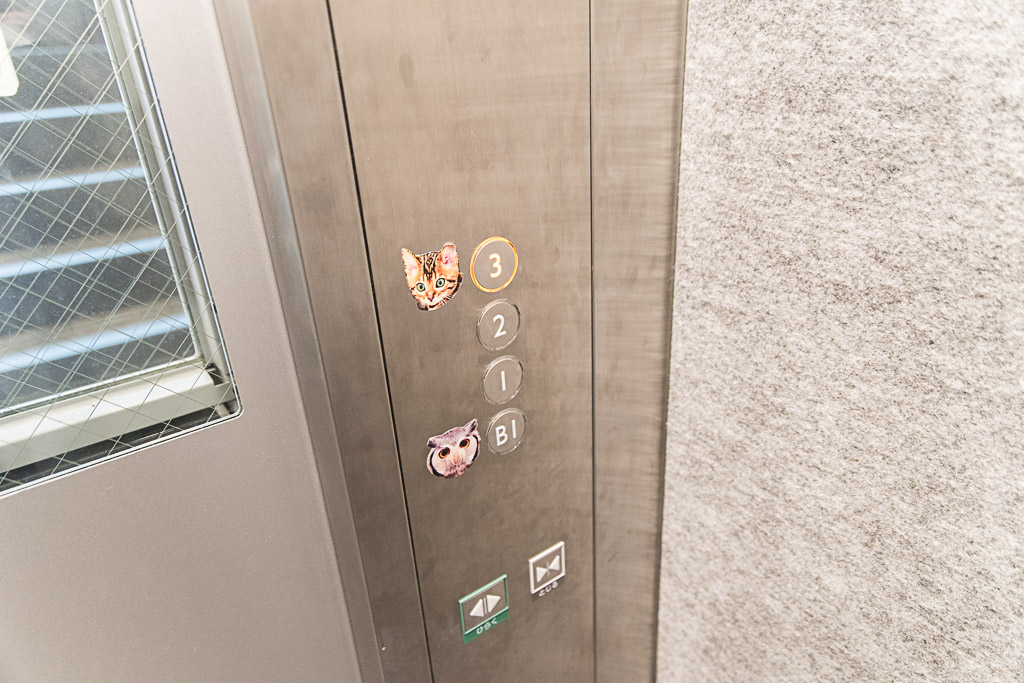 Take the elevator to the desired floor.
The stairs to the basement are conspicuous, but be careful because the basement is an owl forest.
There are cats on the third floor.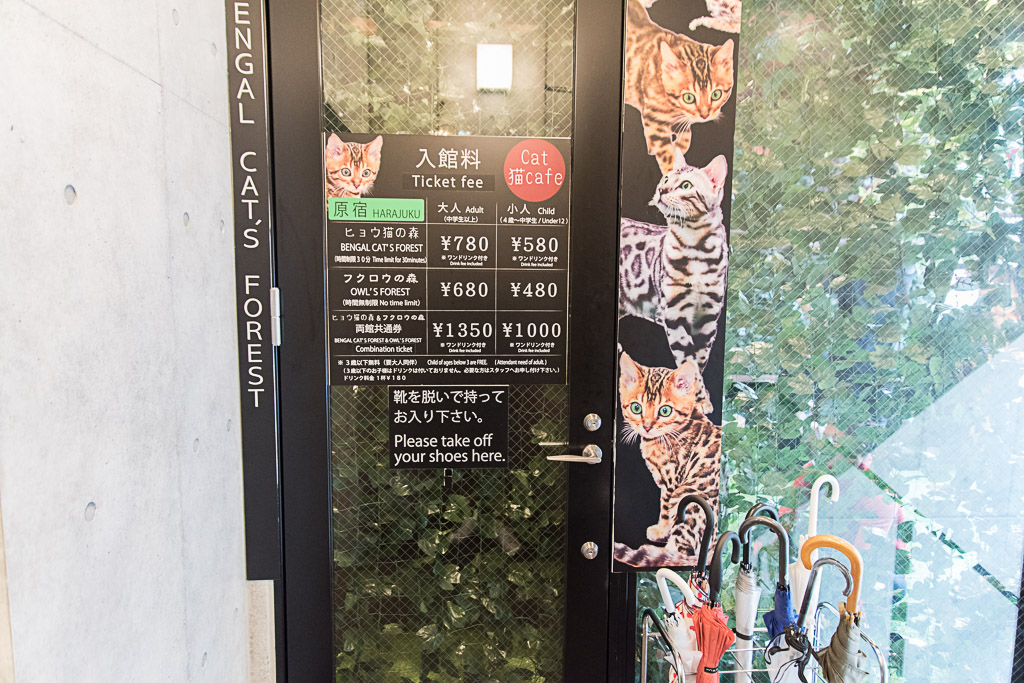 If you go up to the 3rd floor, you can find the entrance immediately.
Adults are 780 yen for 30 minutes, but depending on how crowded you may be able to stay more.
I stayed more 1 hour, I guess.
Whether the shop is busy depends on your luck.
Perhaps they are very busy in holidays.
The shop inside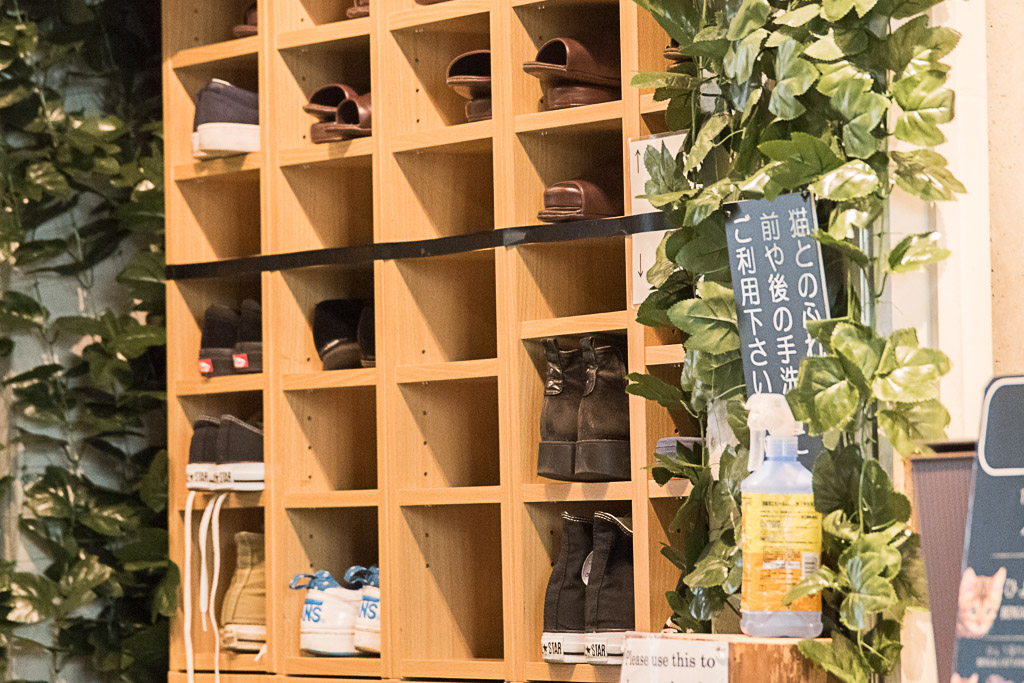 When you get in, take off your shoes and change to slippers.
I don't recommend wearing slippers on barefoot because everyone use them.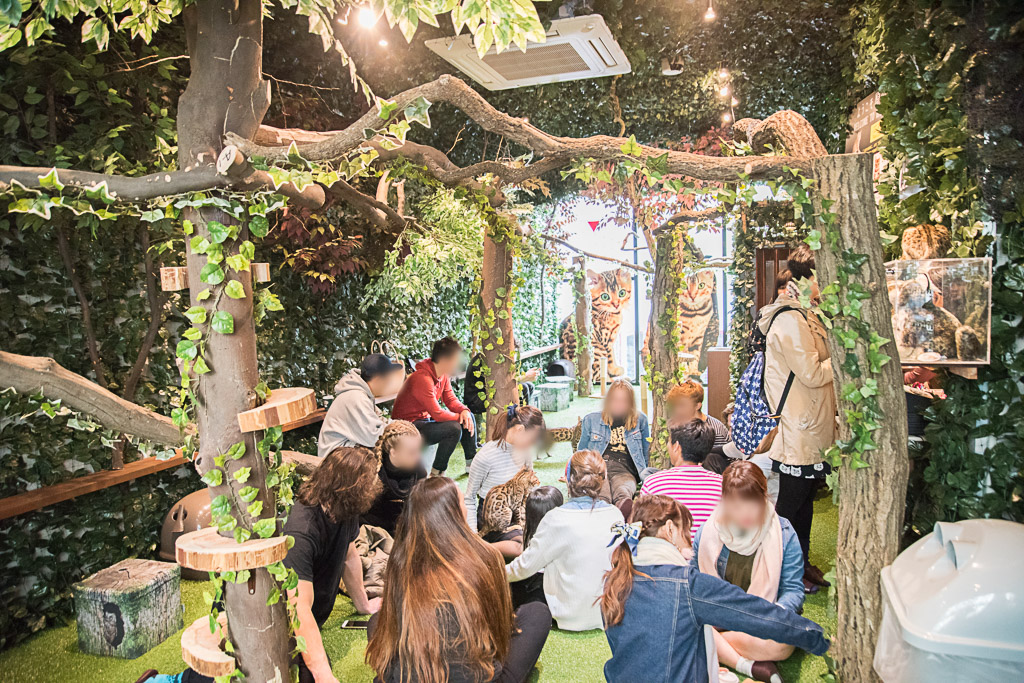 This picture is the inside.
It's not so wide space. There are so many people!
The store is very prosperous.
A huge cat can be seen in the back, but of course that is a photo.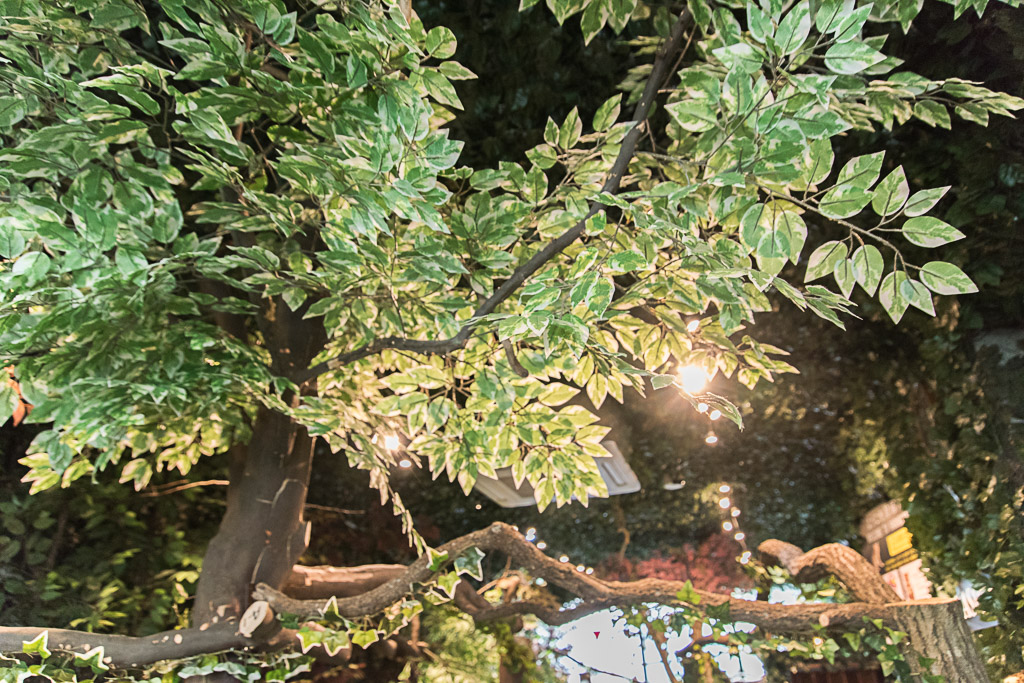 The ceiling looks like this, and it has a jungle-like atmosphere.(I have never been to the jungle.)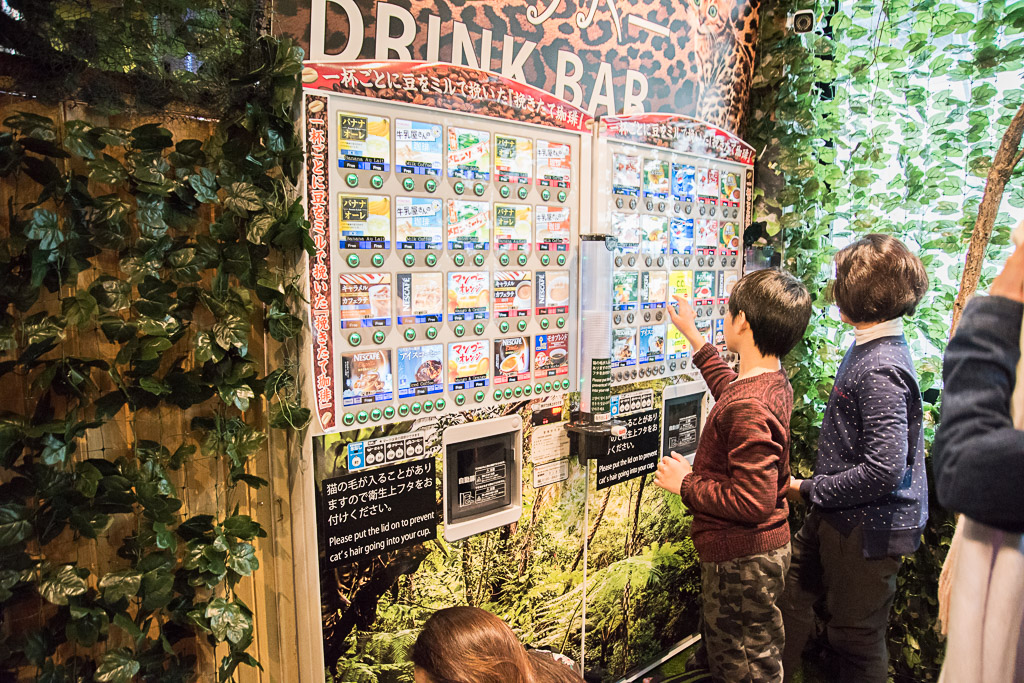 So you can get drink at here.
There are customers relaxing in front of this vending machine when the shops are crowded. It's chaos.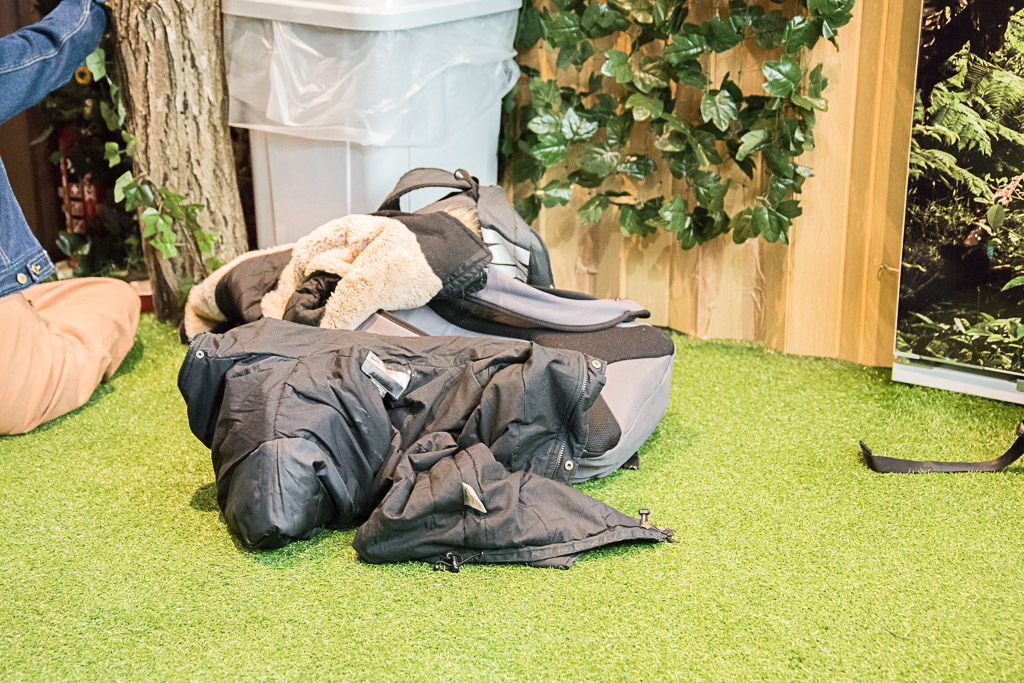 There is no locker in this store so you have to leave your luggage and jacket on the floor.
Cats do not pee on their luggage because they are well-behaved.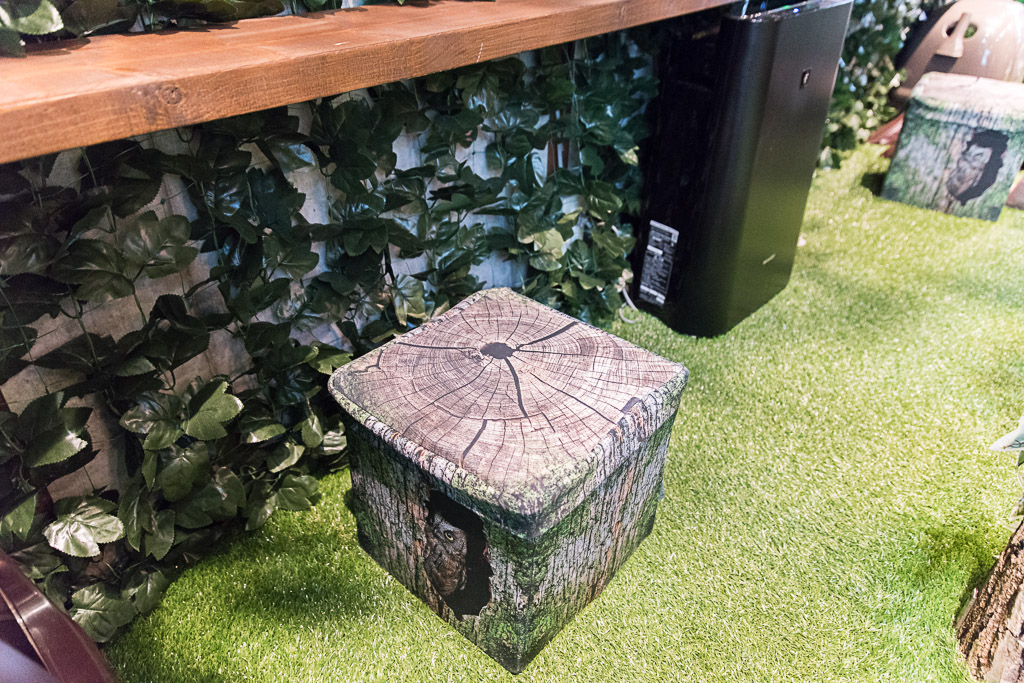 Most people sit directly on the floor, but there are several chairs at the edge.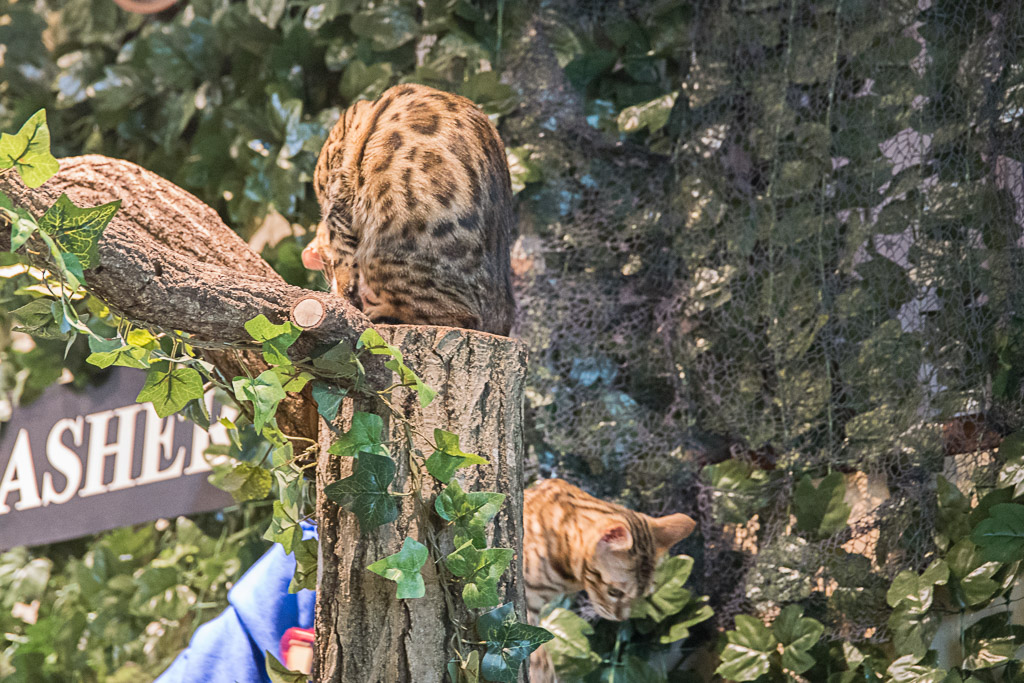 Bengal cats are accustomed to the atmosphere of the cafe.
Visitors
About 70% of the customers were tourists because of Harajuku.
One clerk could speak English but he was always busy.
There were quite many customers on weekdays. I can't even imagine a holiday.
Cats of Hyonekonomori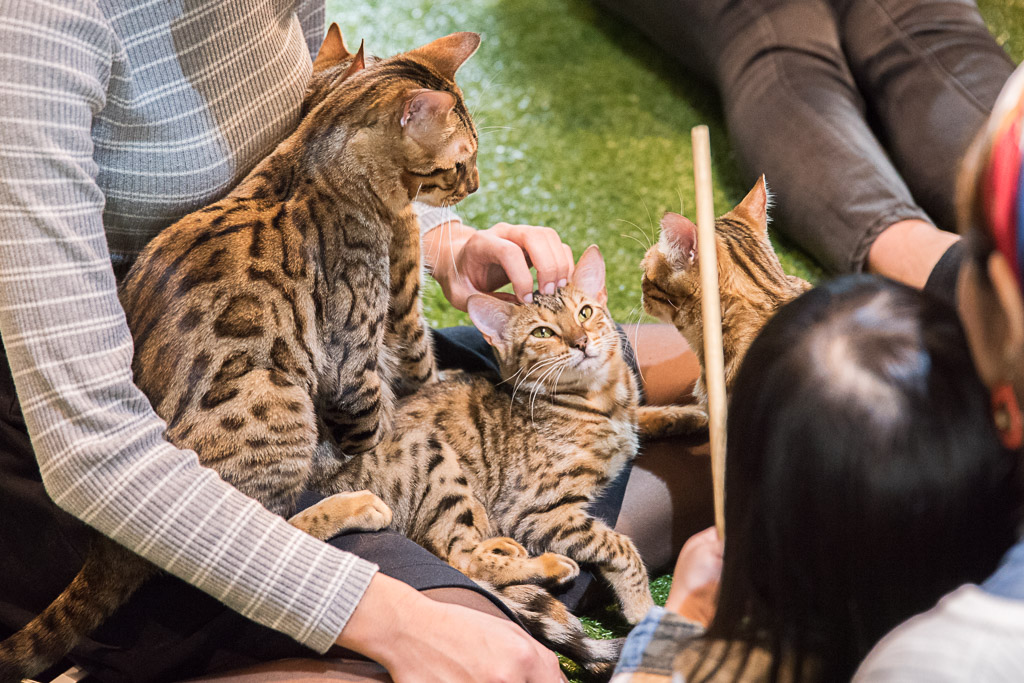 The cats all want to be together because the race is the same.
Even when I entered, they were gathering at one customer.
You can enjoy it if the cats are gathering, but you may feel lonely when the cats don't come.
I was just sitting at the edge. And then...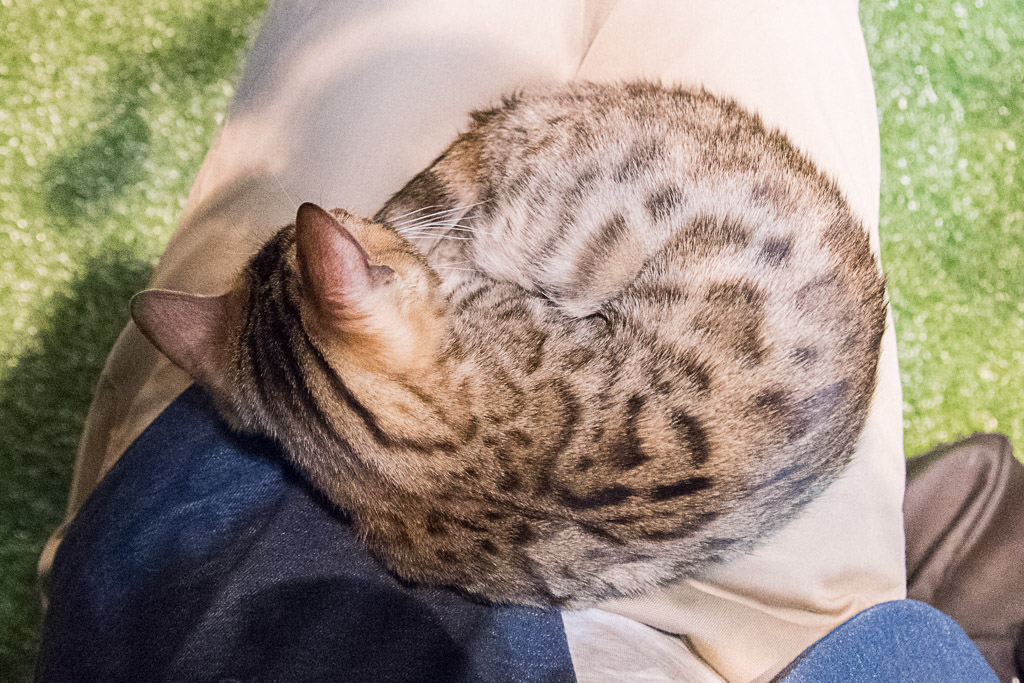 A clerk brought a cat!
Thank you so much!
It's up to you the clerk bring a cat or not. If clerk bring a cat to you, you are lucky.
If the clerk don't bring a cat to you, let's go to close to cats.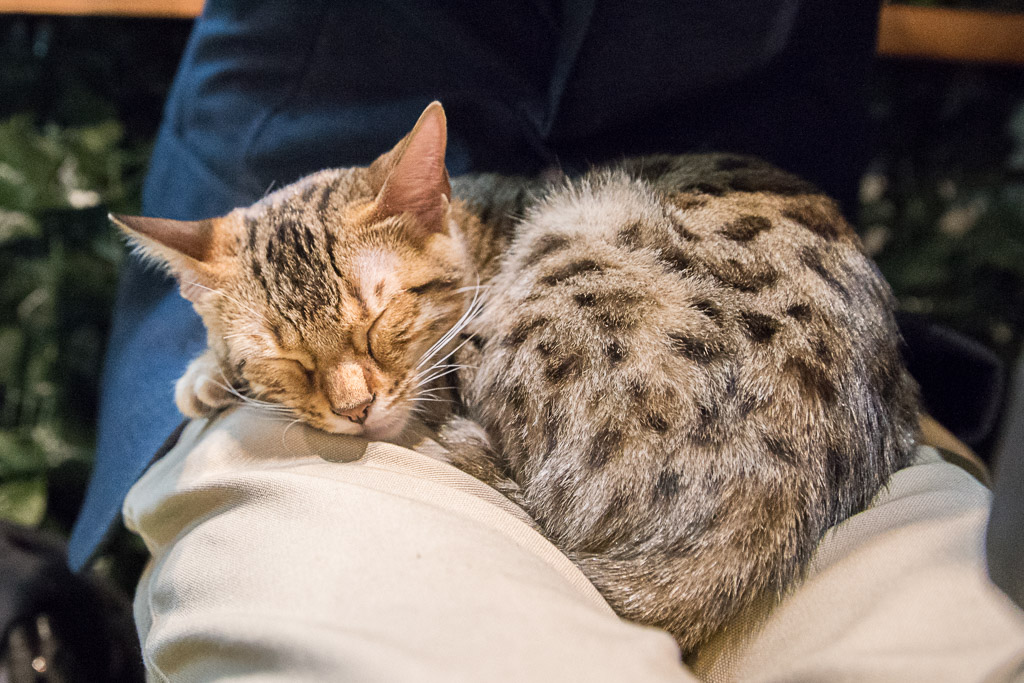 She is sleeping on my knee.
The bengal cat has soft hair.
If you touch cats too much, you may be disliked by the cat. So please be careful.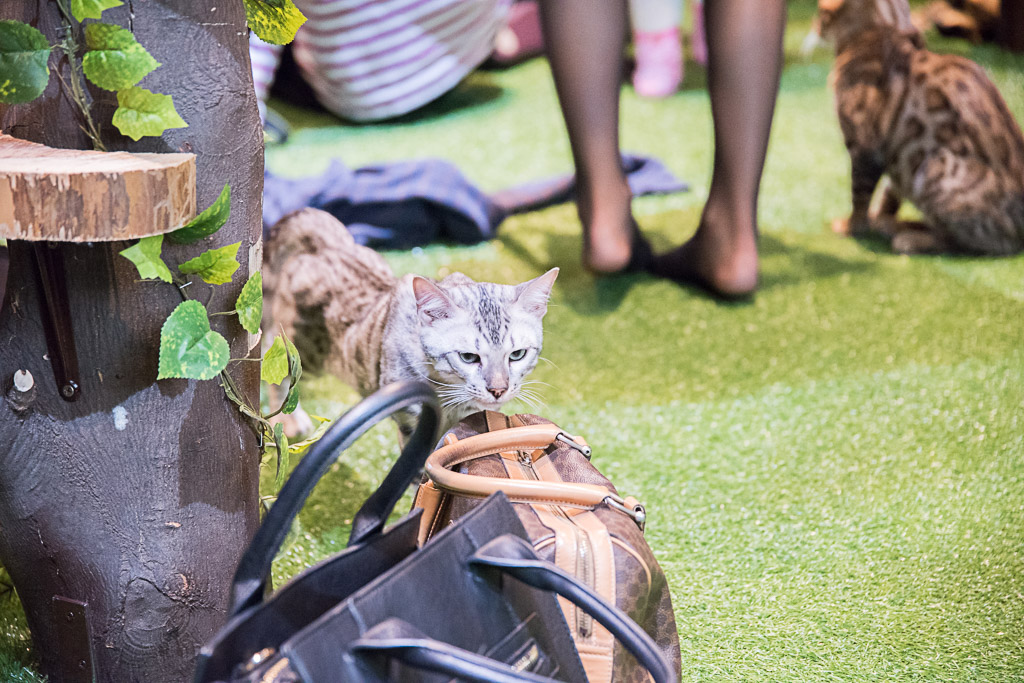 It was so crowded that the cats went through the bag and the person.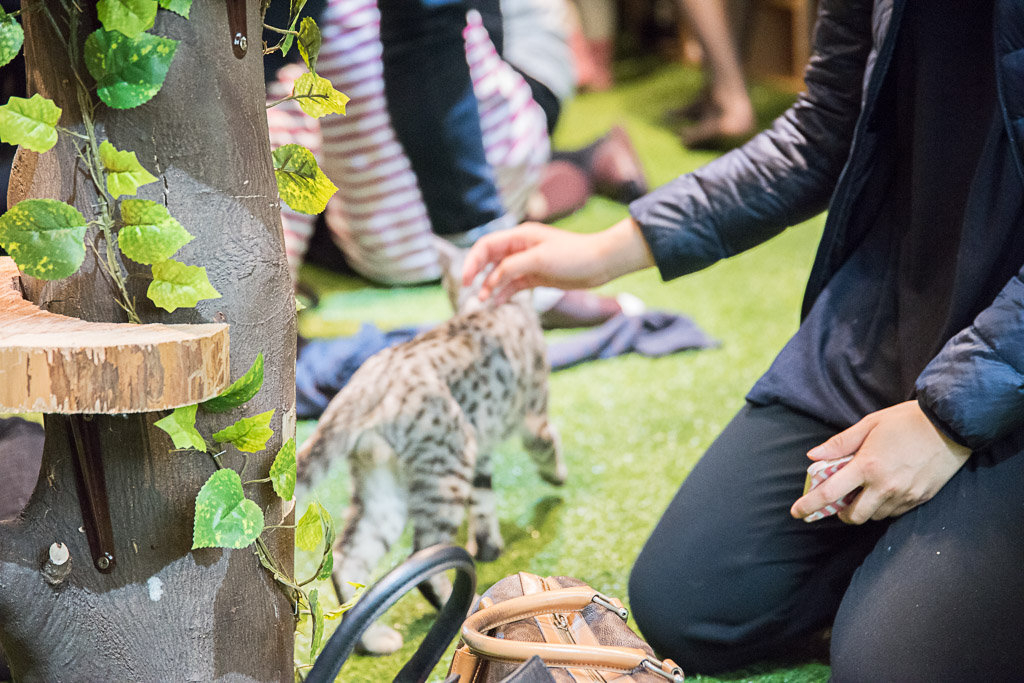 If you try to stroke the cats while they're moving, cats will hate you.
Don't touch cats while they are moving.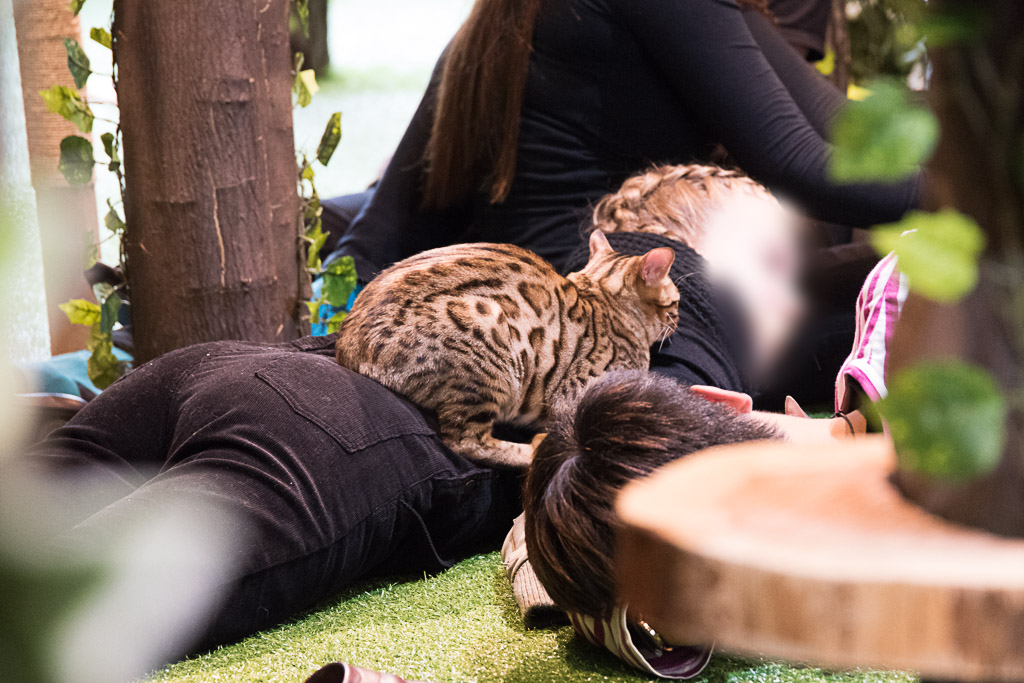 This cat was sitting on a lying customer and relaxing.
After a short time...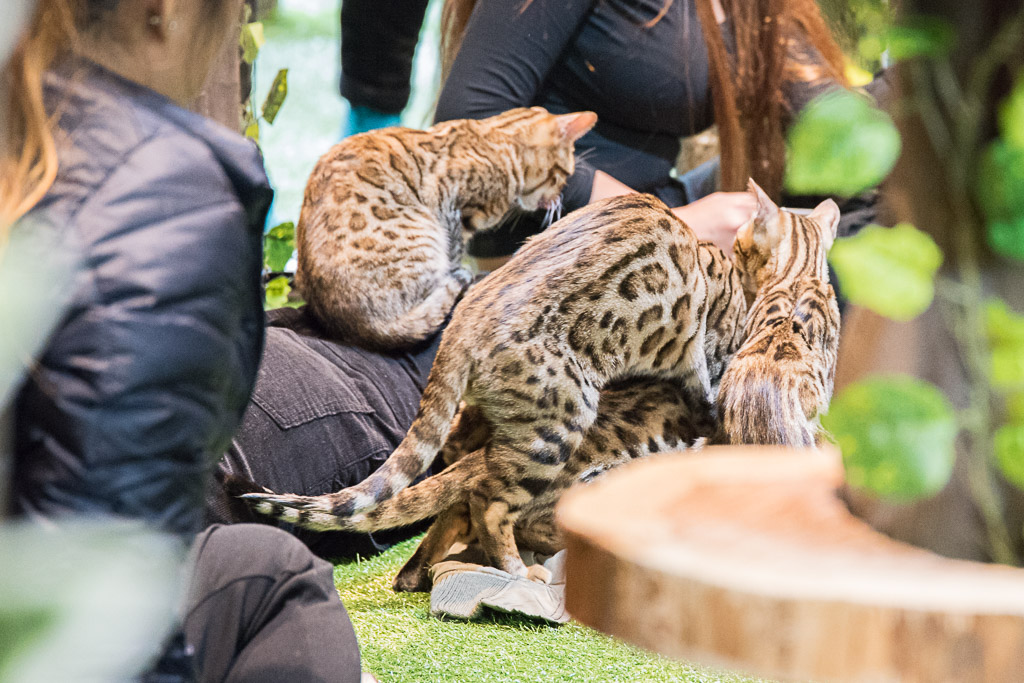 There were more cats!
She was buried in the cats lol.
She seemed having fun.
This cat cafe may be a shop for advanced.
Some customers were trying to play with cats with toys, but cats did not respond well.
There are quite many people at all times, so the cats may be tired.
If cats come close to you and look sleepy, the cat will stay with you if you keep quiet.
Price and Option
30 minutes・・・adult 780 yen, kids 580 yen
You can get one drink for free.
※Free for children under 3 (no drink)
※Depending on the congestion in the store, you may be staying for more than 30 minutes.
Common ticket for both Leopard Hyonekonomori and Owl Forest ・・・adult 1,350 yen, kids 1,000 yen
Point of Hyonekonomori in Harajuku
I could enter soon but It was very busy on weekdays.
There are only Bengal cats.
Cats are young.
If you are lucky, the store clerk may bring you a cat.
Cats are not stinky.
There are many customer from foreign country.
The shop information
1-6-10 Jingumae Shibuyaku Tokyo Japan
It is located in Takeshita street.
Business hours: 10:30 to 19:30
Regular holiday: Irregular
TEL:03-6447-4216
My cat cafe ranking
It is my own ranking that I went to various cat cafes and became a cat cafe meister (self-named).
Please refer to it when you want to play with friends, date, or want to be alone, or when you want to play with a cat in your family.
Nearby cat cafe information
・Cat cafes in Shibuya and Harajuku